Jennifer Eli French is sentimental. From the tiny outfits her premature twins wore home from the hospital to some feathers from a bird she had in her childhood, she hangs onto the little things.
After reading "Station Eleven," the post-apocalyptic novel by Emily St. John Mandel, French was struck by the things she collects. She moved around a lot as a child (her father worked for Conoco), but certainly was not as nomadic as characters from St. John's novel, who, after the collapse of society, are pushed to transient lives and must carry with them their worldly possessions. Yet, there's a kinship French shares with the survivors of Station Eleven.
To her, "Station Eleven" is about what we take with us. The darkly glittering novel is set in the eerie days after the global collapse of civilization, where The Traveling Symphony, composed of a nomadic group of actors and musicians, roams society's remnants around the Great Lakes region. They perform music and Shakespearean plays while focusing on survival. Spanning decades and moving back and forth in time, this novel vividly depicts life before and after the pandemic through the art and performance and memories that remain.
Art from literature
Using St. John's novel, French has created an art installation that celebrates the themes of the dystopian novel. Opening Thursday at the Northcutt Steele Gallery at Montana State University Billings, the installation is part of a series of panels, films, and discussions for the 2019 Big Read in Billings, a program of the National Endowment for the Arts to encourage communitywide discussion around a particular theme and novel.
Venture into a post-apocalyptic world with a free copy of the 2019 Big Read book selection: …
French has created an otherworldly exhibit, one that is made in the details. The dimensional pieces weave their way through the gallery, spotlighted and ghostly. The art appears encrusted, seemingly lifted from a world described in Mandel's novel, set underseas where giant mechanical seahorses flit about the rocky terrain while people live out their lives under water, "clinging to a hope that the world they remembered could be restored."
French has dubbed these pieces "relics from the future," and they're composed of everyday objects: a wooden chair, a plastic dollhouse, a candelabra. Up close, one can pick out the details: beads and screws painted in stark white paint, papier-mâché, shelf mushrooms made from cardboard, barnacles crafted from polymer clay, and tiny white shells encrusting the original object. 
"I was thinking of them existing in the world for a very long time," French said. 
Each piece has a ghost of itself, a haunting replica that appears starkly white in contrast to its other. Her twin boys are an influence, and French said she tends to do things in pairs. "I like dualities, and thought of these as before and after."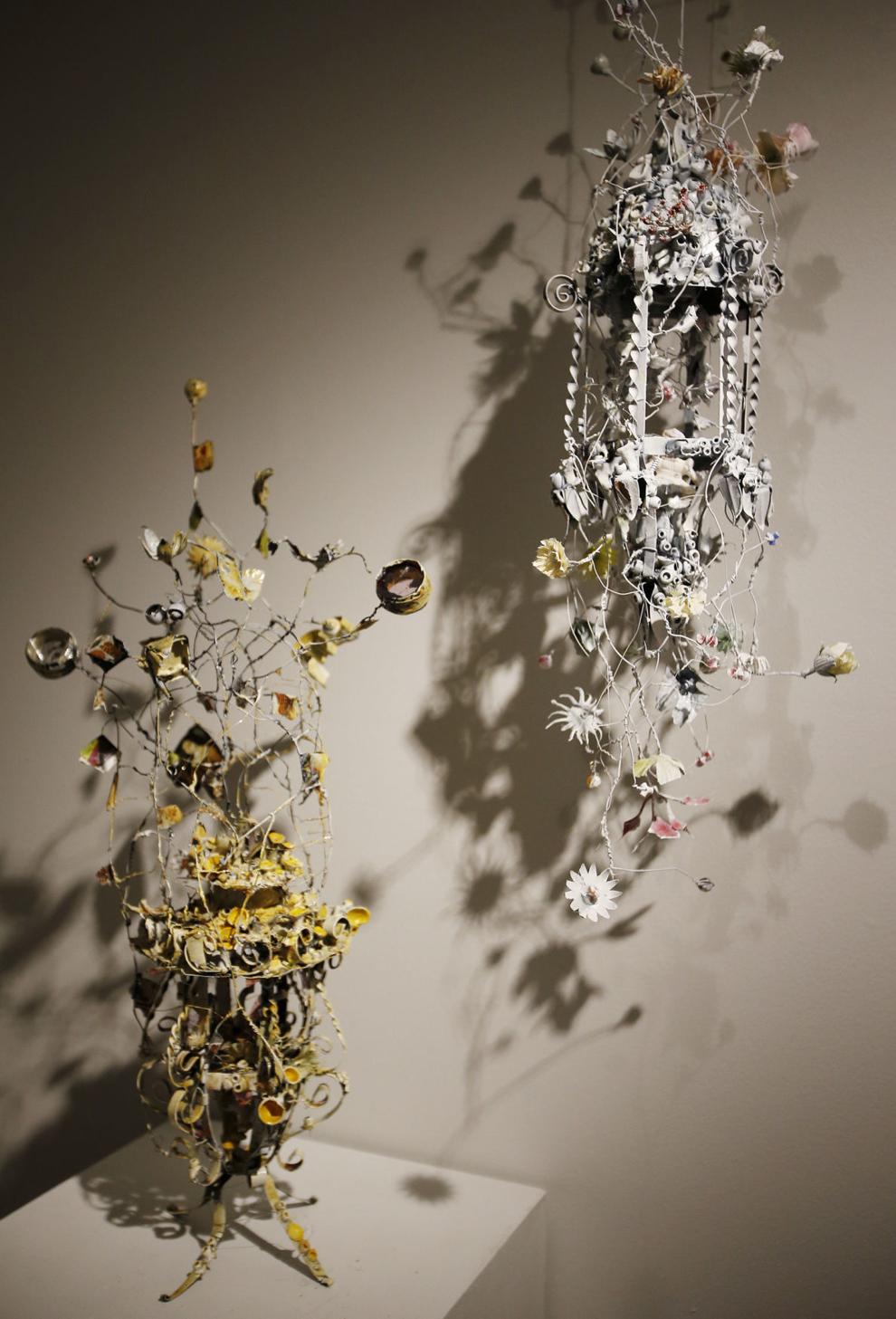 French's personal artifacts are sprinkled throughout, such as the candelabra that was used at her wedding. It's entwined with a deer statue whose horns are entwined in wire, cookie cutters, and fake floral arrangements, things that could have just as easily come from the dumpster as the craft store.
"I really enjoy using humble material," said French, who has a knack for making something beautiful out of society's detritus. She gathers material from the usual places: thrift shops, estate sales, dollar stores.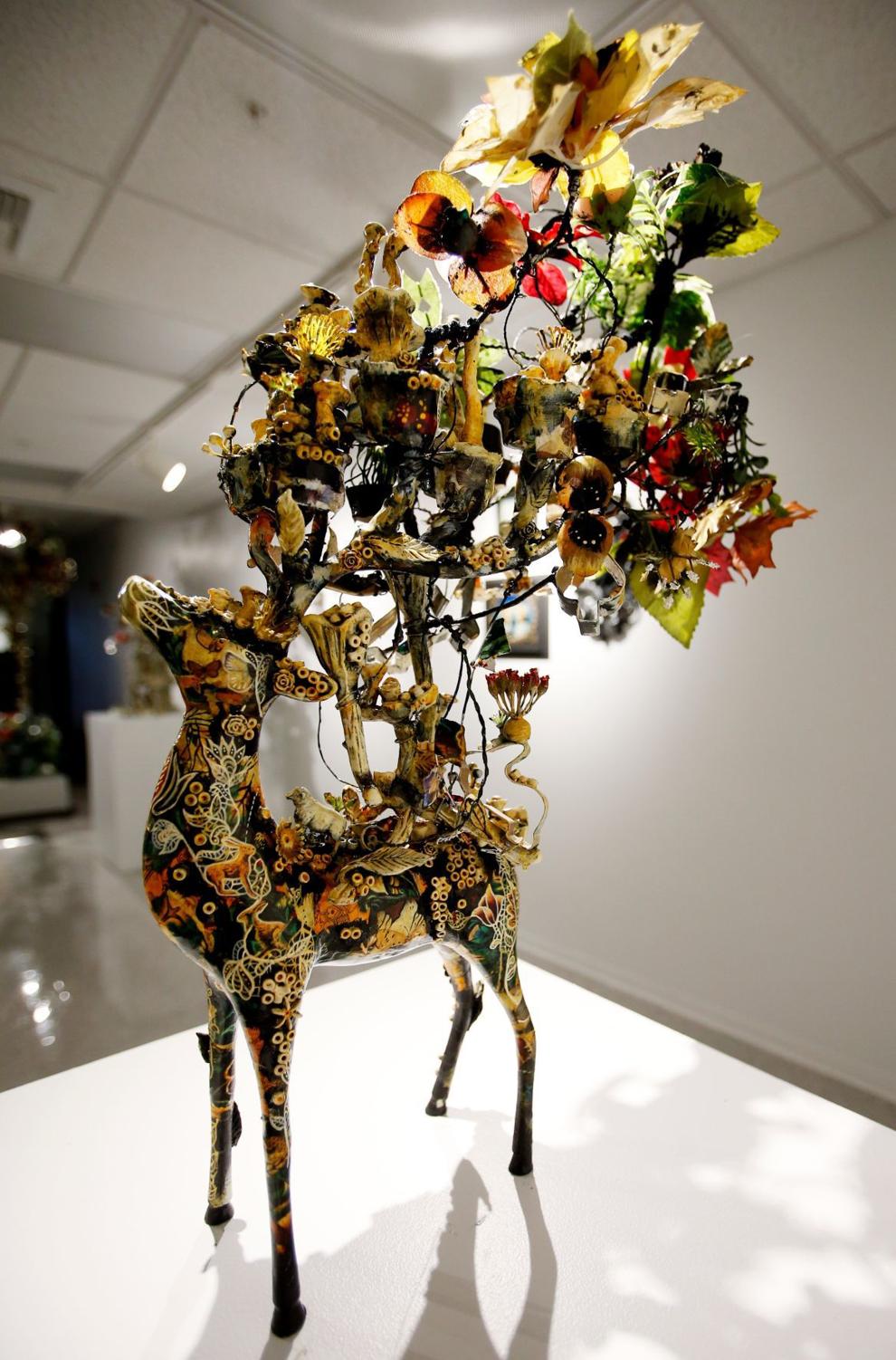 She has also included a slide projector into the room. The machine automatically clicks through slides French created from digital images she took of objects she holds dear. 
The projector adds an element of nostalgia, the light beam highlighting dust motes in the air as the mechanical wheel turns. 
"Nostalgia. It's delicate, but potent," the character Don Draper said in the TV series Mad Men in perhaps his most famous advertising pitch to Kodak for what would become this very same slide projector, the "carousel."
"This device isn't a space ship. It's a time machine…It takes us to a place where we ache to go again…It lets us travel the way a child travels, around and around, and back home again, to a place where you we know we are loved."
An artistic childhood 
French said she's been making art for as long as she's been able to hold a pencil. As a child she started drawing, then in high school took up painting. She went to art school and evolved into oil painting, but now uses acrylics. Her work is delicate, created in a way that could appear tedious, but looking at it closely, it's bizarrely intricate, something French has specifically honed. 
"It's been a process of drilling down to tinier and tinier details," said French, who rarely strays from her most delicate paintbrushes to create these complex and intimate details. "I like work to look one way from a distance, and when you get close, you would find something else to look at."
Her work has shifted in recent years from paintings to dimensional objects, including skulls sourced from her family's ranch outside of Red Lodge, which she paints with ornate designs. 
In the process of documenting her precious things, feelings arose such as thankfulness. "I'm really grateful that we live in modern times with great medicine," she said, thinking of her twin sons, born two months premature and now age 11.
Mandel writes, in Chapter 6, "An Incomplete List," of all the things that no longer exist, once the electric grid went down, from relationship status updates on social media to the glow of a cell phone held above one's head at a concert.
"No more certainty of surviving a scratch on one's hand, a cut on a finger while chopping vegetables for dinner, a dog bite. No more flight. No more towns glimpsed from the sky through airplane windows, points of glimmering light; no more looking down from thirty thousand feet and imagining the lives lit up by those lights at that moment..."
Like French's work, this year's Big Read novel shakes loose ideas of nostalgia and fragility, and of the human nature to connect, with or without a technological lifeline. 
As part of the Big Read, free "Station Eleven" books may be picked up at This House of Books (224 N. Broadway), the Billings Public Library or MSUB Library, where participants can also sign up for a discussion group. 
French will give an artist talk on Jan. 22 at MSUB, in the LA Building, room 220, at 6:30 p.m. Other events centered around the Big Read are detailed at www.msubillings.edu/bigread.