The legacy of Ben Steele is hard to measure. The World War II veteran, prisoner of war, artist and emeritus professor of art at Montana State University Billings is being celebrated by those who knew him through their own art.
"The show is really a fantastic tribute to Ben," said fine art painter Harry Koyama, who was one of Steele's students in the late 1960s at what was then Eastern Montana College. "And, really, it's just a fraction of the students that I know that he had an impact on for all those years that he taught."
Steele lived most of his life in Billings and taught art at the college for 23 years, continuing to teach part-time after retirement. He was one of the last survivors of the Bataan Death March and spent more than three years as a Japanese prisoner of war. He died in September 2016 at 98. The new Ben Steele Middle School in Billings was named in his honor.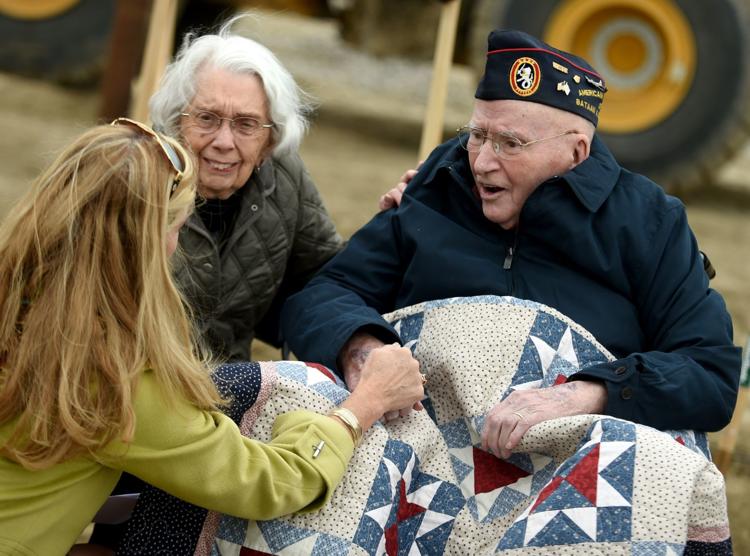 To celebrate his artistic legacy, works by 27 artists are on display in Western Heritage Center's main gallery through September. Koyama, Carol Hagan, Tracy Linder, Clyde Aspevig, Charlie Fritz, Marcia Selsor, Tami Haaland and others who knew and were inspired by Steele are included in the display.
The exhibit was curated with assistance from Steele's widow, Shirley Steele and artist Jacquie Kittson and is being exhibited in tandem with Steele's original oil paintings depicting his time as a prisoner of war, which are on loan from the Montana Museum of Art & Culture in Missoula.
"Each piece has so much distinct style to it," said Cecelia Gavinsky, collections manager at Western Heritage Center. "It's really cool to see that Ben had taught such a variety of people. I like to see all the styles come together, which you can see in his art."
The exhibit also includes a re-creation of Steele's studio, featuring pieces including his easel and a painting that was unfinished when Steele passed. His paintbrushes and paints are set up, and along the walls of the small cabin inside the Western Heritage Center hang self-portraiture, a lithograph, abstracts, oil paintings, a naked figure sketch, and even the "10 Commandments of Fishing" lifted from his studio wall.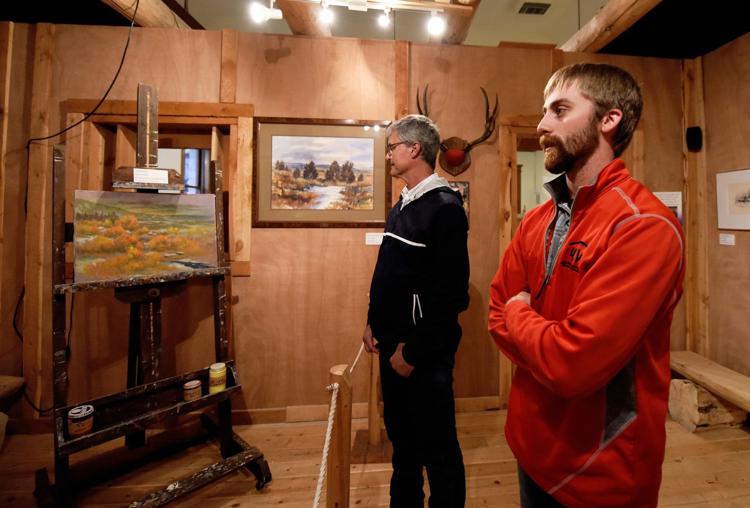 "We picked pieces that showed all the different ways that he taught," Gavinsky said.
Hagan, who has a landscape painting on display, said she will always remember her visits with Steele on perspective. "He stressed to me the importance of honoring the process of translating my own voice into each painting," Hagan wrote for a panel that is on display in the show. "He told me how important it was to paint from within, and not from sight alone."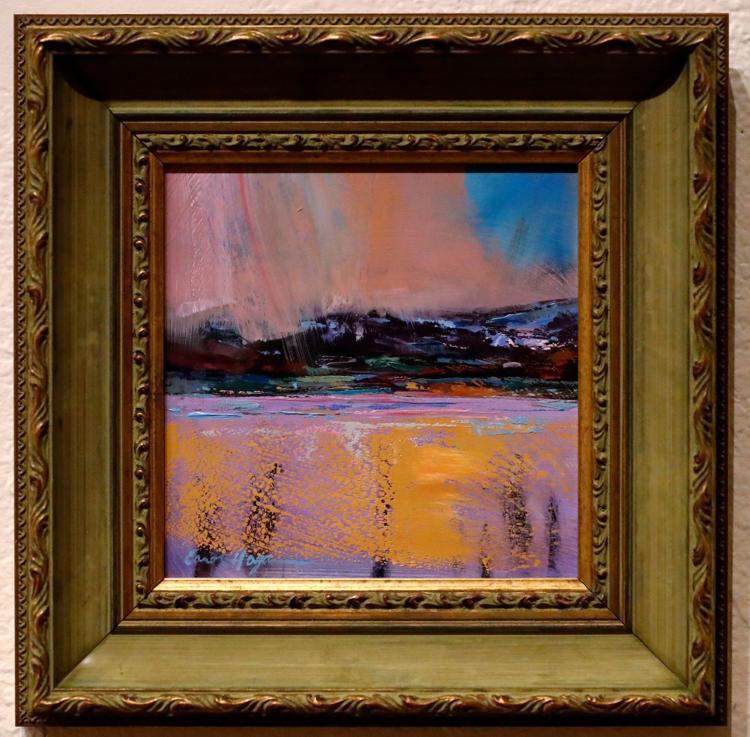 Selsor, a potter based in Red Lodge who has the only ceramic work in the show, first met Ben in 1975 when she interviewed with him for a teaching position at Eastern Montana College. She recalled Ben picking her up at the airport. He was wearing a cowboy hat and showed off the city, pointing out the ski runs in the distance and taking her to Indian Caves.
"Coming to Montana changed my life," said Selsor, who taught at the university for 25 years. "I just love being in Montana, and I have to thank Ben for that."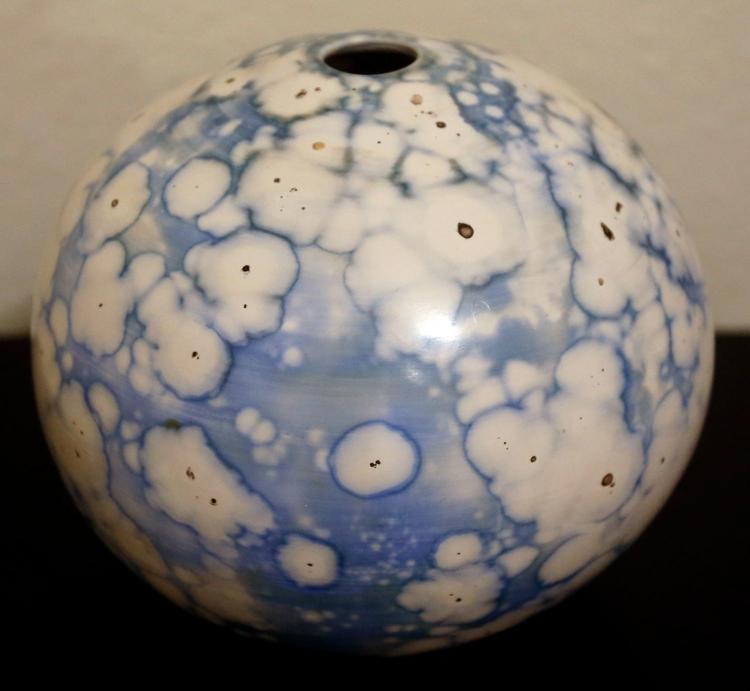 Selsor described Ben as a second father, one she could joke with about needing a haircut and also prank, including hanging caramels from the ceiling of his office to celebrate his birthday. Ben always had a bowl of caramels on his desk, Selsor recalled.
That year, Ben turned 60, and Sue Hart, long-time professor of English at Montana State University Billings arranged for the governor to declare Ben Steele Day on his birthday, Nov. 17.
Artistic legacy
Steele was born in 1917 in Roundup and grew up on a ranch near Musselshell in the Bull Mountains. His family homesteaded and ran cattle on the open range.
Clyde Aspevig, a landscape painter who grew up in rural northern Montana, studied under Steele. "Ben told me that those times by himself in the Bull Mountains were a very important aspect of how he coped with his years as a prisoner of war," Aspevig wrote for the Western Heritage Center's exhibition. "He could imagine himself riding his horse, observing the movement of wildlife, sketching in the big sky landscape he loved."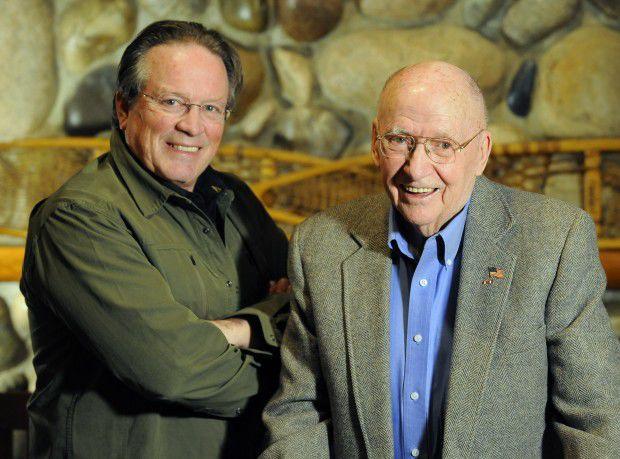 During the Great Depression, the Steele family lost their ranch and moved to Billings, where Ben attended high school. During that time, Ben would meet the famous western painter and writer Will James while working at the Snook Art Co. The Snooks affectionately nicknamed Steele "The Kid," and he took care of various projects for the family, recalled Shirley Steele in a previous interview with The Gazette.
James was one of the biggest and earliest influences on Steele's life. "They took to each other," Shirley said. "Ben was absolutely fascinated — with his ability to draw especially. He always admired Will."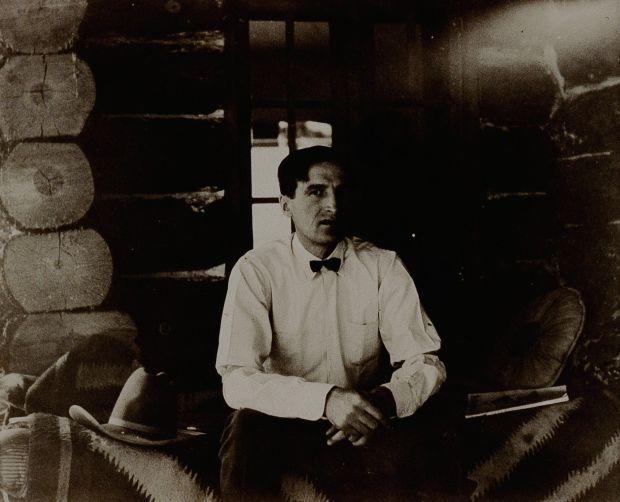 Steele often would drive James in the Snook company truck to his home on Smoky Lane. "Ben would sometimes take him shopping and take him home, and they would visit and he would watch him draw. He also would help straighten the house," Shirley said. "I don't know how good of a housekeeper he was, but he would help."
You have free articles remaining.
Shirley recalls Ben's memories of James inviting the young Steele to, "Come out anytime kid. Just jump over the gate."
Drawing wouldn't be a major factor in Steele's life until he was a prisoner of war. In 1942, working as an Army Air Corps private in the Philippines, Steele was among the tens of thousands of American and Filipino soldiers who surrendered to Japanese forces while defending the peninsula of Bataan. The prisoners of war were forced on the 66-mile "Bataan Death March" in brutal heat and atrocious conditions to Camp O'Donnell. Thousands didn't make it to the prison camp, left for dead, shot, bayoneted, and beheaded when they fell behind.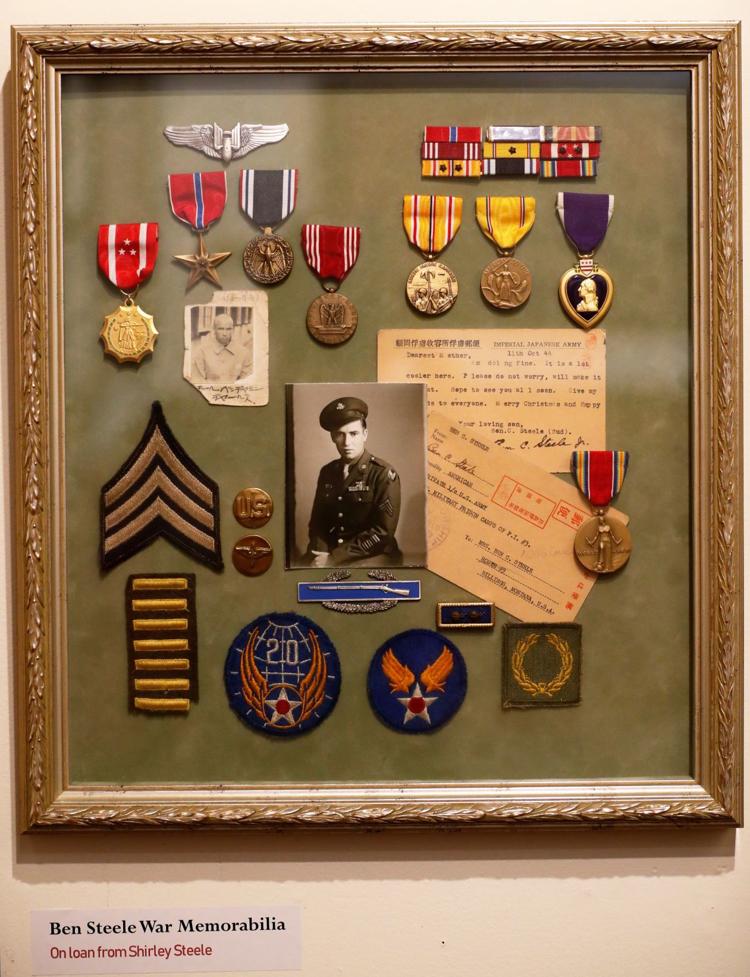 Steele himself was bayoneted, starved, beaten, and endured dysentery, malaria, pneumonia, and beriberi. During imprisonment, he was sent to work detail on a coal mine 80 miles from Hiroshima, where he drew on the concrete floor with a charred stick, and later on paper with pencils that were smuggled to him. He describes art as his savior, giving him the ability to express what he experienced.
After the atomic bomb was dropped on Hiroshima in 1945, Steele and the surviving prisoners were released. He returned to Montana where in the 1950s he began to document what he experienced. His works are some of the only images that exist of the march.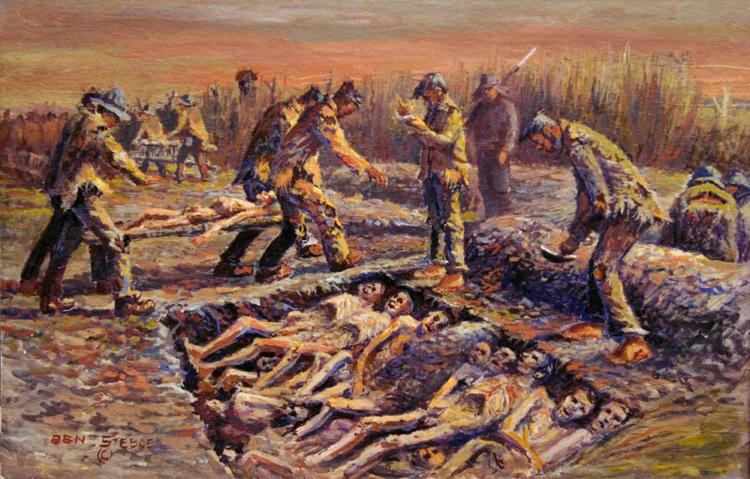 "I have lots of images in my head," Steele told the Missoulian in 2011. "I could paint them for the rest of my life. I don't have trouble recalling anything in there ... I was impressed very deeply by it."
Finding peace
After the war, Steele started teaching at Eastern Montana College. He joined the staff in 1959 and taught and advised many students, including Harry Koyama, a young artist from Hardin eager to study art.
Their relationship was one that was a catalyst for healing, as Steele described in "Tears in the Darkness: The Story of the Bataan Death March and Its Aftermath."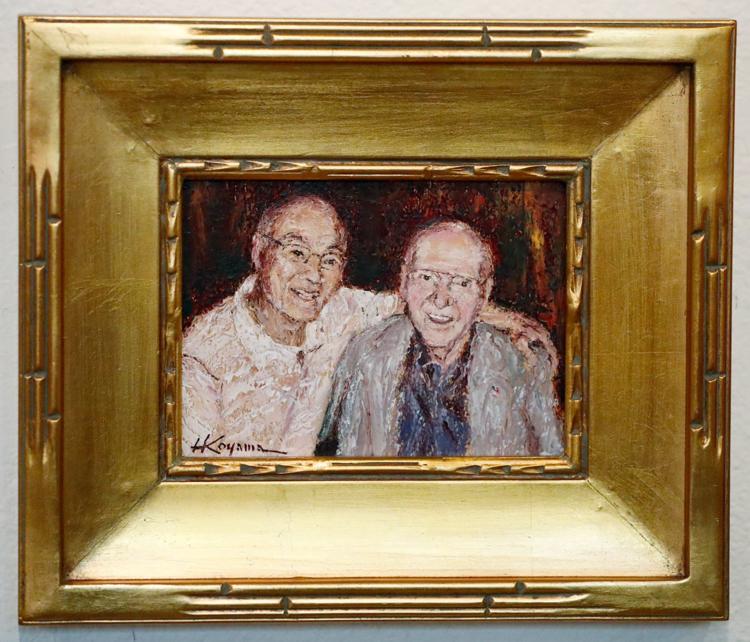 A Japanese American, Koyama grew up in a family of beet farmers near Hardin. His parents were held in an internment camp in Arizona during World War II, which is also where his oldest sister was born.
Steele was Koyama's adviser and instructor, and during his collegiate life, Koyama said they didn't really talk specifically about the war.
"As I recall, we maintained a pretty cordial relationship. It was just student and teacher, and everything was professional."
Koyama said he realized how much Steele was impacted by having a Japanese student after reading "Tears in the Darkness," written by Michael and Elizabeth Norman from hundreds of interviews with American, Filipino and Japanese combatants in the Bataan Death March, with Steele as the central protagonist.
"He was really tormented by not knowing how he was going to react to me. At the time, I was just a kid from the country going to school, but for Ben it was a lot more profound."
After college, their relationship blossomed, and they did discuss these topics, Koyama said. "It just hit me like a load of bricks that I had that effect on him. I am really thankful that it was positive. Not everyone could forgive."
Koyama has submitted his more recent work for the show, paintings of abstraction that are a departure from the distinctive and colorful oil paintings of western subjects. Steele had an impact on Koyama's composition, and he describes abstract art as a progression of his art career.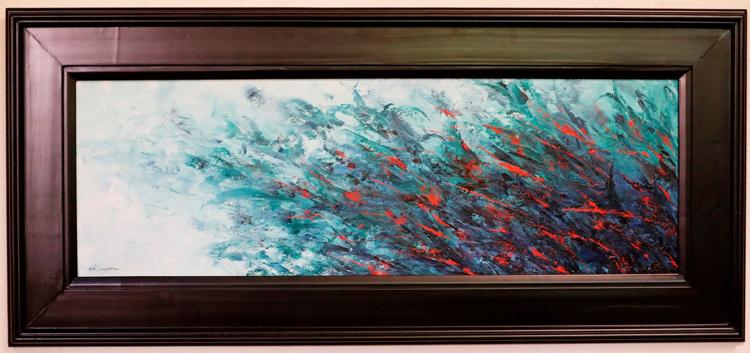 On display throughout the gallery is a love and respect that many artists had for Steele.
"There is this recognition of his mentorship and his ability to foster a love of art through critique, which can be an acquired skill," said Lauren Hunley, community historian at the Western Heritage Center. "Several mentioned how he felt about sketchbooks, his humor, and his ability to accept what had happened to him from his prisoner and war experience, and to not necessarily move on or forget it, but to allow that to create a stronger foundation for him to move forward."
"I know I'll never meet another Ben Steele," Koyama said. "I'm just glad that his legacy will live on."
---
Photos: Friends of Ben at the Western Heritage Center