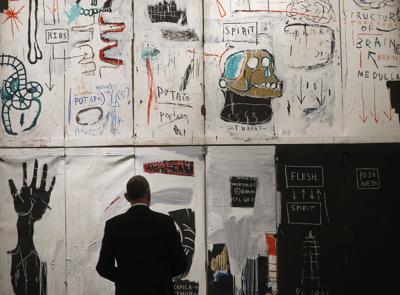 I got my first look at Jean-Michel Basquiat's "Flesh and Spirit" — and my first in-person look at a Basquiat period — this summer at the Yellowstone Art Museum.
It's a beast of a painting, 12 feet tall and 12 feet wide, and is the New York graffiti artist's largest piece. Two hinged panels link the canvas, pummeled with language and figures in oil stick and acrylic atop a gesso plaster.
It is being displayed publicly in Billings for the first time since it was purchased 35 years ago. Of all the museums in the world, why it came to Billings first is a bit of a mystery.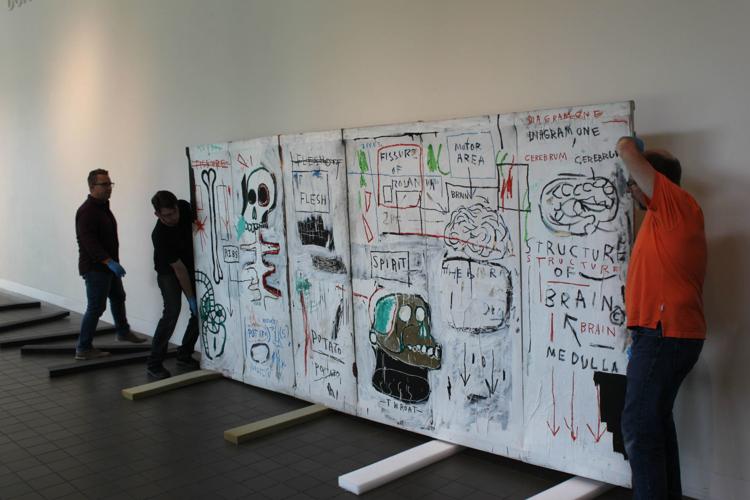 When you stand in front of most anything this large, you are going to get a reaction. I feel different now: less alone, more angry, pulled apart yet whole.
Basquiat was 23 when he completed this work, a dissection of so much raw existence that has garnered comparisons to epic altarpieces by 19th and early 20th century artists like August Rodin, who — inspired by Dante — depicted journeys through the Gates of Hell.
It's a piece you could pray to, an altar of language, myth and reason. With an influencing mass of disparate ideas and symbols, its presence is physically overwhelming. In four quadrants, the painting cycles between the worlds of the living and the dead in what has been described by art scholars as a "cosmogram," the religious emblem of the Kongo people that represents the cycle of existence.
The interplay of these ideas was influenced in part by Basquiat's fascination with Robert Farris' "Flash of The Spirit: African & Afro-American Art & Philosophy." The title of the piece is a nod to this book, which contrasts five African civilizations and their influences on social and metaphysical traditions of black people in the U.S. and elsewhere.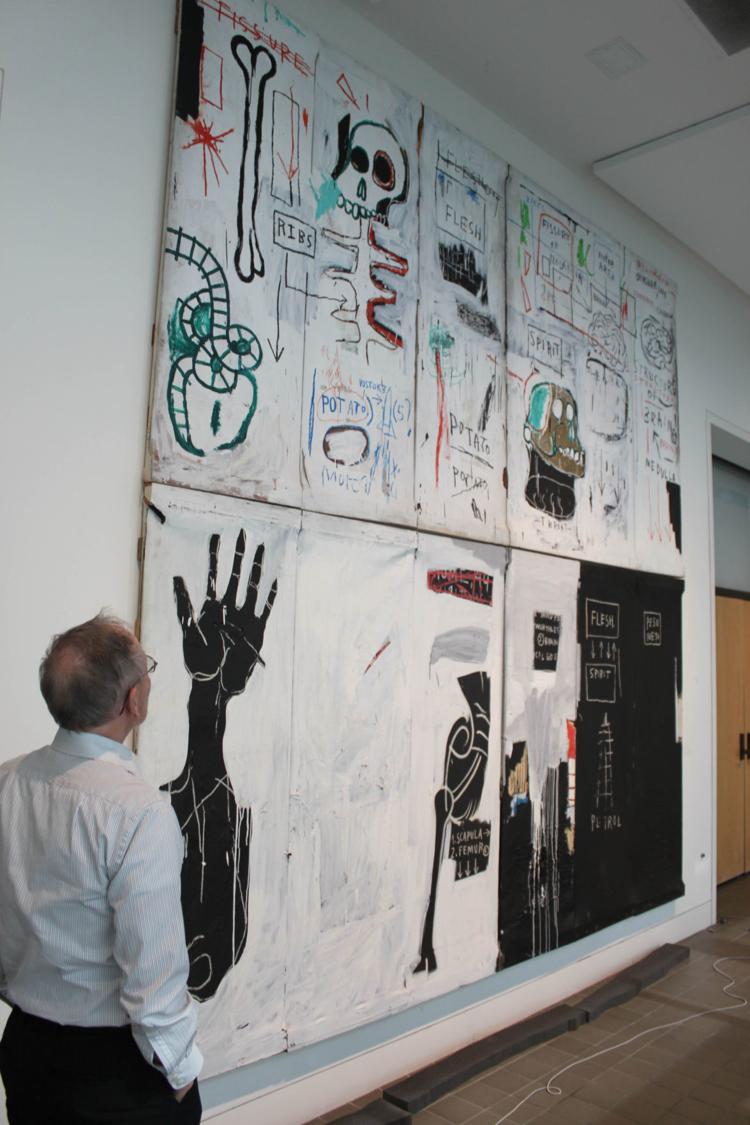 In what seems like hasty handwriting, words pull viewers from one panel to the next. Prominent and eye-catching phrases about the brain are located in the top right panel, where Basquiat referenced the fissure of Rolando, named for Italian anatomist Luigi Rolando. Through dissection and experimentation, Rolando discovered many complexities of the brain and the connectivity of the nervous system.
Anatomical renderings, most noticeably a forearm and femur in the painting's bottom left quadrant, continue the feeling of disconnection and incompleteness, of searching for meaning in the sum of our parts.
The piece was completed in 1983, five years before Basquiat died of a drug overdose in his Manhattan art studio. He was 27. 
"My grandfather bought it for her on a small musician's salary for the price of $15,000," Neumann described. "…It was something that she knew was a masterpiece and would be very valuable one day, and she felt like she would have a nice future for herself and her family because of it."
Thirty-five years later, an anonymous buyer purchased "Flesh and Spirit" for $30.7 million.
"Artwork is not like a stock," said Bryan Knicely, executive director of the Yellowstone Art Museum. "Artwork, you buy it when it comes on the market. If you have one person interested in it, it may not go for as much, but if you have two or three people interested in it, then they are going to battle it out and it's whatever they are willing to pay for it on that particular day."
A year before the sale of "Flesh and Spirit," another Basquiat painting sold for more than $110 million, a sale that involved four bidders driving the price to a record. Basquiat's "Untitled," a colorful painting of a skull from 1982, drew the highest price tag at auction for an American and African American artist and was the first work of the last three decades to sell for more than $100 million, purchased by Japanese billionaire Yusaku Maezawa.
In a statement to the New York Times, Maezawa said he acquired the piece for his hometown museum in Chiba, Japan, but also wished to "loan this piece — which has been unseen by the public for more than 30 years — to institutions and exhibitions around the world," a common practice for art collectors.
"You have some people who like to buy and donate art. Some people like to buy and put it on loan, or some people will buy and put it on long term temporary loan because they don't have a place for it," Knicely said. "They like it, they want to own it, but they can't display it."
The newly acquired "Flesh and Spirit" went from the auction block to the YAM's wall on an anonymous special loan.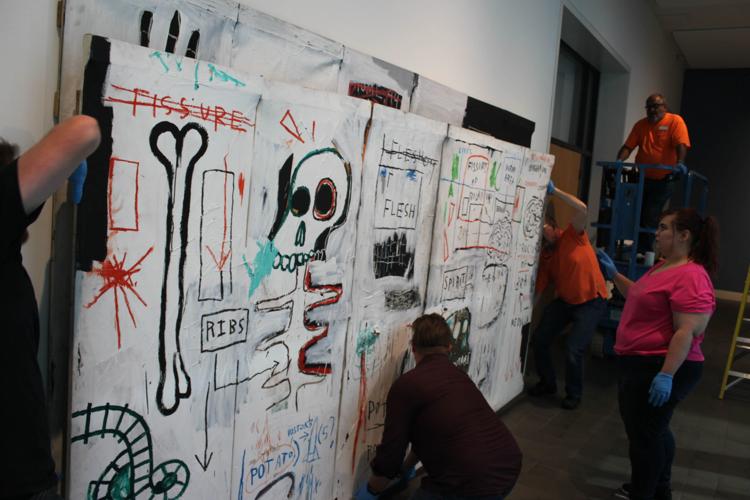 Knicely isn't able to say why the painting came to Billings, just that it came from one of several individuals who loan items to the museum. "As they collect and buy things to put things into the public realm, they have been very generous in offering us gifts like this for a short amount of time."
Often, the museum doesn't even speak with the buyers, but works through private art registrars and curators who work for these art collectors, which was the case with "Flesh and Spirit." 
"I never ask what their intent is," Knicely said. "I am just happy to get the pieces while they are here."
It's unknown where the painting will go after the YAM. It's possible it will travel to several museums, or that the buyer is preparing a space in their private residence for the masterpiece. 
With a Basquiat on the wall, or a Picasso, or a Warhol, or any of the special loans that have come and gone from the YAM, the museum is fulfilling its mission of being a progressive voice for art in the region.
"This puts us on par with any major contemporary art museum that might have things like this in their permanent collection," Knicely said. "For us to have the opportunity to bring these temporarily to Billings and to have these special loaners understand that — they want to bring art and culture to this region."