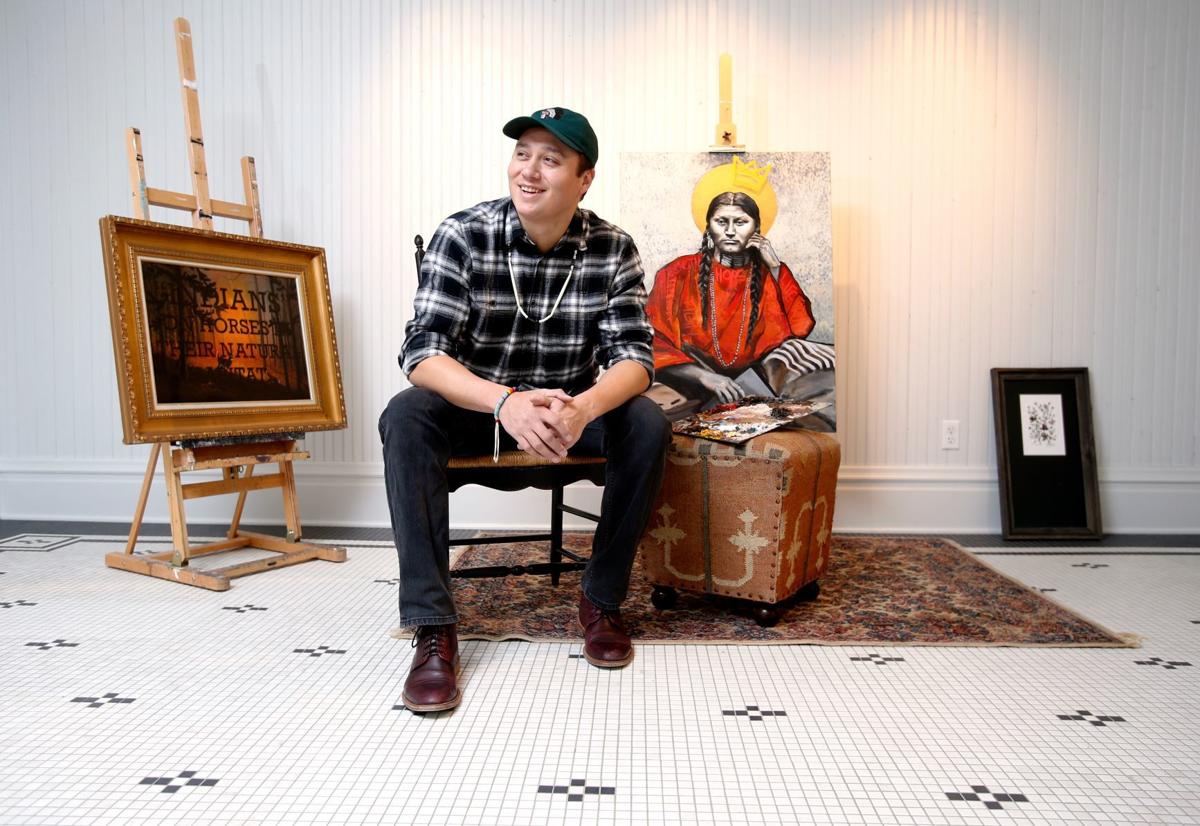 At 17, Ben Pease sold his first painting for $400.
"For a rez kid, that was a whole bunch of money," said Pease, who would turn art-making into a viable way to make a living. "I didn't know what I was going to do. It was sort of a turning point."
Pease, a member of the Crow and Northern Cheyenne tribes, grew up in Lodge Grass and attended high school in Hardin where he began painting. As a teenager, he was introduced to the western art world in Great Falls during the C.M. Russell Museum's annual art exhibition and sale.
"I was seeing different representations of myself and of my culture, and understanding that they weren't me, but they were inspired by me," Pease said of the abundance of art for sale portraying Native Americans' life. He saw collectors wearing turquoise and silver, some wearing indigenous-made beadwork, and non-natives wearing war shirts and headdresses, Pease recalled.
"I could tell it wasn't real. At that time, I had no conceptions of political or tribal sovereignty or jurisdiction or voting rights. But it was just natural for me to see that there was a disconnect between the people who had these things in the western art world and what I grew up with and experienced and practiced."
Now, at age 30, Pease has his first submission accepted into The Russell Exhibition and Sale, taking place March 19 - 21 in Great Falls.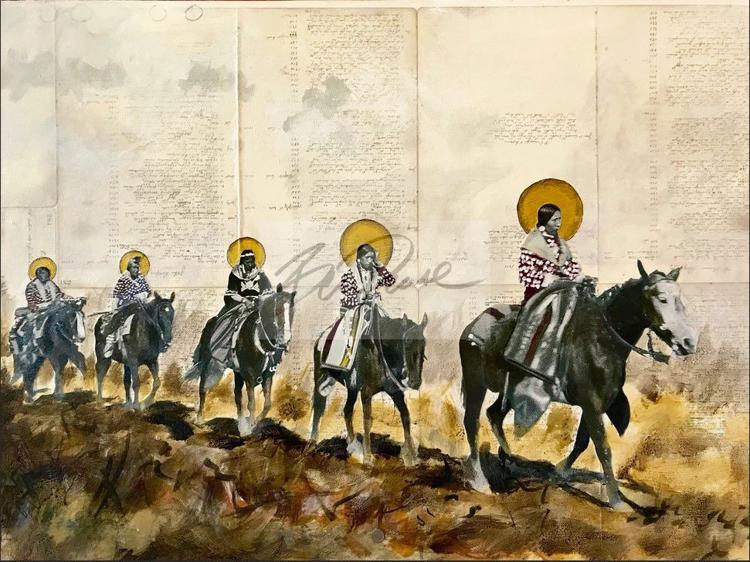 It's one accomplishment in an astounding list that Pease has been amassing. Just in the past year, Pease has traveled to Berlin and participated in a project transforming pieces of the Berlin Wall into public art. He was named Artist of the Year by the Yellowstone Art Museum, and is participating in the Field Museum of Chicago's indigenous-run art exhibition, "Apsáalooke Women and Warriors," featuring historical items and contemporary Crow art. He also has completed a year-long residency at the YAM where he interacted with thousands of students touring the museum as part of the organization's educational outreach.
From his portraiture of indigenous people to his commentary on appropriation, food systems, minerals extraction, and historical representations contrasted with modern society, Pease has become a vocal advocate for Native Americans through his art.
"Why do something if it doesn't mean anything? And that's why I don't paint cows."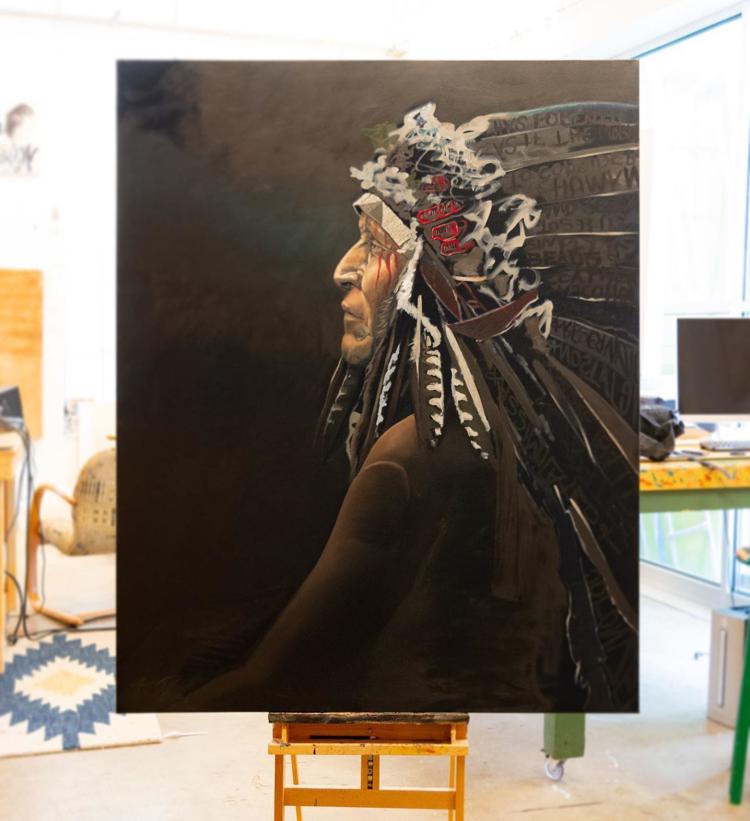 For the C.M. Russell Museum, Pease submitted an oil on canvas, 5 feet tall, 4 feet wide, of Crow warrior and Pipe Holder Two Leggings, to "be a voice that is not really there." Within the headdress worn by Two Leggings, Pease has painted words from a poem he wrote about cultural appropriation and Native American stereotypes.
"It's not just beads and feathers; it's about the humanness," Pease said.
The piece is valued at $9,000 to $15,000. Pease has been asked by the C.M. Russell Museum to participate in the past, something that he declined.
"I don't know if it's the right decision, but I wanted to make a statement."
Artist's statement
Pease has built his career on making a statement. His work is thought-provoking and poignant while containing wit and humor. He uses layers to achieve an impact on the viewer, often incorporating poetry and ledger paper, giving a dynamic, thick work to digest. His work is personal, the antithesis of the western art world.
"In Montana, some of the art is simply made for aesthetics: landscapes, cowboys, Indians, horses. And there's a place and a function for purely aesthetic art," Pease said. 
Pease's great-grandfather, also named Ben, was a maker of items such as war sticks, bags, and pipes to support himself and his family, Pease recalled.
"In our world, as he was making these things to sell, he was capitalizing on imagery, just like I'm doing," Pease said. "I am constantly asking myself, how much Native does my artwork have to be for me to consider it Native, or does it even have to be Native art?"
He defines "Native art" as artwork made from the experience. "We as humans all speak from our own experiences, and if we don't speak from our personal experience we are telling lies, or just contrived stories."
Pease grew up without a father and didn't have many male figures in his life, he said. "I was raised by women. Women have played a huge role in my life, following in their footsteps and trying to hold things up as best as I can."
For the past few years, Pease has focused on an indigenous goddess series that includes historical images of revered women from the Apsáalooke and Tsitsistas tribes, some of which will be included in "Apsáalooke Women and Warriors," opening in March in Chicago at the Field Museum. 
The exhibition, curated by Nina Sanders, an Apsáalooke woman born and raised on the Crow Reservation, includes many Montana-based artists and activists including fashion designer Bethany Yellowtail, photographer Adam Sings In The Timber and Christian Parrish, known as rapper Supaman.
Pease is contributing several original works, and his piece "Sacred Under the Cliffs of the Yellowstone" will be reproduced to several stories tall and hang between the pillars of the museum.
This series pays homage to women such as Pretty Nose, an Arapaho warrior, who is painted in historical context, yet given modern affects, such as an iPad and crown popularized by New York graffiti artist Jean-Michael Basquiat. Pease has painted about 20 indigenous women in this series, each with a golden halo around their heads to signify reverence and royalty.
"I try to live my life for the women in my family," Pease said. "We are all here because of women. The earth is our mother. In my work, it's coming from my heart and my culture and my history and my conception of my reality."
Pease began painting as a teenager, and after high school he accepted an art and football scholarship from Minot State University. It was there he studied under Walter Piehl, a former rodeo announcer and cowboy artist he described as the "old dude in the cowboy movies," complete with mustache and hat.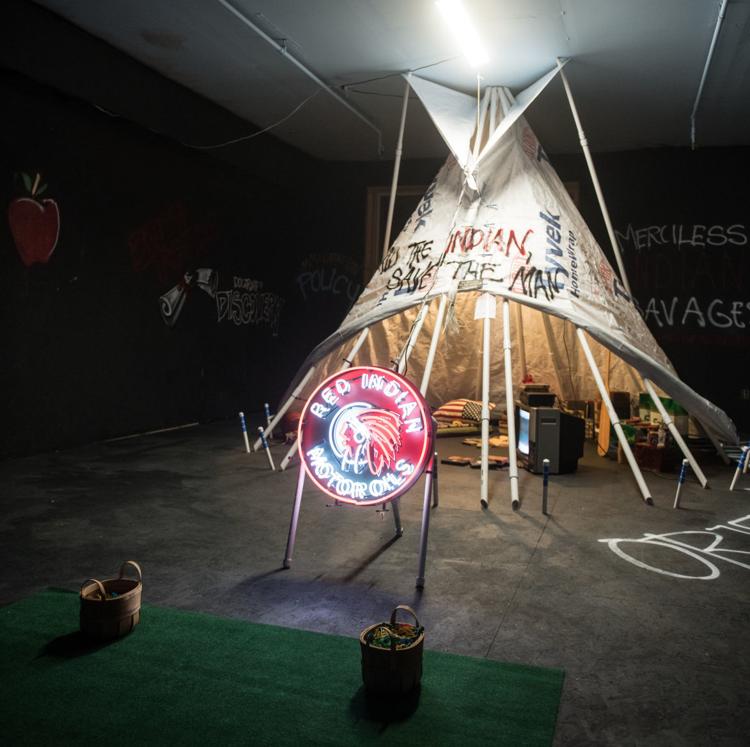 Though he seemed like a stereotype, Piehl learned from Fritz Scholder, a legendary contemporary artist and member of the Luiseño tribe whose postmodern work focused on surrealism and deconstructing indigenous imagery and mythology.
"Walter lit the flame behind a lot of why am I doing this," Pease said. "I came in and I was painting portraits of Indians, and he basically shifted my mind." Piehl asked why, and what does it mean? He taught Pease ways to express his visions and use art to answer those questions.
In North Dakota, Pease met Malisha Tso, and the couple would marry and start a family. In Pease's final year of college, they moved to Bozeman. Though he didn't finish his degree, his work began to gain national attention. They left Bozeman after six years, briefly lived in Red Lodge, and relocated to Billings in 2018 after Pease was offered a year-long residency at the Yellowstone Art Museum.
Against the Walls
Pease has been exhibiting work for only seven years, which has accelerated in popularity, in part due to his social media postings where his work began to reach an international audience.
In June, Pease was invited to take part in The Berlin Wall Project, launched by NeuWestBerlin, an arts and events platform that uses the nearly 12-foot tall T and L shaped pieces remaining from the Berlin Wall as canvases.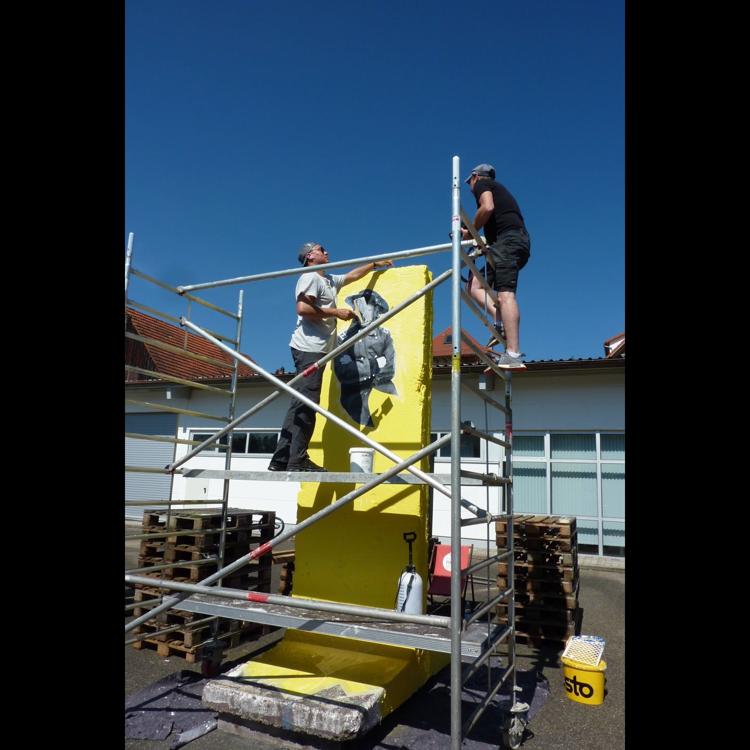 "As soon as I had the opportunity, I knew exactly what I was going to do," Pease said. He worked from a 2016 painting he'd created of Donald Trump, portraying the presidential candidate as General George Armstrong Custer, drawing parallels to public perception of both men as either American heroes and patriots or fools and cowards.
"I'm not telling people how to think, but bringing dialogue and discussion to it," Pease said. 
On Trump's shoulder, Pease added the Twitter emblem. "He's turned this social media site into a tool to stoke the flames and the fire."
The yellow color palette and the incorporation of a snake cut into pieces for Trump's body recalls the Gadsden flag, a symbol that originated in the American Revolution.
"I was talking about what I see in Montana and across the nation when I travel, that patriotism and nationalism have this role that is very obviously dividing but also dissolving of diversity," Pease said.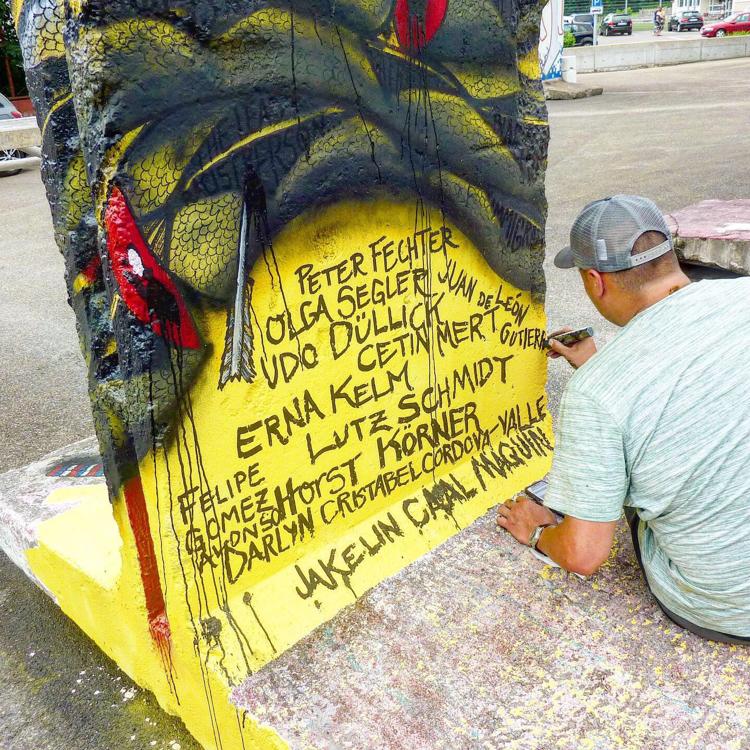 At the base of the column, Pease painted the names of several people who died at the Berlin Wall with the names of some of the 24 children who have died while in custody of the U.S. Immigration and Customs Enforcement. Moss plants from Germany's Black Forest are set below the names, forming what Pease describes as a shallow grave and a reflection of the ideology that "the grass is always greener."
While in Germany, Pease also gave a series of talks on "Was ist ein Inder?" – or, what is an Indian?, sponsored by Gerhard Pfieffer, a distant German relative. Pease also demonstrated traditional Crow-style war dancing.
"When I would show up, I would be dressed in a suit and tie, and I'd change into my regalia, and after I was done dancing, I would come out in street clothes," Pease described. "People would be really confused, like, 'Where's the Indian?' They romanticize about our culture even more than Americans are."
Educational outreach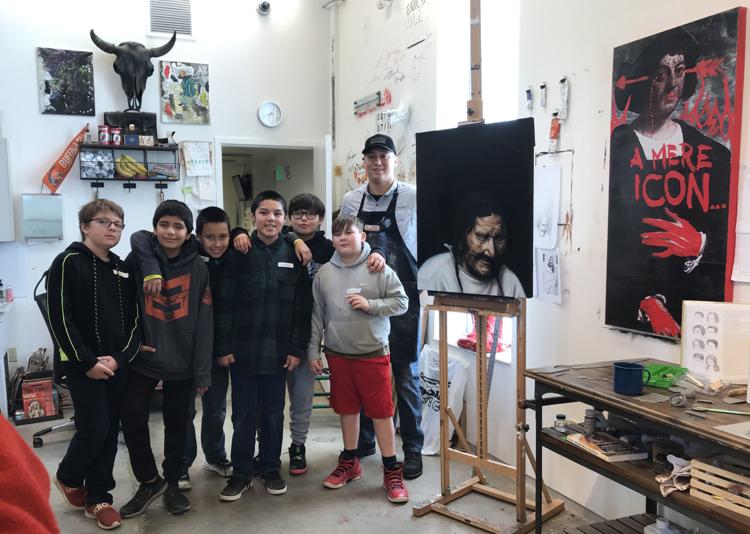 Pease was the 15th artist to take up residency at the YAM's Visible Vault since it opened in 2010. 
"Ben Pease was fantastic at connecting with students and being authentic about all aspects of what it is like to be a professional artist and to represent the Crow and Northern Cheyenne cultures," said Mary Serbe, education director at the YAM. 
Serbe estimates the museum saw more than 8,000 children through the education programming from the July 2018 – June 2019, and of those children, more than half were through outreach programs that bring students from Crow Agency, Hardin, Shepherd, and other outlying communities.
"It's a chance to meet a professional artist in the space where he or she is creating art," Serbe said. "Students see the ongoing practice, talk with the artist in residence, and sometimes get to be part of the art-making process."
For Pease, the connection with students was the most important aspect of his residency. "I never had that opportunity to visit an artists' studio, especially one from my own community. They would come in and their eyes would light up. They could see that it's a possibility."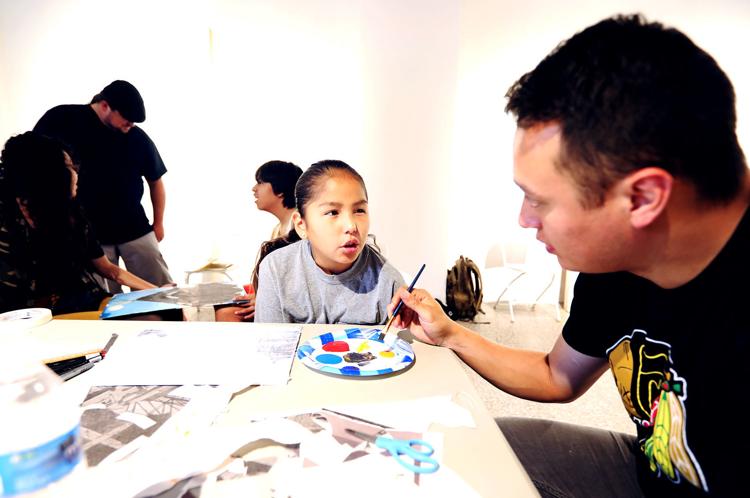 Two years ago, Pease and Michaelynn Hawk, executive director of Indian Peoples Action, based in Butte, founded Native Youth Art in Action, a program focusing on fostering creativity and self-employed indigenous artists. Pease said the youngest participant is age 12. Each year, the group hosts a juried art show for native youth at the Montana Folk Festival's First Peoples Market and works in conjunction with the Creative Indigenous Collective, a group Pease is part of that includes nationally and internationally recognized indigenous artists from around the country.
Artist of the Year
For his contributions to the artistic community and his global outreach, Pease was named Artist of the Year in 2019 by the Yellowstone Art Museum.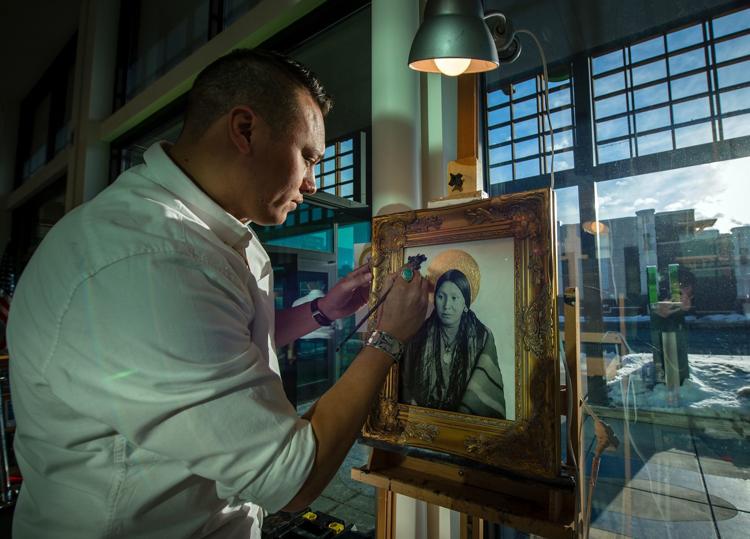 "Ben is constantly experimenting with new media, trying out new ideas, and growing as an artist and storyteller," said Susan Barnett, YAM curator, during the museum's annual meeting in July, where Pease and others were awarded. "Although Ben makes beautiful things, that is not the focus of his creative process. He is passionately engaged on behalf of indigenous people and called to serve as a mentor for the next generation. His passion is reflected in his art, his leadership, and his commitment to social justice."
Pease is now working out of the Stapleton Gallery in downtown Billings until he finds a new studio in which to work. He's launching into a new series of work, titled "Western Art." The first piece, "Indians on Horses in Their Natural Habitat," is a button pusher. He purchased a painting by a well-known western painter (whom he did not name) and added his own touches.
"For his whole career, he painted Indians on horses and Indian portraits, and so I bought one of his paintings and I painted over it, just to give a literal and metaphorical platform to this thing that is happening," Pease described. This "thing" is something Pease has been observing since the first time he saw a western art show auction — that his culture, his people, are being represented by people who aren't indigenous.
"It's not an affordable game to play," Pease said, laughing. The bigger the artists, the more expensive the painting is he plans to deface. "Once you buy something, it's your property, but does that work in the same way as art?" he asked, questioning if cultural can be copyrighted, a larger conversation happening in major arts communities, primarily in Canada and the southwest. Pease cites the Arts and Crafts Act of 1990, which protects works of art by tribal members, but said that there's no structure in the western art world, yet, for cultural copyrights.
"A lot of Native art has focused on appropriations and assimilation, when more importantly we should instead be focusing on fostering our present culture and creating new culture," Pease said. 
Pease plans to give 100 percent of the proceeds from the sale of paintings in the "Western Art" series to nonprofit organizations working on the Crow Reservation.
"More than anything, it starts a full conversation, but I feel like it doesn't do much, so I am trying to figure out different ways to go about it," Pease said.
---
Photos: Artist of the Year Ben Pease
'Sacred Under the Cliffs of the Yellowstone'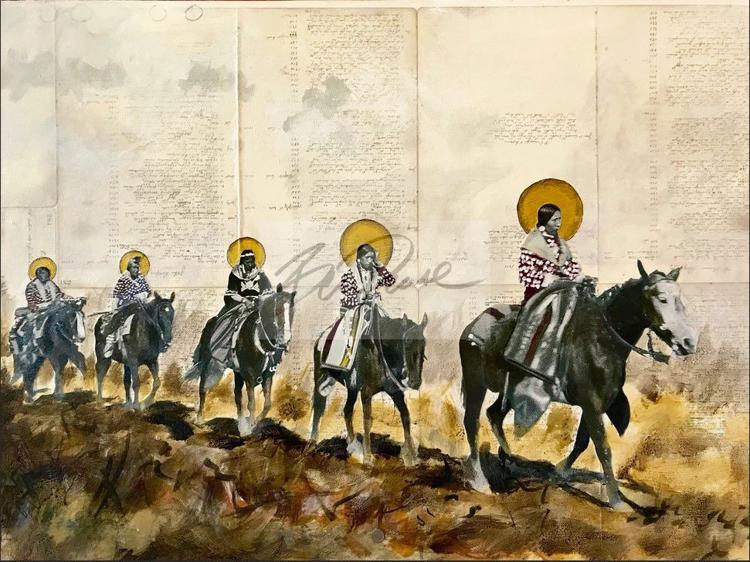 "Sacred Under the Cliffs of the Yellowstone"
Two Leggins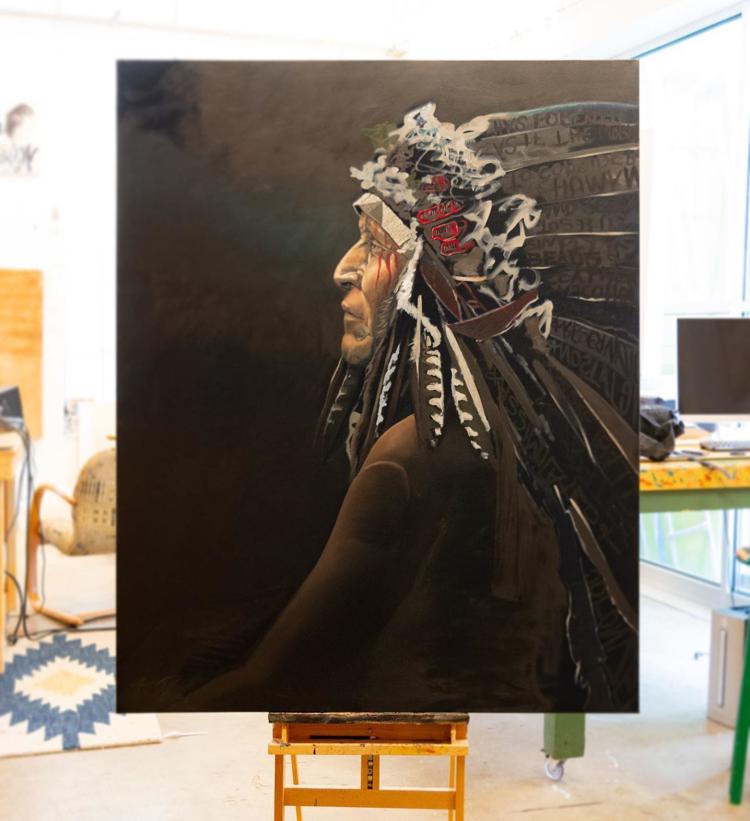 Ben Pease with students from Hardin Elementary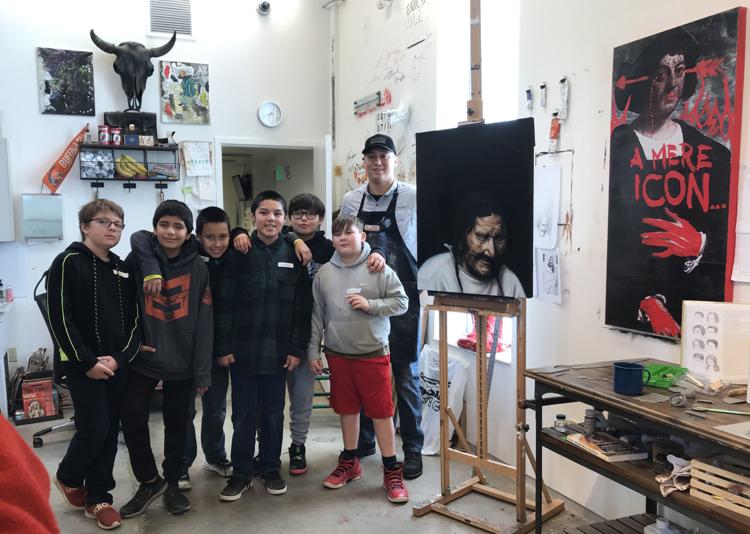 The Berlin Wall Project
The Berlin Wall Project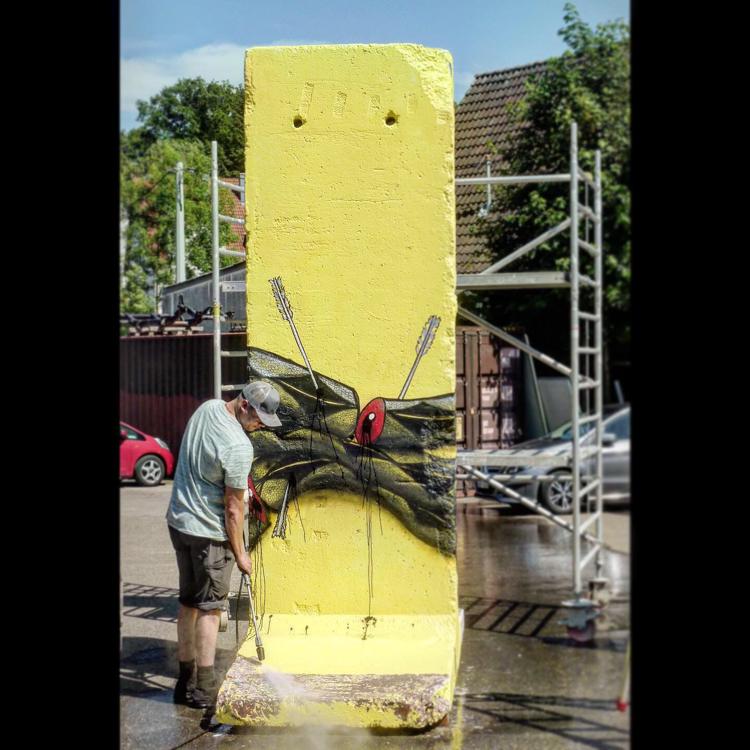 The Berlin Wall Project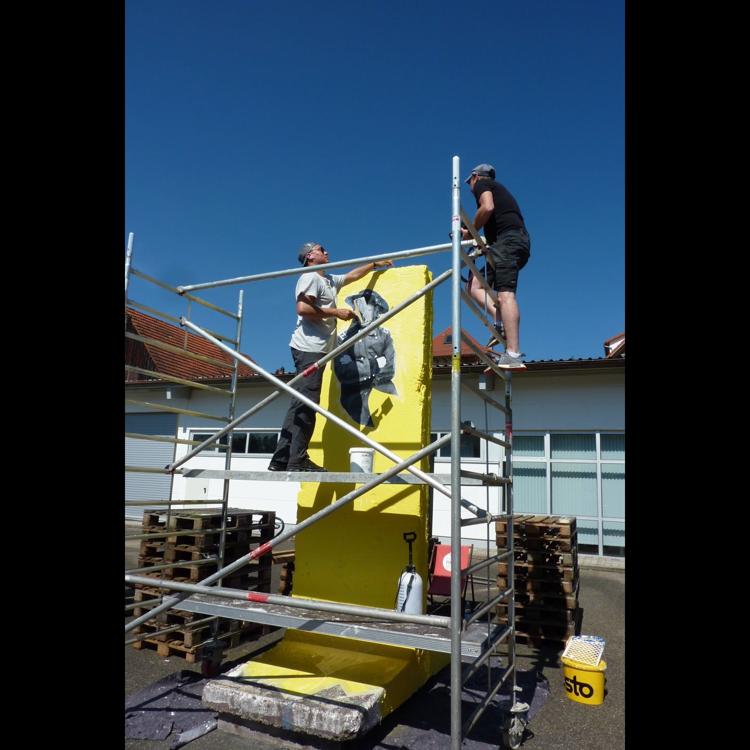 The Berlin Wall Project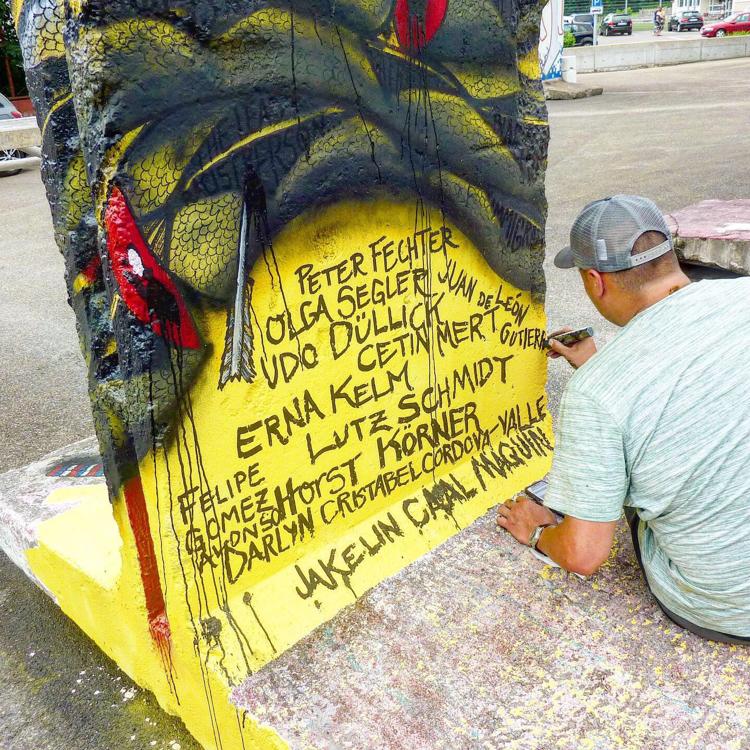 The Berlin Wall Project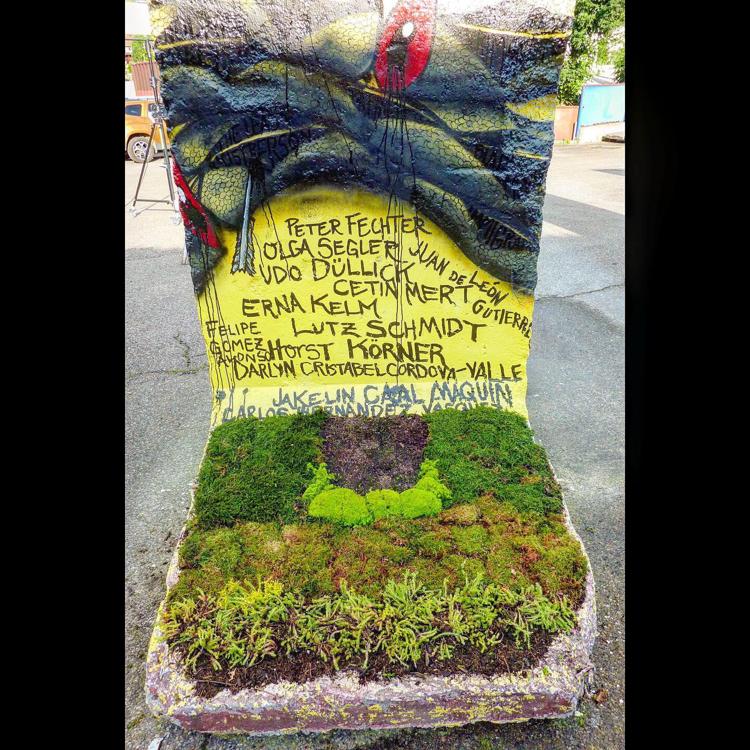 The Berlin Wall Project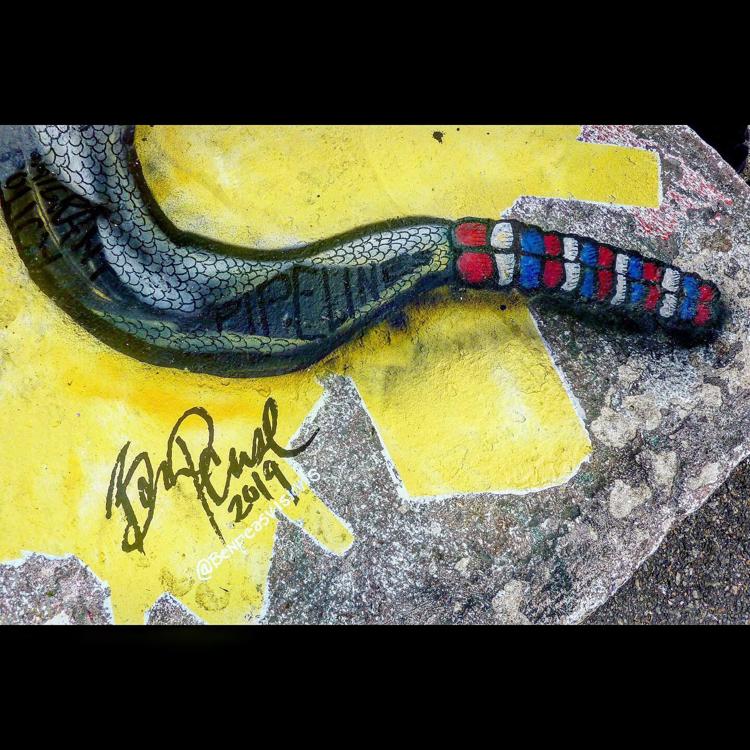 Creative Indigenous Collective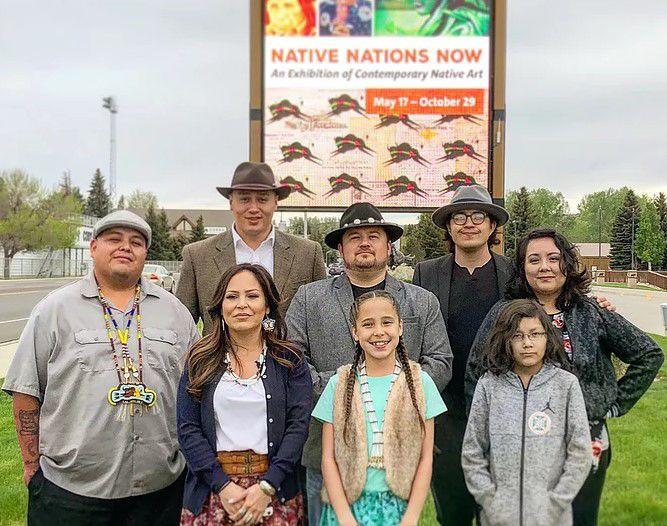 Native Youth Art in Action at the Montana Folk Festival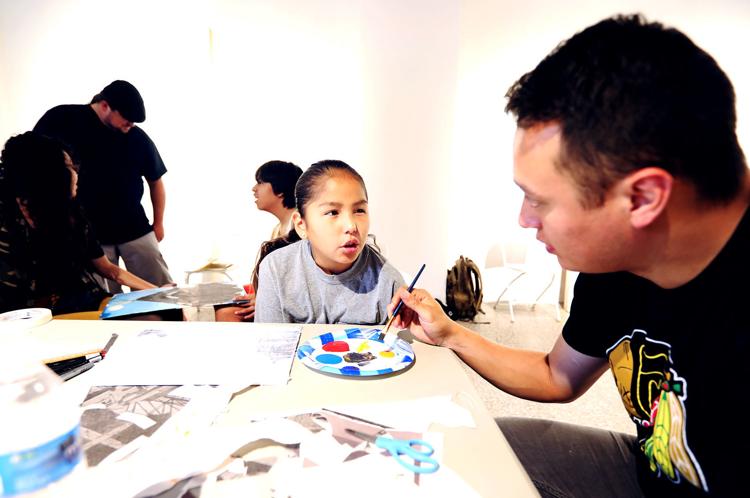 Preparing for Promise Under The Morning Star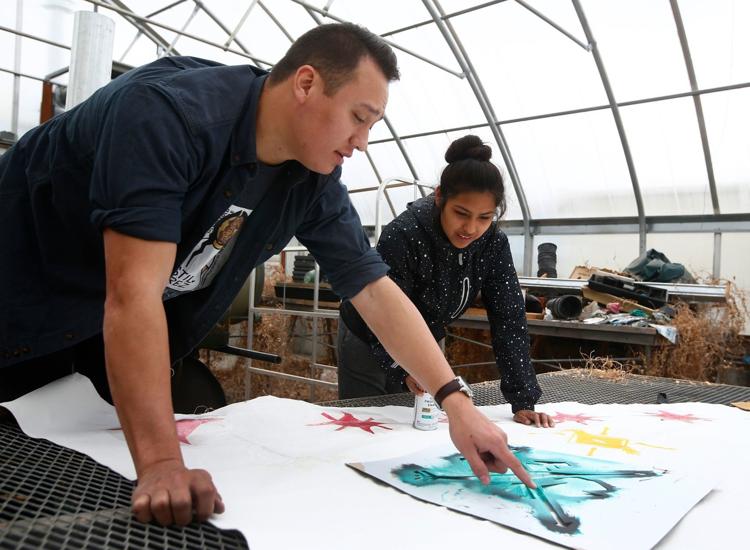 Preparing for Promise Under The Morning Star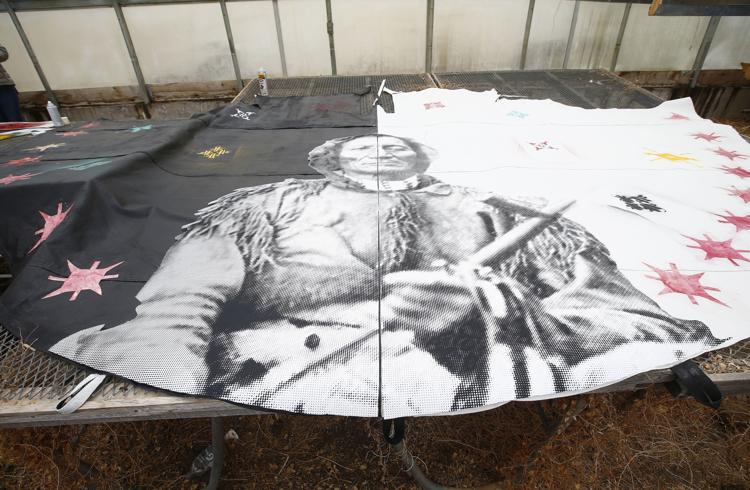 Preparing for Promise Under The Morning Star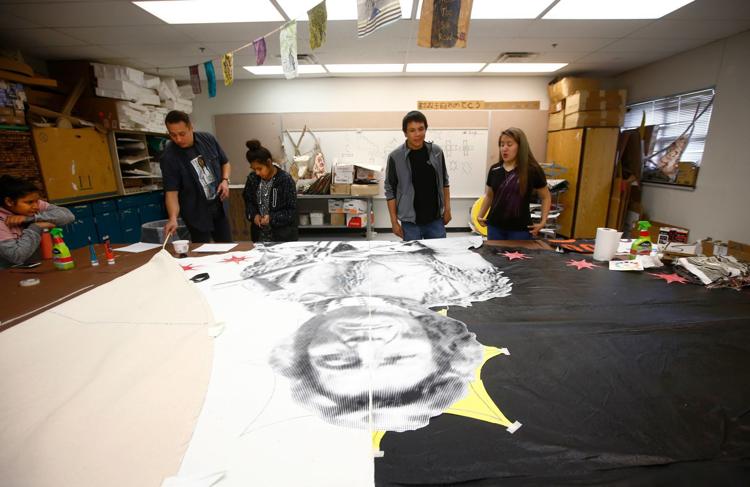 Preparing for Promise Under The Morning Star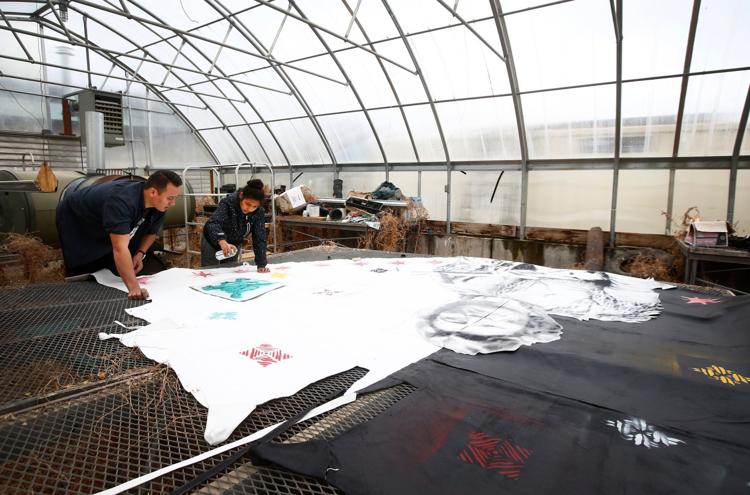 51st Annual Art Auction at Yellowstone Art Museum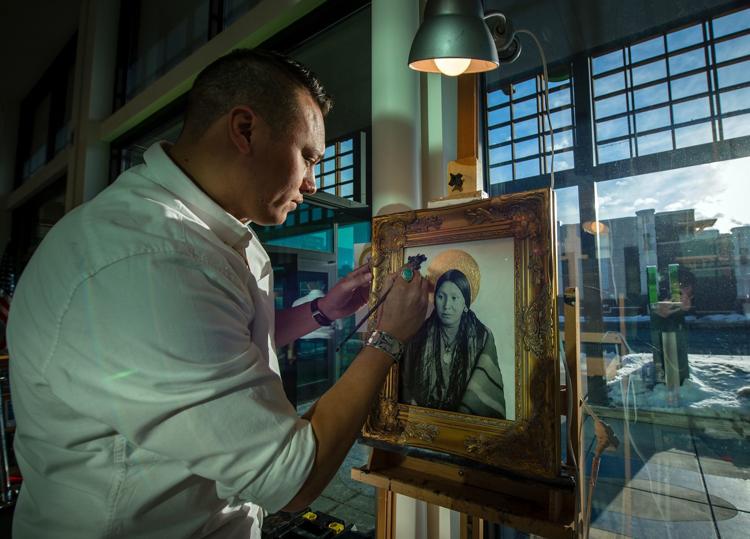 From Ben Pease's Medicine Lodges series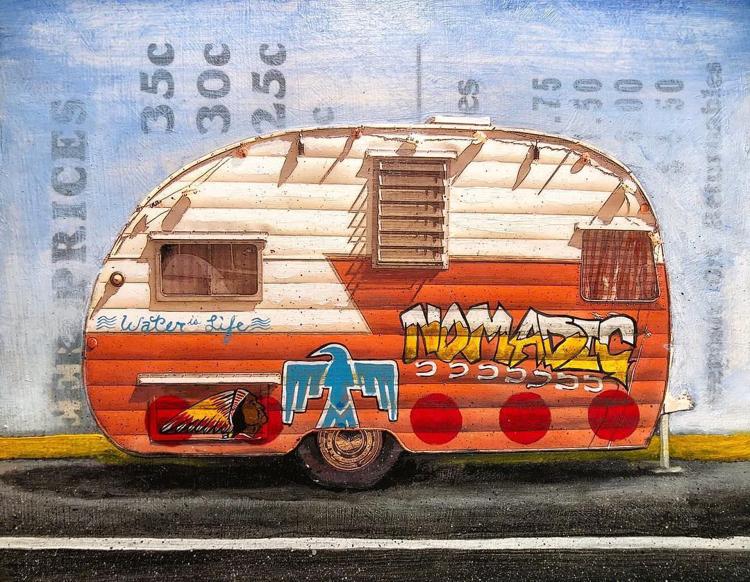 "A Keeper of Legacy-Cheete-Apsaalooke War Scout"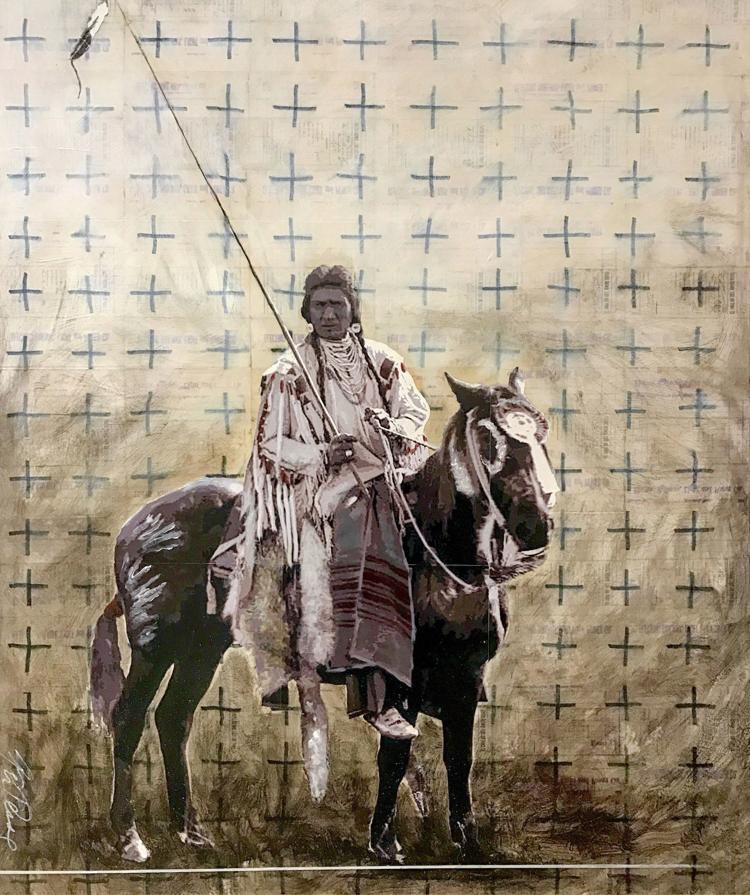 The Trophy Room at Stapleton Gallery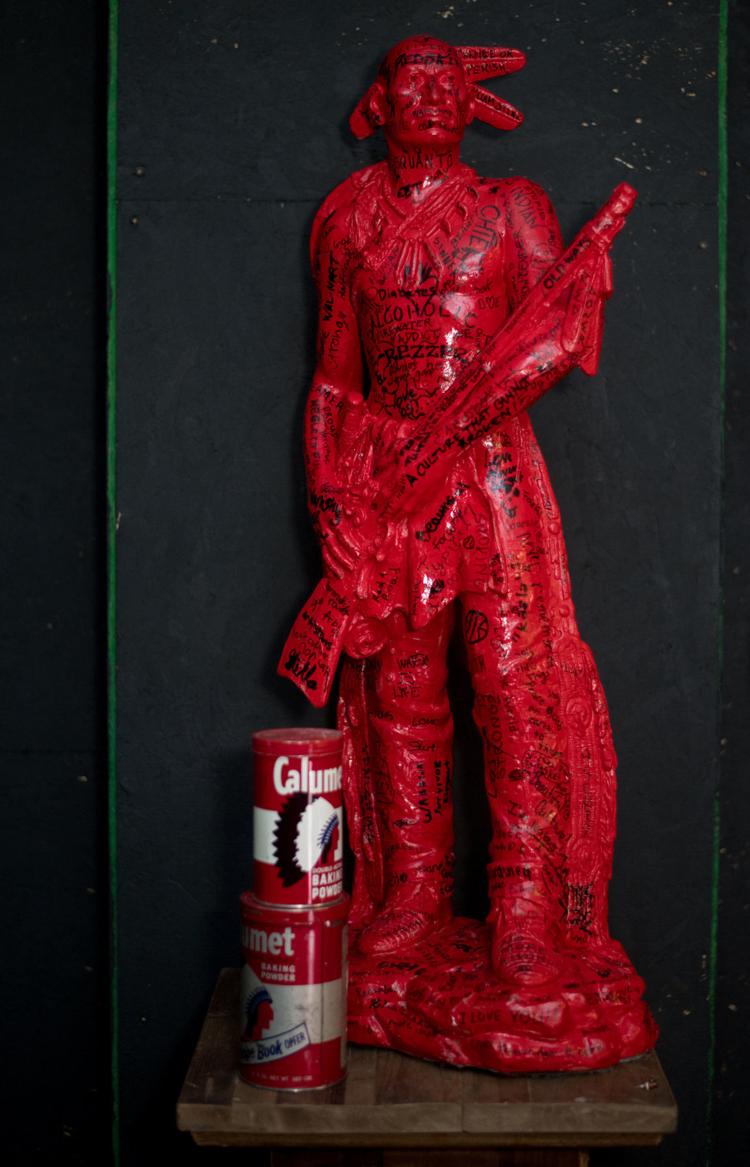 The Trophy Room at Stapleton Gallery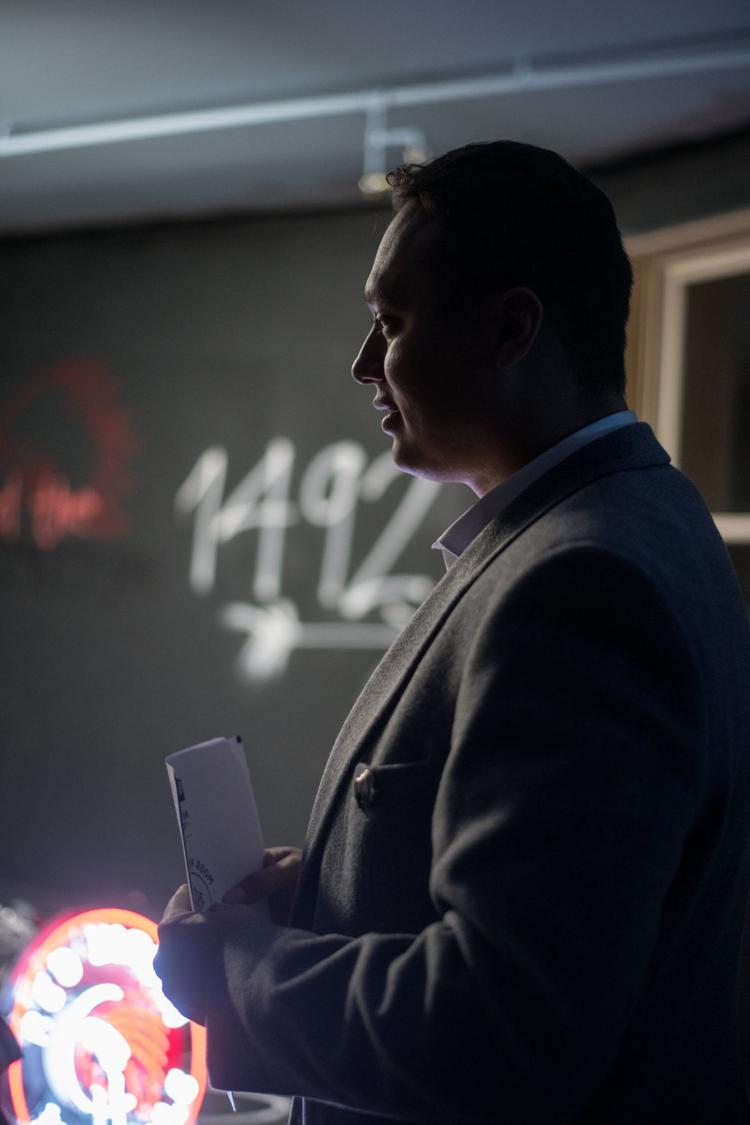 The Trophy Room at Stapleton Gallery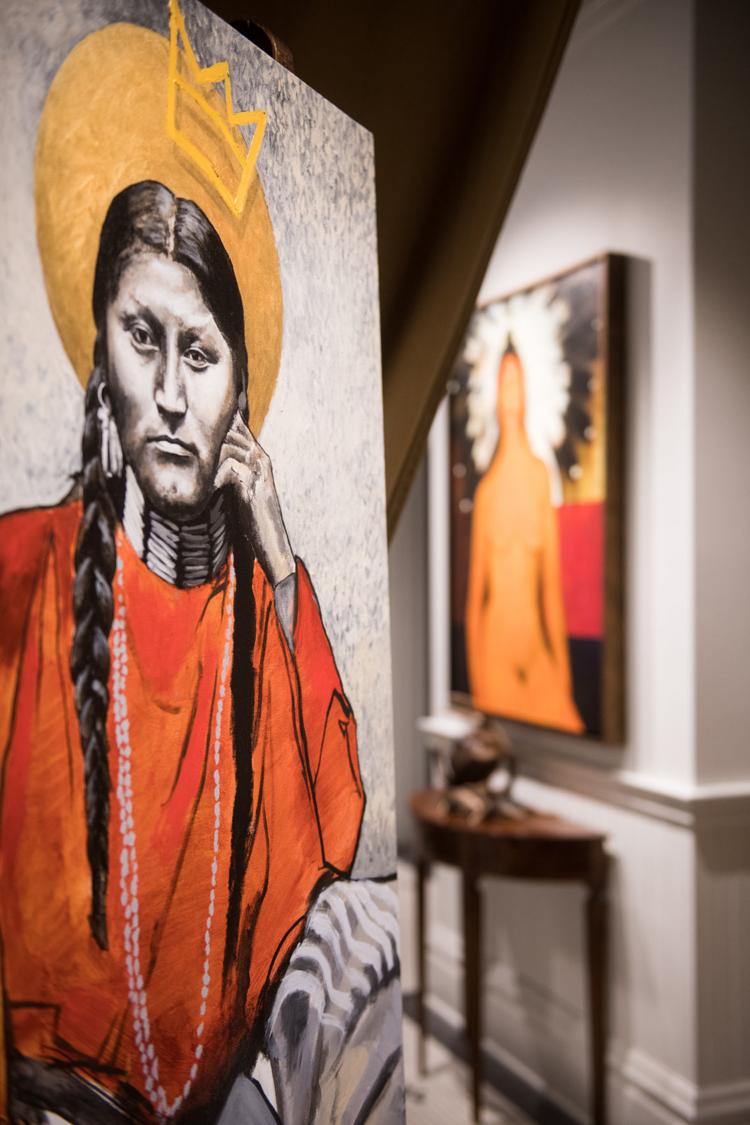 The Trophy Room at Stapleton Gallery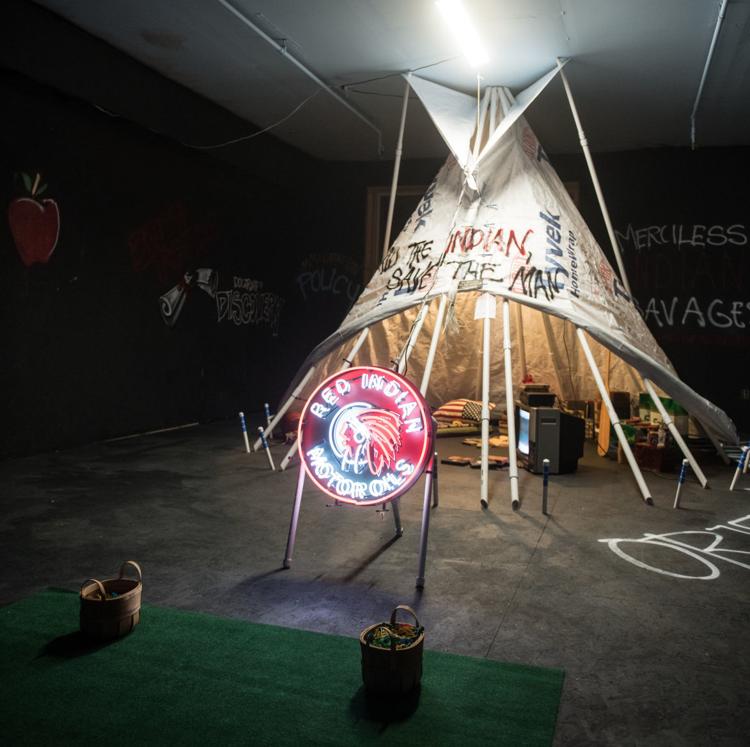 The Trophy Room at Stapleton Gallery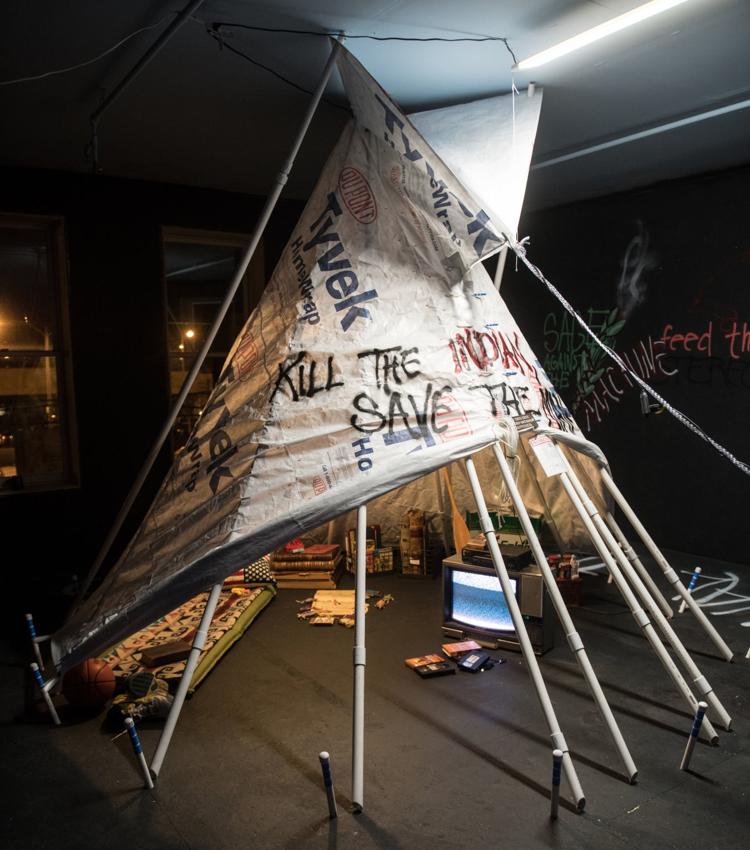 The Trophy Room at Stapleton Gallery