As Yellowstone Art Museum staff step back from a late-19th century painting by French artist Virginie Demont-Breton, a stillness falls over the gallery.
Prior to securing it on the wall, museum staff were a whir of hammering and unpacking the life-sized painting from a crate within a crate. The massive oil on canvas with ornate frame hovered in its shipping container, padded and packed as rare and precious cargo.
Informed by her fascination with the sea, Demont-Brenton's "Femme de pêcheur venant de baigner ses enfants" (Fisherwoman Comes from Bathing her Children) was painted with vivid realism. The artist, from Courrières in northern France, would travel to the nearby seaside hamlet of Wissant and paint the everyday lives of fishermen and their families with striking closeness and symbolism.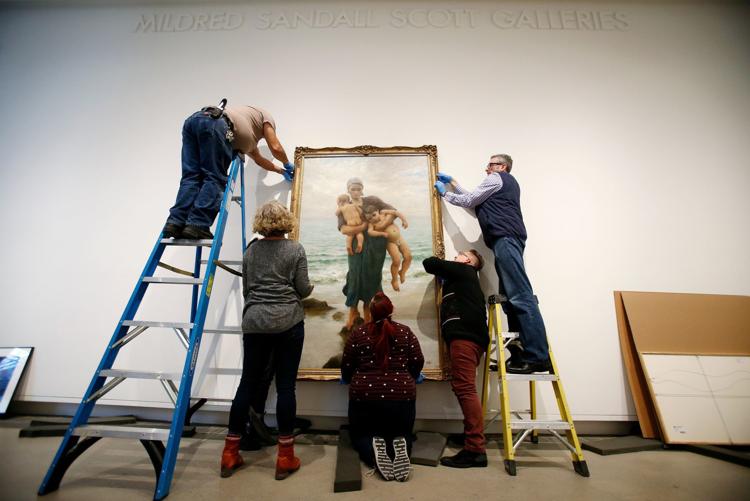 "I didn't know that artist's name, but doesn't it look familiar?" said Susan Barnett, YAM curator. "You've seen that piece before. I can't wait to stand next to it and see it being as big as I am."
Demont-Brenton often worked en plein air, painting knee-deep in the surf at a time when modernism was just beginning. This painting is touted as her earliest masterpiece, which won the artist her first medal at the Salon of 1881 when she was 22.
The painting was part of a private collection of 19th century European art that was sold recently by Sotheby's auction house in New York. It sold to an anonymous buyer for $543,000 and then landed in Billings on a special loan through July 22, a period of 90 days.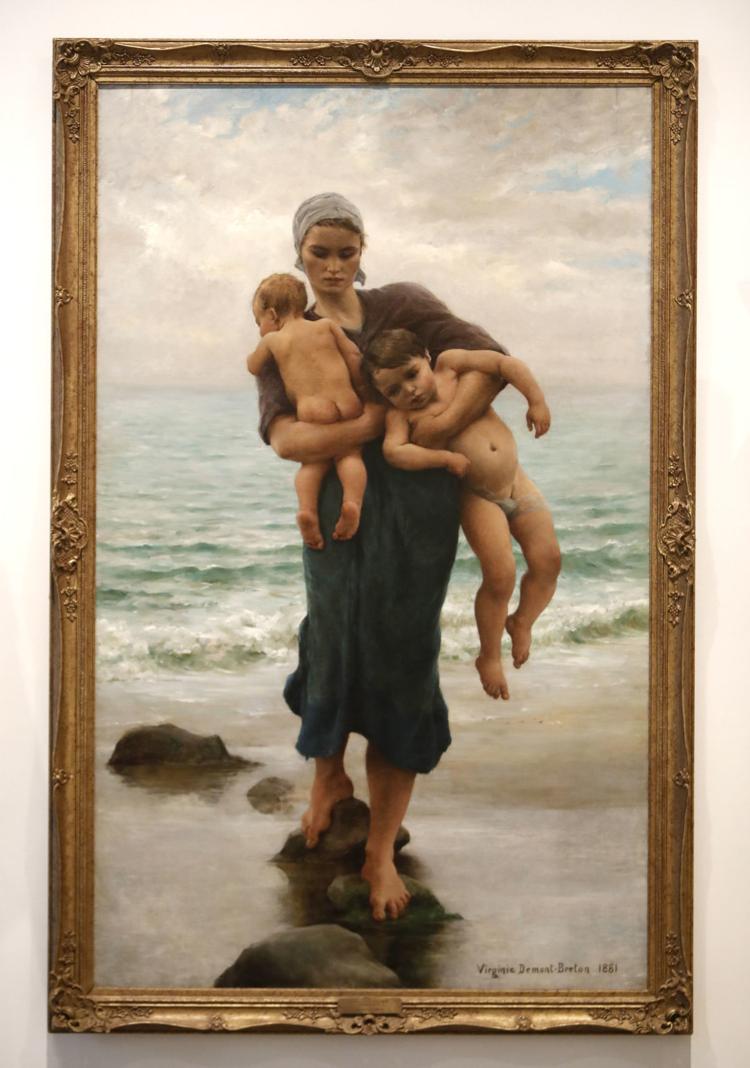 Such loans are unexpected and are not something the museum seeks out, Barnett said. "They are something that has been offered to us by an anonymous collector. It's a special opportunity."
This painting is on its way to a final destination, though Barnett doesn't know where it will end up. "Even if I did, I probably wouldn't be able to say."
It's no accident that the YAM received such a rare and valuable artwork. The YAM is the largest accredited art museum in a state that doesn't charge sales or use taxes, one of only five states without these taxes including Alaska, Delaware, New Hampshire and Oregon, according to Americans for the Arts.
Bought in New York, this painting was exempt from that city's sales tax because it was immediately shipped out of state. Often, a "use tax" is paid in the state where the art is "used."
Whether a sales tax is charged is up to the state where the artwork ends up, as well as the specific amount of time the painting was on loan and whether it can be exempt from other state's taxes because it has been considered "used" by being on display for a certain number of days elsewhere.
As well, the YAM is a facility designed to house and protect art of this magnitude.
"This was something that happened under Donna Forbes," Barnett said. "She wanted to get big national artists and she realized that we had to do that in order to be able to take that step." Under Forbes' executive direction, the YAM unveiled a new climate-controlled facility in 1998.
The institution takes regular readings on temperature, humidity, light levels, and charts those measurements to provide to private and institutional lenders.
Over the years, the YAM has had a "handful of generous donors," said Ryan Cremer, the YAM's development director, that lend the museum art, but generosity is only part of the picture.
"Without these loans, the Billings community wouldn't have the opportunity to see this type of art without traveling to Europe," Cremer said. He cites the recent loan of Jean-Michel Basquiat's "Flesh and Spirit," which went from the auction block to the YAM's wall on an anonymous special loan in August.
"That painting hadn't been shown in public for 30 years," Cremer said.
You have free articles remaining.
Keep reading for FREE!
Enjoy more articles by signing up or logging in. No credit card required.
"Flesh and Spirit" was purchased for $30.7 million at auction in May 2018 by an anonymous donor and shipped to the YAM, where it made its first public appearance after 35 years of private ownership. The painting was on display through Nov. 25, just over 90 days.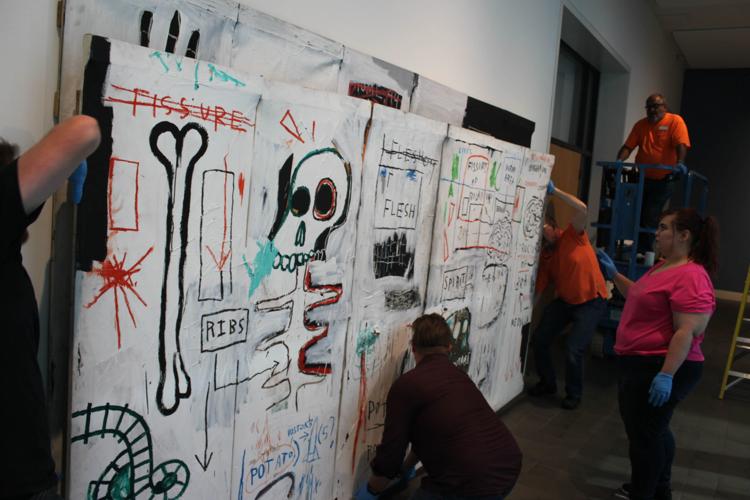 "For this museum, it's just really fun to get these pieces that are beyond our region," said Lisa Ranallo, registrar at the YAM.
Ranallo has cracked open crates containing precious artwork hundreds of times. "It always feels exciting," she said. Prior to the YAM, Ranallo worked for 15 years at the Minneapolis Institute of Art and also worked as a global art courier.
When unpacking the Demont-Breton, she was careful to document the way the art was packed and shipped, inspecting the piece to ensure what they received matched the condition report.
The piece arrived on an exclusive use truck, which often happens for high-value pieces. This painting also requires security, either physically monitoring or through electronic surveillance, spelled out in the loan agreement and certificates of insurance.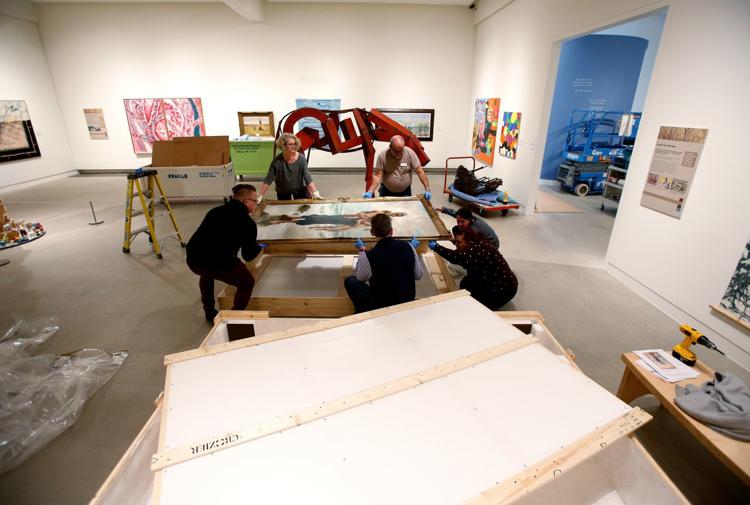 "They are really particular about that, because these special loans have certain requirements in terms of security, and have to be on view for a certain period of time," Ranallo said.
However they come to Montana, it's a rare opportunity to see masterworks that have come up for public sale.
The subject of the Demont-Breton's painting, a mother muscle-bound holding two wriggling children as she navigates a rocky path out of the sea, contains elements of the traditional mother-and-child motif with a downcast gaze, yet in the strength portrayed she seems less a demure and pensive mother and a wholly real women, her oversized feet in prominent focus, gripping toes around the rocks.
"She's got these two really cumbersome children in her arms, but she's not focused on them," Barnett said. "She's walking on these slippery rocks and focused on navigating this treacherous path. You just kind of wonder what some of the inner symbolism is about it, and all the ambiguity. There's something going on in the relationship, and it's not the traditional portrayal."
With this special loan, YAM staff took the opportunity to change up the museum's northwest main floor gallery, the Mildred Sandall Scott Galleries, which has been fairly static.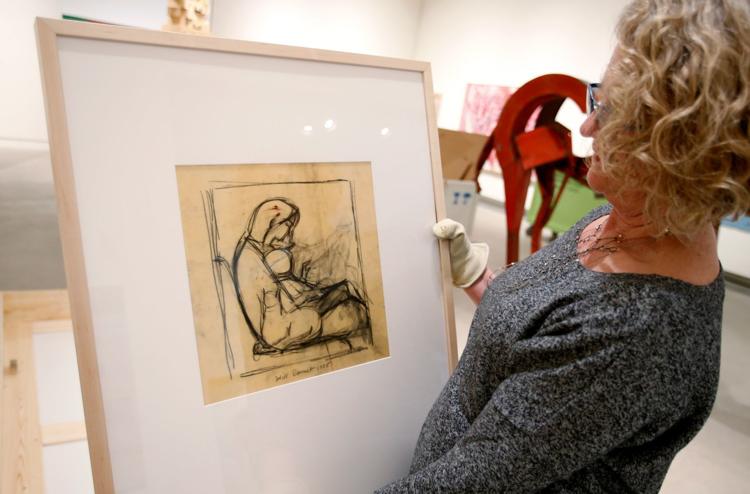 "We moved a piece that hasn't been moved in 20 years," said the YAM's Cremer. "It's time."
Barnett plans to move pieces through the gallery more frequently, and special loans gives her the ability to pair contemporary art from the collection with temporary pieces on loan. For this piece, curatorial staff have pulled artwork depicting the mother and child bond, as well as familial relationships from artists such as Rudy Autio, Ted Waddell, Jessie Wilber and other well-known contemporary Montana artists from the vault.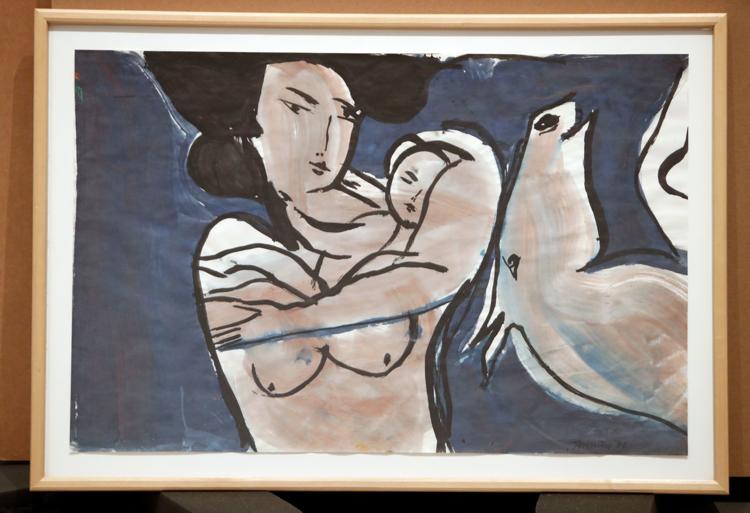 "Instead of just taking this outside big name object and plopping it into our space, we are integrating it a little more, pulling objects from the collection that touch on the theme of mother, child, and family," Barnett said.