When Louis Habeck was a child, he dreamed of having a dinosaur mount on his wall. As an adult, he made it happen.
Three years ago, during an artist residency at the Yellowstone Art Museum, he finally had enough room to create a life-size replica of a triceratops head informed by fossilized records and photos of triceratops skin impressions.
Named "Vera," the giant triceratops head was covered with more than 20,000 hand-carved scales and a bony frill jutting from her forehead. Habeck's simulated mount took on an imagined life, flesh sagging from the neck and vessels popping from the frill, coursing blood into the bone structure.
Since that residency, Habeck has been asked when he's going to build a complete dinosaur. He'd need a lot of plaster and a really big room. A real triceratops could be nearly 10-feet high, as long as 30 feet and weigh 13,000 tons.
"This is as close as I'm going to get," Habeck laughed while adding some plaster to chicken wire that's been formed into the shape of a sub-adult triceratops at Northcutt Steele Gallery.
The sculpture won't be completed, rather it was used as a teaching tool during a workshop Habeck hosted in May as part of Montana Art Interscholastic at Montana State University Billings.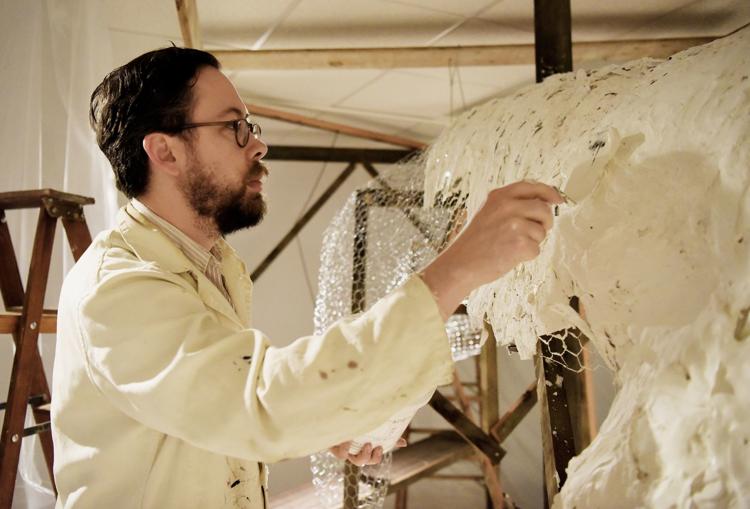 The dinosaur simulation is part of "Subboreal Studios Mysterious Museum Installation," on display to the public through June 20. An opening reception takes place Friday from 5 - 7 p.m.
Annually, MAI brings high school students from across the state together to participate in workshops facilitated by professional artists, encouraging students to explore creativity with hands-on activities.
Habeck's course focused on art installation and display. He recreated a workshop vibe, with hand-assembled tables, ancient tools, and mounting technology used a century ago.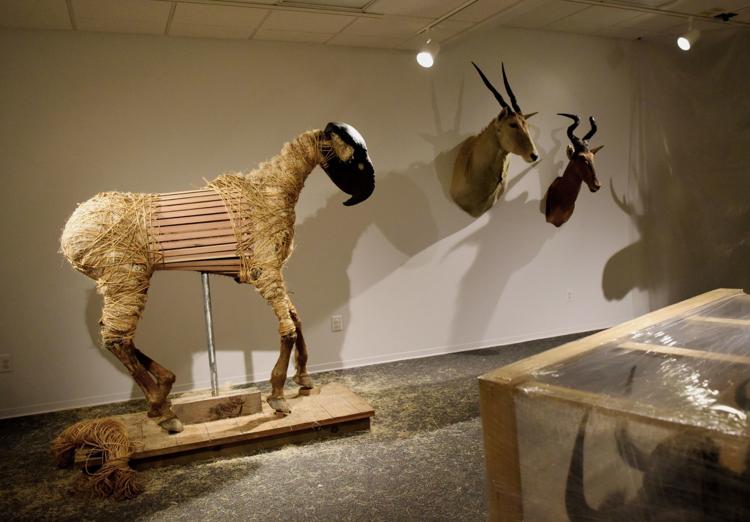 Students then assisted in creating a gallery experience inspired by behind-the-scenes photographs Habeck had been studying of natural history museums from the early 20th century.
Imitating old-fashioned creature taxidermy, the students helped form the foundation for a life-sized triceratops and horse sculpture with "terror bird" skull, and assisted the installation and arrangement of taxidermy animals alongside Habeck's fanciful creatures.
The resulting installation is a bit mad scientist, a bit working museum, and a lot of fantasy from another place and time. It's a snapshot of in-progress projects inspired by early photographs, primarily from Chicago's Field Museum of Natural History.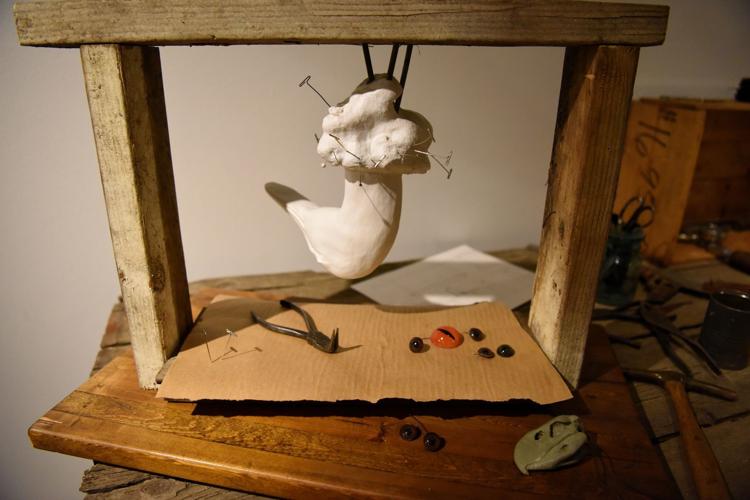 Childhood fascination
One of the joys of this installation is its mystery. Looking at the mounted animals juxtaposed with imaginary creatures, the viewer begins to question what's real, and what's not.
You have free articles remaining.
"So much of taxidermy is fake, but you don't even know, especially when it's really well done," Habeck said. Though he doesn't dabble in animal taxidermy, he uses the processes, including glass eyes, sculpting noses, and using realistic painting techniques.
In elementary school, Habeck became intrigued by big game mounts through a family acquaintance who had African game trophies hung throughout his home.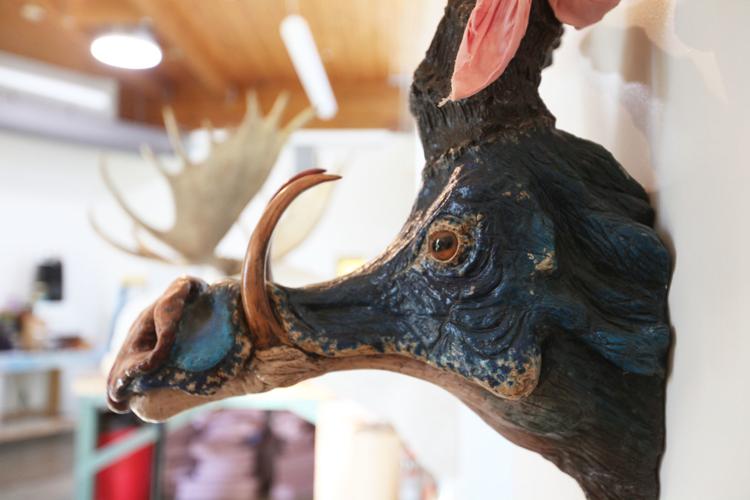 "I wished I had some of those on my own wall," said Habeck, who would go on to create his own. For this exhibit, he borrowed the mounts from that same family friend, using the opportunity to mix fantasy worlds with reality.
Animals like the kudu and the oryx seem lifted from a Dr. Seuss novel, shown alongside Habeck's casted creatures that could have walked out of the pages of "Where the Wild Things Are."
One of the most bewildering creations is a horse structure, composed of actual horse legs given to Habeck and combined with the skull of a Phorusrhacids (the aforementioned "terror bird"), which is approximately the same size as a horse's head.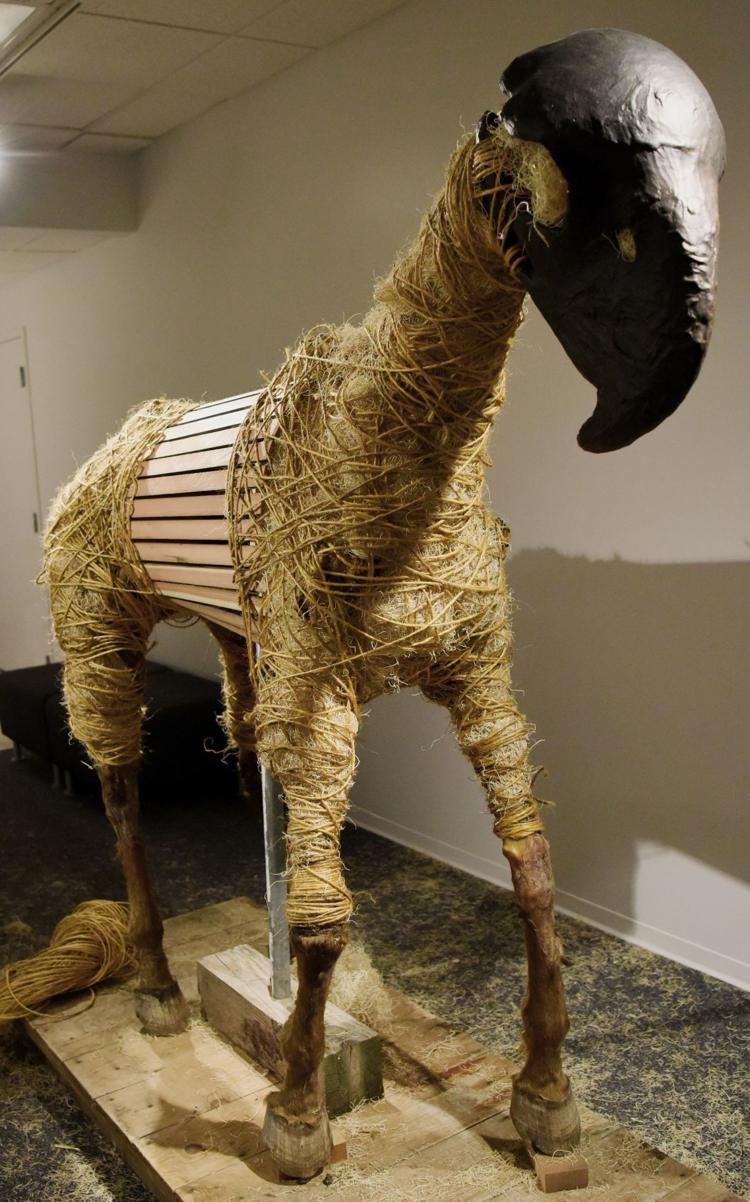 Using the same materials and process as turn-of-the-century taxidermists, Habeck prepared the horse's form with a combination of wood slats, metal, hay, and twine.
"It's such a beautiful thing, and the architecture I loved," Habeck said of the undercarriage that would create the illusion of a preserved animal. "I just wanted to celebrate that."
Prior to the students arriving, Habeck had the legs bolted on the form and the skull cast and mounted. Students added the stuffing and started wrapping it up, using twine to build up the imagined musculature of the horse/carnivorous flightless bird.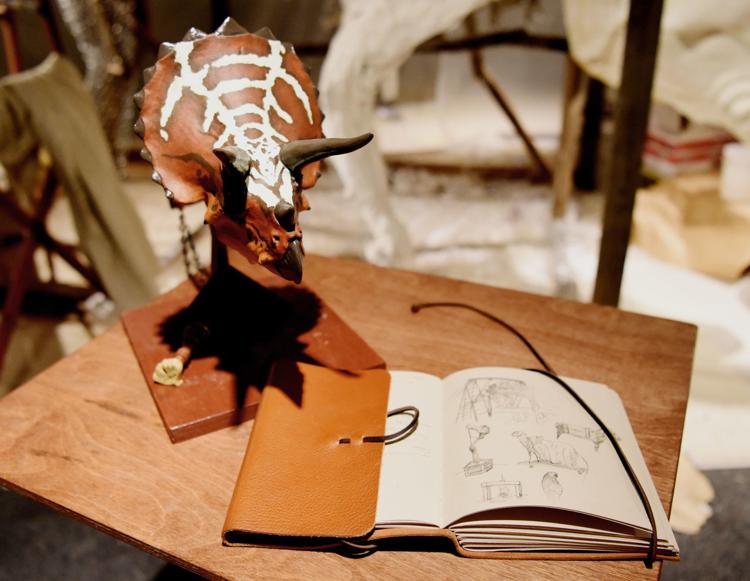 Even the crates became a teachable moment in this gallery installation. With reclaimed materials used to ship televisions, Habeck taught students how to crate and wrap dimensional art.
"There's an art to crates, and they get expensive, so as an artist, if you can learn how to build them yourself..."
Students also learned how to make plaster molds, a process Habeck employed to create Vera after shaping more than 100 pounds of oil clay into a triceratops skull. A silicone rubber mold was made of the sculpture, and then a lightweight expanding foam was injected into the mold to create a hollow cast.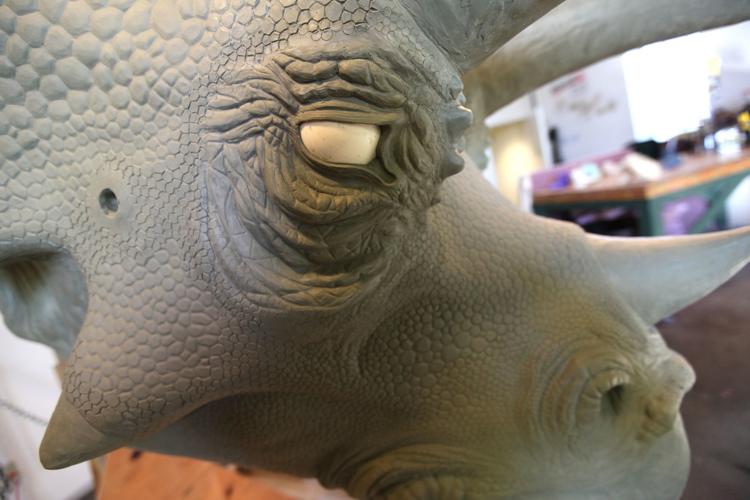 Habeck drew some of his display ideas from famous taxidermists such as zoologist and conservationist William Temple Hornaday. He recreated a scene of Hornaday working, where the skin of an animal was draped over its form, with a moose mount and faux fur. Hefty antlers and a skinless head peek out from between cloudy plastic tarps.
"There are processes that I've never thought to use," Habeck said. "What goes on underneath the surface is beautiful to me. I want to celebrate and share that."