Erika Wilson is a technophobe.
"I just didn't get the genes for it," she said. "I really struggle with computers. They give me headaches and make me frustrated constantly."
Wilson's happy place is in her studio, where the gentle whirr and clank of a 110-year-old printing press is her measure of progress.
"It's probably a terrible business plan, because everybody is going the other direction," Wilson acknowledged. "But I'm obsessed. I print in my sleep. My husband just thinks I'm nuts. I set type in my dreams or run this thing. I just love it so much."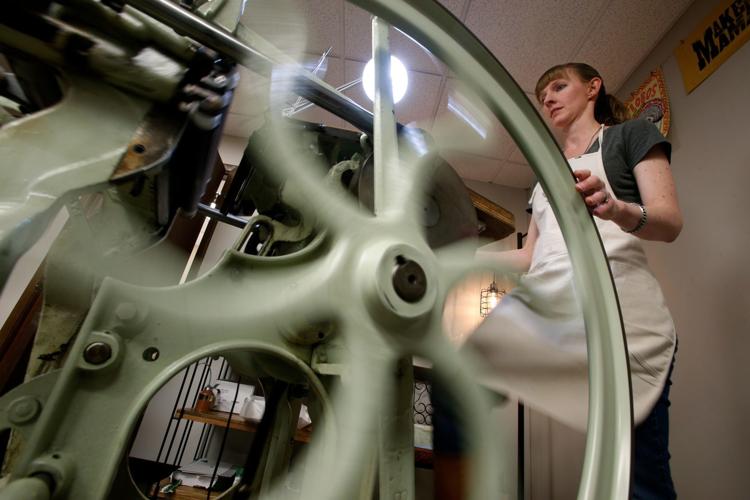 The press, made around 1910 by Chandler and Price Co., of Cleveland, Ohio, was given to Wilson by a family friend who operates a print shop in Portland, Oregon. Weighing 1,000 pounds and located in Seattle, the press was hauled to Montana in a horse trailer this summer by Wilson and her father.
"We put it on a pallet jack, and it barely fit through the doors. It will probably be here forever," she said.
The press is one of the 20th century's leaps into automation, though it is powered by a foot treadle. "It's how I get my exercise," Wilson said, showing how the pedal spins the flywheel. Each revolution spreads ink evenly onto a disc and rollers. When it's time to print, she pulls a lever, stamping onto paper a design that she's built from woodcut or metallic letters and stamps, or hand-carved lithographs.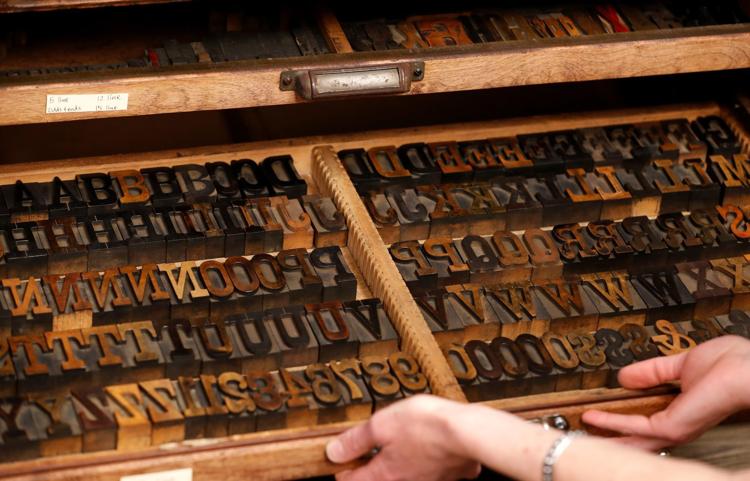 To make a living in such a fast-paced digital time, Wilson illustrates children's books. Her latest book, "Skedaddle," will be released in May, and her first children's book, "The Spill," features Wilson's watercolor illustrations, which she had to figure out how to digitize.
"It's been a learning curve," Wilson said. "I think that's why I like this so much. It just comes so much more naturally to me than the digital stuff."
Wilson obtained her master's degree in education from MSU Billings and was a teacher's assistant for several years in Blue Creek. She's also the illustrator coordinator for the Montana chapter of the Society of Children's Book Writers and Illustrators.
During a workshop she helped coordinate for the SCBWI with printmaker Julie Sola, who worked at Hatch Printing in Nashville, she was introduced to linoleum block carvings, and her work blossomed.
"It became an obsession. I had to get one of these," Wilson said of the printing press.
Wilson's studio is at 1500 Poly Drive, Suite 113 — an ideal spot for the press because of its concrete floors (Wilson knew the press would fall through the floor of her home studio).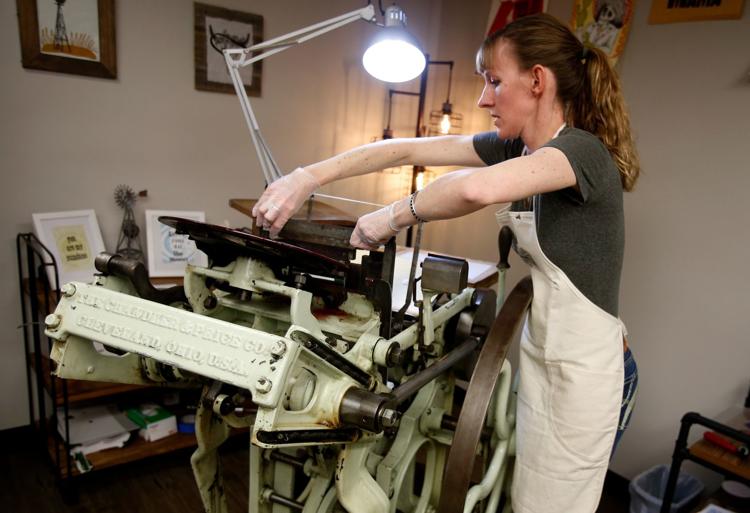 Wilson worked as the building manager for 10 years, until her brother and sister-in-law purchased the building and she moved from manager to tenant. The space she took over had sat vacant for years, so Wilson set about remodeling, and in September the press was moved in.
Wilson named her printing business The Windy Mill Press, a clever connection to the flywheel of the press and to her farming roots.
"Windmills are a good metaphor for women," Wilson said. "When I was in motherhood-baby-wouldn't-sleep-phase, I would say women are like windmills. Even when we're tired, we just keep turning."
You have free articles remaining.
Wilson grew up on a farm south of the Yellowstone River between Billings and Laurel. Her family had cattle and harvested hay. As a girl, she learned the mechanics of farming, and her father taught her how to drive tractors and run excavators and skid steers.
"Whereas I'm not very technological, I feel like I'm really mechanical. I know how to oil and grease this thing," she said.
Wilson is giddy as she discusses the printing press. She's even enamored with the small oil can used to lubricate 37 separate locations, a process she repeats each time the press is used. Getting to know this press has been a revival of tradition and a puzzle that she could put together as she found details of the printing process that had been abandoned or discarded.
"Someone once told me, if the computers fail us, how will we get the message out? If we forget all of this, what will we go back to?"
From eBay to estate auctions, materials for the printing process come from around the country, including wooden block type. "I love how the imperfections of the wood show up in the art," Wilson said. "I like the tactile parts of it."
Many of the wooden letters she uses to print are a century old, worn down in varying stages. The result is a characteristically imperfect print, part of the custom nature of this work.
"Everything that's digital is so perfect, and I just kind of love that it's not so perfect."
Wilson has five full sets of the alphabet in different fonts, as well as a collection of "orphan" letters. "They are hard to come by in full sets," she said. "I am constantly scouring eBay and bidding on stuff. Often I have to let stuff go because it's just so expensive. Anytime I can get a whole font, it's like Christmas."
Speaking of Christmas, it's a busy time for custom orders, including cards. "I love to get mail," Wilson said. "And I hate texting. It feels so good to give people stuff that they'll send out."
Wilson estimates it takes her about five hours to produce a run of 85 cards, from setting the form to printing. Each print Wilson makes has been hand-set. She uses "furniture" to set the form, these loose pieces that can be tightened with a coin key inside the "chase," which creates a framed area on which she prints. All letters have to be set "type high" at 0.918 inches.
Wilson also has metal letters and stamps she's collected, which leave a debossed imprint (the opposite of embossed). "Who knows what posters this has printed? I just think it's so neat that it's still sending messages 100 years later."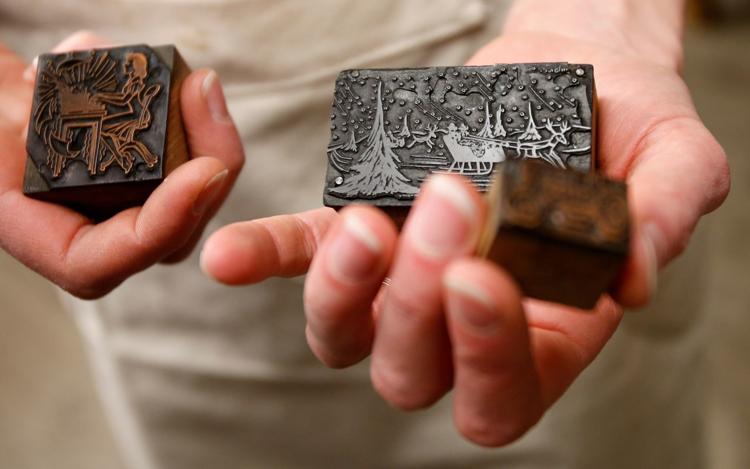 Wilson isn't alone in this endeavor. Hand-set printers in Montana include Aaron Parrett in Helena, who runs Territorial Press, and Missoula's Noteworthy Paper & Press. Wilson has no idea if anyone else is using such a device in Billings and hopes to find a community of modern fine press printers to learn from and share information with.
"I would share stuff if they promised to be nice to it!" she laughed.
For Wilson, this is a hobby with the potential for making it into a career. "It keeps me sane," she said. "When I'm doing this, it makes me feel like I'm connected to that time. I get to pretend that I'm in some old timey print shop."
---
Photos: Windy Mill Press print shop