It's been quite a year for Arterial Drive.
The Billings-based band won the 2018 Battle of the Bands in Livingston and cleaned house at the Magic City Music Awards in November, taking home eight honors including new band of the year and best indie or alternative act of the year.
Guitarist and founding member Drew McDowell said it was embarrassing to hear his name called for Guitarist of the Year. Winners are voted on by the community, but McDowell felt he wasn't the best guitarist in the mix.
"The recognition and the appreciation that we felt was very humbling. And it was only love, too, from all the other musicians, which felt really good. I know they know that they're better."
McDowell's modesty isn't an act. He has an approachable nature and a hunger to learn. "I've been practicing harder ever since," he said.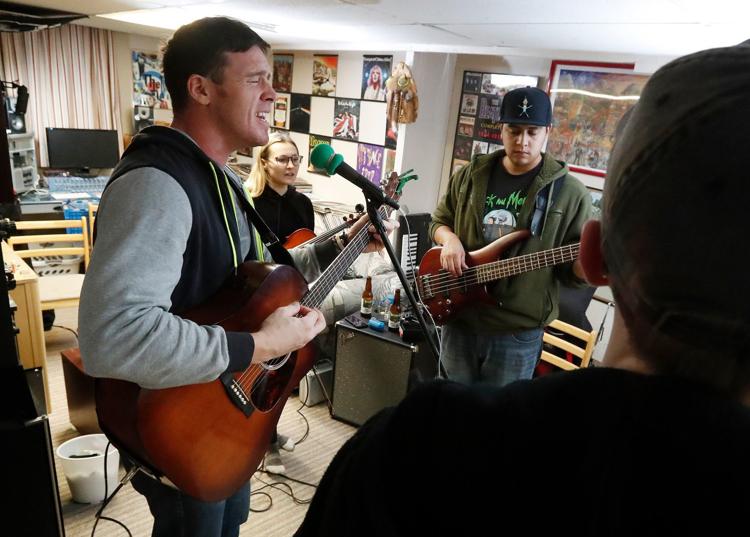 Being in a band is McDowell's salvation. He's been sober for six years, a feat that he attributes in part to finding his band mates. They named their band after the drive and passion they have to make music.
"The amount of time I've put into seeking out drugs and alcohol, I now put into trying to write a decent song that can hopefully stand the test of time. That is where all my focus is. Music is the drug now."
Arterial Drive has been together for a little more than a year, forming after the band DDX disbanded. The band released its first EP earlier this month, titled "Eponymous." The EP cover features members in garb they picked up thrift shopping in Bozeman. Each member drew a name and had to dress their bandmate with a $15 limit.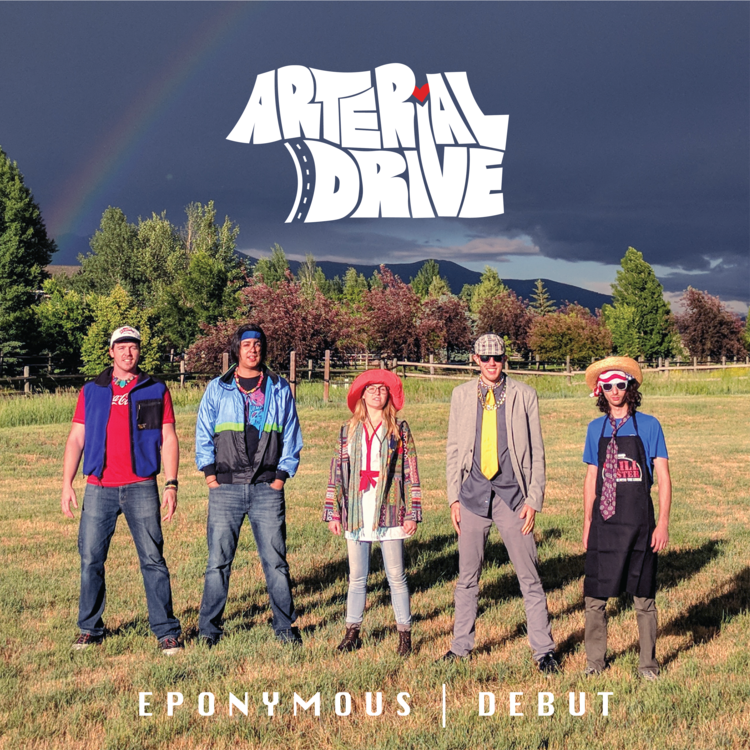 The cover speaks to the playfulness of Arterial Drive. They are looking to the spring to release a full album. "We have so many originals, it's just a matter of which ones we want to release," McDowell said.
McDowell wrote several songs on the EP, including "Better Way," what he describes as a song of recovery and trying to help. "The band put so much passion into it," he said. "They want to help that person out as much as I do. You can just feel it with their playing."
McDowell knows the hard path to recovery firsthand. He grew up in Bozeman and came to Billings in 2012 for a court-ordered stay at Alpha House, a men's prerelease center that helps reintegrate offenders from prison into the community. He was coming from a correctional rehabilitation program in Butte. 
During his senior year of high school, two of McDowell's best friends were killed in a head-on car crash. Reckless driving and speeding were factors, reported the Bozeman Daily Chronicle in 2005.
The driver, David Cherry, 17, was killed instantly in the crash, and Kayle Ingram, 16, died while being airlifted to a Billings hospital. The wreck happened after school on Bozeman's North 19th Avenue, and McDowell was driving behind them on the road.
"I was the first one on the scene, and I tried to help," McDowell said.
The experience tormented him. Even before the crash, McDowell was a partier, but it pushed his drug use and drinking to extremes. He felt life was short, and he didn't care about the outcome. 
"I was always the last one up, and the last one to stop," he described. "I tried to keep the party rolling."
At 18, McDowell was charged with a felony for counterfeiting money, an experiment that worked way too well. With resume paper and a household printer, he was able to produce reasonably realistic $20 bills. At that time, redesigned $20s were starting to circulate, so McDowell replicated the newer look.
"It was a way of making that quick money," said McDowell, who spent the fake currency on small items and received real cash back in change. "I bought gifts with it, party supplies. Nothing that was very meaningful."
Yet, the feeling that came with spending the money was intoxicating. "The thrill of somehow beating the system, it was a pretty powerful high that you got from it." McDowell said he loved heist movies like "Oceans 11" and "Catch Me If You Can" and felt like he was like a modern day Robin Hood, "stealing from large corporations and providing for my people." In total, McDowell estimates he spent as much as $10,000 in counterfeit money.
It ended when a friend tried to pass the fake bills in Billings at Rimrock Mall.
"I knew that if one of us got caught, both of us were going down," said McDowell, who served just a few months in jail and was sentenced to a lengthy probation period. "They really took it easy on me. I think they took pity on this kid trying this crime out."
But probation turned out to be something McDowell couldn't handle. "All I had to do was be good and not party and not smoke weed and blow hot on random breathalyzers, and I just could not do that."
Violation after violation, rehab after rehab, McDowell estimates he was sent to Gallatin County Jail at least a dozen times for violating his probation and was sentenced to correctional rehabilitation three times.
"The first two times, nothing really sank in," he said. "My will was definitely strong enough. I thought I was fine."
Each time he was sent back to jail, his sentence was revoked and his probation period restarted. Looking back, he doesn't think the system was broken, but the punishment for the crime was something that he wasn't able to handle because of his addictions.
"I was just not ready," McDowell said. "I hadn't dug deep enough to the bottom to really want to make a change."
He did try college, attending a semester and a half at the University of Montana, until a probation violation for drinking sent him back to Bozeman. He then attended Montana State University for another semester, but was put in jail for a violation there as well.
"School didn't work with my jail schedule," McDowell said, now able to laugh as he looked back. All his friends were graduating college, and instead of a degree, McDowell had only earned more violations.
The last time McDowell took a drink was May 22, 2012.
That night, he was at a birthday party for a friend. "It was just going to be one or two beers," said McDowell, who knew he had a breathalyzer and urinalyses the next morning. "Those one and two beers turned into countless beers and a blackout."
That next morning, McDowell was sent back to jail.
During his third time in rehab, McDowell made a promise to himself: "You are never going to accomplish any of the goals that you want to if you keep on living like this."
After correctional rehabilitation in Butte and a nine-month stay at Alpha House in Billings, McDowell returned to school, this time at Montana State University Billings. It was there he met his fellow bandmates through a jazz class.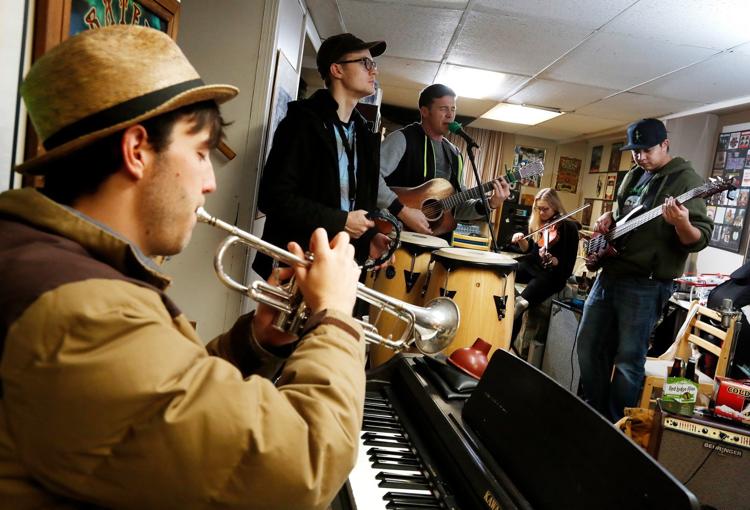 "We all loved music and we were hungry to try to perform outside of the school," McDowell said. They picked up two more members from Rocky's music program.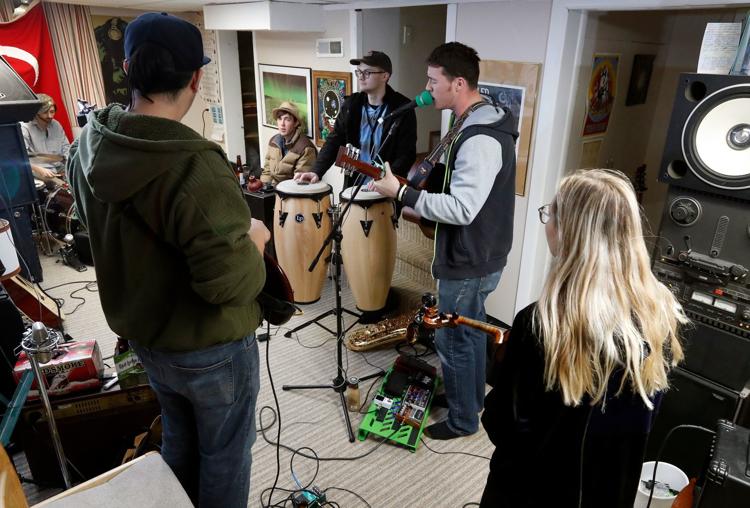 Being in a band has given McDowell an outlet for his discontent, he said. That intense and obsessive personality is now channeled in different ways.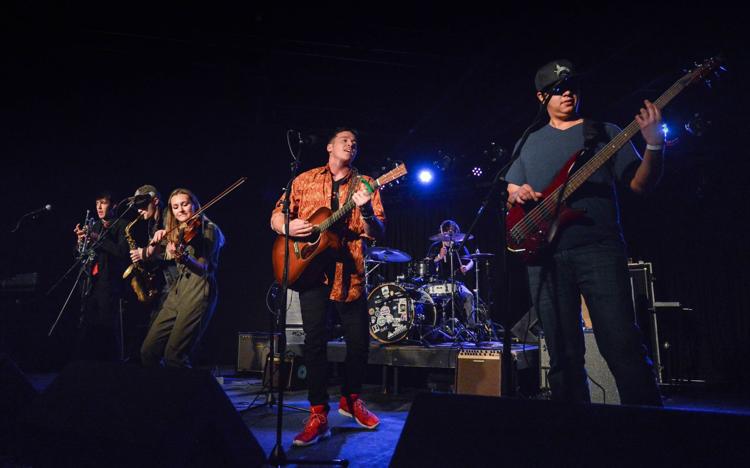 For McDowell, there's clarity in sobriety. Though occasionally a fan will buy him a drink after the show, he said now it's easy to pass it along to another band member. "I am so grateful that I don't have that phenomenon of craving anymore."
He isn't self-righteous about sobriety, and said he knows drinking can make his concerts more fun. Sobriety just works for him, "and just creating a life that I don't need to escape from — that I don't want to escape from anymore."
In March, after 12 years on probation and parole, McDowell will finally be a free man. His optimism is evident as he shares his experiences through music. "My songs are hopeful ones," he said, "starting off down in the dumps and crawling out."