Kathryn Williams has 20 years in prison behind her, and 20 more to go.
"Sometimes it just feels like you are surrounded with so much ugliness, and you just want to make something beautiful," Williams said.
Beauty at the Montana Women's Prison is difficult to come by. It's a hard place to live — crowded, and sometimes dangerous.
Yet, Williams got some relief recently when members of the Billings Symphony visited the prison to perform for the women, followed by a chance for inmates to try playing various instruments.
The Billings Symphony enters the prison quarterly for these hands-on concerts. The room where the musicians perform isn't exactly symphony hall. It's a plain space with hard seats in a building surrounded by steel bars and razor wire.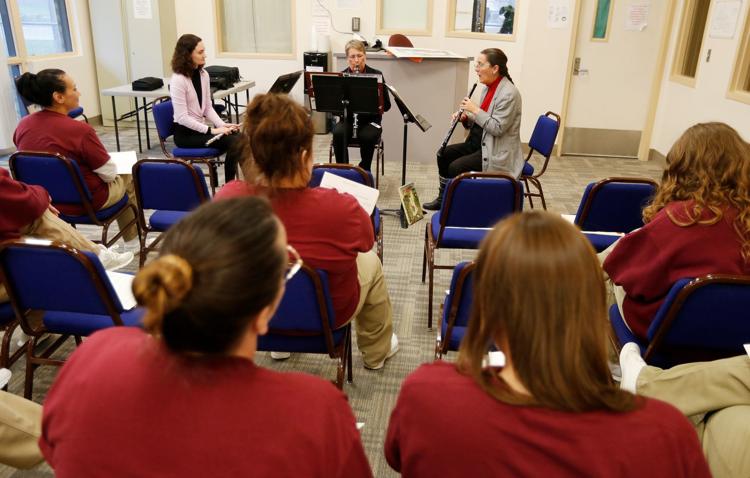 The purpose of the visits by musicians and other arts groups isn't just to brighten what can be a dreary place. Such visits help the inmates learn skills — like self-discipline and collaboration — they need to get out of prison and to start rebuilding life with their families.
In between sonatas, flutist Lauren Reineking, clarinetist Mary Ann Jacobson, and oboist Sue Logan demonstrated for the inmates how various instruments are played. Then the inmates took their turns playing the flute, clarinet, saxophone, French horn, trumpet, trombone, and violin, brought into the prison by Eckroth Music.
There were plenty of squeaks and squawks peppered with laughter and surprise. To get a sound out of a trumpet for the first time takes focus and lip precision. To wail on a trombone requires bravery. It takes skill to make the violin to sound pretty.
The bow across the strings, a bright shout of the French horn, the reed honking from an oboe while notes from a flute flutter atop the din of sounds ... altogether it sounds like an orchestra warming up, albeit an amateur one.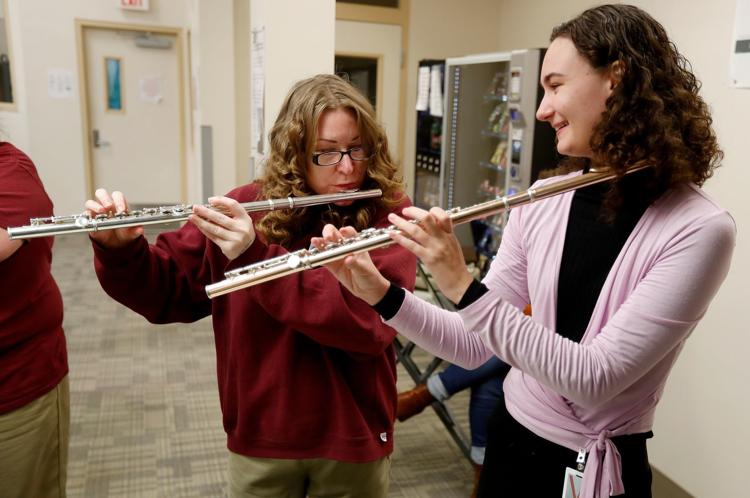 Learning a new task can build self-esteem and gives inmates an outlet, said Candy Holzer, director of education for the Billings Symphony Orchestra and Chorale. "For them, it's a healing mechanism too," she said.
Being able to relate to the outside world through music, poetry and playing an instrument is also important, said Annamae Siegfried-Derrick, community relations manager for the Montana Women's Prison.
"A lot of them were the sole provider for the children, so when they are incarcerated, their children are fostered or with a family member. As soon as they get out, it's almost instant family again," she said.
Focusing on reunification, Siegfried-Derrick has found that a connection through music or math skills, for example, helps the women interact with their children and assist them with homework.
Building confidence
Holzer originated the Billings Symphony's relationship with the Women's Prison in 2013. She started small, with occasional concerts, then expanded to a 10-week program for guitar lessons. Inmates meet weekly as a group, learning chords and songs from a guitar teacher, and they set their own schedule for practicing between lessons. 
Since the program originated four years ago, the number of guitars accessible to inmates has doubled, and the Symphony has also been able to purchase books, music stands and footrests for the prison. 
About 15 women are taking beginner and advanced guitar lessons. "Because women come and go, it's hard to keep a stable class," Holzer said. Some women with more advanced skills help new students. As well, they often practice together, an act that requires vulnerability and trust.
"They find guitar lessons a grounding point," Siegfried-Derrick said. "If they are successful in learning those and making those accomplishments, that carries over in other aspects of their participation in other groups."
Holzer uses a chart to track inmate confidence, comfort working in a group, pride in achievements, and hope for the future. Participants rank how they're feeling on a scale of 1 (strongly disagree) to 6 (strongly agree).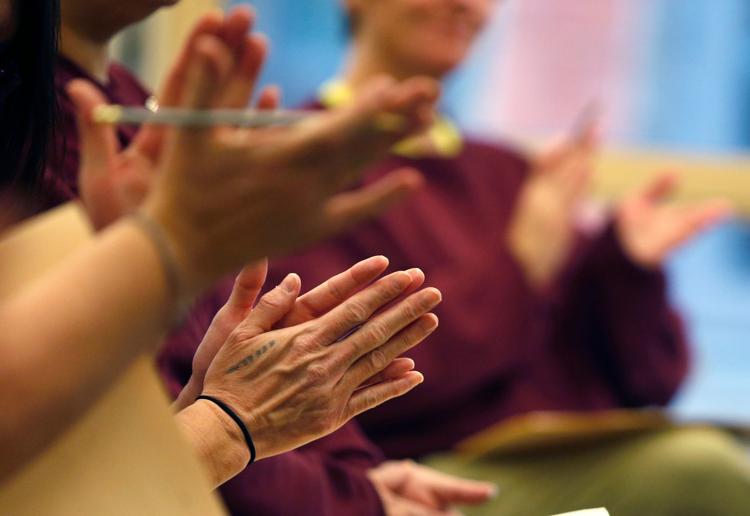 In the beginning, the forms reflect a lack of confidence and low sense of self. Holzer said when they graduate the course, many have moved the dial to a 5 or 6.
"Many indicate they are uncomfortable working in a group," Holzer said. "I see a big improvement in that one."
Educational outreach
The Billings Symphony has created a unique program for its performances at the Women's Prison. Concert selections range from symphonic staples to Disney classics. "We did a 'Lion King' piece, and they all knew it, because the bulk of them have children. It gave them something to speak to their children about," Holzer said.
These different educational opportunities incorporate many creative elements, such as the composition "When Nod Dreams," about a playful cat based on the well-known children's poem, "Wynken, Blynken, and Nod."
The oboist, Logan, when performing in November at the prison, read an excerpt of the poem by Eugene Field.
"Wynken, Blynken, and Nod one night
Sailed off in a wooden shoe,—
Sailed on a river of crystal light
"Where are you going, and what do you wish?"
The old moon asked the three.
"We have come to fish for the herring-fish
That live in this beautiful sea…"
The reading of Field's poem took inmate Jennifer Boohar back to childhood. "My mother would read that to me when I was little. To listen to it, it is just so beautiful, and them allowing us to listen to music, it's amazing what it does for us."
When she leaves prison, Boohar wants to learn how to play the cello. She's no stranger to instruments, having played violin in elementary school and clarinet in junior high.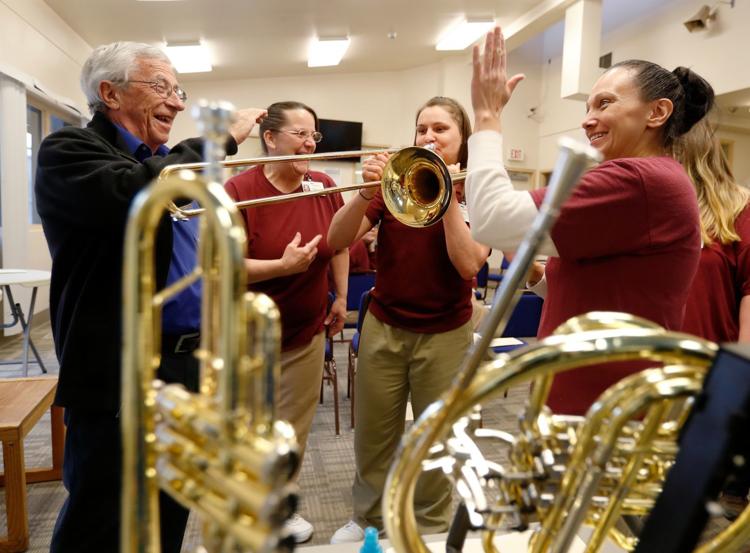 Her mother, a radio DJ, gave Boohar an appreciation for music. She died in 1996 from breast cancer. Boohar has been an inmate at Montana Women's Prison for 15 years, and in those first few years of incarceration she had two breast cancer scares. She also lives with a traumatic brain injury.
Despite the odds against her, Boohar is motivated by her children and grandchildren. "My one daughter is still kind of angry, and I get it. I missed out on a lot of her life."
Expanding the program
Arts programs, such as the Billings Symphony's guitar course, are considered electives.
"Their priorities are the ones that are going to get them out of the facility as soon as possible," Siegfried-Derrick said, such as court-ordered programs required for early release. "That can reflect poorly on them if they are not being productive about balancing their schedule."
These elective programs are popular, and good behavior is required for participation, as well as an interview with prison staff to ensure the inmate is prepared for the course.
"They begin to feel part of a community as a whole and build connections with the local communities that they might be going back into," Siegfried-Derrick said.
In addition to weekly lessons, inmates are responsible for scheduling and dedicating time to practice.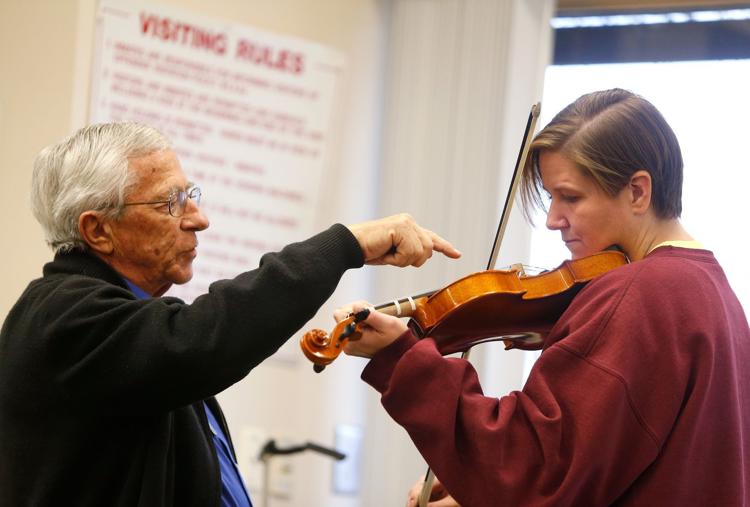 "It's a lot of work for the women in the guitar class," Siegfried-Derrick said. "If they are not staying up on practicing and being dedicated, they are not progressing like they should be. We encourage them to set their schedules and figure out how they can do all those private sessions."
Lessons were just the start, and the Symphony expanded to concerts and instrument demonstrations at the prison, partnering with Eckroth Music to bring in woodwinds, Kirk House of Music for stringed instruments, and percussion demonstrations by Hanson Music
Inmates giving back
Williams, the flute playing inmate, is also an accomplished artist. During one of the symphony musicians' visit, she was able to return the favor, presenting Holzer with a portrait drawing she had created in an art class at the prison provided by the Yellowstone Art Museum.
The image of a woman looking longingly outside the frame, surrounded in delicate roses, was made with eyeliner, white-out, and ink pen.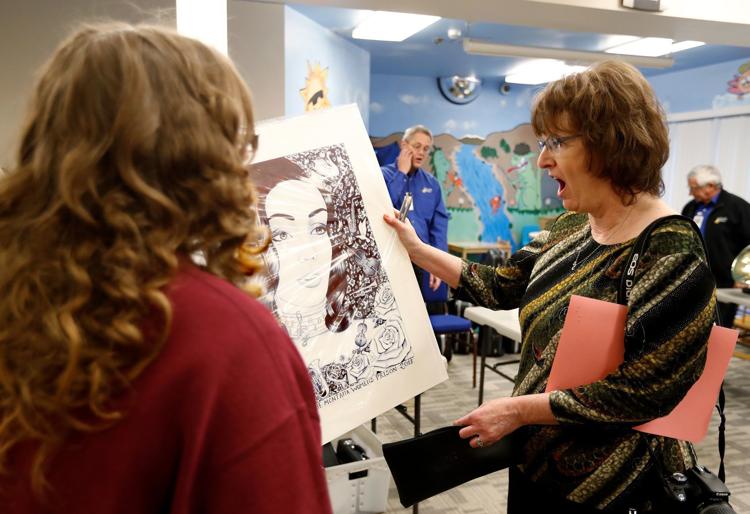 Williams describes art as a means for survival, and organizations such as the YAM and The Billings Symphony are providing this lifeline.
"When I'm drawing, I just disappear into my own little world," she said.
Boohar, who was reminded of her childhood when hearing "Wynken, Blynken, and Nod," could be granted early release as soon as July. She's focused on what will happen on the other side of prison. "It's important for me to prove to them, look, this is everything I have accomplished and everything I am achieving and this is how sincere I am in moving forward with my life."
Because of her brain injury, Boohar had to relearn a lot of things; she's taking math courses at the prison and plans to learn guitar next.
"They say that when you start opening different areas of the brain with music and relearning math skills, that it helps you. I'm excited what's going to happen now."
---
Photos: Montana Women's Prison inmates learn collaboration, discipline through Symphony music class