Showtimes for movies playing March 8 - 14 at the Babcock Theater, 2810 Second Ave. N., and Art House Cinema and Pub, 109 N. 30th St. are listed below. Ticket prices and more info for both theaters at www.arthousebillings.com or by calling (406) 534-1128.
Best picture winner GREEN BOOK (PG-13) opens at the Babcock on Friday. Tony Lip (Viggo Mortensen), a bouncer from an Italian-American neighborhood in the Bronx, is hired to drive Dr. Don Shirley (Mahershala Ali), a world-class Black pianist, on a concert tour from Manhattan to the Deep South, they must rely on "The Green Book" to guide them to the few establishments that were then safe for African-Americans. Confronted with racism, danger-as well as unexpected humanity and humor-they are forced to set aside differences to survive and thrive on the journey of a lifetime.
Show times: Fri. 4 p.m. and 7:15 p.m.; Sat. 12:45 p.m., 4 p.m. and 7:15 p.m.; Sun. 3 p.m. and 6:30 p.m.; Mon., Tues., Wed., Thurs. 6:30 p.m.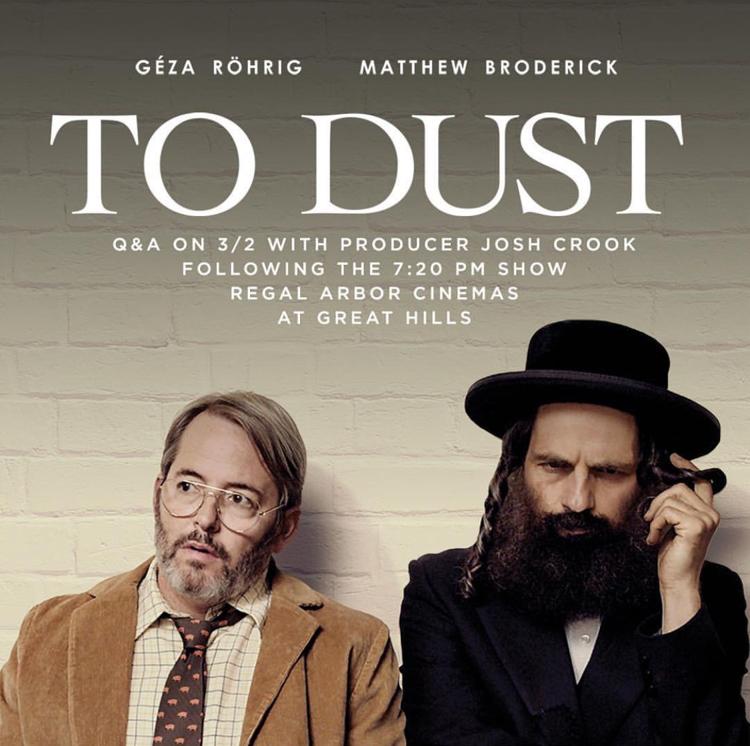 Opening at Art House, TO DUST (R) premiered at this year's Tribeca Film Festival, followed by screenings at the San Francisco Jewish Film Festival and the Hamptons International Film Festival. This feature film debut from Shawn Snyder tells the tale of Shmuel, a Hasidic cantor in Upstate New York, who is distraught by the untimely death of his wife, Rivkah. As he struggles to find solace in his religion, which proffers a stringent timeline for grief, Shmuel grows increasingly haunted by visions of Rivkah's decomposing corpse. Convinced that her soul will suffer until her body returns to dust, Shmuel decides that to stop his feverish spiral he must seek an understanding of the physical processes of her decay — despite the blasphemy inherent in any scientific inquiry. Risking discovery and expulsion, Shmuel tip-toes outside his enclave, where his search leads to Albert, a bumbling biology professor at the local community college. Soon, Albert is unwittingly seduced into an odd world of homespun forensic research and begins to guide Shmuel through outrageous experiments that aim to approximate a timeline for Rivkah's dissolution — starting with the theft, suffocation and burial of a pig. As amateur scientists practicing imperfect science and incompetent criminals on progressively absurd outings, the two find themselves neck-deep in genres in which neither of them belongs. With their macabre moonlit misadventures growing ever more perilous, the odd couple will stop at nothing to satiate their curiosity and ultimately find Shmuel the comfort he desperately seeks.
Show times: Fri. and Sat., 4:30 p.m., Sun. 2:00 p.m.; Wed. 4:30 p.m. and Thurs. 2:30 p.m.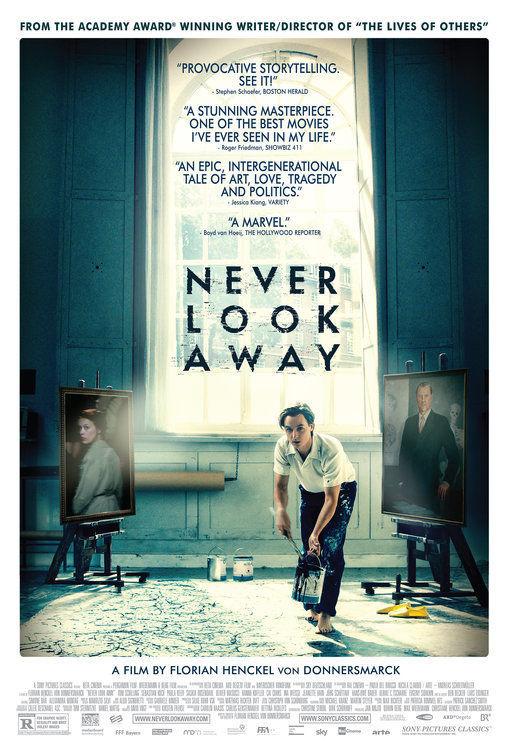 Continuing at Art House, sweeping romantic historical drama NEVER LOOK AWAY (R) follows 30 years in the life of a great artist - loosely based on Gerhard Richter, one of the 20th century's most admired visual artists - played by Tom Schilling (Woman in Gold, Generation War). The film goes from a childhood witnessing Nazi Germany, to post-war East Berlin, where he falls in love with a young woman (Paula Beer, Frantz, The Dark Valley, Transit) whose father is an ex-Nazi murderer in hiding (Sebastian Koch, The Lives of Others, Homeland, Blackbook), to escaping to the West at the time of the Berlin Wall, and ultimately being part of the exciting new movement in contemporary art.
Show times: Fri. and Wed., 7 p.m.; Thurs., 4:45 p.m., Sat. 7 p.m.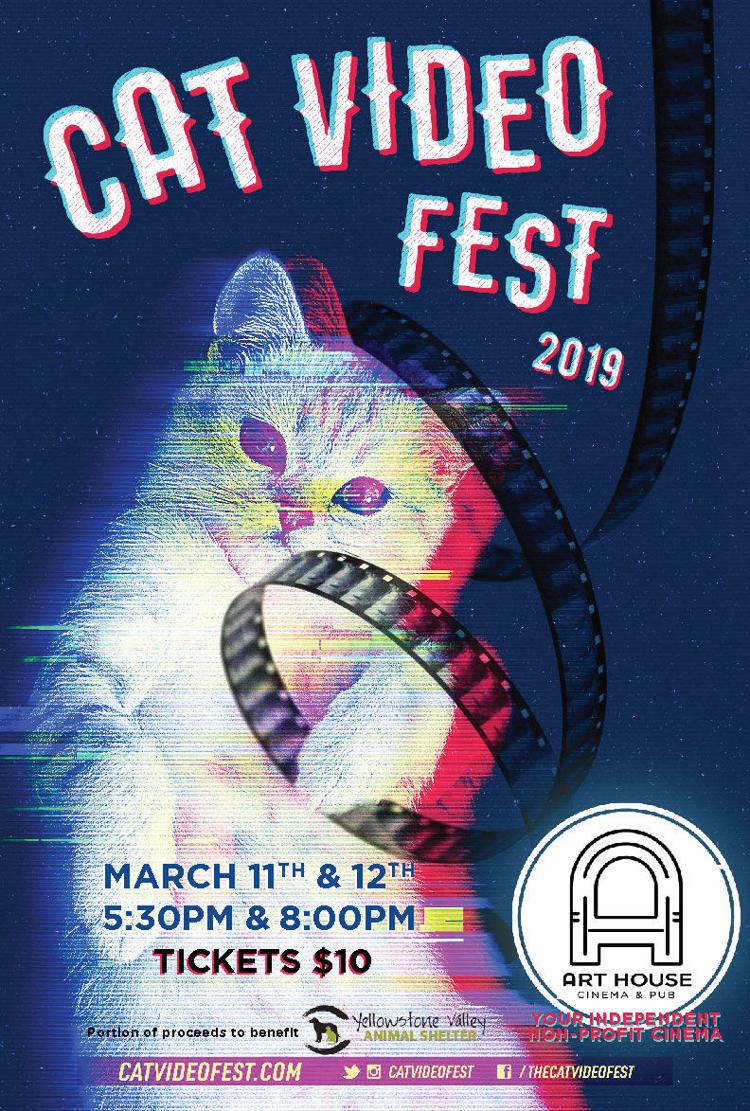 Get ready Billings. Art House Cinema is hosting the first CAT VIDEO FILM FEST. The cutest and cuddliest films of 2019 come to the big screen in partnership with the Yellowstone Animal Shelter to help raise funds and awareness of cats available for adoption in Billings adopting.
The festival is comprised of videos from CatVideoFest, a curated compilation reel of the latest, best cat videos culled from countless hours of unique submissions and sourced animations, music videos, and, of course, classic internet powerhouses. Screening events take place all over the world in a host of venues and raise money for cats in need, often through partnerships with local cat charities, animal welfare organizations, and shelters to identify how best to serve cats in the area.
Showtimes: March 11 - 12 at 5:30 p.m. and 8 p.m. Tickets are $10, and a portion of the tickets will go directly to Yellowstone Valley Animal Shelter.
Art House is celebrating Mark Wahlberg with a themed movie series, "Marky March," every Thursday at 8:30 p.m. in March. This kicks off Art House's focus of "great film, art and culture" monthly. Each Thursday night, a classic movie starring the American actor, producer, businessman, model, rapper, and songwriter, including "Boogie Nights" on March 14, "The Fighter" on March 21, and "Pain and Gain" on March 28.