Tippet Rise Art Center will reopen to the public on July 5. Summer concerts begin July 12 through Sept. 7, featuring an international roster of celebrated artists and rising stars in programs that present classical music at the foot of the Beartooth Mountains.
Set on a 12,000-acre working ranch, Tippet Rise has hosted three years of concerts, and tickets this year are available through a randomized drawing. Registration is required to be considered for the drawing, limited to one entry per person. Registration closes March 11 at 5 p.m.
Winners will be selected at random on March 12, and notified by email. Winners may purchase up to four tickets to one performance or divide their tickets among multiple performances.
In addition to the concert series, Tippet Rise offers sculpture tours and has an extensive amount of walking and biking trails for visitors. Van tours take place Fridays, Saturdays and Sundays, priced at $10 and free to those 21 and younger. Hiking and biking are free.
All visitors are required to preregister, available beginning March 13 at 8 a.m.
Season four concerts
July 12: The Gryphon Trio with a program contrasting early chamber music by Beethoven and Brahms with a contemporary piece by Sri Lankan-born composer Dinuk Wijeratne.
July 13: Members of the Gryphon Trio will be joined by flutist Brandon Patrick George for a concert with works by Haydn, Debussy, Ravel, and Steve Reich
July 13: Internationally acclaimed pianist Stephen Hough returns to Tippet Rise with a program of works by Bach, Chopin, Busoni, and Liszt, as well as his own Sonata No. 4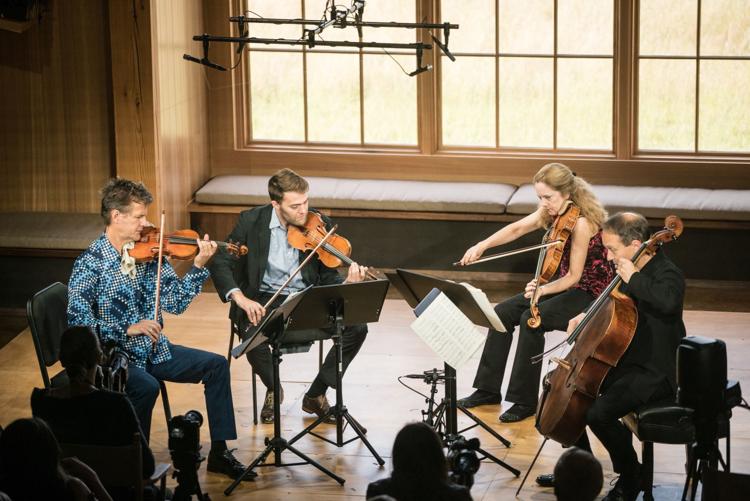 July 19: St. Lawrence String Quartet will combine quartets by Haydn with Latin-tinged contemporary works by Jonathan Berger and Osvaldo Golijov.
July 20: Members of the St. Lawrence String Quartet will perform works by Bach, Beethoven, and Prokofiev, including a Golijov arrangement of Beethoven bagatelles.
July 20: Pianist and composer Julien Brocal returns to Tippet Rise to perform the world premiere of three of his own compositions, "Reflections," "Into the Wild," and "Snowing on the Moon," as well as two of Chopin's Ballades and works by Bach and composer Pēteris Vasks.
Aug. 2: Pianist Aristo Sham will play a Romantic recital with works by Schumann and Brahms
Aug. 3: Pianist Aristo Sham performs with cellist Gabriel Cabezas and violinist Katie Hyun in works by Haydn and Mendelssohn
Aug. 3: John Luther Adams's "Lines Made By Walking" (String Quartet No. 5) will make its world premier, performed by the JACK Quartet. Adams was in residence at Tippet Rise in summer 2018 and began composing this new work then.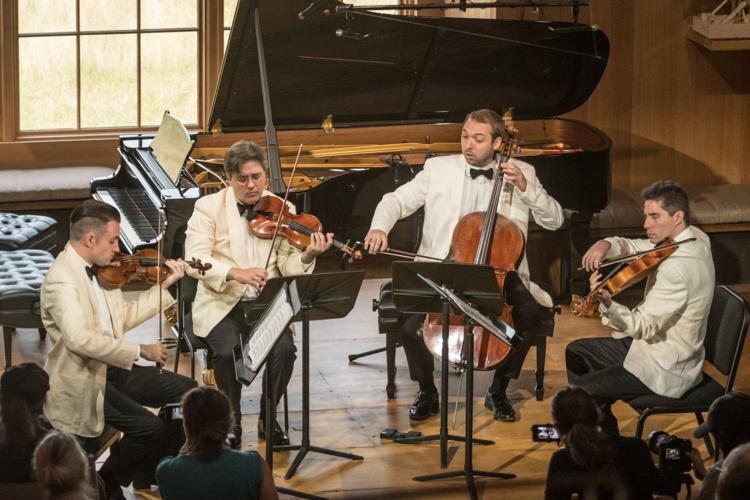 Aug. 9: Pianist Roman Rabinovich, violinist Paul Huang, and the Escher String Quartet play Dvořák, Saint-Saëns and Schubert.
Aug. 10: Danbi Um, violin, Paul Huang, violin, Pierre Lapoint, viola, Adam Barnett-Hart, viola, and Brook Speltz, cello, play Bach and Brahms.
Aug. 16: Pianist Behzod Abduraimov performs a concert of music by Liszt, Wagner, and Mussorgsky, including Liszt's transcription of Wagner's Liebestod.
Aug. 17: The Rolston String Quartet will perform works by Haydn and Debussy in the morning, followed by an evening performance by pianist Jenny Chen, playing a selection of pieces by Chopin and Beethoven.
Aug. 23 – 25: A special "festival weekend" will feature the art center's Artistic Advisor, pianist Pedja Muzijevic, joined by seven musicians in residence: violinist Benjamin Beilman; violinist Jennifer Frautschi; violists Ayane Kozasa and Nathan Schram from the Aizuri and Attacca quartets, respectively; cellist Sæunn Thorsteinsdóttir; oboist James Austin Smith; and bassist Anthony Manzo. They will join forces for five concerts, each 60 minutes long, with solo and chamber music by Telemann, Bach, Haydn, Mozart, Mendelssohn, Dvořák, Dohnányi, Berio, and Reich.
Sept. 6: Ensemble Connect will perform pieces by Boccherini, Kodály, and Brahms 
Sept. 7: Ensemble Connect will perform pieces by Mozart, Paul Wiancko, Alexandra Gardner, and David Bruce in a late morning performance, and that evening piano duo Anderson & Roe will perform the last concert of the season with a program of Mozart, Stravinsky, Piazzolla, and Paul Schoenfield, along with the duo's arrangements of the ballet music from Gluck's Orfeo ed Euridice and Leonard Bernstein's West Side Story Suite and their own Hallelujah Variations (Variations on a Theme by Leonard Cohen).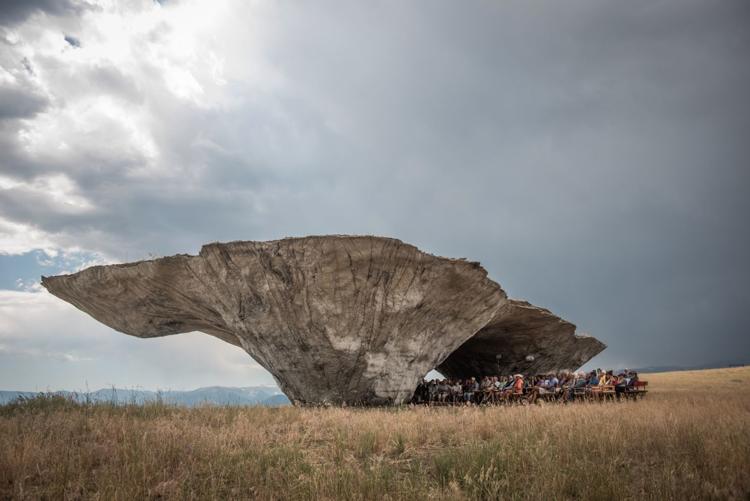 Friday and Saturday evening concerts are performed in the 150-seat Olivier Music Barn. Weather permitting, late morning and afternoon concerts take place at the open-air Domo, an acoustically rich sculptural structure designed by the innovative Ensamble Studio. Pre-concert lectures are offered at the Tiara, a 100-seat outdoor acoustic shell, and at Stillwater cabin, a gathering and rehearsal space.
Dinner is available for purchase before each evening's performance, provided by chefs Nick Goldman and Wendi Reed of Wild Flower on the Rise. Sandwiches, snacks, desserts, and drinks are also available for purchase on Fridays, Saturdays and Sundays.
For additional details and to enter the drawing for Season Four, please visit www.tippetrise.org.