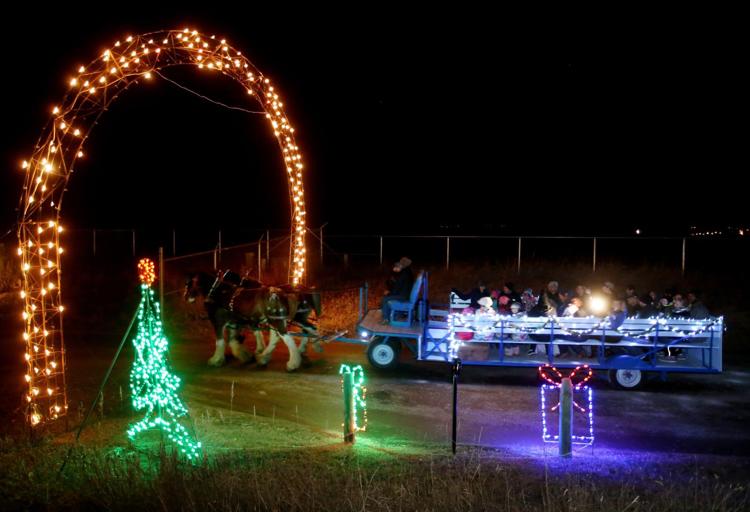 ZooLights to brighten holidays
ZooMontana will kick off ZooLights 2020 with a members-only night from 6 to 9 p.m. on Friday. Membership cards are required for entry that night, and admission is $3 per vehicle.
ZooLights will open to the public on Saturday and continue on Dec. 11-12 and Dec. 18-24, from 6-9 p.m. each night. Admission on those nights is $10 per car, $15 per van and $20 per bus. Zoo members receive a $2 discount on those nights, according to a press release from the zoo.
Guests may drive through in the warmth of their vehicle while enjoying the festive light display and singing along to holiday music on the ZooRadio station sponsored by Billings Kiwanis.
Those who want to view ZooLights a little differently can bundle up and enjoy a traditional wagon ride pulled by a team of working draft horses. The rides are approximately 30 minutes long and available on Dec. 5, 11-12, 18-19 and 21-23. Wagon rides are $14.95 for ages 13 and older, $8.95 for children 12 and younger, and free for ages 2 and younger. Reservations for wagon rides are recommended and may be made at elkriveroutfitters.com.
---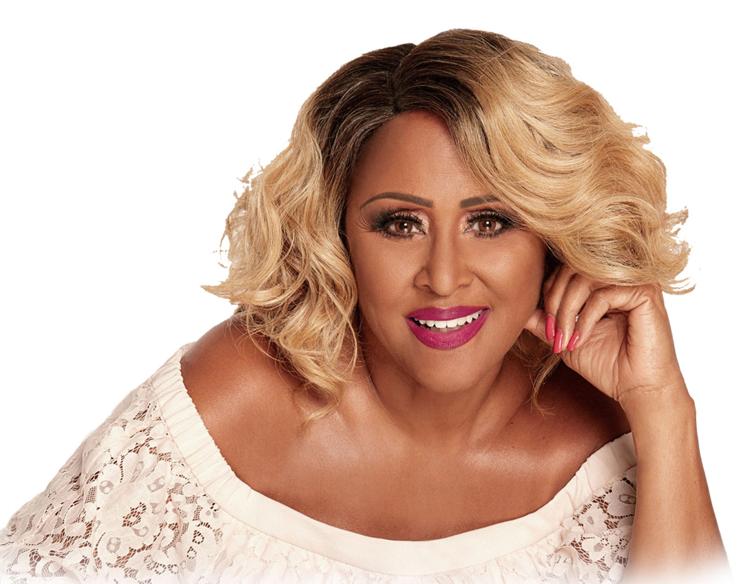 ABT offers Darlene Love holiday concert stream
Alberta Bair Theater offers exclusive access to Rock-n-Roll Hall of Famer Darlene Love's "Love for the Holidays" concert recorded at Sony Hall in New York City, streaming on Saturday at 9 p.m.
Hundreds who attended her live performance at Alberta Bair Theater in December 2015 were on their feet, captivated by her magnetic stage presence and legendary voice that earned her a Grammy Award.
Love's voice launched dozens of hits including "He's a Rebel," "(Today I Met) The Boy I'm Gonna Marry," "Marshmallow World," and her signature song "Christmas (Baby Please Come Home)." She'll perform these classics and more for this one-night-only holiday performance.
---
Kirks' hosting Renee Audette Retrospective and Winter Group Show
Kirks' Grocery will look back at the past two decades of Renee Audette's artwork, including large scale work from her two-year Archie Bray Residency. In a news release, Kirks' Grocery describes her creations as hauntingly adorable creatures with an unspecified uneasiness.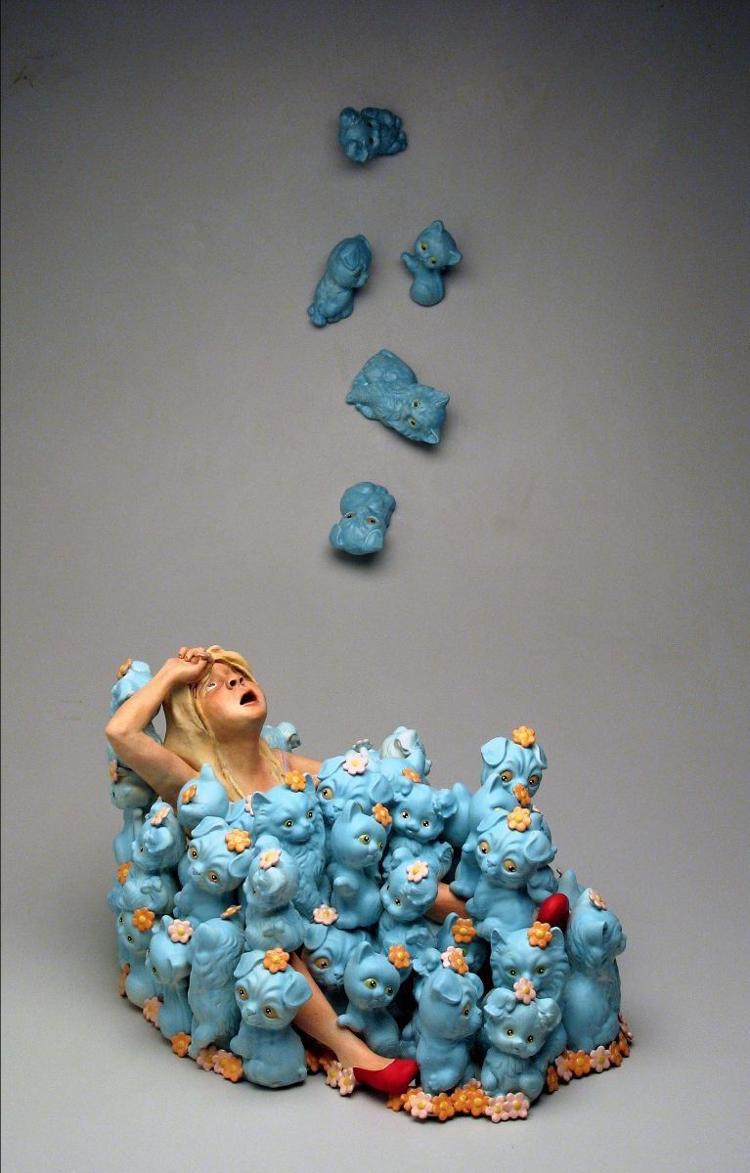 Kirks' Winter Group Show features collages by Terry Karson, ceramics and sculptures by Sandy Dvarishkis, paintings and collages by Gary Halsten, paintings by Marla Goodman and prints by Keith Martinez.
Kirks' will host an exhibit opening from 3-9 p.m. on Friday.
---
Indigenous poets featured in online event
Tippet Rise Art Center and its sister organization, the Adrian Brinkerhoff Poetry Foundation, will present "Songs at the Confluence: Indigenous Poets on Place," an online poetry event created in partnership with In-Na-Po—Indigenous Nations' Poets. Inspired by the recently published Norton Anthology of Native Nations Poetry, "When the Light of the World Was Subdued, Our Songs Came Through," the thematic focus of the evening will be on place and its importance to poets and their writing. The event, taking place at 5 p.m. on Friday, is curated by poets Kimberly Blaeser and Jake Skeets.
The virtual program will include nine short films featuring emerging and celebrated Indigenous poets reading their own work, as well as other works from the anthology; a discussion between two of the anthology's editors, LeAnne Howe (Choctaw) and Jennifer Foerster (Mvsoke); and video recordings of the inspiring landscape and music produced at Tippet Rise.
Poets include Kimberly Blaeser (Anishinaabe), Sy Hoahwah (Yapaituka Comanche and Southern Arapaho), Brandy Nalani McDougall (Kanaka Maoli), Jake Skeets (Diné), Layli Long Soldier (Oglala Lakota), and one of Montana's current poets laureate, M.L. Smoker (Mandy Smoker Broaddus) (Assiniboine and Sioux), as well as anthology editors LeAnne Howe (Choctaw) and Jennifer Foerster (Mvskoke) in discussion.
The event will also feature Jake Skeets reading a poem by Adrian Louis (Lovelock Paiute), Kimberly Blaeser reading a poem by b: william bearheart (Anishinaabe-St. Croix), and Jennifer Foerster reading a poem by Louis Little Coon Oliver (Mvskoke).
---
Barjon's hosting Clémence Morin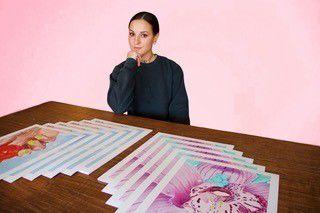 Artist Clémence Morin will give her first gallery show at Barjon's Books on Friday. Her art is a celebration of the female.
Morin, who grew up in Paris, South Africa, and Singapore, is a painter from Los Angeles who received her bachelor's of fine arts degree from USC in 2019. She focuses on feminine imagery and the female experience in figurative and abstract ways.
On Friday, a small reception will start at 5 p.m. Guests may view Morin's exhibit at Barjon's until 7 p.m. As a safety precaution, up to 25 people at a time will be allowed inside.
Barjon's is at 223 N. 29th St.
---
Great Songs of Christmas tour kicks off
The Great Songs of Christmas, a holiday concert series designed by producing artist Daniel Kosel, will kick off on Saturday in Red Lodge. Other performances throughout the month will take place in Billings and Livingston. Kosel designed the series to show off renditions of favorite holiday tunes from the golden era of Bing Crosby, Danny Kaye, Burl Ives, Nat King Cole and Andy Williams, performed by an all-Montana cast of musicians.
The 70-minute Christmas extravaganza stars the baritone-bass vocals and guitar of Daniel Kosel, the symphonic cello of Marley Ball, the alto vocals and acoustic guitar of Marcedes Carroll, and the guitar work of Isaac Carroll. The Montana foursome will deliver emotionally gripping, acoustically powerful shows at select venues in Montana including:
Café Regis in Red Lodge, 2 p.m. on Dec. 5.
Thirsty Street Brewing Co. at The Garage, 6 p.m. on Dec. 6 and Dec. 20.
The Buckhorn in Livingston, 2 and 7 p.m. on Dec. 13.
The shows are open to all ages. For tickets ($20-$30), go to the Daniel Kosel Music page on Facebook.
---
'The Nutcracker' being staged in Cody
The Rocky Mountain Dance Theatre will present its 23rd annual Nutcracker Ballet at the Wynona Thompson Auditorium in Cody, Wyoming, Friday-Sunday, Dec. 11-13.
The full-length production of "The Nutcracker" is set to Tchaikovsky's famous score, and the choreography, sets and lighting are all original, led by professionals in their field. Along with a cast of more than 100 dancers and children from the area, Randy Pacheco and Sasha Vincett will return as this season's guest artists. Soloists with Ballet Arizona will perform the roles of Sugar Plum and Cavalier.
Because of COVID-19, all ticket holders' seats will be assigned by RMDT.
Curtain times are 7 p.m. Dec. 11, 2 and 7 p.m. Dec. 12, and 2 p.m. Dec. 13.
Tickets to the live performances cost $30-$35. Access to a livestream of the Dec. 12 evening performance cost $15-$75. Tickets are available only online at rockymountaindancetheatre.tix.com.
---
YAM offers December art classes for all ages
Yellowstone Art Museum recently announced its lineup of December art classes.
Upcoming Adult Education events include the "How to Hold an Elusive Memory" workshop with Brooke Atherton on Dec. 19-20. On the first day, workshop participants will focus on basic surface design techniques and adding color in three different ways. Atherton will also lead a tour of her solo exhibition, "Mothers and Daughters," which is on display at the YAM through Jan. 10, 2021.
On the second day, participants will assemble a 2D or 3D object, such as a wall hanging or book, with the materials prepared the day before and add elements to personalize the pieces.
The workshop costs $140 for members, and $180 for nonmembers.
Family and children's art classes include:
FAM at the YAM: Children, parents, friends, grandparents and others are invited to create art with a professional artist, and learn about the artist's process. On Dec. 4, participants can join YAM's Facebook livestream to fabricate a flip book with artist Tracy Linder, inspired by her exhibit "Close Range," on display at the YAM through Jan. 12, 2021. Participants may come and go from 4 to 6 p.m. No registration is required.
YAM Teens: From 3:30-5 p.m. every second Wednesday, ages 12-18 can learn new techniques and focus on their own artistic practices. There is a different project every month and time for self-directed artmaking. YAM Teens is free and no advance registration required. On Dec. 9, teens can create fiber art after viewing large scale mixed-media fiber works in "Brooke Atherton: Mothers and Daughters."
Art and a Story: From 10:15-10:45 a.m. every second Saturday of the month, families with children up to age 5 can get comfortable in front of a very large piece of art for a story. A different book and art are featured every month via YAM's Instagram.
Studio 2nd Saturday: Every second Saturday of the month, ages 5-12 are invited to gallery tours and a time to create art connected to current YAM exhibits. Studio 2nd Saturday events are sometimes offered in person and sometimes online. On Dec. 12, "Fantastic Fiber Fabrications" will be presented via Zoom. Inspired by Brooke Atherton: Mothers and Daughters," the class offers participants a chance to fabricate a fiber collage, then stitch their drawing or words. Registration is available by calling 406-256-6804, ext. 237 or emailing outreach@artmuseum.org.
Educational programming will shift from in-person to online as needed, based on the governor's guidelines and YAM safety policies. Updated information may be found on the museum's website.
---
C.M. Russell Museum accepting auction submissions
The C.M. Russell Museum in Great Falls is accepting submissions from all artists and collectors for The Russell 2021 auction events set for Aug. 20-21, 2021.
Artists may submit up to three works, and no fee is required.
To apply, artists should download the Open Call for Submissions form available at the museum's website, https://cmrussell.org/artist-submission-form, then email the completed form to therussell@cmrussell.org. Consignors submitting work created by someone else should download, complete and email the Second Party Consignor submission form. A submission prospectus is also available at the website.
The submission deadline for artists and consignors is Monday, Feb. 1, 2021, according to an email from C.M. Russell Museum.
---
BSO & Chorale plans 'Wine Down for the Holidays'
The Billings Symphony Orchestra & Chorale will host its second virtual wine tasting event, "Wine Down for the Holidays," at 6:30 p.m. on Thursday, Dec. 10.
With a $50 ticket, individuals can enjoy a basket with three-ounce tasting bottles of four wines highlighted in the event, a personal charcuterie tray, access to the tasting presented via Zoom, and a Billings Symphony gift and CD. Non-alcoholic baskets featuring sparkling ciders are also available.
Special guest Andrew Lynch, owner of the world-renowned Kermit Lynch Wine Merchants, will host the livestream tasting with Abbey Reno from City Vineyard.
Participants can enhance the experience by purchasing a full bottle of wine and homemade caramelized chocolate-covered almonds made by Chef Steve of the Northern Hotel.
When purchasing tickets, individuals should indicate where they would like to pick up their basket in the comments upon checkout.
Baskets can be picked up from 4-6 p.m. the day of the event at the following locations:
Downtown: Billings Symphony office, 2820 Ave. N.
Heights: Gainan's Greenhouse, 810 Bench Blvd.
West End: City Vineyard Wine, 1335 Golden Valley Circle.