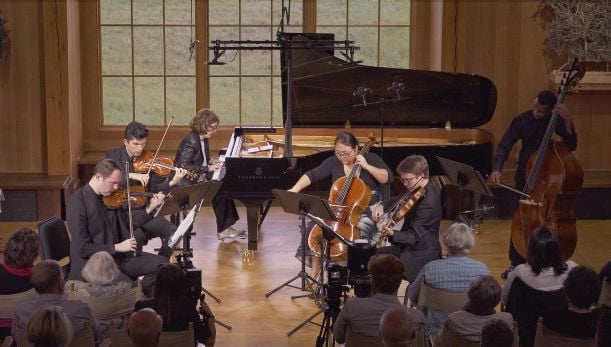 Metalcore rockers Beartooth play ZooMontana Aug. 21.
The show includes openers Wage War and Dragged Under, and begins at 6 p.m. rain or shine. Tickets are $36, including $3 from each ticket donated to ZooMontana.
Like few rock bands today, Beartooth harness the sacred and profane, and purge inner darkness with a dizzying light, says their press release.
Steadily, Midwest powerhouse perfects a sound sought by a generation of bands, equal parts solitary musical confession and celebratory exorcism. Their marriage of colossally catchy choruses and post-hardcore- soaked-in-sweaty-metal is without rival. Its effect is evident by their deeply engaged audience; tours with Slipknot, Bring Me The Horizon, and A Day To Remember; and a RIAA-certified gold plaque. It's all a testament to the purity of intention manifested by frontman Caleb Shomo from the start.
 Pub Station announces Beartooth: The Below Tour, with Wage War, Dragged Under live on Tuesday, August 21, 2021 at ZooMontana, 2100 South Shiloh Road. Rain or shine, doors open at 5 p.m. and the show starts at 6 p.m. Tickets are $36 and $3 of each ticket sold is donated to ZooMontana. Tickets go on sale Friday, May 7 at 10 a.m. 
NOVA presents Springtime with the Sopranos
NOVA Center for the Performing Arts presents Springtime with the Sopranos. Come join our cabaret as sopranos sing their way through the season. Many local singers will showcase their talents on May 14, 15, and 16. Friday and Saturday shows begin at 7:30 p.m. and the Sunday matinee starts at 2 p.m. Purchase your tickets early due to limited seating.
Masks are required, and audience members will be socially distanced. NOVA is located at 2317 Montana Avenue in Billings. For more information visit our website www.novabillings.org or call 406-591-9535.
Tickets: $21 for Adults, $16 for military and seniors. $10 for students.
Magic City Wellness Expo set for May 15
This year's annual Magic City Wellness Expo is set for Saturday, May 15 at the Billings Hotel & Convention Center. The expo starts at 10 a.m. and ends at 5 p.m. Admission is $5 for adults, and children under 10 are free. This expo is the best way to explore local opportunities in alternative health-care and self-care. Connect with local health practitioners and health product suppliers and more. The first 50 attendees get a free gift bag full of healthy samples and prizes.
Live music at Moose Lodge
Tom & John Country set to perform at Moose Lodge, 131 Calhoun Lane, from 7 to 10 p.m. on May 11. The event is free and open to the public.
Tippet Rise movie premiere 
Land & Sky: The Inspiration of Tippet Rise movie public premiere set for Thursday, May 20, 2021 at Tippet Rise. In partnership with the Colburn School in Los Angeles, Tippet Rise has commissioned a 90-minute film by Hamid Shams that illustrates Tippet Rise's union of music, land, art, and architecture. Sweeping and dynamic new footage of the 12,000-acre ranch is combined with interviews of the artists whose works are featured at the art center and musicians who have performed there. Performances by the Calidore String Quartet, alums of the Colburn School and previous performers at Tippet Rise, punctuate the film.
Details on the public premiere, scheduled for May 20, are available at tippetrise.org.
BSO & Chorale present: "West Side Story Symphony Concert Version"
BSOC announces West Side Story Symphony Concert Version originally scheduled for March 14, 2020, has been rescheduled for Friday, May 21, 2021, at 7:30 PM and Sunday, May 23, 2021, at 5:00 PM at Faith Chapel (517 Shiloh Rd). All originally purchased tickets (both subscription and single tickets) are valid and will be honored according to the tier which was purchased. Adult general admission tickets are $39 and under 30/student general admission tickets are $20. Adult single tickets can be purchased at billingssymphony.org. Under 30/student single tickets can be purchased by calling the BSOC office at 406-252-3610. Due to streaming rights, "West Side Story Symphony Concert Version" will not be available for live-stream nor on-demand.
As with all BSOC performances this season and at the direction of our Health & Safety Taskforce, social distancing should be maintained and masks are to be worn at all times while in the venue. 
If you have any questions, please reply to this email or call 406-252-3610.
Magickal Makings Fair to be held at Shrine
Magickal Makings Goods and Services Fair is set for May 15 and 16 in the lower level of Shrine Auditorium, 1125 Broadwater Ave. Admission is free to the public. The event kicks-off May 15 from 10 a.m. to 8 p.m. and goes through May 16 from 12 to 6 p.m. Magickal Makings is looking for vendors for this year's fair. This year, they are opening the event for other types of vendors including; Metaphysical, crafting, household, white elephant, prepper, etc.. Booths (one nine-foot table) are $80 each, for both days. A $50 deposit will be due prior to event and the remainder can be paid at the start of the event.
General admission to the fair is free and open to the public. To sign up, you can call Charlyn at 406- 256-9070, Aalphia at 406-860- 9426 or you can email for the vendor contract at magickalmakings@yahoo.com.
Jazz Collective performing Duke Ellington at the Babcock
The Billings Symphony's Sukin Series continues with the Rocky Mountain Jazz Collective performing Duke Ellington's Far East Suite Saturday, May 15, 2021, at the Babcock Theater at 7 p.m., doors open at 6 p.m. General admission tickets are available online at billingssymphony.org or by calling the BSOC box office at 406-252-3610. Tickets are $30 for adults and $15 for under 30/student tickets. Masks must be worn while in the venue. For complete COVID-19 policies, please visit, https://billingssymphony.org/about/covid/.
Red Lodge Area Chamber of Commerce events
Red Lodge FFA plant sale at the front step of Red Lodge High School at 10 a.m.
Sweet Briar Creations Pop-Up Market at Market 5555 at 10 a.m.
JCC Spring Vendor Expo at Joliet Community Center at 9 a.m.
Mother's Day Brunch at Marli's at The Pollard at 12 p.m.
Mother's Day Open House at Katie's Cakes 1 p.m.