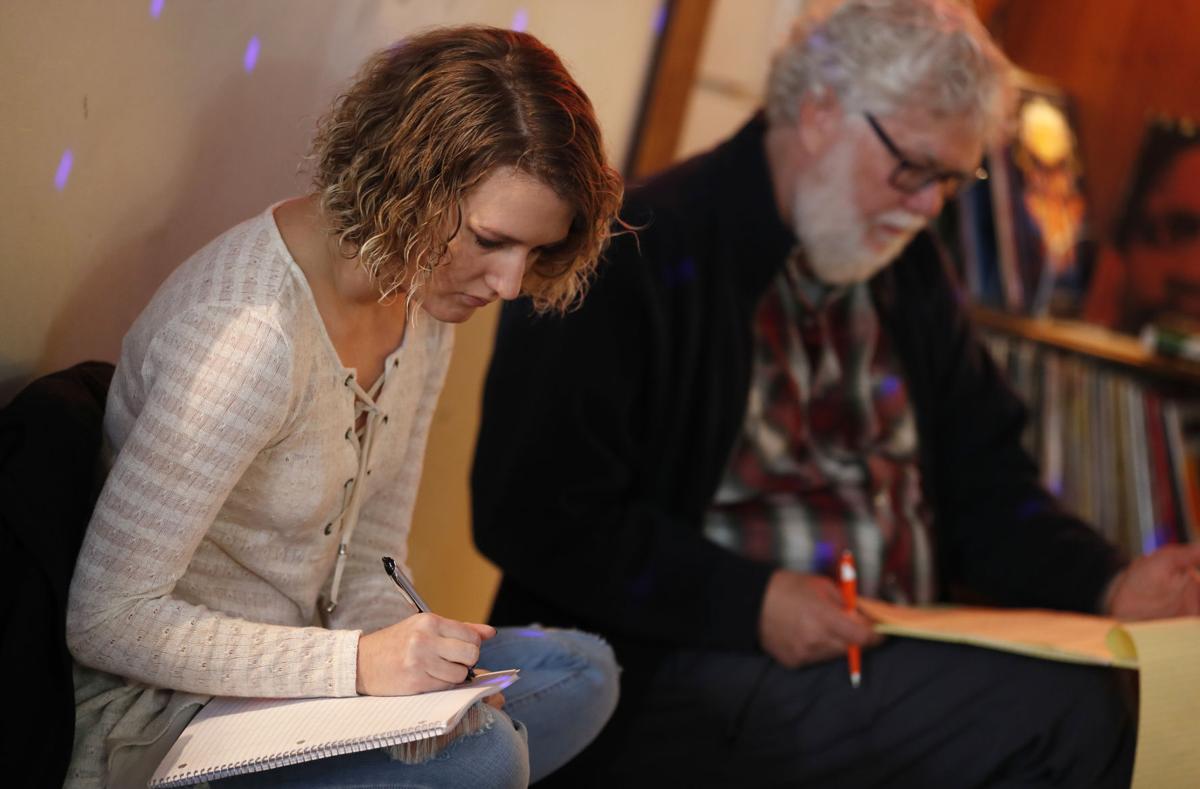 Poets sought for South Sidewalks project
The Healthy By Design Coalition seeks original poems for installation in sidewalks on the South Side. The poem selection is part of a project called South Sidewalks, funded through a grant from the Kresge Foundation. The goal of South Sidewalks is to create a more welcoming and walkable neighborhood through sidewalk poetry created by area residents.
Everyone is welcome to submit a poem. Applicants do not need to live on the South Side to participate, according to a press release from the coalition.
Poems should focus on the South Side neighborhood's slogan, "The Bright Side of the Tracks."
Seven winning poets will each receive $100. Poems will be printed on a sidewalk segment on the South Side.
Full poems and the location of each will be published after installation is complete. A first round of poems was selected in spring 2020. However, due to the COVID-19 pandemic, sidewalk installation was delayed until fall.
Submission deadline is Sunday. Applications will be reviewed by a committee of South Side neighborhood residents and two local poets. To download complete instructions and an application, or to learn more about the project, go to healthybydesignyellowstone.org/healthy-neighborhood-project. Anyone needing more information may also contact Ruhiyyih at 247-3394 or info@hbdyc.org.
---
NOVA presents 'The Impresario'
NOVA Center for the Performing Arts will present the opera "The Impresario," with performances through Sunday.
The cast features Douglas Nagel as Mr. Scruples, in his final performances before retirement, and Kieran Beebe as Mr. Bluff, William Stearns as Mr. Angel, Drew Murray as Madame Goldentrill, and Emerald Hart Miss Silverpeal.
Directed by Mary Ann Connors, "The Impresario" concerns the woes of an impresario, Mr. Scruples, who must put together a company of actors and singers while dealing with their whims, rivalries and pretensions. The company faces economic difficulties, which are ultimately solved thanks to the intervention of Mr. Angel, a banker, who persuades Scruples to audition Madame Goldentrill, Mr. Angel's lover. When Scruples is unimpressed, Mr. Angel introduces his rising star, Ms. Silverpeal, who insists on auditioning for the leading soprano role. The two ambitious singers confront Scruples about who the next prima donna will be, while Bluff attempts to reconcile matters. In the end, it is determined that art can thrive only through the peaceable cooperation of all their strengths.
Tickets cost $21 for adults, $16 for senior citizens and members of the military, and $10 for students.
Curtain times are 7 p.m. Friday-Saturday and 2 p.m. Sunday.
---
Dana Gallery seeks submissions from Montana artists
The Dana Gallery in Missoula plans a juried show called "Our Town" in May 2021.
Montana artists may submit paintings and photographs that reflect the spirt of communities across Montana to be considered for inclusion in the show.
Numerous awards will be given, including a $2,500 Best in Show award.
Submissions must be received by March 1, 2021.
---
WYO plans magical evening, online auction
The WYO Performing Arts & Education Center in Sheridan, Wyoming, will present "Amazing Meets Extraordinary: Magic Takes the WYO" with John Rotellini and AJ Longhurst on Friday-Saturday, Nov. 20-21.
Both performers have a background in theater, according to a press release from the WYO.
Rotellini's childhood love of magic paired with an eclectic collection of interests led him to a career in doing extraordinary things onstage. By combining sleight-of-hand magic and illusions with psychology and theater, Rotellini has created live, interactive events that have wowed audiences around the world.
Longhurst aka "The Amazing AJ!" also found an interest in magic at a young age, when he first experienced it while watching a trick close-up. Longhurst has performed magic professionally for more than 10 years and has been a professional actor for more than 20 years. Four years ago, he started a new magical adventure: teaching. At AJ's Magic Academy, Longhurst weaves important communication and life skills into every magic lesson.
Showtimes are 7:30 p.m. on Nov. 20 and 4 p.m. on Nov. 21.
Patrons can purchase tickets to attend either the livestream or the live event at wyotheater.com.
Additionally, the WYO will host its Online Artisan Auction Nov. 15-30. Featuring handmade art and items from local and national artisans, the WYO's Artisan Auction is taking place in lieu of the organization's annual Gala Silent Auction. The annual WYO Gala is the WYO's only fundraising event throughout the year and was canceled this year due to the continued spread of COVID-19.
---
Sheridan College plans 'A Musical Thanksgiving'
The Sheridan College Symphony Orchestra will present a concert at 7 p.m. on Wednesday in Kinnison Hall at Whitney Center for the Arts in Sheridan, Wyoming. "A Musical Thanksgiving: Music by Mozart, Spohr and Holst" is free and open to the public but entrance tickets are required to attend in-person or virtually.
The program will feature Mozart's "Divertimento in D," Spohr's "Grand Nonetto" and Holst's "Brook Green Suite." According to Dr. Mark Eliot Bergman, each work was inspired by friends or family of the artists.
The members of the symphony will be socially distanced on stage and wear specially designed masks when possible during the performance, according to a press release from Sheridan College. In-person and livestream entrance tickets are available for free online at sheridan.edu/arts or by calling 307-670-0360.