Confession: Saturday was the first art auction I've ever attended. I had ideas of what it would be like — the fancy furs and the cuff links, the rolling tongue of the auctioneer and the bid cards waving while libations flowed and hors d'oeuvres were aplenty.
That part was accurate, but between my generalizations of an auction, there were humanizing moments that I did not expect at the Yellowstone Art Museum's 51st Annual Art Auction.
To see YAM artist-in-residence Ben Pease standing proudly next to his painting after it sold as his wife Malisha Tso snapped a portrait, or to feel the nervous energy from artist and MSUB professor Jodi Lightner as her piece hit the auction block, gave these pieces life, as did Billings-based artist Judd Thompson celebrating the sale of his first piece of work in an auction, or Maria Isabel Bonilla Uribe sparkling along the edge of the room in a sequined dress watching anxiously as bidders raised their cards. Her fear: That her painting wouldn't sell at all.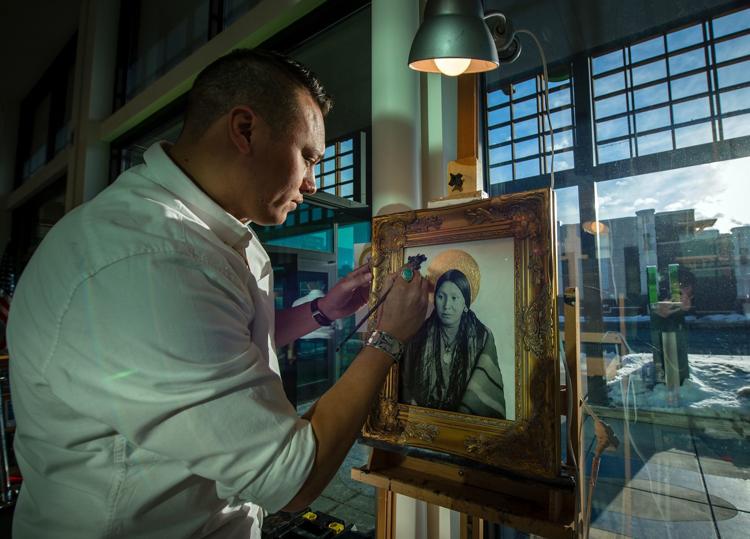 Colombia-born, Bonilla Uribe interjects tropical surrealism into her canvas. Her art is an extension of her world. The same goes for Billings artist Jon Lodge, whose work may have been bid on because the buyer "liked the black and white dots," but there are decades of process placed on that canvas that informed Lodge's work at that moment.
Lodge was one of just three regional artists who fully donated their work to the live auction, included in the company of Carol Spielman and Neltje.
And when their turn comes on the auction block, the sale of work by living artists is ultimately a financial value placed on their labor.
Eye of the beholder
It's easy to be swept away in the excitement of an auction, and the YAM's annual event is probably the one time a year where you can be in a room filled with some of the region's most influential artists — masters of their craft like Neltje, Kevin Red Star, Shelia Miles, Gordon McConnell, and so many more artists collected in one place who helped define contemporary art of Montana and Wyoming.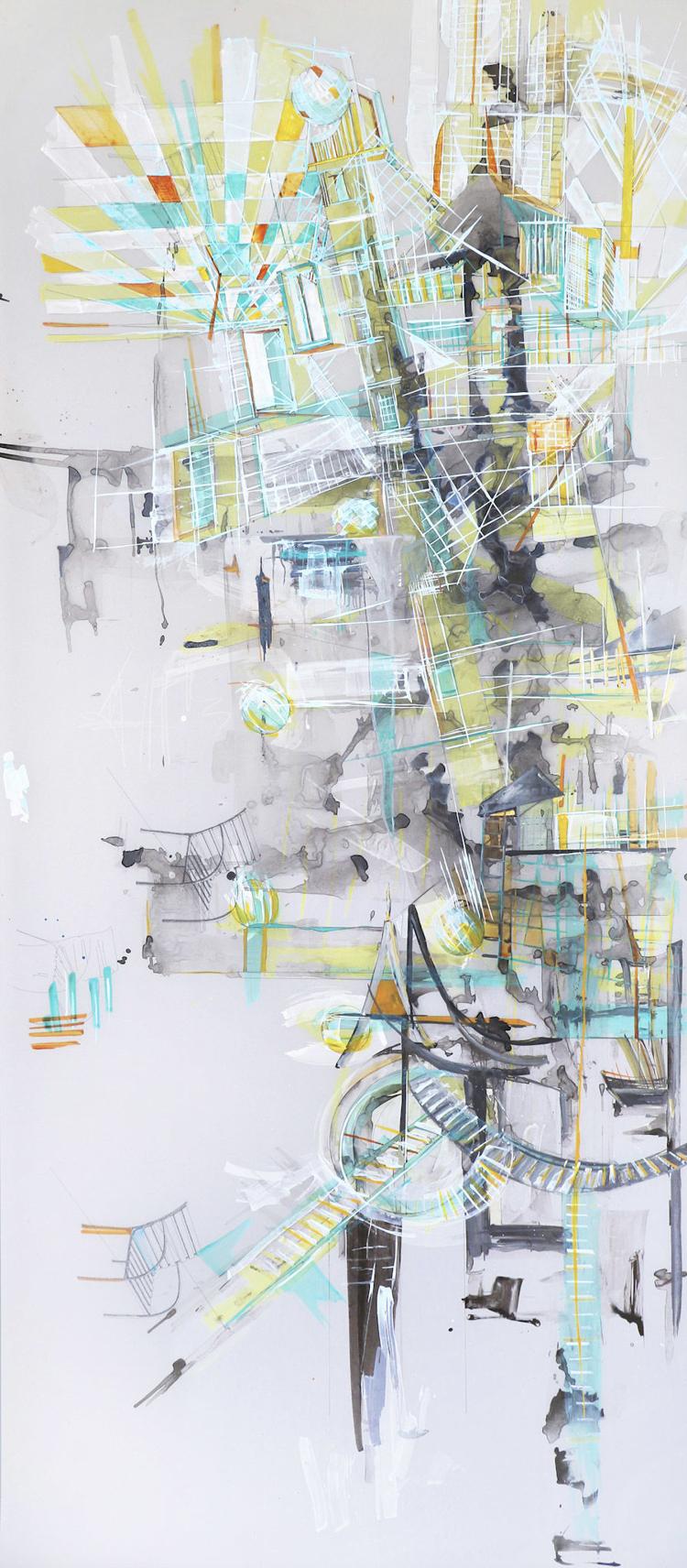 For me, the surprises of the night were Pease's quick-draw painting of his grandmother Tillie, which sold to a collector of his work for more than three times what it was expected to fetch; and Lightner's piece "Blueprint to Rewrite History," which was one of very few on the auction block that sold for a price that nearly exceeded its estimated value.
In fact, most pieces sold below their estimated value, a number that is set by the artist or art appraiser. A brochure produced by the museum gave an estimated range for the pieces (in Lightner's case, her work was valued at $2,700 - $4,100 and sold for $4,000), but few buyers were willing to pay those estimated values.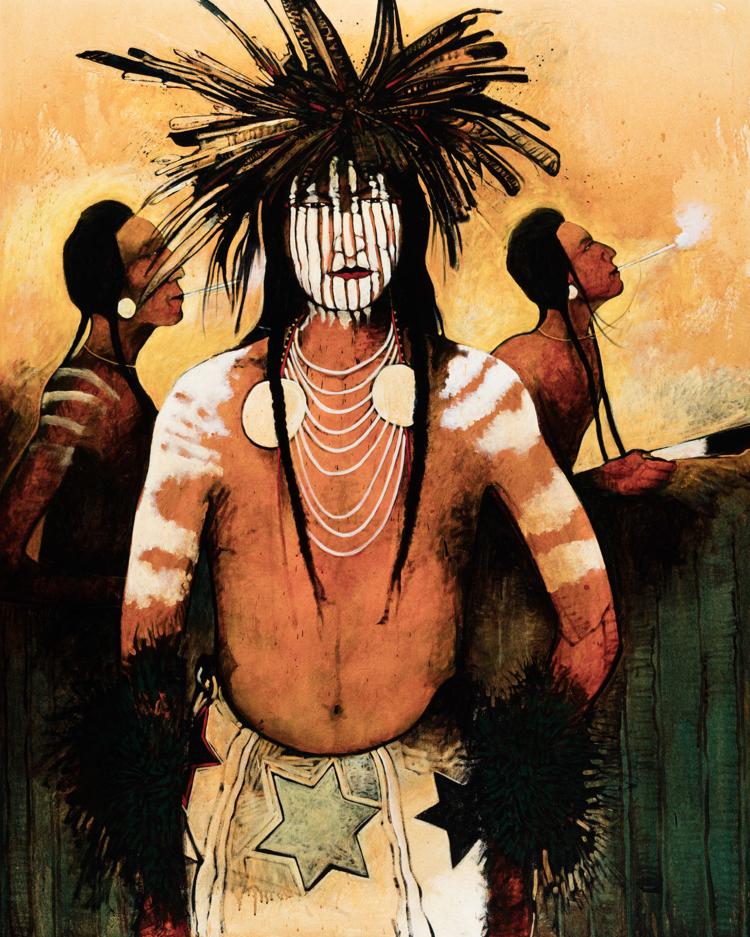 The highest-priced item on the auction block, Kevin Red Star's work didn't sell, failing to meet the $35,000 minimum set by the artist (the final bid reached $31,000 for "Sundancers-Eagle Breath Whistles").
Ted Waddell's piece, estimated at $23,000 - $25,500, didn't sell either. Waddell had a clause in his auction contract that his piece could not sell below retail price.
A painting by Canadian artist Michel Desroches, which was fully donated to the auction, didn't come close to the $12,000 estimated value. The auctioneer's gavel closed the bid at $3,500, but that failed to meet the minimum requirement, and his piece will now head into the YAM's permanent collection instead of on a collector's wall.
"Danaide," the impressively beautiful sculpture by New York artist Ira Reines, was also passed on. That piece was a full donation, as well, and because it didn't bring in $17,500 to $20,500 that it was estimated to be worth, it will also remain in the YAM's collection.
Alexander Calder's lithograph — another full donation to the YAM — received an absentee bid of $5,750, but that wasn't enough to meet the minimum bid requirement.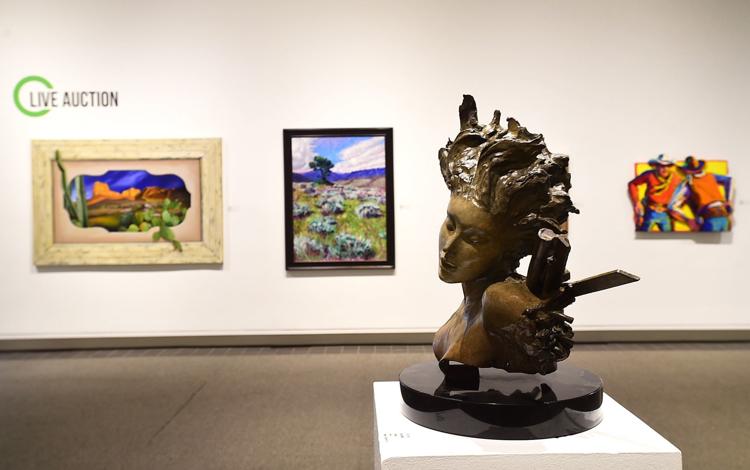 Many pieces of art, however, did head home with collectors, and though the price tags were thousands of dollars, it seemed most buyers got quite a deal.
For $4,000, the Picasso print is headed to a private buyer's home, and a Salvador Dalí print sold for $7,500. Both sold for less than the estimated value, but the pieces were donated to the YAM, so full proceeds return to the museum.
The YAM has yet to release results of its fundraising efforts, though museum management indicated the annual auction accounts for 25 percent of its overall budget. As a 501(c)(3) nonprofit, the museum must disclose the amount raised in overall fundraising at the end of the year in its annual report.
Art education and outreach by the YAM was strongly supported at the auction, and an opening bid of $10,000 was immediately met, followed by two $5,000 pledges as well as several at $1,000 and below. In total, $41,000 was raised to support the YAM's art education programs.
Growing the arts
Don't get me wrong: Arts patrons in Billings are strong, and they're generous and supportive, but there aren't as many of them as we needed that night. There were a few absentee bidders, but only a couple pieces of artwork were picked up by callers outside the region.
As we look into the next decade of arts in our community, it's clear that the pool of financial supporters needs to grow, and that includes encouraging a national bidding war at these regional events.
It's a shame that Bozeman artist Michael Blessing's oil painting sold for less than $3,000 when it is valued at upwards of $9,000, or that Tucson painter Michael Haykin's "Eye of Providence" sold for half of its estimated value. Such low bids only benefit the buyer, while the artists' work is devalued, and the museum's fundraising capacity is diminished.
If you can pick up a Ted Waddell at a steal at auction, that sets the tone for what a the art is worth, and Waddell simply won't play by those rules. His work rarely hits the auction block, and when it does, you're going to pay full price for it. A bonus for the buyer: part of the bid goes back to the museum, and Waddell's work retains its value.
Artists, in most cases, are in the driver's seat, setting the value of their work and the threshold at which they'll sell their piece. Auctions present a risky gamble for a museum, which benefits only when the auctioneer's gavel indicates a sale.
Even then, there are so many behind-the-scenes costs, it's tough to imagine how the YAM is impacted this year when the highest priced pieces at auction failed to sell.
This year could have also been a result of buyer fatigue. The YAM extended the auction to three events, offering more artwork at lower price tags with a focus on younger up-and-coming artists.
Bryan Knicely, executive director of the Yellowstone Art Museum, described the final auction as the "social event of the year," and jokingly as his "one-year anniversary party," in a speech during the event. Knicely acknowledged the auction underwent a lot of changes for 2019, something he hoped attendees appreciated.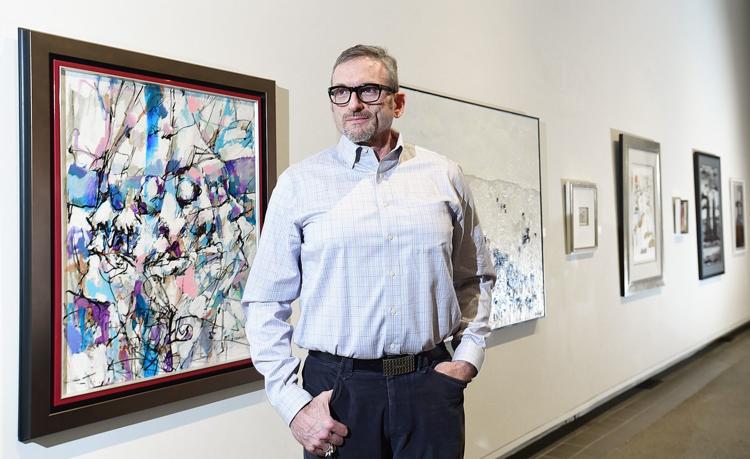 "The goal was to extend our reach throughout and bring more new, young, contemporary artists into the fold," he said. 
After the event, Ryan Cremer, development director at the YAM, remains optimistic.
"The auction was a wonderful evening, for the YAM and for all of its attendees," he said in a statement to the Gazette when asked about the financial results of Saturday's auction. Cremer didn't release overall fundraising numbers, saying, "It typically takes several days, if not weeks, to finalize the numbers."
While the YAM tallies their results and waits on final payments from buyers, they continue moving forward. Friday, new works by Desroches will debut at the museum. Though his painting didn't sell at auction, it is nonetheless a showstopper, worth more than patrons of the evening were willing to spend.