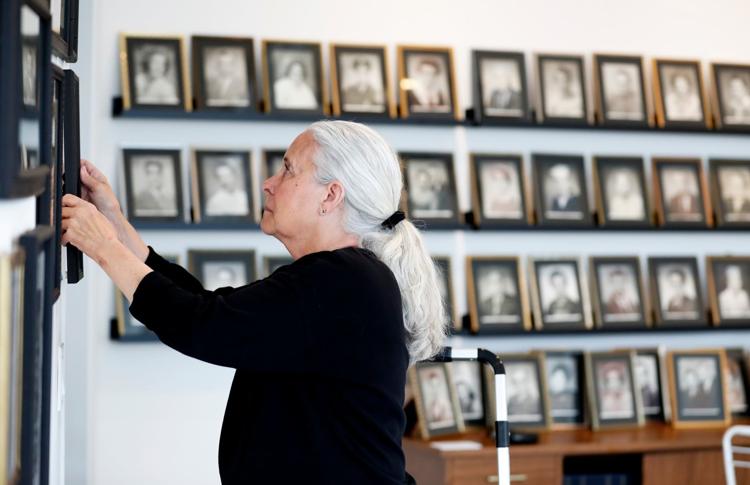 The emotional weight of obituaries and photos have often been combined for newspapers and funeral homes as a tribute to loved ones and a reminder of community that people share.
Billings Artist Jane Waggoner Deschner captures this unique relationship through her exhibition "Remember Me: A collective narrative in found words and photographs," opening Friday at 4ZERO7 gallery, 407 N. 24th St.
The gallery is filled with hundreds of embroidered photographs in frames ranging from four-inch tabletop frames to 20-inch hanging frames that Deschner has gathered over the years. The single room's walls, floor, and shelves are meticulously laid out, feeling like a living room adorned with family photos.
"The concept behind my project is to ultimately, intimately, illustrate our collective narrative," Deschner wrote in a press release. "We see our personal truths reflected, through photos and words, in the lives of others,"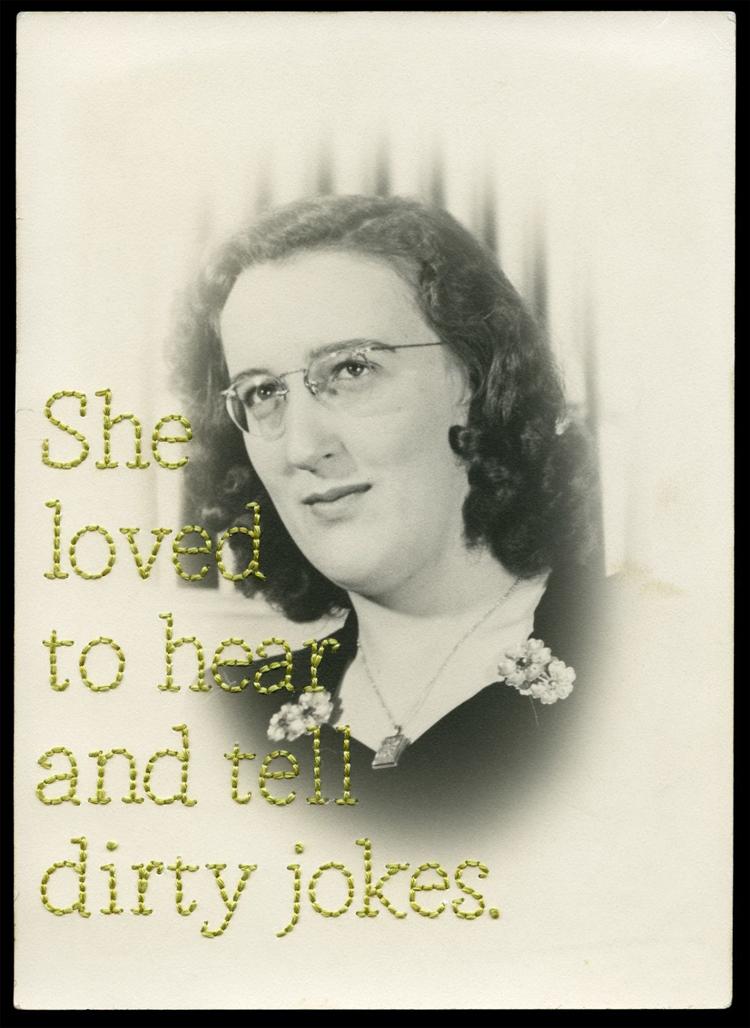 Begun in September 2015, the ongoing project now includes more than 700 different artworks with more than 200 on display.
The exhibit features studio portraits and family photos of parents, children, and even beloved pets. The embroidered quotes include anecdotes, descriptions of their personality or an example of their unique perspective of the world they lived in. They can evoke messages that range from wholesome, to humorous, to profound.
"Her hands were never idle."
"He wore flip-flops in the snow."
"In her words, 'We are all just spirits having a human experience.'"
"A meal for him was never complete without mashed potatoes."
On each photograph, a single line from an obituary is threaded into the print.
"These photos were made to make memories and have memories," Deschner said. "They once had a life and then they were lost, and then I find them again."
Themes such as sobriety, regret, and favorite foods have been collected and sorted over the years from different obituaries along with discarded photographs.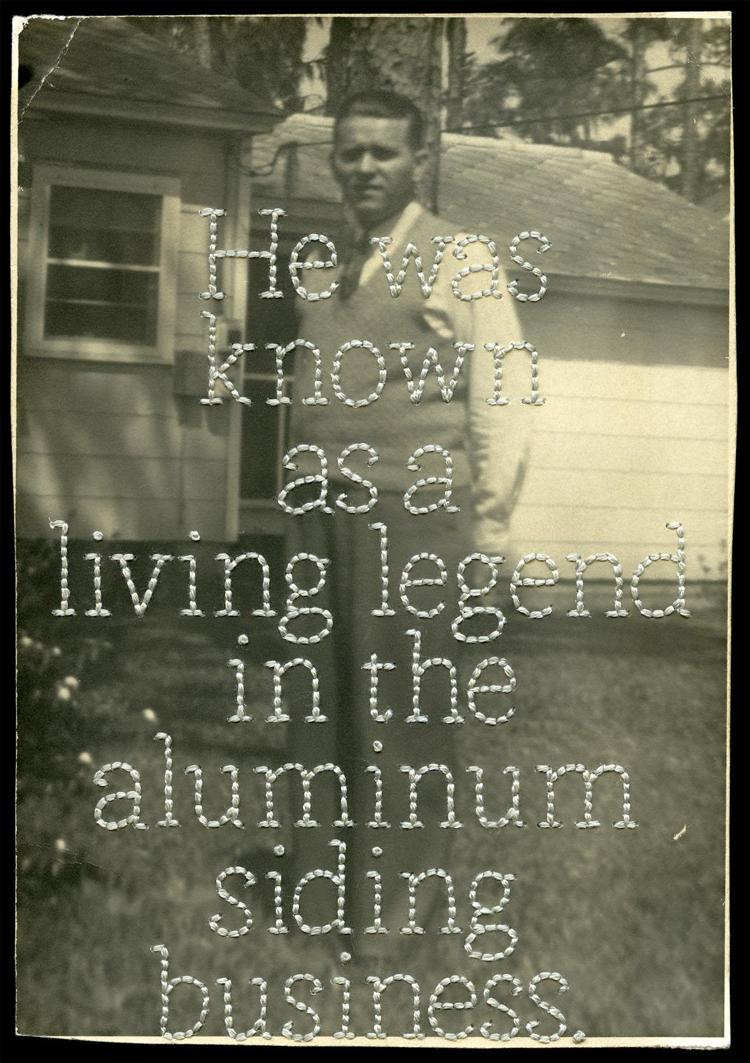 The work may convey feelings of nostalgia or sentimentality. Deschner hopes, however, that it exhibits a theme that is more universal or timeless.
"We are more alike than we are different," Deschner said. "That's when I started using sentences about unknown people with unknown people's pictures."
Initial responses to the exhibit's work echoed this sentiment. Montana artist Jerry Iverson experienced both laughs and goosebumps upon viewing Deschner's collection.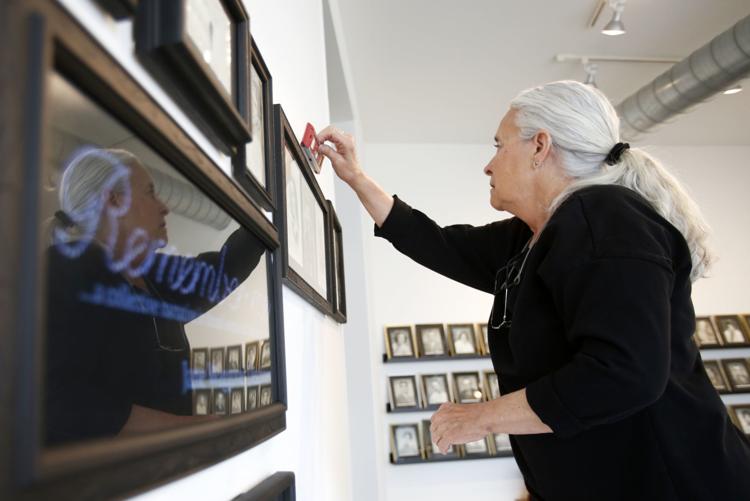 "They make me think about life and death, what it all means, each of our identity, and what we think about each other," he said. "We all face this review, and wonder what impressions were made – and will never know."
Fellow artist Jon Lodge (Deschner's partner) noted the atmosphere that was created through the blend of words and images.
"It's immersive, extensive and it permeates the whole space of the room," Lodge said. "It has energy — energy of language and images. It's actually kind of like a library."
Lodge adds that, just because the photographs and their words are specific and relatable, their meaning doesn't end there.
You have free articles remaining.
"Once you look at a few or read a few, you begin to develop this idea of a larger narrative," he said.
A rich vernacular
Deschner has amassed more than 70,000 photographs, mainly from the 1940s through the 1970s. It is not the desired photographs that she selects, but the ones that were undesired, she explained.
"There are people who collect vernacular, everyday photographs ... But most of these people want the ones that are neat or arty with something about them that's different from all the rest. I want all the rest. I want the mundane."
The obituaries and photographs were gathered over a period of nearly 20 years from various newspapers and online sources such as Legacy.com, along with photographs from dealers, acquaintances, and photo studios across the country.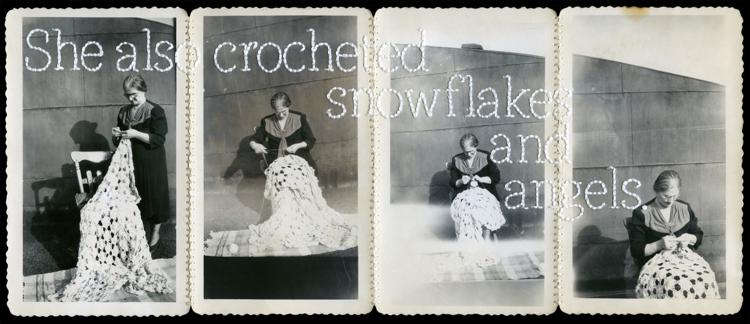 Earning both a bachelor's and a master's degrees for geography from the University of Kansas in 1969 and 1974 respectively, Deschner also began developing her art through painting, ceramic, and design coursework at the Kansas City Art Institute between 1970 and 1973. She went on to earn a bachelor's degree in art at Montana State University, Billings in 1987.
She eventually developed a fascination with the material, time period, and meaning behind photography in particular after earning her master's degree in fine arts from the Vermont College of Fine Arts in 2002. The attacks on the World Trade Center inspired her to focus her work on human bonds.
She asked her friends to send her a photograph of what anchors them and discovered a common theme.
"It was awesome. It was nothing that consumer culture tells you is important. It was children and pets and parents and places. It would be people's favorite places to hike to rather than posing in front of the Eiffel tower."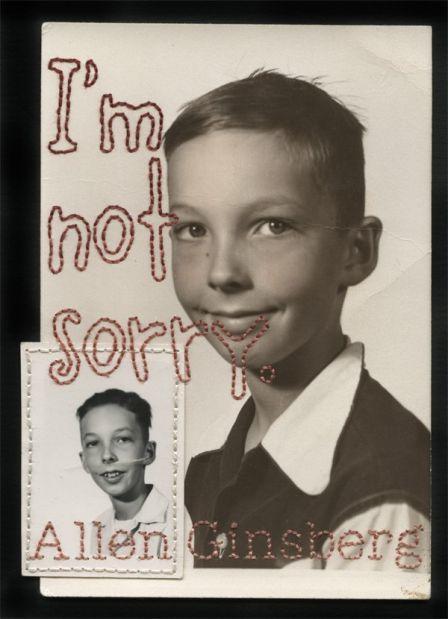 In 2015, she started to incorporate sentences from ordinary people's obituaries. Her previous work involving photographs includes series of unknown people's pictures paired with famous people's quotes and the quotes and pictures of notable individuals who had lived in Montana, such as Peter Fonda and David Lynch. This, and her collection of obituaries, ultimately led to the pairing of unknown pictures with unknown words.
Developing an efficient process over the years, Deschner often selects the photos and pokes their holes throughout the day before stitching them in the evening.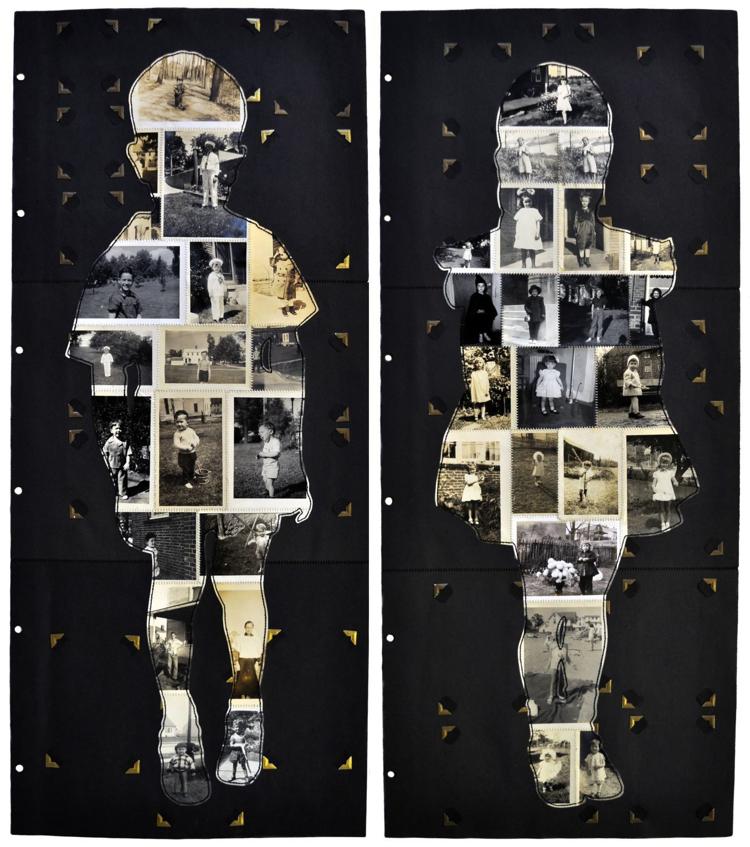 An expressive approach
Deschner has been sewing since she was 14.
"I don't know if I ever really got good; I just did it over and over again," she said. "I sort of always had the need to work with my hands."
She explained the creative nature of the craft going beyond its practical purposes.
"For a lot of people, it was a way for them to be creative," Deschner explained. "For mothers, especially, they could make something that didn't get eaten, dirty, or thrown away. It was something that said, 'Yes, you lived the day before.'"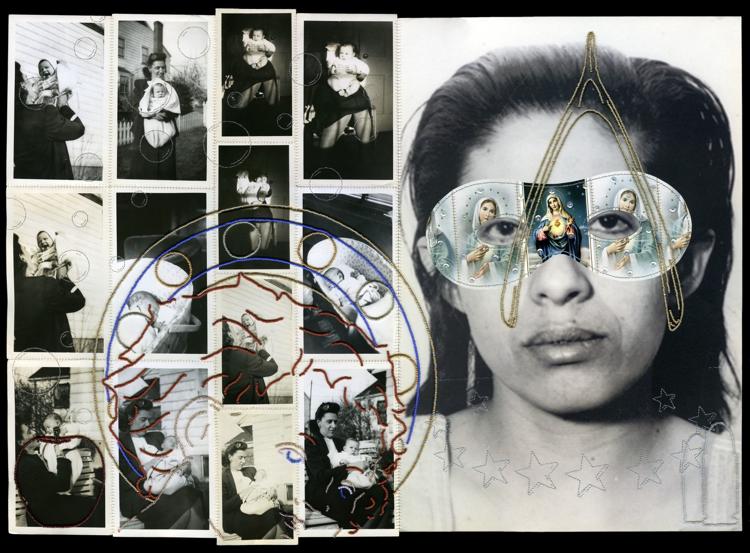 Using cotton embroidery floss with six threads wound together, Deschner separates the threads and adds different colored threads together in a process akin to a painter mixing paint. The result is embroidered letters with a distinct color pattern to contrast the colorless images.
Deschner also noted the lack of expense, convenience, and relative ease in learning knitting that makes it appealing to everyone, not just women. One can start and stop at their leisure and do it just about anywhere.
"This is something I can do on an airplane. I can sit in the meeting and stitch," she noted. "This fits me well and how I like to make things."
In addition to her work with embroidery, Deschner has also consistently worked on afghan blankets and doilies over the years. It was only when her hands began to hurt in recent years that she completely quit knitting in favor of embroidery.