First Fridays, which kicked off in downtown Billings in May 2019, will continue into 2020, starting on Friday, with "Fire and Ice."
On the first Friday of each month, participating shops and businesses host special events, offer refreshments and promotions, and sponsor live entertainment and arts and cultural activities. Each month features a theme, and all events are open to the public. Designated hours are 5-8 p.m., though many participating locations are open later.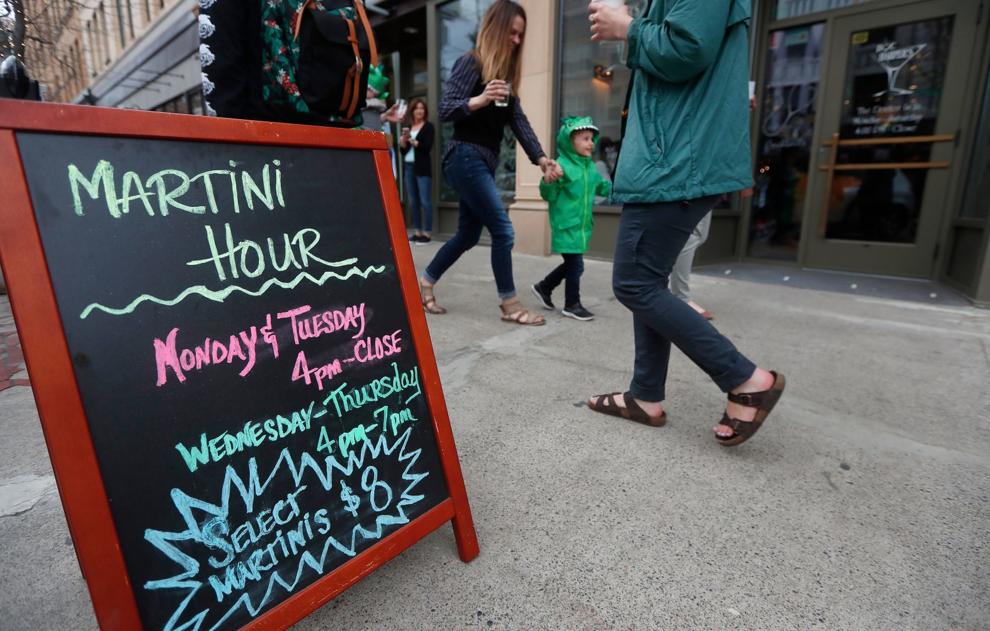 Other themes include "Share the Love" on Feb. 7, "Reading Rainbow" on March 6 in celebration of Dr. Seuss' birthday, "Earth-Wise" on April 3, "Ladies' Night" on May 1, "Cultivating Culture" June 5, "America's Birthday" on July 3, an end of summer block party on Aug. 7 and family fun night in Sept. 4, "School Spirit" in Oct. 2, "Give a Little, Change a Lot" in Nov. 6 (an event paired with the annual Yellowstone Valley Gives), and the annual Christmas Stroll and ArtWalk on Dec. 4.
"The DBA stands behind the concept of 'abundance breeds abundance,'" said Lindsay Richardson, events director for DBA. "Meaning when First Friday falls in conjunction with an ArtWalk, Burn the Point, Magic City Blues, or any other event hosted downtown it will only enhance and increase the downtown activity as a whole because it offers a variety of options to draw more of the community to downtown."
Richardson hopes the event continues to grow, and said that First Fridays helps promote awareness of entertainment, art, shopping and dining opportunities downtown. 
Events taking place Friday, Jan. 3 are listed below. Information provided by Downtown Billings Alliance:
Arts and Entertainment
Art House Cinema, 109 N. 30th St., and the Babcock Theater, 2810 Second Ave. N., celebrates First Friday by offering free popcorn with each ticket purchase.
Billings Public Library, 501 N. Broadway., celebrates National Oatmeal Month and National Hot Tea Month with oatmeal cookies and tea for all who join from 6:30 - 8 p.m.
Kirks' Grocery, 2920 Minnesota Ave., features local artwork at the gallery, and Art of Comedy with Charlie Mulluk, starting at 10 p.m.
Pub Station at 2502 First Ave. N. hosts Gray Joy, The Photoshoplifters, The Love Darts beginning at 8 p.m. Show your DBA card for $4 pints (except on specialty brews).
Thirsty Street Brewing Co., 3008 First Ave. N., features Slainte (traditional Irish and Scottish tunes) from 5 - 7 p.m. 
Yellowstone Art Museum at 401 N. 27th St. offers free admission from 5:30 – 8 p.m. and will feature readings of Bill Stockton's unpublished manuscripts by members of the Yellowstone Repertory Theatre from 5:30 - 6:30 p.m. Felting demonstrations with Alena Larson and other members of the Prairie Handspinners will present from 5:30 - 8 p.m.
Food and drinks
Big Dipper Ice Cream at 100 N. Broadway features a variety of house-made ice creams, sorbets, and more. DBA card holders receive one free topping.
Dickey's Barbecue Pit, 2519 Montana Ave. features 10% off your total ticket and free ice cream with DBA card. 
Doc Harper's Tavern, 116 N Broadway Ave., features half off an appetizers with DBA member card.
Hooligans Sports Bar at 109 N. Broadway hosts Happy Hour from 5-6 p.m. DBA card holders get 10% off, excluding happy hour specials.
Fieldhouse, 2601 Montana Ave., features seasonal items, fresh ingredients, and a farm-to-table menu. DBA card holders receive 40% discount on a bottle of wine. 
MoAV Coffee at 2501 Montana Ave. is open until 8 p.m. on Friday. Show your DBA card for 25% off a drink.
Montana Brewing Company at 113 N. Broadway hosts Happy Hour from 5-6 p.m. and features holiday drinks including a German Chocolate Stout. 
Shopping
Aspinwall at 103 N. 28th St. Aspinwall will be open until 6 p.m. Show your DBA card for 20% off one regularly priced item. 
The Joy of Living, at 102 N. Broadway, extends shopping hours on Friday at its downtown location and offers a chai bar from Black Dog Coffee House. DBA cardholders receive free Joy tag earrings with any $30 purchase. 
Something Chic, at 2818 Second Ave. N., hosts extended shopping hours, featuring a hot chocolate bar and holiday and sale items, as well as 15% off sale items with DBA card.