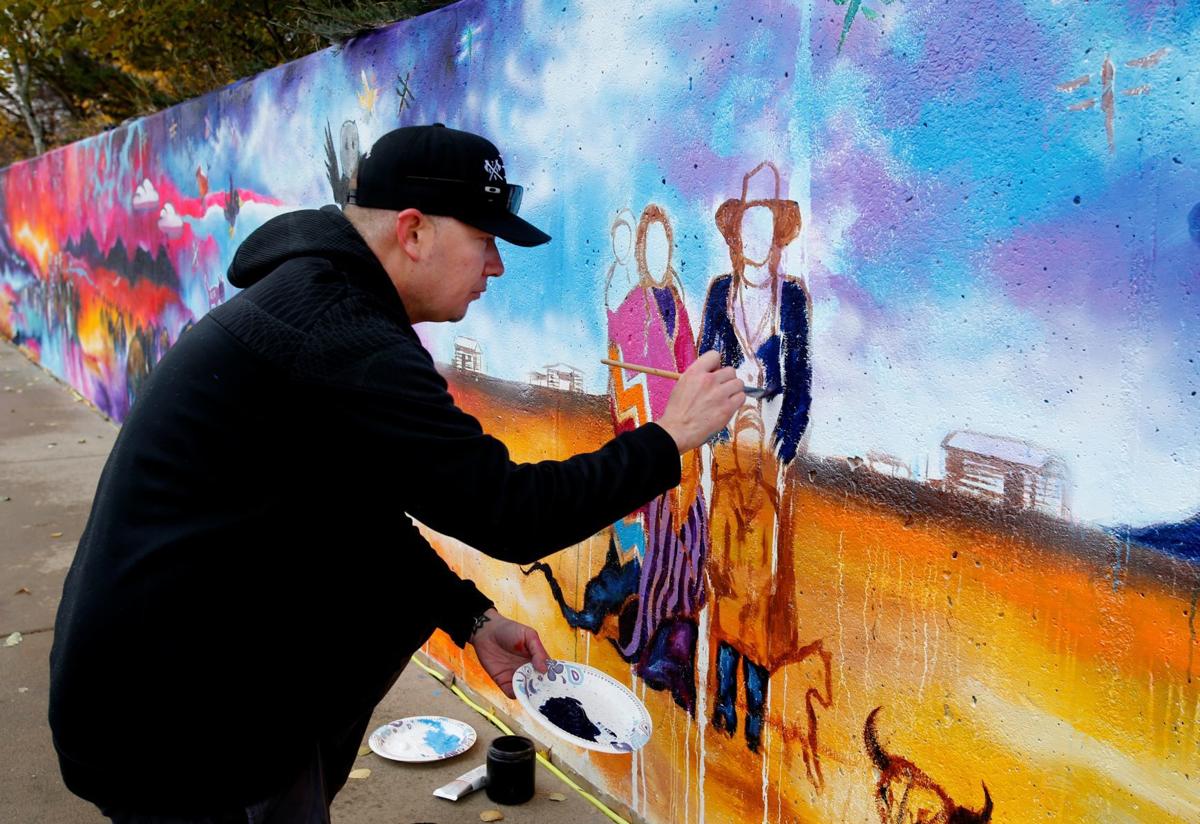 Carlin Bear Don't Walk describes his life as a process of chasing dreams, something his high school art teacher instilled in him. He hopes to do the same for young people, inspiring them to use art as an outlet, especially if they come from a world of addiction.
The 37-year-old abstract artist, who lives in Billings and is a member of both the Crow and Northern Cheyenne tribes, was commissioned by ZooMontana and the Rocky Mountain Tribal Leaders Council to paint an expansive outdoor mural, which he titled "Dream Chasers of Montana." Not just another pretty piece of art, the mural is funded by a collaborative effort to prevent and address opioid abuse in Yellowstone County.
Bear Don't Walk grew up on the Northern Cheyenne Reservation and has been painting since he was a kid. He was taught the culture and ways of life of the Northern Cheyenne people, and he said living on the reservation inspired him to pursue his dreams of being a professional artist, despite the hardships, addiction, and loss that also surrounded him.
"I've seen all kinds of great artists who never made it, who succumbed to the stereotypes, who succumbed to the way of reservation life. That is my biggest inspiration right there," said Bear Don't Walk. "I grew up around all that stuff, and that is what pushes me to be great, pushes me to live the dream for those who never made it."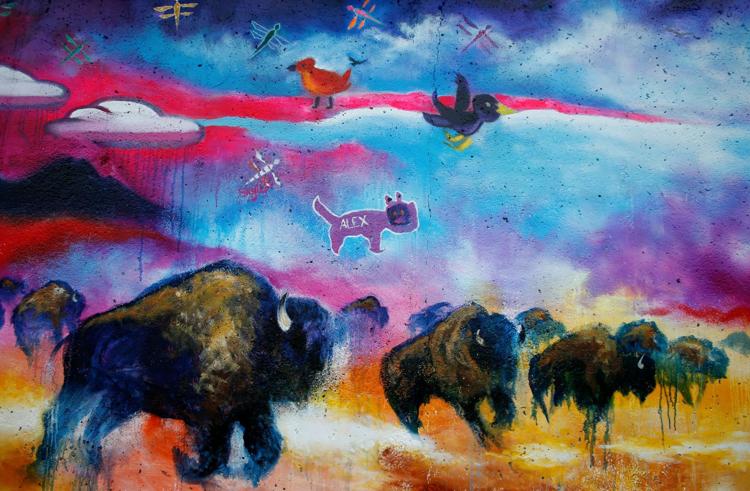 Bear Don't Walk's painting stretches across time, from the migration of indigenous people and the bison herds of the West to a hopeful, urban future. The vivid and action-fueled scenes across the nearly 80-foot long mural reflect the history, oppression, and triumph of indigenous peoples of the Great Plains.
"In order to fulfill your dreams, you've got to remember where you started at and remember those who came before you and what they've been through," said Bear Don't Walk. The mural was painted in collaboration with children in the community and indigenous activist Goldstein Little Eagle.
The mural is painted atop a concrete retaining wall at the entrance to ZooMontana, measuring five feet tall and 78 feet long. Bear Don't Walk estimates he'll spend a total of 50 hours on the project, which was funded by a Tribal Opioid Response Grant through SAMHSA (Substance Abuse and Mental Health Services Administration), part of nationwide funding from the Department of Health to curb opioid abuses.
Roy Pack, Rocky Mountain Tribal Leaders Council program director, applied for a grant for Yellowstone County. The council received $200,000 to be used for opioid prevention, treatment, and recovery for Native Americans across two years.
The grant is intended to serve indigenous communities in urban areas while also encouraging collaboration between agencies working with non-Native and Native clients. It has several required components centered on access to medication-assisted treatments in a culturally appropriate setting, overdose prevention, and workforce development, as well as outreach and education, which includes public art, Pack said.
The grant is a complement to a statewide Opioid Response Grant. In 2018, Montana's department of Public Health and Human Services was awarded more than $4 million to expand treatment, prevention, and recovery support services among five target populations, which include Native Americans, pregnant women and women of childbearing age, veterans, those involved in the justice system, and older adults, according to SAMHSA.
In a two-year period, the goal is to reduce overdose deaths through prevention and recovery and combine state and federal efforts and work with state legislators to improve and protect health of Montanans.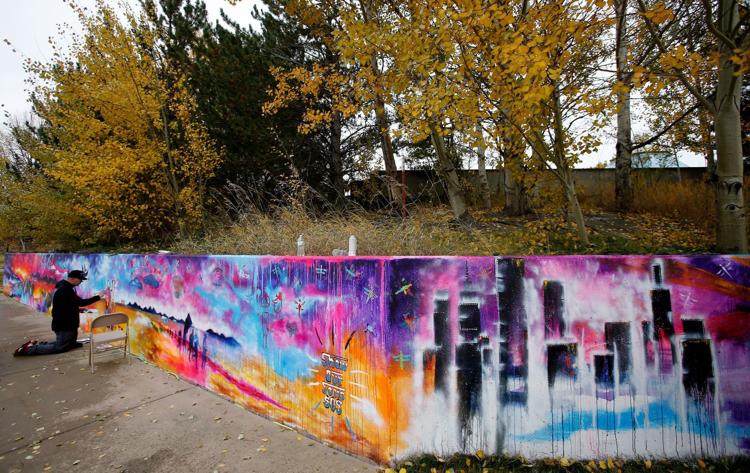 Though the artwork represents the smallest allotment of the grant, it's the most dramatic, Pack said. "It's about not just collaboration, but building community."
Bear Don't Walk, whose work in recent years has gained national attention, was asked to participate in the project, in part because his artwork is so visually impactful (it's difficult not to notice his nearly neon color palate and striking imagery), but also because of his connections between the urban Indian community of Billings and the state's reservations.
Bear Don't Walk doesn't consider himself living between two worlds, but rather that "urban" and tribal connections are the same.
You have free articles remaining.
"If you remember your past and you are in tune with your culture, you are good wherever you go. That is what I taught my children," he said. 
Though the grant was targeted toward Native Americans in urban settings, participation in the mural was open to the public to participate.
"We invited everybody," Bear Don't Walk said. "I thought it would be better to unify everybody and bring us all together and have us all work together and get along."
Pack said participation represented the community well. "It was like a petri dish of Billings."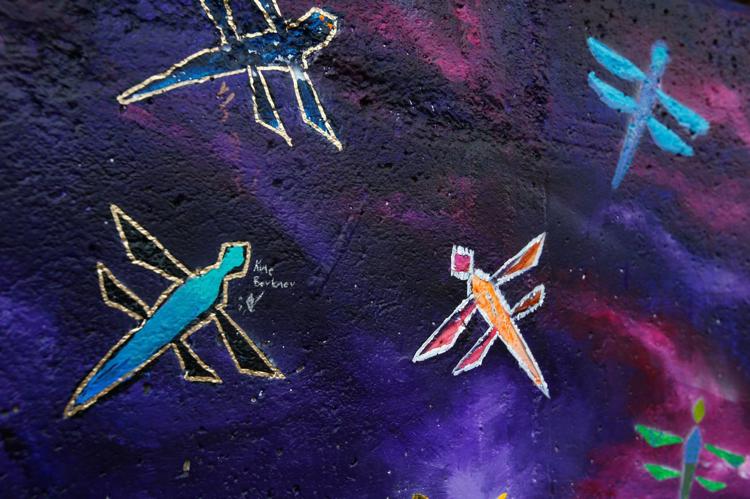 Throughout the mural, children painted various dragonflies, which Bear Don't Walk calls the keepers of dreams.
"In Native American culture, they represent shedding negativity in your life and focusing on your dreams and goals," he said. Children also added animals, clouds and mountains, and many incorporated their names into the painting. He encouraged freedom of expression among the young painters.
"We let them do what they wanted to do. It builds up character," Bear Don't Walk said. "When you are doing art, you've got to be fearless."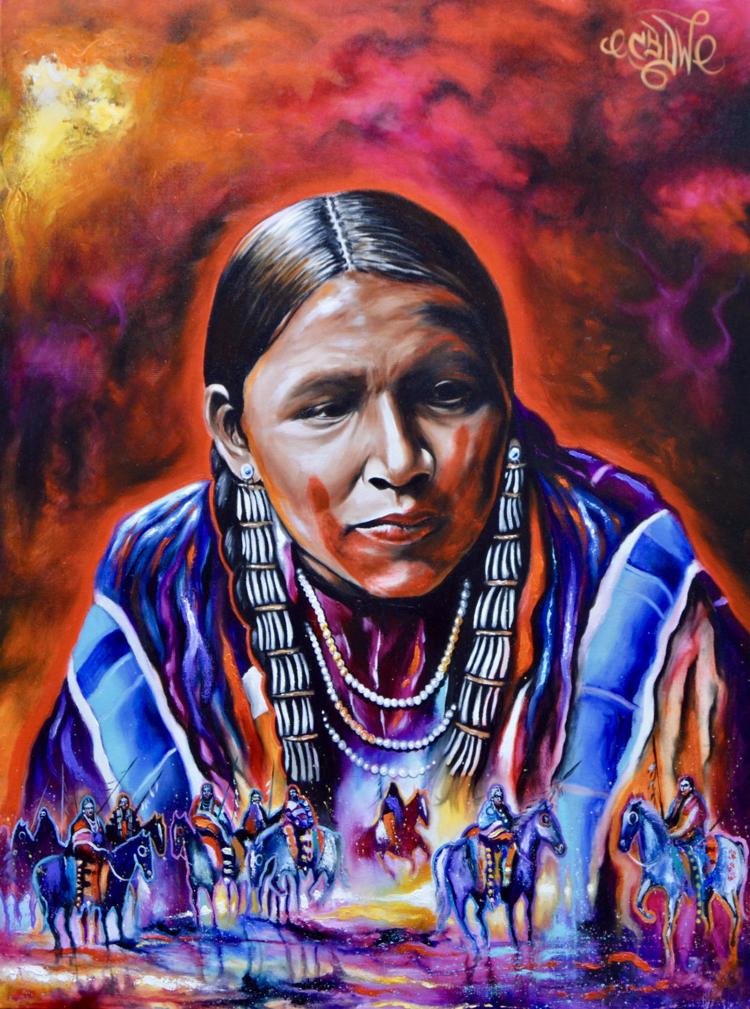 Art presents a universal language, Pack said, and his hope is that the mural will not only provide a striking visual upon entering ZooMontana, but also create a discussion. Zoo staff plan to install a plaque on the wall to help explain the project and give context to Bear Don't Walk's work. 
"Beauty, emotion — the things the artist tries to bring through, I think everybody feels that message on some level in a positive way," Pack said. "For as long as this is here, even if they don't know the story behind it, they are still going to look at it and get that feeling."
In the past five years, Bear Don't Walk has focused on developing his art professionally. He is represented by Takes Horse Gallery in Polson, has sold his work across the United States, and also participated in creating a public mural at Montana State University with other indigenous artists including Ben Pease, Alisha Fisher, Casey Figueroa and John Pepion.
"Art has been the best outlet that I've ever come across," Bear Don't Walk said. "It saved me. It kept me focused, kept me believing in the dream every day."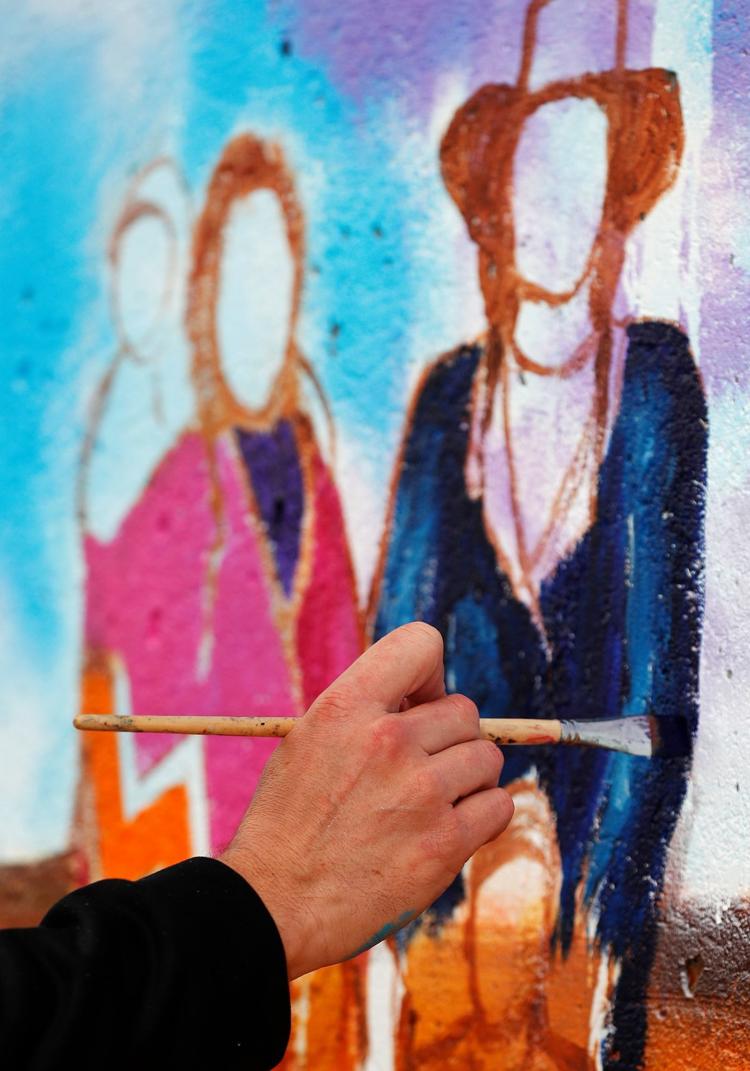 He credits his high school art teacher Ann King, who still teaches in Busby, for encouraging him and his peers to pursue art. "She is the one that inspired us to be big dreamers. She taught us when we were young, if you pursue art, be good at it and keep dreaming."
Bear Don't Walk's passion for art helped him through hardships and gave him purpose and focus, he said. "I believe not just in art, but in having a career, something to motivate you every day. It's helped out a lot of people I know, coming from where I come from. Keeps them away from doing drugs and keeps them out of trouble."
With his work, Bear Don't Walk hopes to spur additional public art around the Billings community focused on indigenous cultures.
"Everybody sees it, and they start recognizing diversity in the city among different tribes, different cultures. That's the most important thing, and it brings everybody together. It unifies."