Celebrating its 25th season, ArtWalk continues Friday from 5 - 9 p.m. in downtown Billings. More than 30 participants make up the event, which takes place six times yearly. 
Many locations offer music and refreshments, and featured artists are often on hand to discuss their art and the creative process. Kirks' Grocery at 2920 Minnesota Ave. also offers live "after-ArtWalk" music, starting at 9 p.m.
For the 25th season, ArtWalk is being organized by location, featuring three "loops" of stops: "Uptown," between Third Avenue North to Sixth Avenue North and east of North 27th Street to North 29th Street; "Skypoint," between Second Avenue North and First Avenue North from North 27th Street and North 30th Street; and the "Historic Loop," which includes Montana Avenue between North 30th Street to North 20th Street.
Downtown on-street metered parking is free after 5 p.m. and parking garage rates vary. More information and a downloadable map of all locations are available at www.artwalkbillings.com.
The following information was provided by ArtWalk Billings:
Uptown loop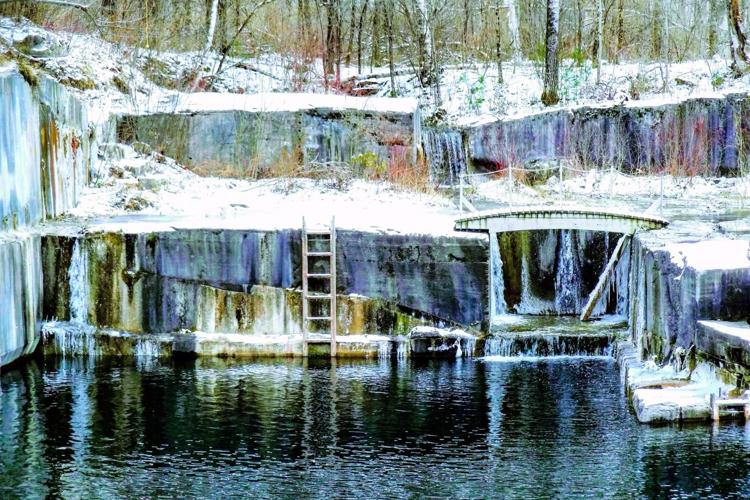 First Congregational Church UCC, 310 N. 27th St., welcomes photographer Gina Anton for her first public photography exhibition. Anton, a Billings Senior High graduate, returned to Montana in 2005. Her subject matter ranges from rural landscapes to urban life and architecture. Refreshments served.
Global Village, 2720 Third Ave. N., hosts Nikki Schaubel, who works as a photographer, trainer and inspirational speaker.
This House of Books, 224 N. Broadway, welcomes Kristin Logan Mayer, a Billings resident who learned photography from her parents. Her work is inspired by textiles, structures, and oddities.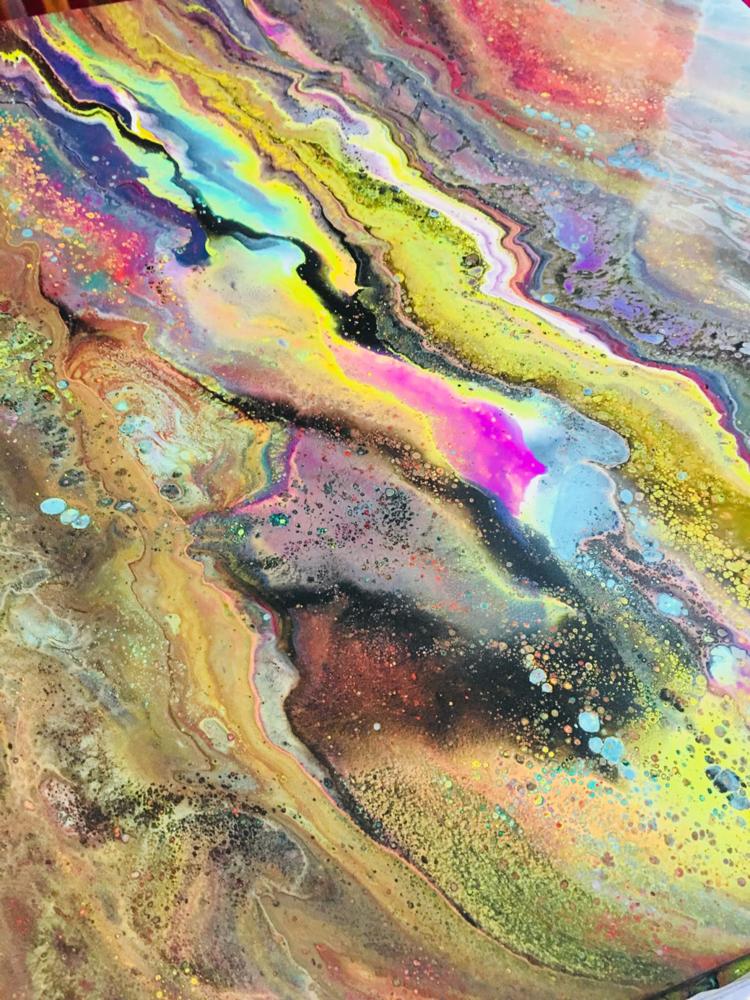 Barjon's, 223 N. 29th St., introduces Bek Schatzke to the Billings ArtWalk. Schatzke is a dancer, writer, animal lover and artist who channels her love of color into pour paintings. 
High Plains Women's Museum, 201 N. Broadway, will host Rabbit Knows Gun, well-known Crow artist. His traditional art, painted on canvas or hides, will be on display to admire and purchase.
Limber Tree Yoga Studio, 212 N. 29th St., welcomes Nikki Shiva, Hillary Taylor, Timothy Urlacher and Monica Moloney to the June ArtWalk. Sales proceeds will benefit Family Services, Inc.
Skypoint Loop
Kennedy's Stained Glass, 2923 Second Ave. N., features "Sunny Tailspin," a glass composition created using slumped glass and mosaic techniques, for the June ArtWalk, as well as works in progress on the work bench.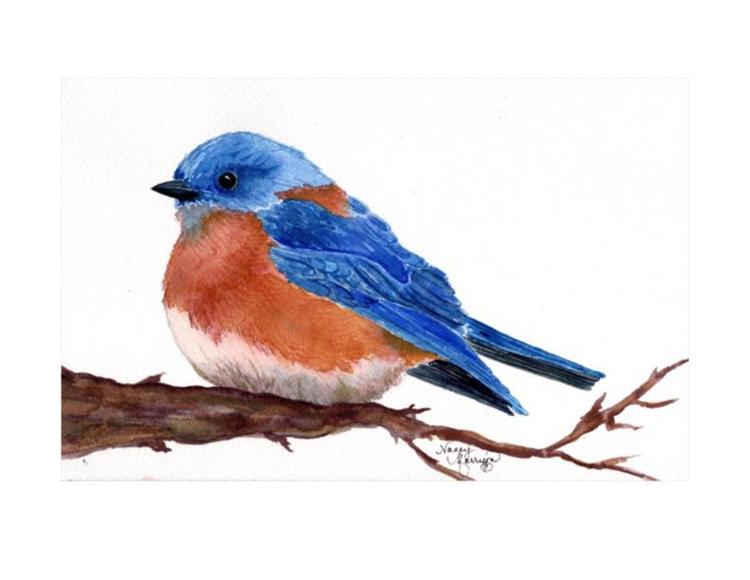 Sandstone Gallery, 2913 Second Ave. N., features its newest co-op member, watercolorist Nancy Morrison. Works by member-photographer Pete Herzog are shown, as are artisan driftwood planters by guest artist Jim Larsen.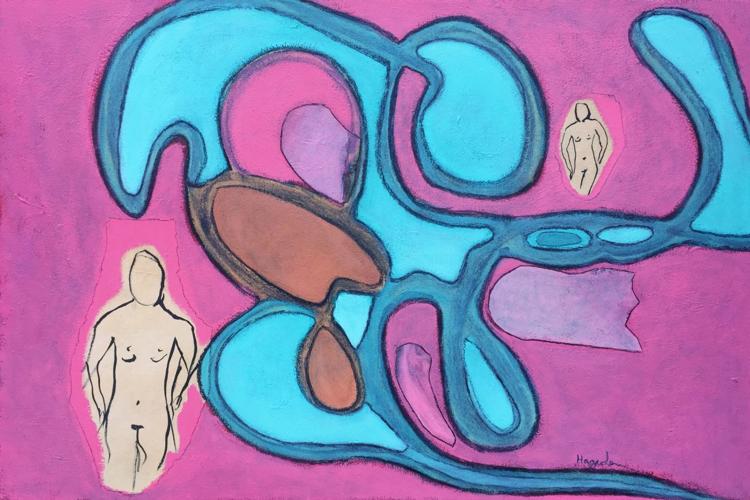 Stephen Haraden Studio, 2911 Second Ave. N. No. 235, features bold figurative collages in bright summer colors to brighten your home and office. Be sure to visit with him about his creative process.
A&E, 124 N. 29th St., hosts Montana artist Megan Nielson, who works with found materials and a variety of mediums to bring together texture and color. Her recent pieces are created with watercolors and natural aesthetics.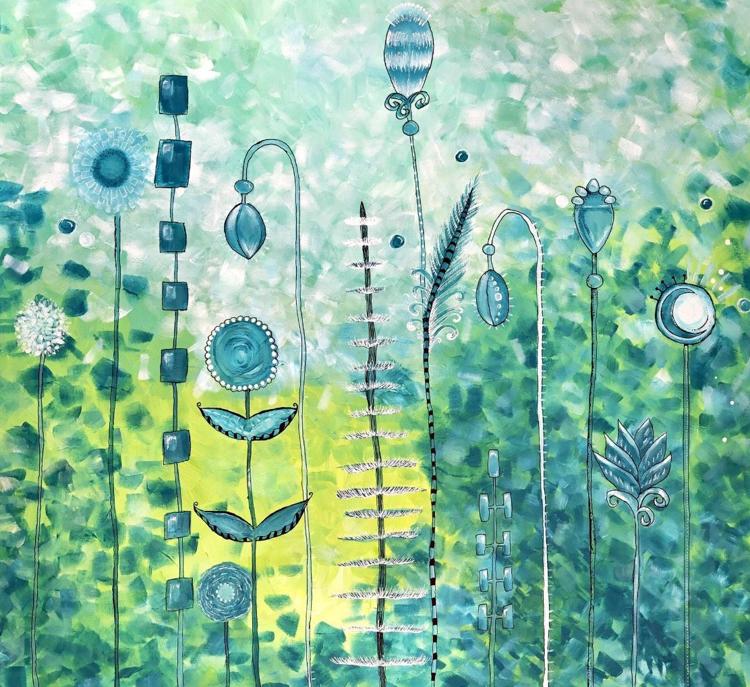 Toadnwillow, 118 N. 29th St., welcomes Beth Ann Zitur (Regele) and Juliet Parks to the June ArtWalk. Zitur has a whimsical, abstract style that features vibrant colors, seascapes and floral forests. Parks, who also creates abstract works, presents works inspired by nature's transition from winter to spring.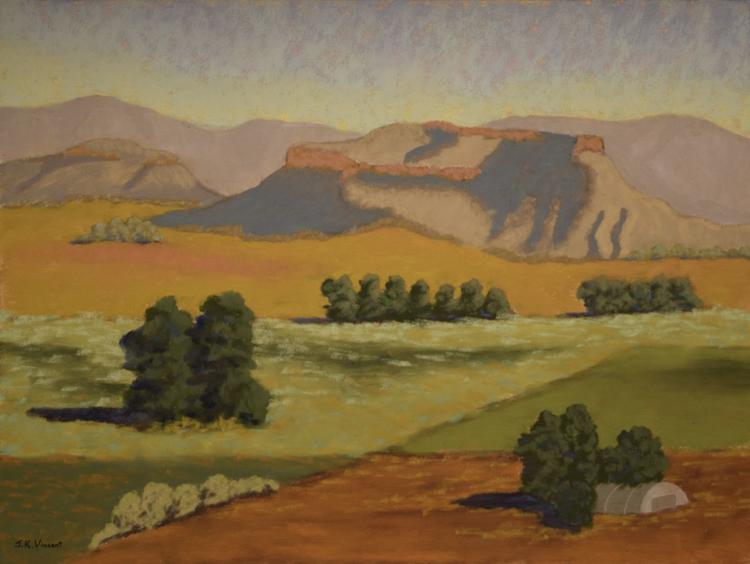 OSL Studio, 116 N. 29th St. Suite B, hosts an exhibit entitled "Our Neighbor to the South" featuring Wyoming artists Jim Hagstrom, Kay Stratman, Shannon Marie Schacht and Isabelle Beau de Lomenie. The exhibit is courtesy of Terakedis Fine Art and Jewelry.
Downtown Billings Alliance, 116 N. 29th St., Suite A, welcomes Carlin Bear Don't Walk to its new location for his third annual ArtWalk exhibit. Carlin's work explores traditional and contemporary American Indian life in bold, bright colors.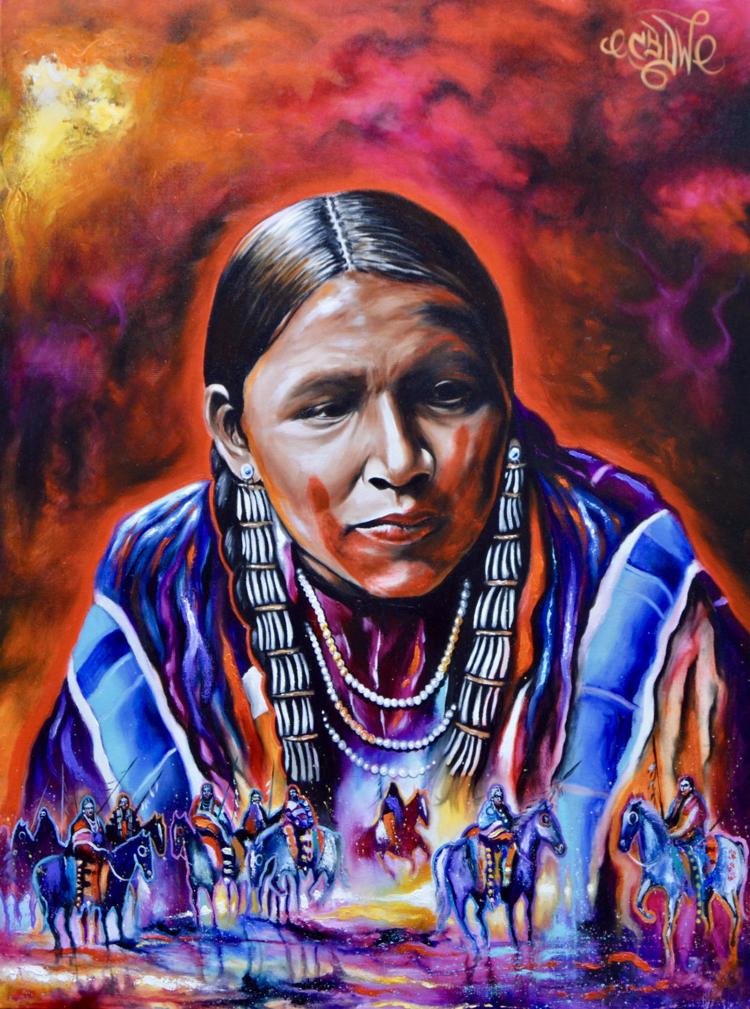 Wise Wonders, 110 N. 29th St., invites ArtWalkers to create their own art in a light-painting booth designed to be used by all ages. This family-friendly activity is a great way to explore the intersection between art and science.
You have free articles remaining.
Joy of Living, 102 N. Broadway, hosts various artists in its boutique shop that features eclectic and Montana made gift items.
Aspinwall, 103 N. Broadway, welcomes artist/photographer, Trevan Hiersche to the June 7 ArtWalk. Trevan's photographs reflect his passion for the outdoors and the panoramic vistas of the Rocky Mountains.
Free Spirit Rock School Band, 109 N. Broadway, plays popular blues and classic rock at Hooligans on the Skypoint Loop during each ArtWalk.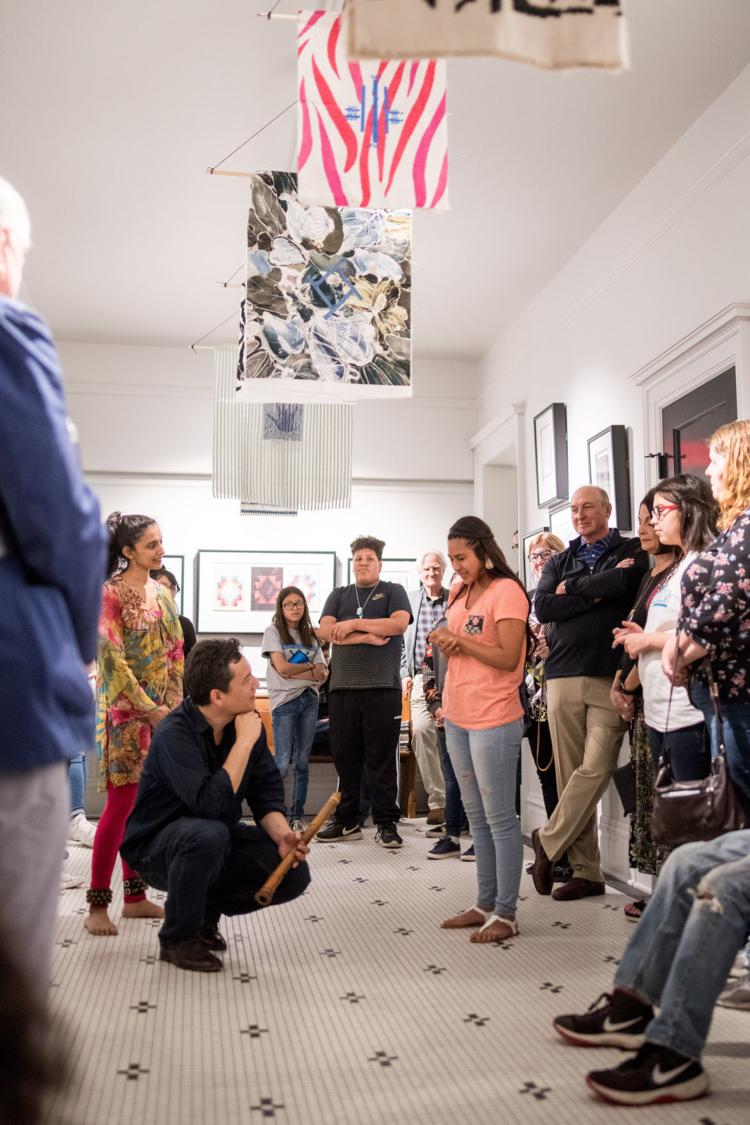 Stapleton Gallery, 104 N. Broadway, presents art created by Lame Deer high school students in an exhibit entitled "Promise Under the Morning Star." Student work is shown alongside gallery artists Kevin Red Star, Ben Pease, Jennifer Eli French and others.
Bishops Cuts/Color, 108 N. Broadway, presents an exhibit of work by Nick White, who will show new and colorful works.
Terakedis Fine Art and and Jewelry, 112 N. Broadway, presents "Landscapes of a Western Mind" featuring works by Billings artists James Poulson, Abraham Quintus, Marcia Selsor, James K. Vincent, Robert Tompkins, Lori Blaylock, Cindy Lou Smith, Davi Nelson and Mike Caskey.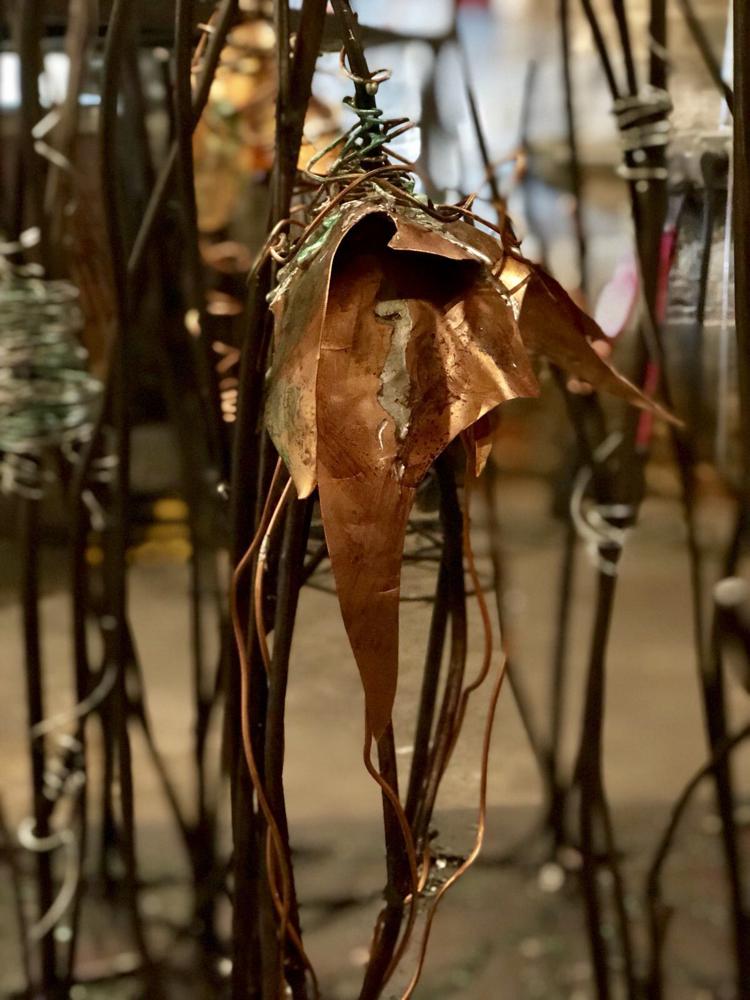 Sculptures Under Skypoint unveils "Thicket," a new sculpture by Sherri Cornett at 5 p.m. Cornett created "Thicket" to "honor communities and how we connect and support one another." Cornett will speak briefly, followed by a Q&A.
Montana Gallery, 2710 Second Ave. N., is the working studio of Tyler Murphy and gallery space for his work and that of his contemporaries expressing western landscapes and iconic images in contemporary ways.
North Acre Real Estate, 2700 Second Ave. N., welcomes Allen Knows His Gun. Allen's work reflects his Crow heritage and other Plains Indian cultures from past eras to the present. His careful research results in the authentic portrayal of regalia and scenery and includes romantic realism and impressionism.
TOGS Studio, 2702 Second Ave. N. presents a collaborative exhibit by photographers Nathan Satran and Megan Fetters, both based in Billings. This is their first joint exhibit celebrating Montana's great outdoors.
Jakes, 2701 First Ave. N. presents acrylic paintings by Ruby Hahn, pencil drawings by Emily Blake and block prints by Kerry Munari Kaiser in the lobby of the historic Grand Hotel building.
Well Pared Eatery and Juice Bar, 2710 First Ave. N., features Janelle DeBray. Her work incorporates bright colors and techniques to bring abstract watercolors to life. She will do a live painting demonstration during the June 7 ArtWalk.
Historic loop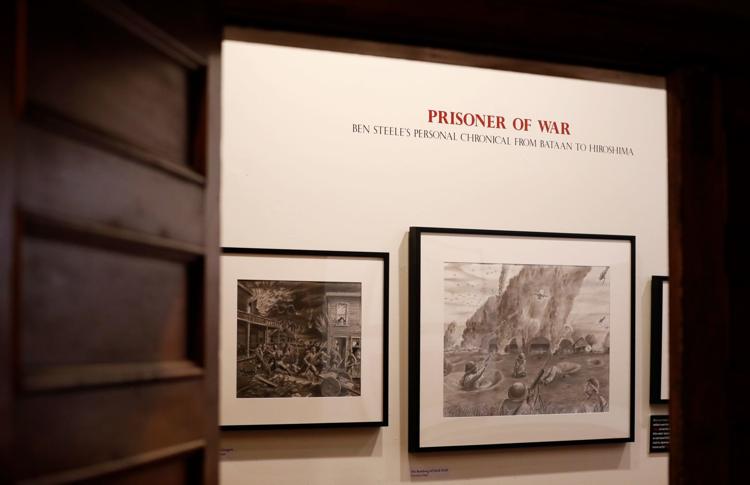 Western Heritage Center, 2822 Montana Ave., celebrates the life, work and legacy of the beloved MSUB art professor and veteran Ben Steele with two exhibits. "Prisoner of War: Ben Steele's Personal Chronicle from Bataan to Hiroshima" depicts Steele's WWII POW experience through Steele's own original paintings. Showing at the same time, "The Friends of Ben Art Show: Celebrating the Influence of Ben Steele" is a compilation of art created by those who knew Steele and/or were influenced by him.
2905, 2905 Montana Ave., features the work of Meliah Bell and Tabetha Rindahl, both MSUB alumni, in an exhibit entitled "Serenity," informed by their work on inner peace.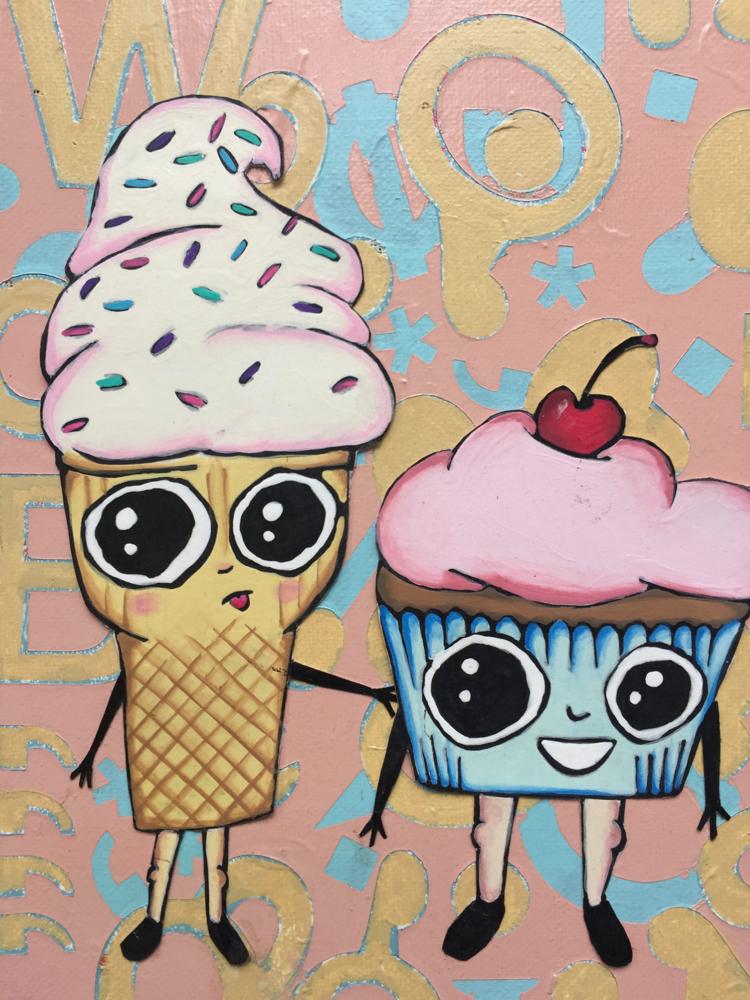 Kirks' Grocery, 2920 Minnesota Ave., shows the bewilderingly cute character paintings by Renee Audette and new collaborative art by Stella Zell, Shane de Leon, Joshua Paulsen and Sarah Wright. "After-hours" music by Mandie Casto and the Photoshoppers starts at 9 p.m.
Dickey's BBQ, 2519 Montana Ave., presents Britney Patek. A student of Mike Capser, Britney creates works from memory and an amalgamation of photographs.
Harry Koyama Fine Art, 2509 Montana Ave., is the working studio and gallery of Harry Koyama. Most widely known for his impressionist style, Koyama has recently been working with more abstract creations. 
Toucan Gallery, 2505 Montana Ave. features work by Maggie Rosynski Hiltner of Red Lodge created for a Missoula Art Museum installation. Hiltner's work, filled with visual metaphors, symbols, and mythical references, has found favor at galleries and museums across America. The exhibit includes a 13' x 5' skeleton, seemingly suspended by red balloons, juxtaposed against an ominous black storm cloud.
Gallery Nine / Connie Dillon Fine Art, 2501 Montana Ave. #9, features "Find Your Happy Place," to focus our attention on investigating the places that speak to us. 
McCormick Cafe, 2419 Montana Ave., welcomes photographer Jennifer Haskins and acrylic painter Justin Dowler, both exhibiting work that celebrates the natural world and the animal kingdom.
The Post at Billings Depot, 2404 Montana Ave., features work by residents of MorningStar Senior Living. Art has shown itself to be a form of communication among MorningStar residents, and the exhibit is a testament to their resilience an affirmation that art is ageless.
Liberty and Vine Country Store, 2019 Montana Ave., hosts Iron Maiden Welding for its Hen Party during the June ArtWalk. Brenda Gayan's work is immediately recognizable. She describes it as "a little naughty" and "very empowering."