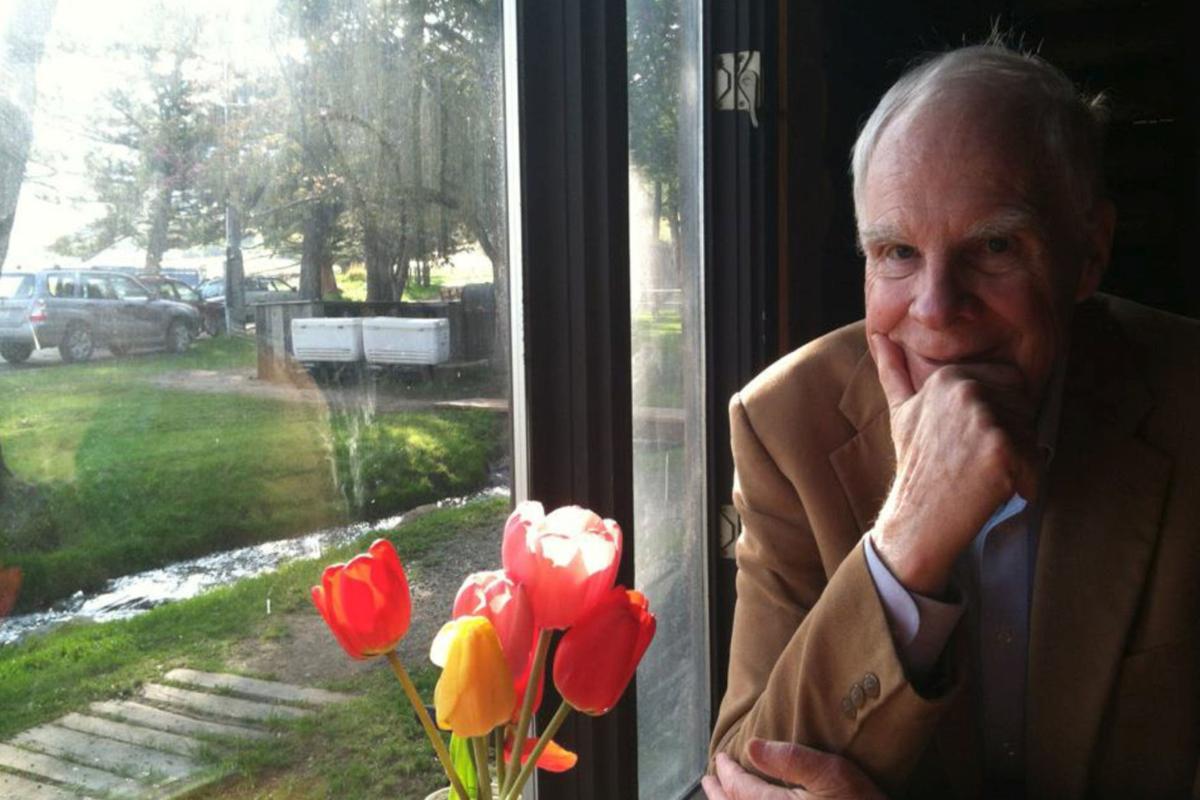 Richard Wheeler was nearly 50 before his first book was published. Yet the prolific and well-loved novelist who called Livingston his home had more than 80 books to his name in a career marked by deep love for writing and a hunger for research.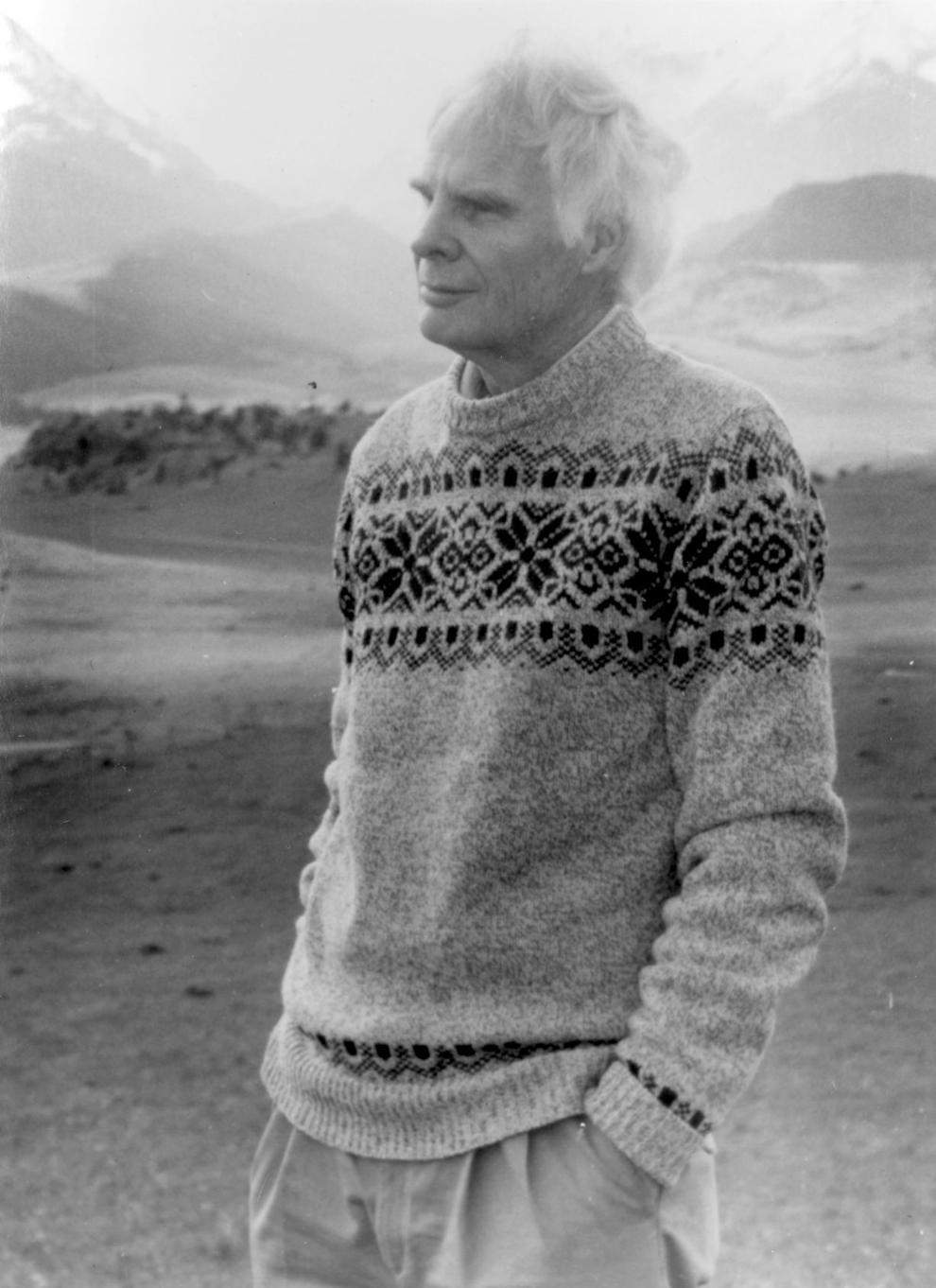 A long-time resident of Montana, Wheeler passed away at his home on Feb. 24 after being diagnosed with leukemia in late January. He was 83.
Wheeler wrote primarily in the western genre, but his love of history played a major role in his writing, often set in Montana and bursting with character development and historical substance. Some of his well-known works include a series of 20+ books about the tough mountain man Barnaby Skye, and "The Richest Hill on Earth," about Butte's copper kings.
Wheeler's drive for writing netted him extensive recognition including six Spur Awards from the Western Writers of America. He was inducted into the Owen Wister Award hall of fame in 2015 after receiving a lifetime achievement award in the field of western literature from the organization in 2001.
Wheeler studied history at the University of Wisconsin-Madison, and he began his writing career as a reporter and editor in the newspaper industry. He worked for several newspapers before moving to Montana, where he wrote for the Billings Gazette in the 1960s, achieving the position of chief staff writer. At the time, he lived in a cabin outside Roundup, driving to Billings each day. He also lived for many years in Big Timber and relocated to Livingston in the 1970s.
"I liked being an editor much better than being a reporter," Wheeler said in an interview from 2018 with novelist and Billings writer Russell Rowland, who recalled Wheeler's writing style was less suited to daily deadlines. "He kept getting fired because he was too passive. So he decided to try writing novels," Rowland said.
Becoming a novelist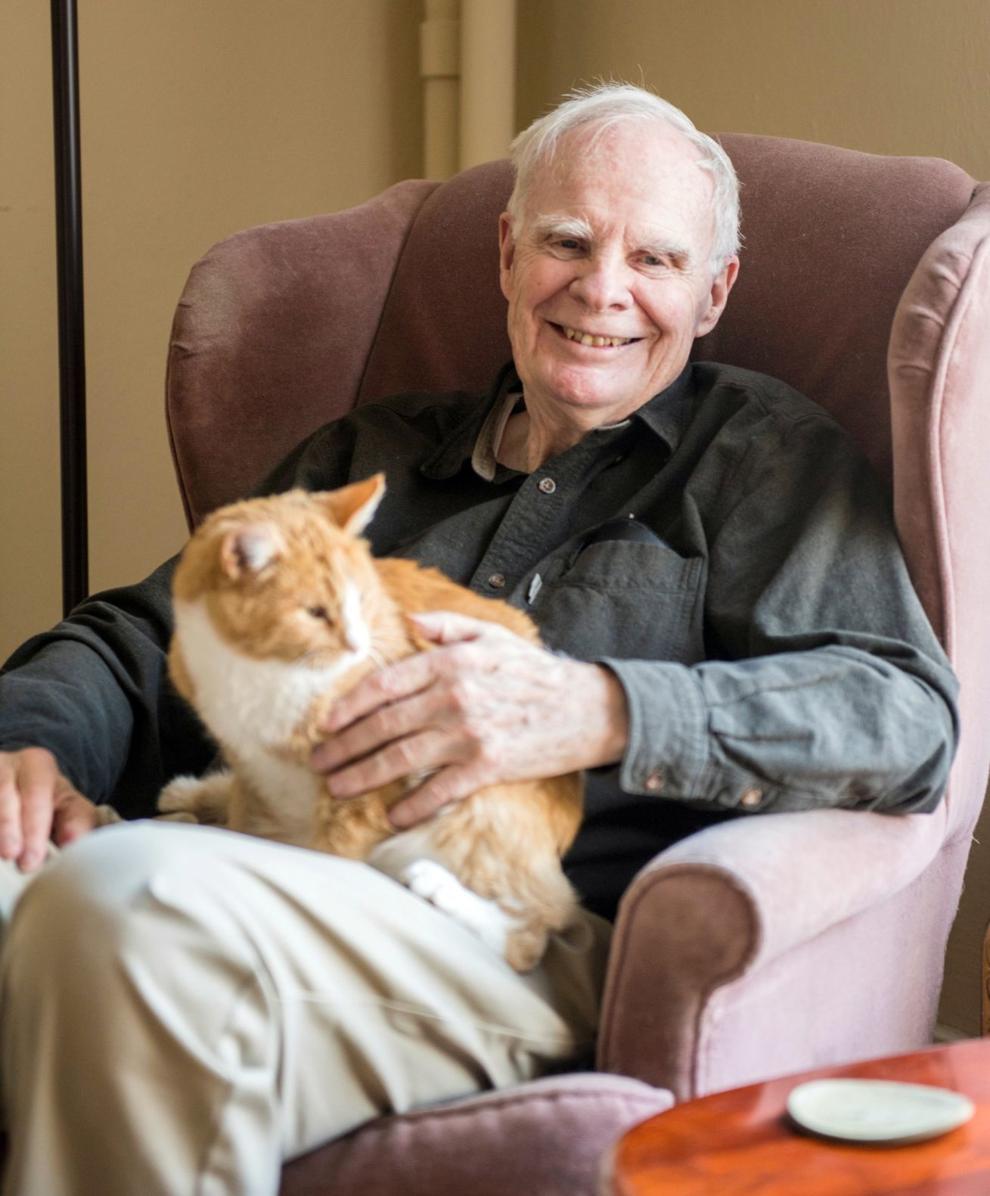 Wheeler grew up in Wisconsin in a middle-class home he described as nurturing. His mother was a high school English teacher, and his dad was a patent lawyer. He described his parents as intellectual people that encouraged him to dig deep, recalled his step-daughter Margaret Gilluly Marquez. "That was instilled in him from very early on."
Wheeler started writing books full time in 1985, generating westerns and historical novels for nearly a dozen publishers. His success as a genre writer made him an ideal acquisitions editor for Walker and Company, a publisher specializing in serial Westerns, and later in his career he also read and edited novels while continuing to write full time.
From Wheeler's memoir, "An Accidental Novelist," he writes about how he came to his profession, something he said no one who knew him his first 40 years would have imagined. "By some mysterious process, I ended up a storyteller, and I did it by clinging to the mast of a sinking ship."
Wheeler writes that it was not his youthful intention to write fiction. "I'd settled on journalism on as a vocation and hoped someday to become a pundit."
"I would live happily in some noble mansion and two or three times a week I would wire my wisdom to a metropolitan newspaper, and be married to an elegant and wise woman … I would enjoy the fruits of my wisdom, a fine salary, a secure position, the pleasure of influencing national politics and public policy, and of course an award or two, maybe even a Pulitzer…."
In many ways, Wheeler's life is the stuff of a different kind of fairy-tale, one of a curious boy with a hunger for knowledge who becomes one of the country's most awarded western novelists. His "noble mansion" was a charming 1913 home on Fifth Street in the idyllic town of Livingston, and in this mountainous and richly historic state he loved so much, he met his match, an "elegant and wise woman" he would eventually call his wife.
A literary romance
In 2000, Wheeler married Sue Hart, long-time professor of English at Montana State University Billings, and prior to that, Eastern Mountain College. Both in their mid-60s, they maintained a friendship for decades, but Hart's daughter Gilluly Marquez always thought there was a spark between them. "He adored her so much. It was so obvious, just the way he would look at her…It was the sweetest thing."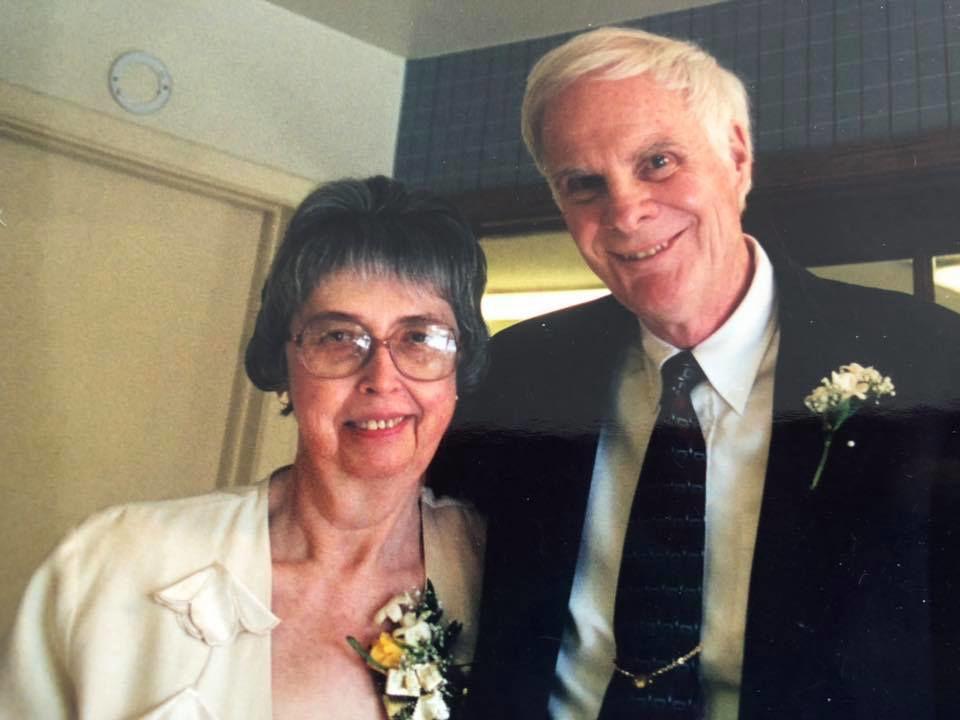 Gilluly Marquez found out about her mother's romantic relationship with Wheeler in 1998 during a visit to Livingston where she walked into a room and saw the couple making out. "I think we were the last ones to know," Gilluly Marquez laughed of her and her siblings.
Wheeler had no children of his own, but Hart's children were a presence in his life long before the couple married. Gilluly Marquez said Wheeler helped bring her home from the hospital in 1968, because her father was traveling.
Wheeler worked with Hart's husband at the time, Richard Gilluly, a reporter at the Billings Gazette. He first met Hart over dinner. "He was a bachelor and needed a good, home-cooked meal," said Gilluly Marquez. Shortly after she was born, her father took a job at the Baltimore Sun, and her parents divorced, though it would be decades before Wheeler and Hart's relationship deepened and they married.
Hart was a writer as well, focusing on scholarly articles, Montana literature, book chapters and newspaper columns for the Billings Gazette, and she received the PEN Award in 1987 for her fiction short story "Star Pattern."
The couple maintained separate residences, Wheeler in Livingston and Hart in Billings. "Her house was a bevy of activities all the time," Gilluly Marquez described, "and that was so not Richard's house. Ninety-five percent of his life was sitting at that desk writing, and he wanted it quiet and he wanted his own space. I think it really worked well for them. They both got the best of both worlds."
The couple talked on the phone daily, recalled Wheeler's neighbor, Joanne Gardner Lowell. "You knew, if we were sitting in the backyard contemplating global warming or Middle East peace or Frank Sinatra, at 4 p.m. he would go inside the house."
She once overhead Wheeler on the phone saying to his wife, "My heart has been lifted just by hearing your voice."
"He was like Chaucer on the phone, having this Elizabethan romance...He would say these beautiful, flowery things, and then come out and rejoin the conversation," said Gardner Lowell. 
Montana royalty
Novelist and former Billings resident Craig Lancaster describes the couple as "two of the most influential people in my life." He was first introduced to Wheeler a decade ago at one of Hart's holiday parties and was struck by how quietly wise Wheeler was.
"He was just this very gentle man. As I got to know him, he was only more so. He was completely present and completely interested ... You go from being an acquaintance to being a friend and an admirer in nothing flat."
Such praise of Wheeler is echoed by many who knew him. Bartender Glenn Godward first met Wheeler across the bar 20 years ago. Even though Wheeler was described as shy, almost an introvert, "everybody respected him," said Godward, who now owns Glenn's, located on Main Street in Livingston. There, Wheeler had a table he liked to sit at, and different people would come and go. "If I had a brief moment or two, I'd slide over to him and talk...He had opinions on just about everything, but they weren't radical. They were always logical and made sense."
Wheeler's fan club is vast and includes Montana legends Russell Chatham, Jim Harrison, and Tim Cahill, to name a few. A week before his death, Wheeler received a note from Chatham. The landscape painter and author who spent the bulk of his career in Livingston, wrote: "I've followed your writing for many years, four decades at least, and nothing has ever moved me to change my opinion that you are the finest author who ever lived and worked in Montana."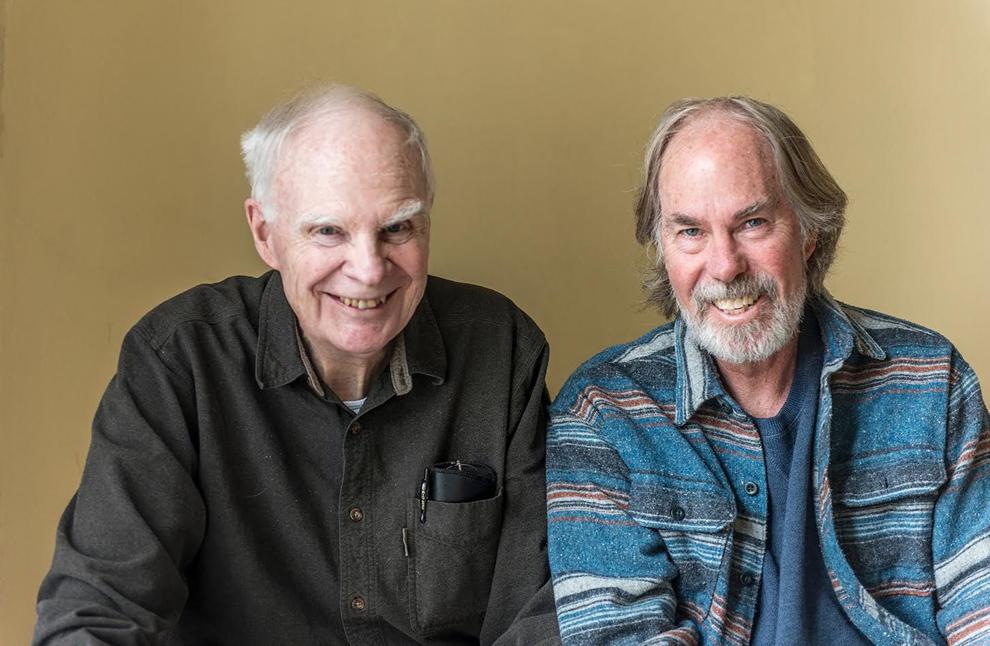 Such praise came flooding in during his last days, which took Wheeler by surprise, according to Gilluly Marquez, who traveled from Austin, Texas, to Livingston the Saturday before Wheeler's passing. "He was so unassuming, and that's what made him such a great guy. He was just who he was. He wasn't in it for the fame or the ego."
A newspaper man
Wheeler's knowledge of the newspaper industry bleeds into to his novels, as in "The Richest Hill on Earth," complete with Linotype machines and newsmen.
"You can really tell he knows that world," Rowland said in his podcast, "Breakfast in Montana," recorded in early February. "I love the way he descried the working conditions, how different they were in the Copper King days. They were constantly covered in ink."
Rowland describes Wheeler's novels as anything but formulaic, which westerns tend to be. "He based a lot of his stories on actual people, so he did a ton of research to tell the stories of these people. There was definitely not a formula."
Aaron Parrett, author of "Literary Butte," which focused on literature with links to Butte, said that the story of the Copper Kings is "by now so threadbare and over-told, it's a real challenge for a writer to pick it up, and he really rose to the occasion."
Parrett praised Wheeler's craftsmanship. "At the level of the sentence, he's a lot like John Updike."
Lancaster, who shares Wheeler's background in journalism, said, "I thought of him – and he seemed to think of himself – as just a guy who did the work. He wasn't in it to go to literary festivals, and that's what I really admired about him. He did the work and didn't make a big fuss about it."
Yet he was immensely respected in the western literary community, and awarded for his efforts. Wheeler won his first Spur Award in 1989 for "Fool's Coach," and his latest was in 2011 for "Snowbound" based on frontier explorer John Fremont, placing him among Larry McMurty's "Lonesome Dove," Michael Blake's "Dances With Wolves," and Glendon Swarthout's "The Shootist." Only journalist and western novelist Elmer Kelton, who died in 2009, has won more of the Spur awards, which are given for distinguished writing about America's West.
Wheeler's career in novel writing started out with what he described as "Horse Operas" full of bad guys, shootouts, and someone triumphing, but his work evolved into historical fiction flavored with a richness marked by Wheeler's intellect and interest, Lancaster described.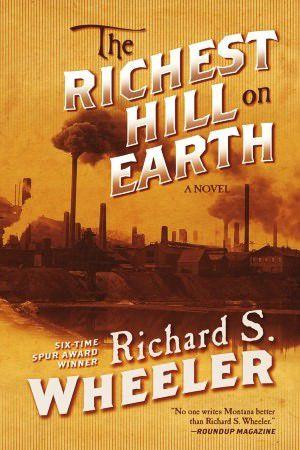 "He got historical details right. He did the research that gave those books verisimilitude. He was a very precise and very prolific craftsman."
Lancaster describes Wheeler's tendencies toward research to be a natural progression of his curiosity. "Journalism and novel writing ended up being good outlets for something that he was inclined to do."
Wheeler's longtime neighbor Gardner Lowell said Wheeler preferred writing over journalism, and that he wasn't "a deadline guy," though he loved the profession of writing.
"His mind would go wild with all this research. And then he'd sit down and wait till the story comes," Gardner Lowell described. In this imaginative, yet research-driven context, his characters were vividly realistic. "He was so taken with character," Gardner Lowell said. Yet, they were rarely heroic. "They weren't swashbuckling confident super men; they were usually flawed, nervous, hesitant…They were really human."
In Wheeler's obituary, Scott McMillion, publisher of Montana Quarterly, said Wheeler "did a lot to help people understand the real West, as opposed to the mythic West."
"There was a reality to the West in Richard's books that was really refreshing," Gardner Lowell said.
A life's work
Wheeler's career spanned 35 years, and across that time he averaged two books a year. "It's just an incredible body of work," Lancaster said. Regardless of commercial success, "I think he was proud of all of them."
Wheeler continue to write as Hart's health faltered, and later his own.
Hart lived independently until 2013, when her doctors advised because of her failing health that she not live alone anymore. Wheeler identified an assisted living home two blocks from his home in Livingston, and he visited her daily until her death a year later.
"He had this little mini bar in a suitcase," Gilluly Marquez recalled. "Cocktail hour was very important to them. Every night he made her a Manhattan, and he would have a glass of whiskey."
She describes Wheeler walking to visit Hart, "though snow, through sun, through rain, twice a day, sometimes more than that, he would visit."
As his health worsened, and especially after Hart passed away, Gardner Lowell and others in the community took care of Wheeler, taking him to his doctor visits, bringing him food, joining him for cocktail hour. "We just surrounded him."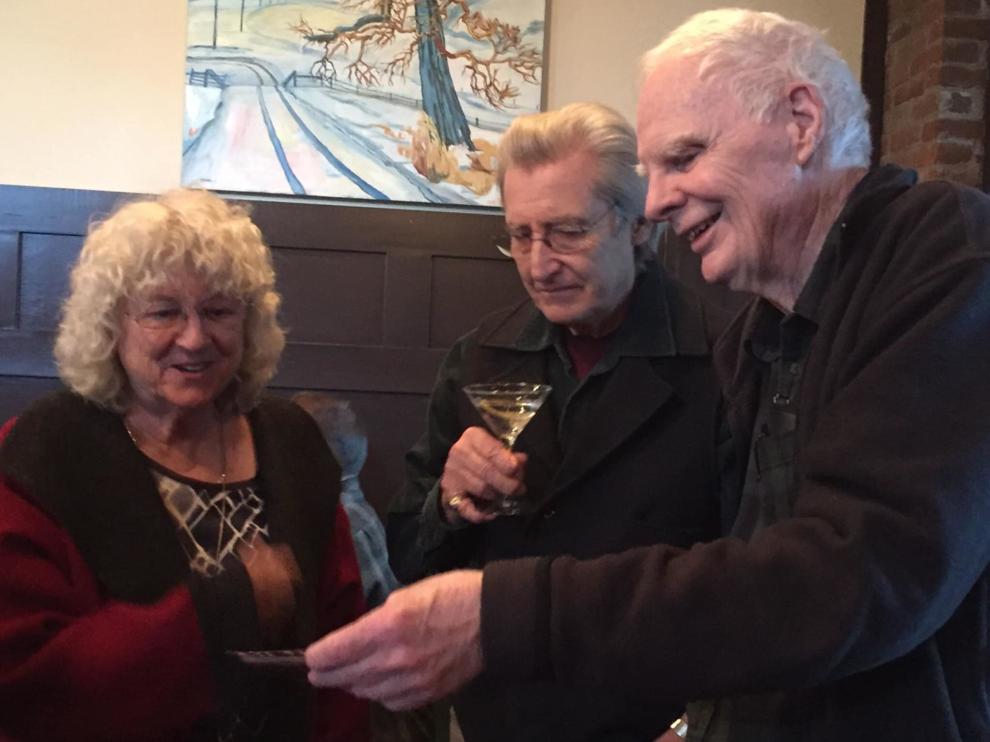 Around Christmastime, Wheeler's health began to drastically degrade. Though he'd had a pacemaker put in several months before, doctors did not see anything that would indicate the oncoming cancer. In January they discovered leukemia had ravaged his bones, and after unsuccessfully trying to treat the cancer, they estimated he had less than two weeks to live.
Wheeler's wish was to die at home. "He loved his home," Gardner Lowell said. "It was a safe place for him." During those final weeks, visitors would come for cocktail hour. Even before his illness, Wheeler drank a glass of bourbon a day. "He savored it and really enjoyed it," Gardner Lowell said. His guests came bearing gifts. "There was no danger of running out of bourbon," she said.
It seemed Wheeler's cancer caught everyone off guard, but Wheeler had long contemplated his mortality. Twelve years prior to his death, in his memoir he wrote, "I do not know what lies beyond the grave, if anything. So I have invented my own eternity. In my blue heaven, only love is eternal. Love carries us into the life to come, beyond the beyond. When we love someone, we vest that person with eternity. We fashion our heaven out of our earthly life, and populate it with the ones we have loved. The person who has loved only himself will have only a bare room. But I am among the fortunate, for I have loved deeply and well, and all my beloved ones will be with me, family and friends, the women I have loved, the writers I have esteemed, the pets who came to live with me. My heaven will be full and not at all lonely. And maybe, because I have been loved, I'll be in other heavens too."