For as long as she can remember, Renee Audette has been making art. As a child, art was one of the things she felt good doing.
"I grew up very much as a perfectionist, and it was difficult for me in a lot of ways to have this obsessive sort of personality," she said. "I tended to quit things if I couldn't do them perfectly, or what I thought was perfect."
Art gave Audette confidence. "There's just something about creating, whether it is visual art or music or writing, the feeling that you get when you know you've done it well, those goosebumps and that thrill…," she said. "When I'm proud of something that I've made, it's totally addictive."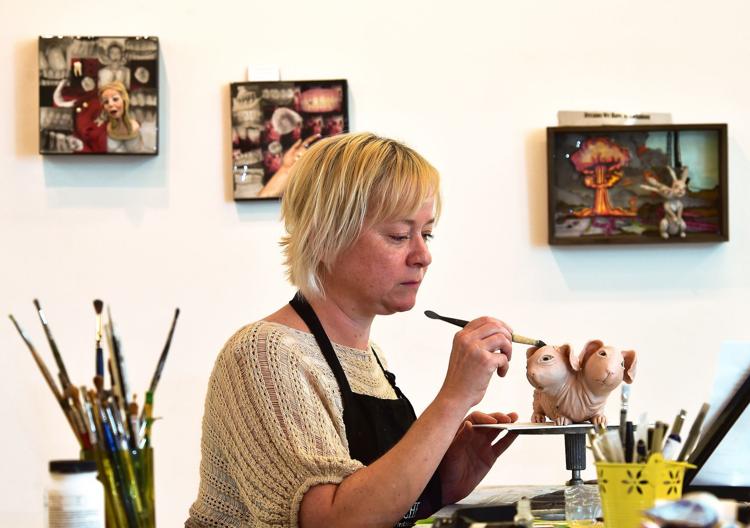 Audette is the 14th artist to take up residency at the Yellowstone Art Museum since the Visible Vault opened in 2010. She'll conclude a full year residency, the longest term allowed at the studio, in November.
Artist residences have long been coveted time for individuals to immerse themselves in their creative process. For Audette, having a dedicated space to work outside her home has been helpful. "It's a mental and a practical thing. This is what I'm here to do — I can't be distracted by other things," Audette said.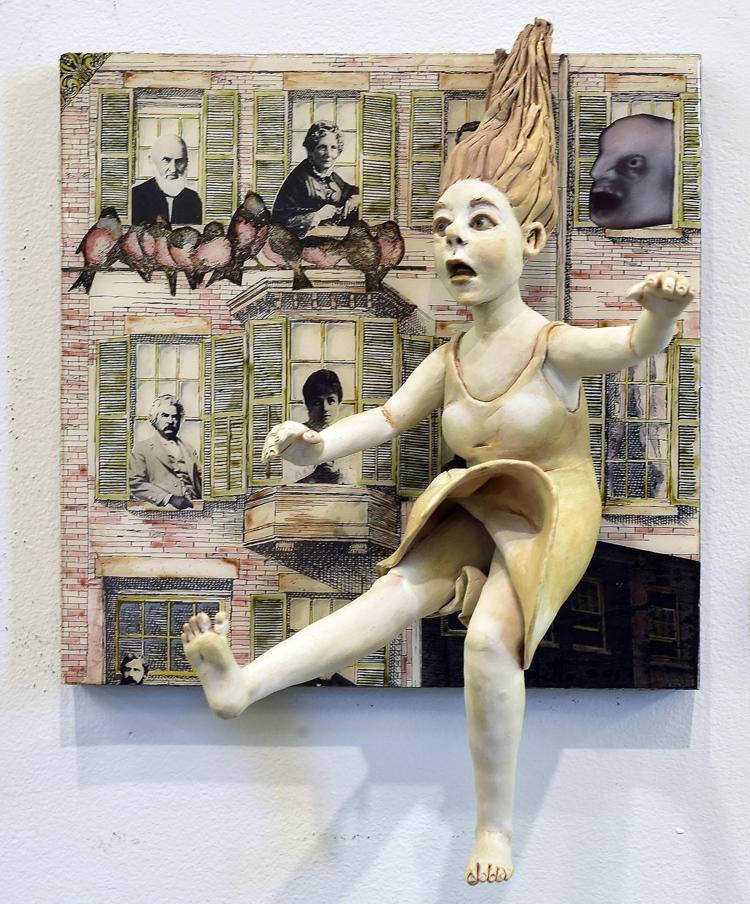 Audette's art combines her background in sculpture and painting with her interest in mixing media and building. She works in collage and different dimensional materials, which protrude from the walls. Her artwork presents a mesh of daily life and imaginative creatures with the landscape of dreams and fears.
As she nears the end of her residency, Audette said she gets a bit of anxiety thinking about what comes next. "I have appreciated this experience so much. Where do I go from here? How am I going to keep this going? I am assuming I am not the only one who feels like this, but I wonder, is (art) even worth it? Maybe I should just cut my losses and do something else."
Despite the nagging fears, Audette plans to keep the momentum going after her residency. "It's going to take more effort and self-motivation than before," she admits.
Art lives here
Being an artist in residence means that you are the resident artist, which comes with a set of responsibilities and a good number of interruptions. Artists in residence at the YAM are asked to keep a certain number of hours in the studio available to guests who can come and visit with the artist and watch their process in action.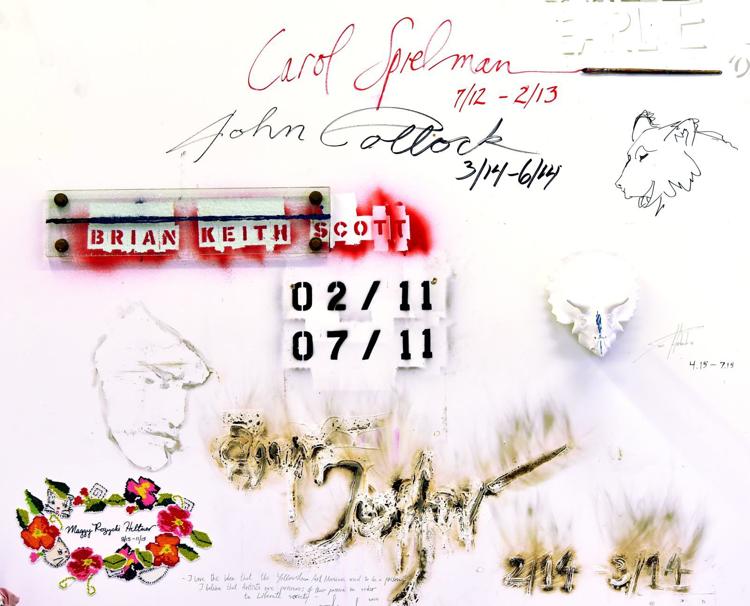 Montana artist Ben Pease just completed a residency at The Buffalo Bill Center of the West's Plains Indian Museum in Cody. He was the museum's artist in residence from July 30 – Aug. 3 in a program billed as an opportunity for visitors to watch the artist in action and interact directly.
For Pease, this residency was less about a time to work, but more about exposure and interaction, which came with a fair share of stereotypes. "It was interesting," Pease said, who was met with plenty of questions about Native Americans. "Changing the known narrative is what took up the majority of the time, just providing people with a new narrative of what they've been told or heard or seen in history books…and a lot of people didn't know anything about us."
Pease, a member of the Apsáalooke and Tsitsistas tribes, found himself in the midst of making art while orally sharing stories of him and his family's experiences. One guest commented how unusual it was to see "an Indian painting an Indian." As a Native American making contemporary art, Pease wasn't offended. He agreed. "All across western art — and western art history especially — many times it's not Natives painting Natives."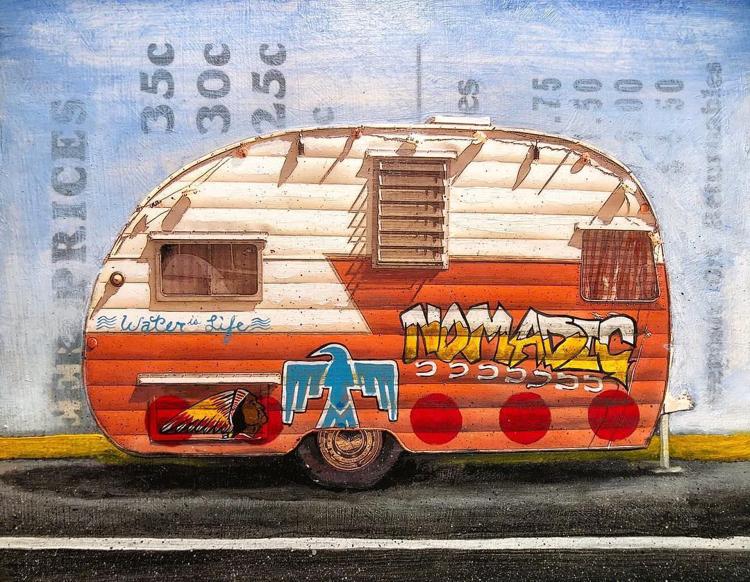 Pease, who lives in Red Lodge, will be moving to Billings in the fall and will become the next artist-in-residence at the YAM's Visible Vault. He's currently working on a collection of mixed-media paintings, titled the Medicine Lodges Series. 
The work, originally featuring teepees spray-painted with graffiti, has evolved into paintings of recreational vehicles tagged with street art and referring to  mobile tendencies.
"Even before the horse, we were nomadic people. It just made it easier with bigger animals and bigger lungs. We adapted that cultural intrusion to our own uses as we've continued, as I do with the trailers or when I put an eagle feather in my cowboy hat. We all continue making things our own. It's not specific to culture, I think it's specific to humanity."
Pease works in layers, often writing poems on the canvases before decoupaging antique documents to the surface before paint, stacking his artwork with literal depth and complexity. These multi-faceted works contain hidden gems that aren't able to be seen but create a layered sense of history. "Narratives are not always what we think they are and what we are told they are," Pease said. "There are multiplicities to these stories."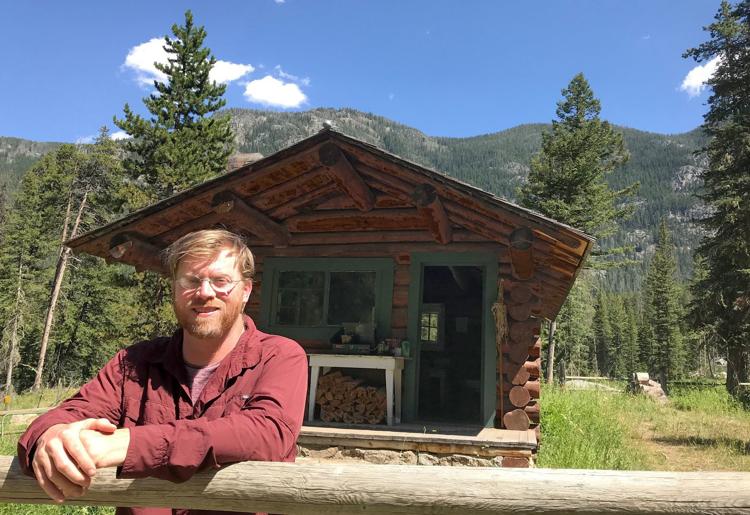 During his residency in Cody, Pease said he was often asked who he creates artwork for, and why he focuses solely on native culture. "This is what I know best and who I am. It's not just for me or for my family or our blood relatives, it's for the greater community. It's a response, an reaction, an exploration."
Pease has always been exploring, asking questions of himself as an artist. "If you don't question your own narrative, I don't think you are able to grow as a human being." 
'Rustically posh'
For Stephen Wood, residency means getting away from everyone. The Atlanta, Georgia resident has been seeking out remote residencies across the country, where he composes classical and orchestral chamber music.
He was the selected artist for the 2018 Absaroka-Beartooth Wilderness/Custer-Gallitan Artist in Residence program, a week-long residency that takes place in a cabin located at the head of the Boulder River Valley, south of Big Timber in the Custer Gallatin National Forest.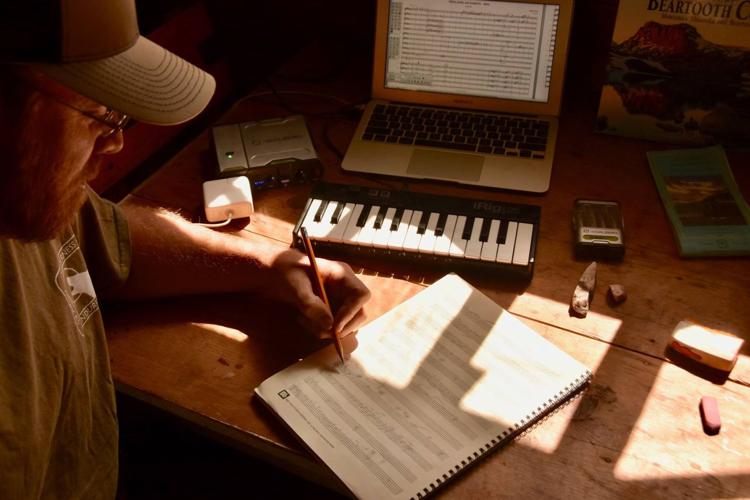 The remote one-room cabin was "rustically posh," Wood described, an ideal setting for his work. Without electricity or plumbing, Wood had a wood burning stove and propane lanterns, and access the creek for drinking water, which he filtered into jugs. He slept on a cot and had a desk where he worked. Without electricity, Wood relied on solar panels to power his musical equipment used to compose symphonic scores inspired by the scenery around him.
"It gives you the opportunity to slow down and disconnect your mind, forget that you have a cell phone (which doesn't even work)—and to adventure." 
Wood grew up in central Ohio, and attended school in Missoula for a few years, which gave him a familiarity with the area and a desire to return. He's been pursuing residencies for six years, from the Florida panhandle to the west coast. Plenty of residency programs are available on public lands through the Bureau of Land Management, the National Parks Service, or the Forest Service.
Wood's goal is to create performances with local ensembles or symphonies in the region. While in Montana, Wood said he was taken with the blend of people and economic opportunities, as well as the region's diverse artistic scene and a focus on environmental conservation.
"This is a place that has remained remote yet built culture," said Wood. "From an outside perspective, it is a beautiful place of hope."
Krista Leigh Pasini, who has created residencies for artists in Billings, said that what artists take away from this kind of immersion is different for each individual, "but the hope is that it doesn't dissolve and go away."
Pasini, the co-creator of Haltforce Art Collective and facilitator of the organization's summer residency, sees the artistic process as an interdisciplinary practice. "There's overlap in life living and art making," said Pasini. "In our lives, we put containers all around things. This is my art practice. This is my occupational practice. But there is collaboration among each other."
Currently in the midst of the two-week residency, which has included 15 people from as far away as Seattle, Texas, as well as local artists, Pasini said many great conversations have come out of bringing artists together without agenda.  "As a group, it's hard to have a reflection yet," she said. "It's still chewy. I don't know if I have the right words for it."