Melissa Burns started her business, Girlwood, six years ago in memory of her father. He encouraged her to be an artist and bought her countless art-related supplies, including a wood-burning pen, but she didn't pick up an arts trade until after he passed away in 2011.
"He told me I should be an artist, and I told him that was dumb and that I needed a viable skill or trade to do as a living," Burns said. Yet, after her father died, she started doing art therapeutically.
"It was something to shut my brain off and create," she said. "I would get so involved that I didn't think about the things that were hurting my heart."
One day, she picked up the wood-burning pen her father had given her as a gift and started turning her sketches into wood burnings. She eventually moved her art into larger formats and now burns her hand-drawn artwork on gigantic wood canvases with a torch. Her art is delicate yet loud, a fierce combination of fire and finesse. In her pieces, there's humanity, a delicate touch of human creativity among the raw materials.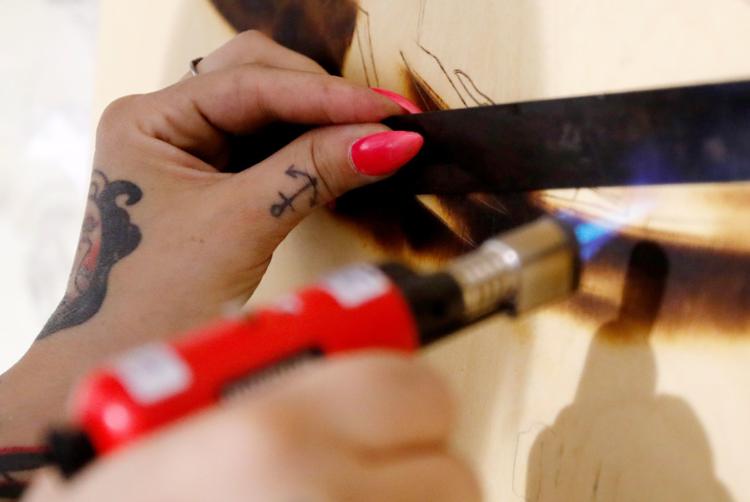 "I do this to stay connected with him," Burns said. "I do this because I know he would be proud of me."
Burns said it took a long time for her to accept that. "It's not the same as him coming to my art show and hugging me, but I do know that he would be proud of me."
In addition to her artistic projects, she makes functional art, such as a cribbage board from an olive branch, or ornate handles for axes, of which she also engraves the metal. She's carved bone and made beautiful designs in animal skulls. Her materials come from a variety of sources — found, donated and purchased.
To see her work is astounding, especially realizing she does not use any graphics program or a computer to complete her work. Everything is done by hand. Her commercial work can be seen at the 406 Taproom, Local, Rudeboys food truck, and menu boards at Mazevo, to name a few. Her latest project will be unveiled at Craft B&B (formerly Hudson's), where she hand-lettered menus and ordering boards in a classic art deco style.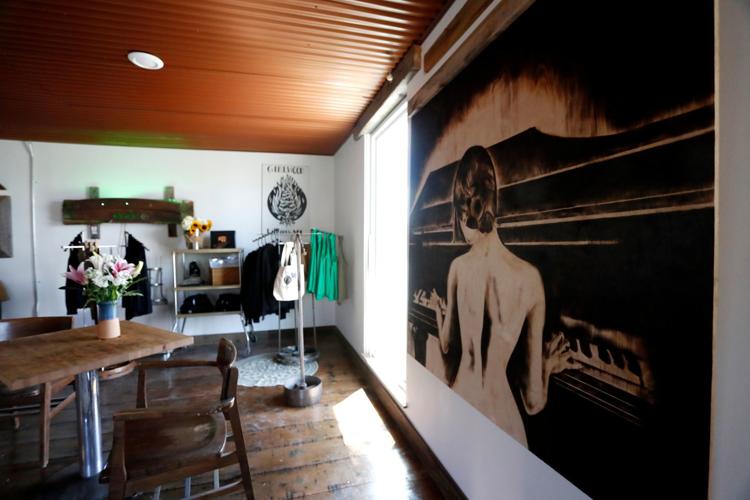 Burns is one of four artists currently operating from an area that surrounds Red Oxx Manufacturing, a luggage and bag manufacturing business located at 310 N. 13th St.
The area was previously the site of several blighted buildings, which were removed to make way for the Red Oxx event salon, a planned creative campus that will include an event pavilion, greenspace, parking for up to eight food trucks, as well as additional space where creative businesses can operate, according to Red Oxx owner Jim Markel. He's set a timeline for the campus to be unveiled during Oxx Fest 4, an annual arts, music, and food festival which will take place on-site Sept. 15.
Markel hopes to attract more artisans and craftspeople to the neighborhood and inspire activity in Billings' East Billings Urban Renewal District (EBURD). Businesses operating on the campus include Girlwood, Art Signs, Koombies (a welding and fabrication shop), and the western clothing brand and embroidery business Dally O.
Red Oxx has been operating on North 13th since 1993, but the area has buildings dating back to the 1900s, including an old pump house (where Girlwood is currently located), and was previously a tow truck company that used the area for a junk lot.
You have free articles remaining.
Markel, who's been in manufacturing and creating most of his life, said it made financial sense for the property to shift it to small businesses and event space. "I'm always planning and running numbers, and the best use of the property is a cluster of creative people. Believe it or not, creative people generate new income and new money. As a craftsperson, you're adding value, you're creating something, and you're making things."
Burns was one of Markel's first tenants, and they've been friends for years.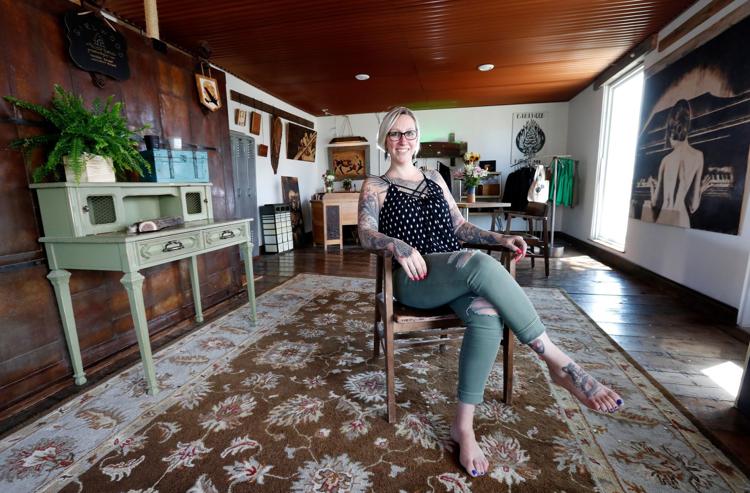 "It's the old saying: If you build it, they will come," Markel said. "Melissa walked in here the first time and said, 'I don't know.' When it was finished, she said, 'Hell yeah.'"
Burns was skeptical at first, not just because the space was hard to envision in its raw state, but because she didn't see the potential for her business to expand.
"After six months of him bugging the hell out of me, I decided to go all in. He's not bugging me this much about this if he thinks I'm going to fail."
Burns felt comfortable heading into this venture without a plan, knowing that she's got the support of a creative community around her. "They believe in me. It was a jump-off-a-cliff feeling, and I am so overwhelmed with how exciting it is," she said. "All my six years of Girlwood have been leading to this point, and I have worked really hard to be here, even though I don't know where I'm going with it."
Since moving her business, Burns said she's been wildly busy. "For not being an open shop yet, that's pretty crazy."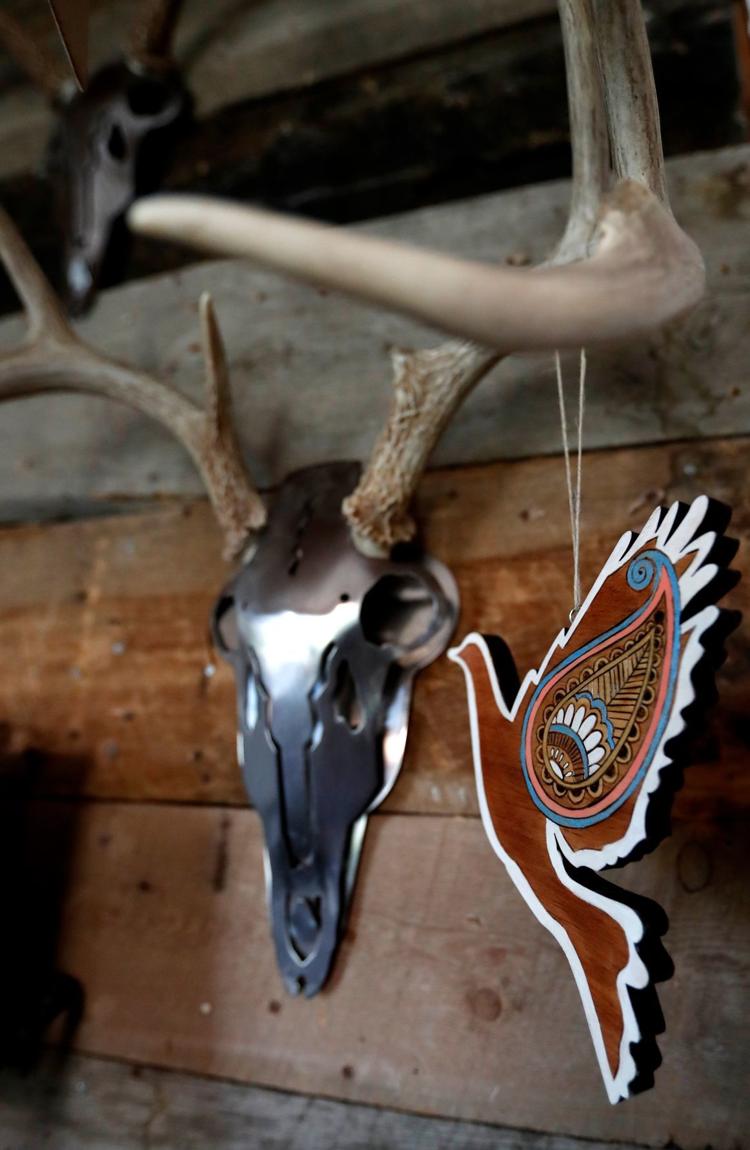 She'll officially open her space on Saturday to the public, while also throwing a party, titled Girlwoodstock. Her original artwork will be on display, as well as wares by other local artists including clothing designer Tiffany Miller, Robert Kramer (of Montana Lathe and Chisel), and Mike Fouch (Timber Creek Manufacturing). Girlwood neighbors Andrey Thompson, who makes neon signs, will also be sharing his wares. Door prizes during the event have been donated by Seva, Uberbrew, Red Oxx, and Rise Again in support of the opening.
For personal reasons, Burns included so many other artists in the grand opening of her shop because, "I don't like when all the focus is on me." She wanted to instead focus on creating a community-driven event. "I think it's important to have more venues for art. This is a unique venue, and it's growing."
Burns plans to host the event yearly.
"This is my favorite place to be," said Burns of her new space on the corner of Fourth Avenue North and North 14th Street.
"If I can gather these younger business people around me … the more the better," Markel said.