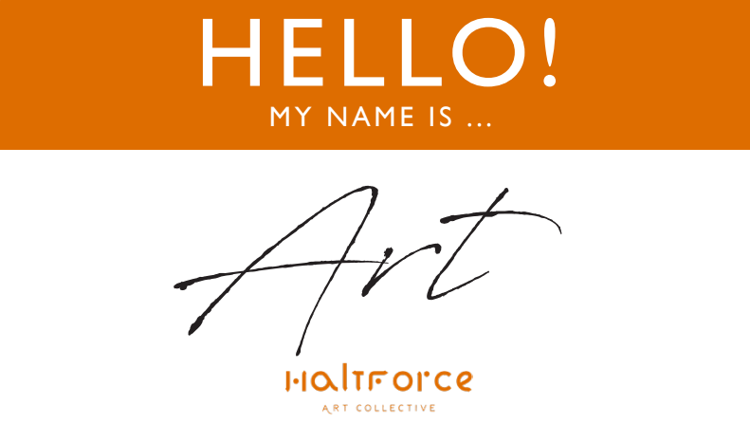 This name tag, stuck to Krista Leigh Pasini's shirt, gave more than one student pause as she introduced herself to a room full of fourth graders at Orchard Elementary School last week.
"Is anyone else out there named Art?" A few students tentatively raised their hands, and so did I.
For Pasini, art is her world. It's not segmented into a specific hour of the day; it's everything she does. A recent graduate of Goddard College, she earned an MFA in Interdisciplinary Art.
"Art gets moved into a category that is exclusive to individuals that have gone to school or have particular honors that make them able to call themselves artist," said Pasini, who pushes back on those ideas. "There is innovation and agility in creativity, and it requires imagination. I think that art lives in everything we do."
For Pasini, her work has been primarily in movement, mingling creative forms in interdisciplinary ways. This isn't a new concept. Beatniks did it. Stravinsky did it. Hell, he pioneered the world's first heavy metal concert in the form of ballet set to a full orchestra that at the time was only reserved for celebrating more civilized sounds.
Art stormed the classroom that day, armed with orchestral head-banging tunes, a name tag, and Texas-based dance artist Erica Gionfriddo (pronounced like the Frito corn chip), who was in town to perform that weekend with the Billings Symphony.
The students were attentive; they were advised to behave and pay attention. Cue "Rite of Spring," Stravinsky's expansive piece of music commissioned by Ballets Russes. Gionfriddo gathered students in a circle, which appeared at first like a cracked goose egg.
"Closer," she asks. They bunch together, hesitantly. "Even closer." The circle closes. It's a mash, now, of fourth graders all buzzing.
Some of the students express concern; they can't see. "You don't need to see," Gionfriddo replied. "You just need to listen."
"Rite of Spring" is a jarring piece of music, by many accounts one of the more challenging pieces written. It's discordant, booming with timpani, yet ebbs into syrupy pairings, like the grumbling alto flute with the peppy oboe, and it is often overwhelmingly bright with brass.
Movement up, down, back, forth, the mash of students is bouncing, a chaotic, yet choreographed frenzy. From one side of the room to the next, they move with Gionfriddo, this strange dancer with nimble limbs a buzzed haircut who has convinced them that they too can dance.
When Stravinsky's piece debuted in Paris in 1913, it caused uproar. The way he treated rhythms had never been written or performed that way before.
"He completely transformed music in one night," said Maestra Anne Harrigan, music director for the Billings Symphony. "People didn't know what to think of it. I can't imagine what it would have been like for the first orchestra that performed it."
For Harrigan, it's her first time conducting "The Rite of Spring," and probably her last — one of those "bucket list" performances, she said. "It was the most difficult piece of music I've ever conducted, and in terms of concentration, the most difficult most people on that stage have ever played."
The piece is a gyration between highly energetic passages contrasted with Russian folk tunes. Sections are angular and simultaneously asymmetrical, Harrigan described, giving that feeling of jarring power. To accommodate such a robust piece of music, the orchestra ballooned by about 20 percent, making good use of the large stage at Lincoln Center on Saturday.
Educational outreach
I've taught poetry in the classrooms of Orchard Elementary for three years, and I've stumbled plenty as a teacher. I've lost a classroom to chaos plenty of times, and at first, it terrified me. I responded first as an authoritarian, a disciplinarian, and even used shame as a tactic to get students to pay attention.
You have free articles remaining.
Keep reading for FREE!
Enjoy more articles by signing up or logging in. No credit card required.
Some things no textbook can prepare you for. The students in corners, snickering, and you are certain they are making fun of you. The first time you read about death in a student's handwriting, or are trusted with a child's most confidential thoughts. Nothing prepares you for this.
I didn't believe it, at first. I've worked with Pasini in the past in "I Conjure a Stubborn Faith." We presented the performance piece during the Billings Fringe Festival in 2013, at what is now Craft Local, though at the time it was an empty storefront with raw floorboards. We merged theater and dance with poetry. There, I learned how to move with words, how to convey my work off a page, and how to work with others. I also learned that I can be dramatic, even diva-like, when I'm uncomfortable. When I'm challenged.
In 2016, Pasini brought Gionfriddo to Billings for a project called "In the Ever Now." The goal was to experiment together, to innovate and push contemporary storytelling into different realms. Gionfriddo brought concepts of artificial intelligence, of working with technology and automation into how we identify and tell stories, and how we see ourselves within the technology. The room, which Pasini littered with sticky notes, became a playground of artists. They brought the audience into her work in a way that wasn't intrusive, didn't require them to identify as "Art."
Back in the classroom, the students are asked to write down three things they observed. It could be color, feelings, memories, emotions. These would become their fuel, a brainstorm to generate ideas and make something from the experience, whether it be a poem or drawing, even a dance they could choreograph themselves.
The students watched Gionfriddo dance around them, moving with music that she would dance to that weekend, during the Billings Symphony's performance of "Rite of Spring" and a tribute to the famous Russian ballet company that brought such unconventional ideas of the time to the stage.
"Crazy." "Happy." "Clumsy." "Weird." There were a lot of weirds.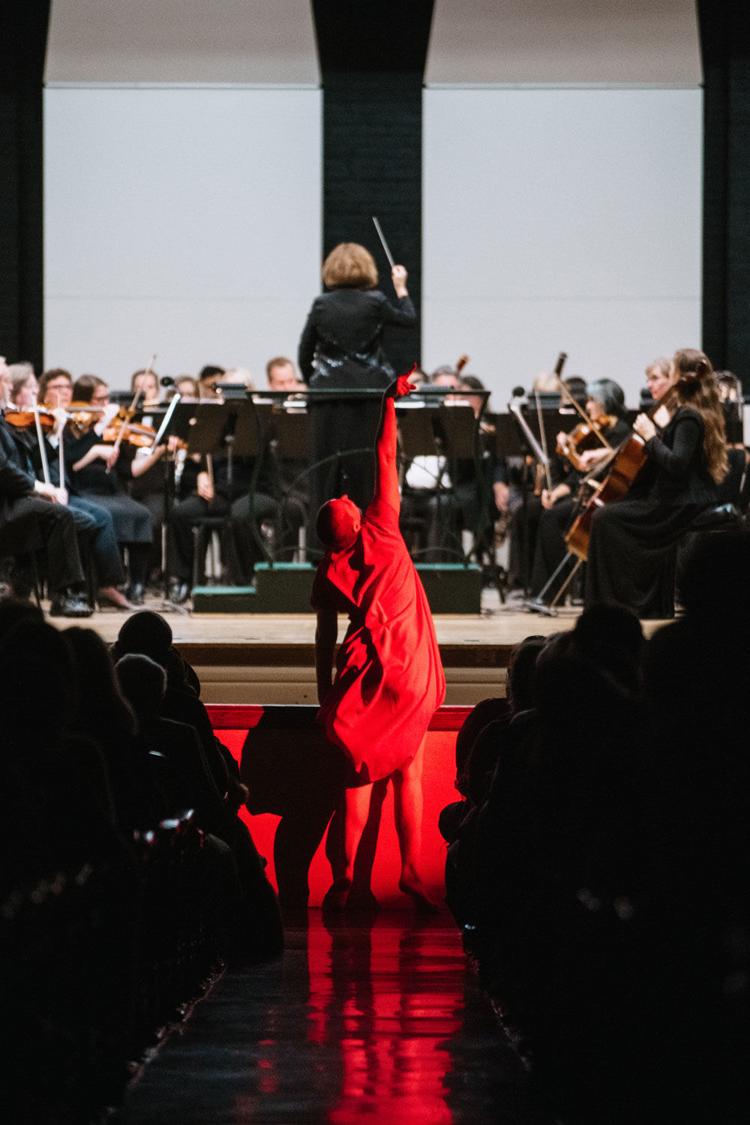 When Gionfriddo took the stage at the Lincoln Center the following day, I imagine many of the audience members would have written down similar words to describe their feeling. Appearing first in the aisle of the theater, dressed in a billowing red dress that gathered around her legs like a young girl's pantaloons, she was simultaneously goddess and child racing down the auditorium toward the stage.
Gionfriddo was the music, an upsetting and goose-bump inducing battle between what is familiar and what is foreign. She came in and out of the scene in a manner choreographed by Pasini, yet she carried a sense of chaos, of intrigue, of mystery.
Seeing the work, I felt everyone on that stage fulfilled their duty as "Art," to get us to think and feel and be uncomfortable.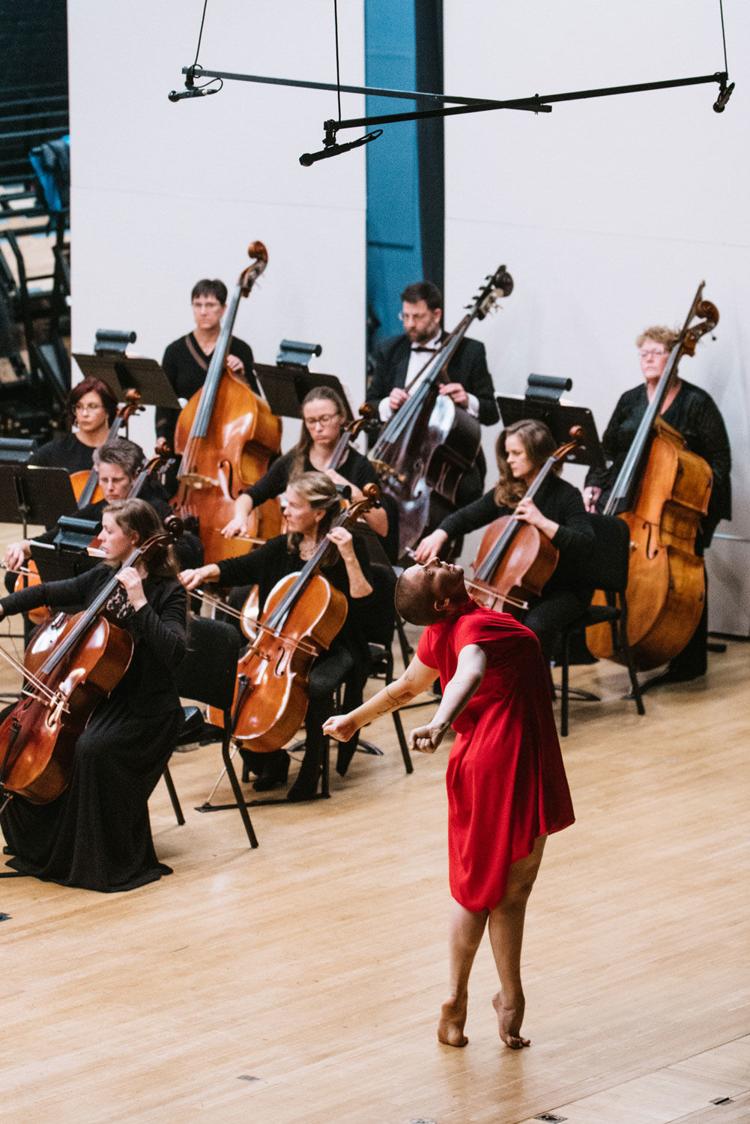 "People are talking about it, and that's what's great," said Maestra Harrigan. "Some loved it; some found it distracting, but people are talking about it."
For Harrigan, a sign of a job well done is not just in the reception, but in the execution.
"I can say with impunity that we performed with integrity and extreme musicality. A piece that difficult with an orchestra of our size can be a challenge just to get through the piece. I felt that the Billings Symphony owned the performance. They told a story with every note that they played."