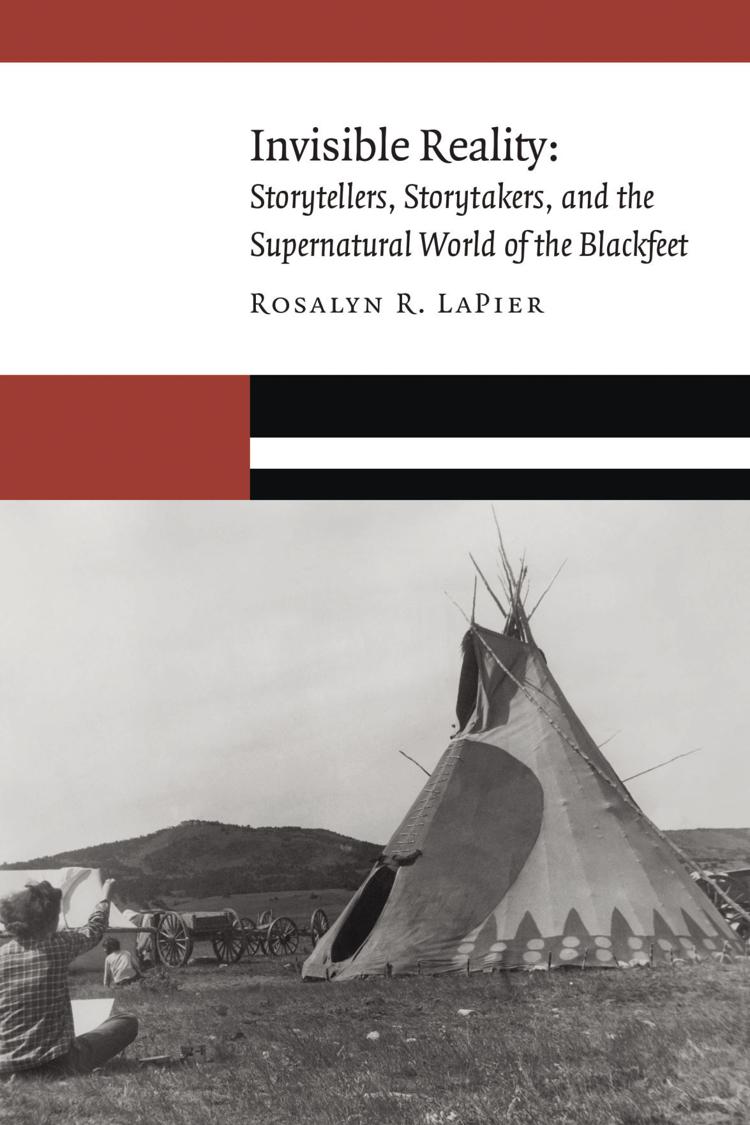 "Invisible Reality: Storytellers, Storytakers, and the Supernatural World of the Blackfeet"
By Rosalyn R. LaPier (Gabriel Dumont Institute Press)
Movies and novels often present Plains Indians as peoples of the past, nomadic wanderers, hunter/gatherers who never turn the soil and live at the mercy of natural forces. Early reservation life is rarely depicted, as we somehow jump from Stagecoach to Smoke Signals.
"Invisible Reality: Storytellers, Storytakers, and the Supernatural World of the Blackfeet" by Rosalyn R. LaPier considers other images — or at least explains why things aren't as simple as popular culture would suggest. In her hands, you will see how the Blackfeet people, specifically, formed ties to an "invisible" world, relationships with supernatural beings that allowed them to influence natural phenomena, to grow tobacco, to find natural resources efficiently, and to adapt to the physical and cultural calamity of the first reservation years.
The "real" stories Blackfeet told, and the art that commemorated the stories, created and recreated these pragmatic relationships with supernatural beings. The stories, in other words, helped people survive and adapt to change. Narrative and art, as LaPier demonstrates, persist long after technological tools have become outmoded.
Challenging conventional imagery is one of LaPier's accomplishments in "Invisible Reality." Yet the book, a finalist in the 2018 High Plains Book Awards, does more. It puts a human face on the stereotypical broad-stroke treatment of Montana's late nineteenth and early twentieth centuries that often ignores the interactions of events and ordinary people, or that, at best, focuses on a few celebrities. LaPier generously shares much of her own family heritage and, throughout, introduces a variety of fascinating individuals — storytellers like Bull Child and Annie Mad Plume, and "storytakers" like James Willard Schultz and David Duvall.
LaPier eases the reader through many esoteric subjects — she is a scholar and University of Montana professor, and she knows her material. But "Invisible Reality" is not a scholarly read. You will not know how much you've learned until the end, when LaPier shares a joke and a dream image with you, and you understand both.
Cara Chamberlain is the author of three books of poetry and works as a freelance copy editor.