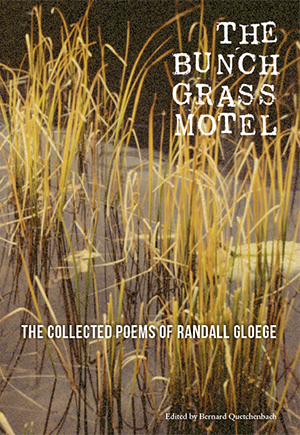 "The Bunch Grass Motel: The Collected Poems of Randall Gloege"
By Randall Gloege (University of Montana Press)
There are few poets who can say they studied with Theodore Roethke. Among the selected few is Montana poet Randall Gloege who passed away in 2013.
"The Bunch Grass Motel: The Collected Poems of Randall Gloege" is a superb, posthumous volume of unpublished work and edited by Bernard Quetchenbach.
The book of poetry is broken into four segments, each providing new poetic forms and tones. The arrangement of poems builds momentum with each section, showing Gloege's assortment of free verse, narrative, rhyming couplets, form poetry and more.
In his poem "At The Hospital," four short stanzas brilliantly demonstrate Gloege's incredible ability to create a scene without overuse of words. The potent descriptions provide enough for the reader to paint the picture: "Nurses shun mouth-breathers, those/ terminal fish/ stranded on cold sheets/ to dry and bleach."
Gloege's precise, poetic skill ranges in long and short forms. The collection operates like an elegy for life: to children, mentors, lovers, friends, flora, fauna and time.
The third section, titled "The Bunch Grass Motel," is one of the most endearing of the collection. The short segment depicts the atmosphere of a small-town desert community with an eccentric cast of characters that work at and live around the motel. Like the stanza titled "Juanita": "She could mesmerize / increasingly decrepit customers / by telling how cows, / sucked up into the bellies of UFO's / were drained in dry-wash gullies."
The collection finishes with the lyrical observations of animal life intersecting, even mirroring man's own struggle to thrive: the calculating gull; the enduring sea anemone; resilient and proud bison; a graceful raven – all of us together and still, so separate on this plane of existence. Which is brought to culmination with the final poem of the collection: "An Absurd Design." An inventory of life is given to the reader: "roiling spirals of carbon, shape-shifting jellyfish, sidewise crabs, wobbly swift bears, diving foxes" – "and me and you."
The finale poem reinforces the overall theme of time, life and death. All of us "gliding, slithering, zipping, dancing" and eventually, "twitching and crumbling on the concrete."
Charity Dewing is a journalist at The Billings Gazette and adjunct professor at Montana State University Billings.