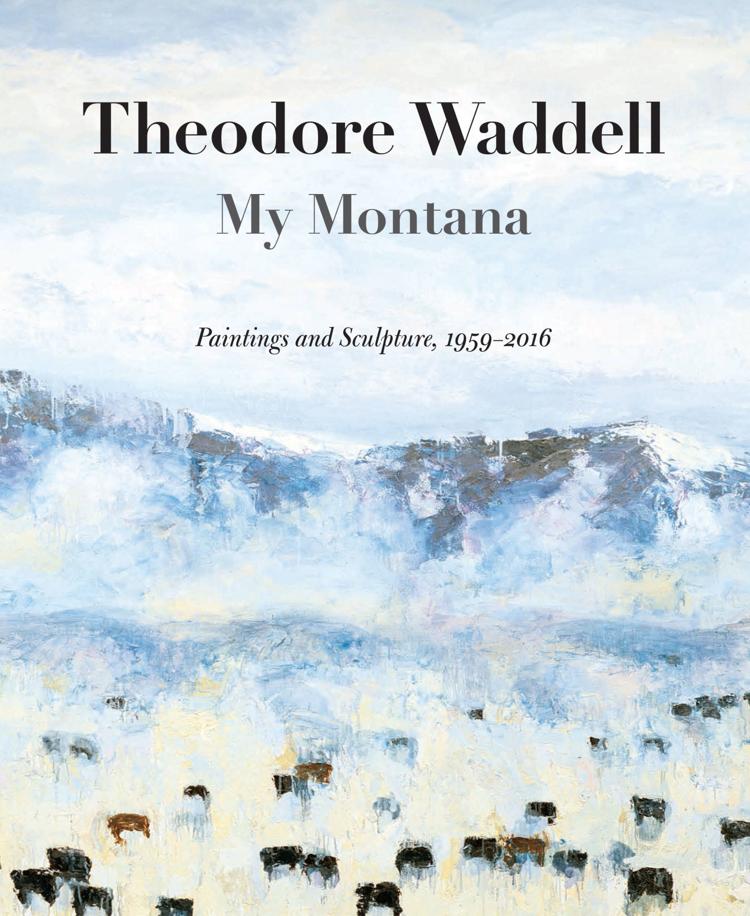 "Theodore Waddell: My Montana. Paintings and Sculpture, 1959-2016"
By Rick Newby (Drumlummon Institute)
Montana landscape may be considered definitive, but for over six decades, artist/rancher Theodore Waddell has challenged us to greater awareness and appreciation of our environment, always impelling us to see it with new eyes and understand it in new ways. Within the High Plains Book category of Artists and Photography, "Theodore Waddell: My Montana. Paintings and Sculpture, 1959-2016," makes an impressionable contribution by documenting this artist's life and work as someone who recognized Montana's artistic predecessors, but desired to "do something that reflects both the history and the change."
My Montana provides evidence of the unique ways Waddell interprets the essence of Montana's land and animals with color and texture. Visually, with mixed media, he brings to our attention the reciprocal relationship of life and death. Brimming with beautiful illustrations, this hefty volume tells one compelling story of a Montana artist, but it is also a book about Waddell's connection with Modernism and the emergence of Montana's Rural Avant-Garde. It brings to light those who participated in this effort as artists, critics, and collectors, and the way Waddell's legacy continues to influence Montana artists today.
Rick Newby, scholar of modern and contemporary art and Montana literature, is the primary author; although additional essays by those who know Waddell enrich the story. Newby's chronology of Waddell's life and work is presented as a prelude and five chapters that trace his artistic journey and career. Newby's narrative notes the influence of Waddell's mentors like artist/rancher/teacher Isabel Johnson, the experiences and people who piloted his development, and the insights of those Waddell continues to inspire.
But the volume delivers in additional ways. Three brief but cogent introductions set the tone and hint at what is to come. Following Newby's account are tributes by artists, collectors, and friends, among them Donna Forbes, Gordon McConnell, Greg Keeler, Patrick Zentz, and Mark Browning. Through their testimonies, Waddell emerges as an artist rooted in his artistic heritage, inspired by his geography, and always responsive to his immediate and changing surroundings.
In sum, this book makes numerous contributions. It establishes Waddell as a key Montana artist, it offers a beautifully illustrated and engaging narrative, and it documents a particularly fecund and significant period of art and creativity in our region that continues to be worthy of attention.
Dr. Rebecca Berru Davis is assistant professor at Montana State University Billings and former Curator of Education of the Yellowstone Art Museum.