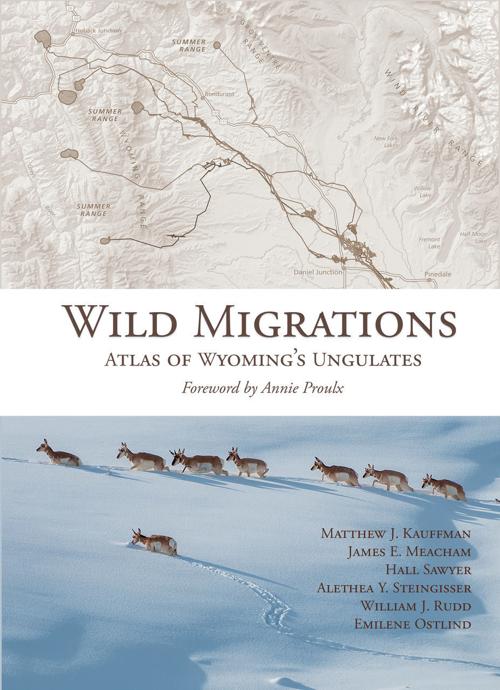 "Wild Migrations" by Matthew F. Kauffman
Reviewed by BERNARD QUETCHENBACH
A High Plains Book Awards finalist in Nonfiction, "Wild Migrations" brings together a team of writers, cartographers, and researchers under the direction of Matthew F. Kauffman. Focusing primarily on mule deer, pronghorn, elk, and moose, the book traces the journeys of large mammals across the Wyoming landscape.
"Wild Migrations" is a large-format atlas suitable for coffee table, library, or agency office. Both aesthetically pleasing and scientifically substantive, the volume details decades of painstaking efforts by biologists to understand routes connecting winter and summer wildlife ranges. Building on pioneering studies by twentieth-century biologists such as Olaus Murie, current researchers use GPS technology to produce real-time records of entire migrations, complete with crucial stopovers and bottlenecks.
Each two-page spread functions as an independent reference entry, dedicated to a particular animal, migration obstacle, or region. People who opt for a cover-to-cover reading may find the book a bit repetitive but will be rewarded with a big-picture overview of migrations across Wyoming's open spaces. Introductory essays by Emilene Ostlind, who "literally followed in the footsteps of migrating pronghorn," provide narrative continuity through the book's five sections. Illustrations contributed by wildlife photographers such as National Geographic's Joe Riis add vividness to the rather technical material.
Charting variables ranging from snow cover to land ownership, graphic representations chronicle both individual and aggregate wildlife routes. The volume's maps are information-packed, though overlapping color-coded pathways are occasionally difficult to untangle. The scope is sweeping if not absolutely comprehensive, limited perhaps by available studies (Gazette readers may wonder why the pronghorn migration from Gardiner Basin to Yellowstone's Lamar Valley is excluded).
"Wild Migrations" will be useful to agency staff, landowners, conservation organizations, hunters, wildlife watchers, and anyone else who needs or wants to know where these animals can be found and when. Kauffman and his colleagues present a convincing case for protecting these crucial corridors described in Annie Proulx's foreword as vital to "Wyoming's character and identity."
Bernard Quetchenbach teaches in the English Department at MSUB and is the author of "Accidental Gravity," a collection of essays.