Winners in the annual High Plains Book Awards were announced Saturday in a sold-out banquet at the Yellowstone Art Museum. Eleven winners in total were awarded from a record 228 nominations. 
"As we all know, this is a special place," Mayor Bill Cole told the audience at the banquet. "Even for those of us who were born in this area, it never grows old to learn more about it, to celebrate its wonders, and to share it with others."
Six Montana residents were among the award winners. Billings author Danell Jones picked up an award in nonfiction for her book, "An African in Imperial London: The Indomitable Life of A.B.C. Merriman-Labor," detailing the life of a Sierra Leonean writer and barrister, and Shepherd resident and Billings educator Rodney Gottula was awarded for his children's book, "Double! Not Half," which explores ideas of multiculturalism based on his children's Japanese and American heritage.
Thomas McGuane, who resides in McCleod, Montana, and Maxium Loskutoff, based in Missoula, tied for the short stories award — the first tie in the awards' 12-year history, McGuane for "Cloudbursts: Collected and New Stories," and Loskutoff for his debut, "Come West and See: Stories."
Missoula's Chris La Tray picked up the First Book award for his collection of short poems and essays, and David Quammen, of Bozeman, won the Medicine and Science category for his book, "Tangled Tree: A Radical New History of Life."
Susan Henderson, who resides in New York but whose familial ties to small-town Winnett, Montana, inspired "The Flicker of Old Dreams," and Susan Devan Harness, a member of the Confederated Salish Kootenai Tribes of northwest Montana, whose memoir details her transracial adoption, claimed multiple awards. Henderson won in Woman Writer and Fiction categories, and Harness was awarded best Creative Nonfiction and Indigenous Writer. 
Other awards included Wyoming writer Dr. Peter H. Hassrick, for his book "Albert Bierstadt: Witness to a Changing West" in Art & Photography, Sara Henning of South Dakota for her poetry collection "View from True North," and Colleen Nelson, of Manitoba, Canada, for "Sadia," in the Young Adult category.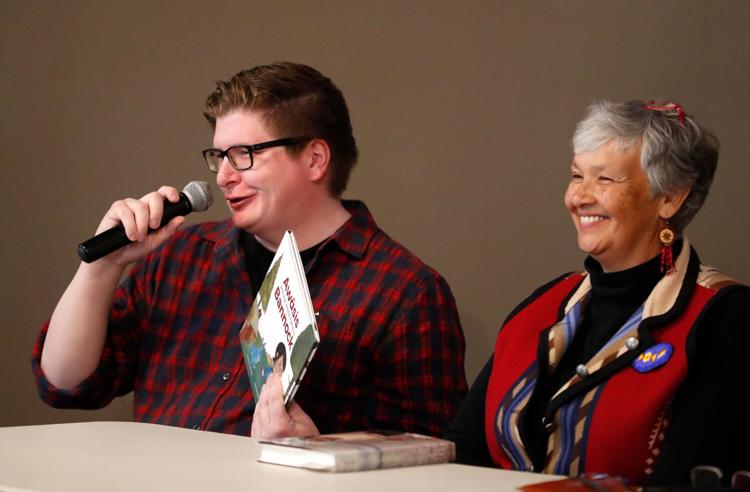 This year, a new category was added: Big Sky Book Award, the criteria of the award being that the author must be a current Montana resident and be preselected from the existing nominations. Quammen's "The Tangled Tree: A Radical New History of Life" was selected.
The Billings Public Library Board established the High Plains Book Awards to recognize regional literary works that examine and reflect life on the High Plains, defined as Montana, North Dakota, South Dakota, Wyoming, Nebraska, Colorado, and Kansas, and the Canadian provinces of Alberta, Manitoba, and Saskatchewan.
The event began auspiciously, said Gavin Woltjer, Billings Public Library director. In its first year, two categories existed: best book and best first book.   
You have free articles remaining.
Keep reading for FREE!
Enjoy more articles by signing up or logging in. No credit card required.
Volunteers work on the event all year, and more than 200 community readers participated this year, as well as a volunteer board of 13. 
"It's amazing that this is such a success year after year," said Shari Nault, High Plains Book Awards chair, "and it's due to our amazing volunteers." 
Of the books submitted for consideration in this year's awards, Canadian authors composed about one-third, according to Corby Skinner, Writer's Voice director and BookFest coordinator. In addition to receiving bragging rights and a plaque announcing the award, each winner is presented $500.
The top three finalists in each category were then judged by previous winners and writers with ties to the High Plains region.
---
Photos: 2018 High Plains BookFest