Wandering her family's ranch outside of Dillon, Montana, Jennifer Tolton comes across plenty of interesting items rusting in the dry land.
"Old rakes, drills, wheels … They're just up there, poised for the next year, and sort of got forgotten," Tolton said. Her family has owned the 1,600-acre ranch since the early 1940s, when Tolton's father purchased the property. He raised grains, irrigated barley and hay, and ran cattle on the range, which is now leased to another rancher.
Some of the forgotten implements she uncovered are now part of her latest welded artwork, "Grassland," a metal sculpture reminiscent of Montana's grassy fields.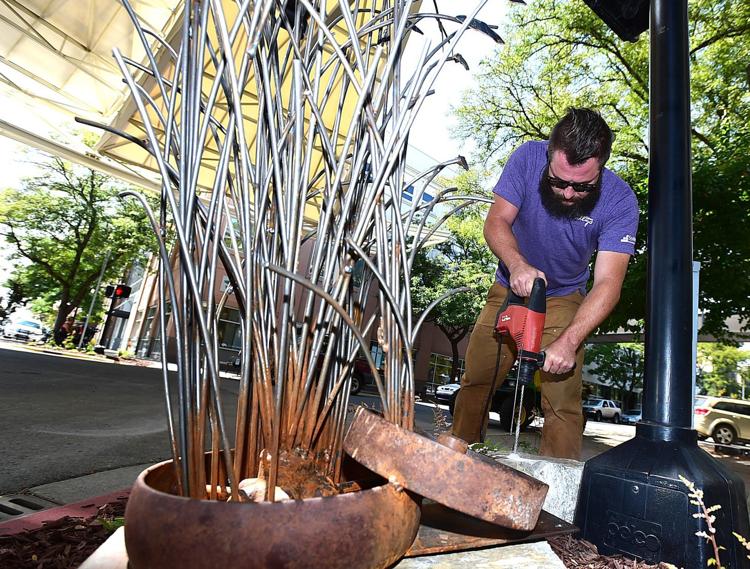 This three-dimensional artwork is the second piece installed under Skypoint in downtown Billings, part of a effort from the Downtown Billings Alliance and Big Sky Economic Development to put more art in public places.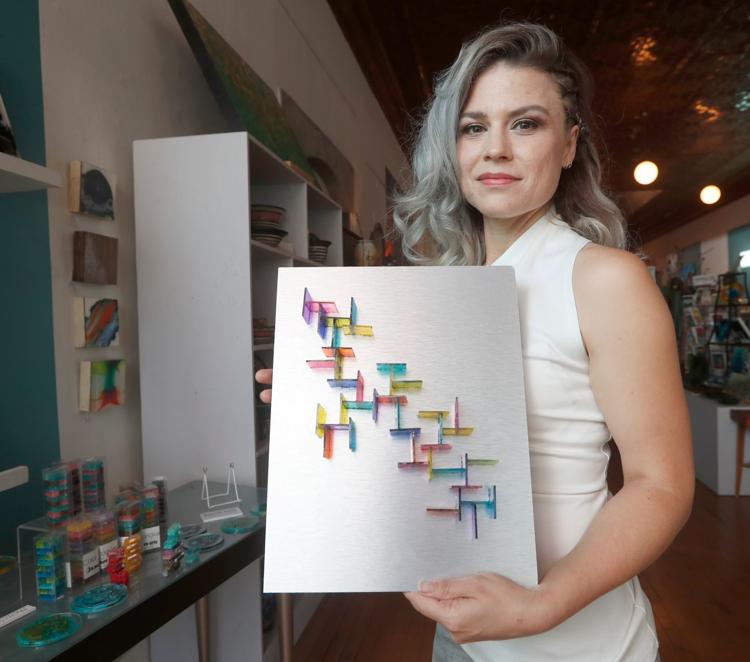 Just around the corner from Skypoint, another public art piece by artist Brooke Moore, titled "Fractionated Light," will be unveiled on Friday during ArtWalk. The 4-foot-by-14-inch piece, comprised of light-refracting acrylic tiles, was set to be installed Thursday evening on the south side of the Rockman Building, visible from the parking lot behind Montana Brewing Co. and adjacent to the Burger Dive.
Both pieces were funded by a grant from Big Sky Economic Development. This is the first in a series of "Space2Place" grants awarded by Big Sky ED. In total, six creative placemaking projects were funded in 2018, including a pocket park east of the Billings Depot, a railing designed to display artwork by local artists outside of SCRAP on First Avenue North, and the creation of a new trail near Norm's Island.
"We feel strongly that creating inviting and vibrant public spaces in our communities through arts, culture and green spaces will help our communities thrive and be the places where people want to gather, play and live," said Dianne Lehm, director of community development for Big Sky Economic Development
When creating this grant program, Lehm said they considered a recent Sonoran Institute study of business owners and residents in Colorado, Idaho, Montana and Wyoming, which found 70 percent of respondents prioritize the quality of life in a community before relocating to start a business or employment. 
"People are locating based on a place that they want to live, looking at amenities such as parks, trails, public art — what makes a community attractive for people to live here," said Lehm. 
For the Space2Place grants, Big Sky Economic Development doled out micro-grants, not to exceed $2,500, for community enhancements. "It doesn't take a huge project or a huge amount of money to make something happen," Lehm said. "These groups and individuals for a small amount of funding will have a huge impact on our community."
You have free articles remaining.
Keep reading for FREE!
Enjoy more articles by signing up or logging in. No credit card required.
Inspiring growth
Though there's more public art than people may realize in Billings, adding to the collection of publicly accessible artwork has taken time and funding.
Montana does not have a percent-for-art program, which takes some funding from public development projects (like streets, sidewalks, public buildings or parks) and reinvests it into art that is accessible to all. Twenty-eight states in the nation have an active percent-for-art program, including Colorado, Oregon, Utah, Washington, and Wyoming, according to the National Assembly of State Arts Agencies.
The Downtown Billings Alliance Public Art Committee is looking for professional artist submissions of outdoor sculptures to be temporarily ins…
The first sculpture under Skypoint, a set of cast glass and aluminum columns titled "Shadow Whisper" by Brian Keith Scott, was installed in 2017 after a few years of discussion and funding legwork by the DBA's public art committee. 
Virginia Bryan, who directs the Billings ArtWalk, said initially the committee was concerned about vandalism, but "none of that has turned out to be true. It looks as good now as it did the day they put it up last year."
When Tolton was asked to create her piece, "it was a happy surprise," she said. "I love being part of the beginning of this; hopefully this will fill in those spaces on that corner."
She crafted the piece with the space in mind, made of sturdy metal that can withstand the outdoor elements, as well as reflect a sense of place. "I wanted to reflect the basics of Montana's agriculture dependence and heritage," Tolton said. "So many of us grew up on farms and ranches, and our livelihoods depended on it. Plus, Montana is beautiful. My motivation was to capture the beauty and share it."
For Moore, installing this piece is just a beginning. Looking across 27th, she points out a small green space in front of Wells Fargo that could become a gathering place for people, enhanced with artwork.
"The community is recognizing that need for beautification, for inspiration," said Moore. "I hope that it inspires other artists to get out there and participate. There are so many talented people here locally, and I feel like it's a little tiny piece of an end result."
When it comes to murals, the sky's the limit for Terri Porta.