When it comes to murals, the sky's the limit for Terri Porta.
She's been upside down for a few weeks painting the first 30 feet of ceiling in a downtown parking garage a welcoming shade of blue, dotted with clouds shaped like animals, as part of plan to make the city's parking structures more inviting.
"Wait until I grab my trapeze," Porta jokes. Since early May, she's been working in City Hall's parking garage at Second Avenue North and North 27th, painting eight hours a day, five days a week, on a 5,000-square-foot mural that unfolds moments in Billings' history dating back to the 1870s.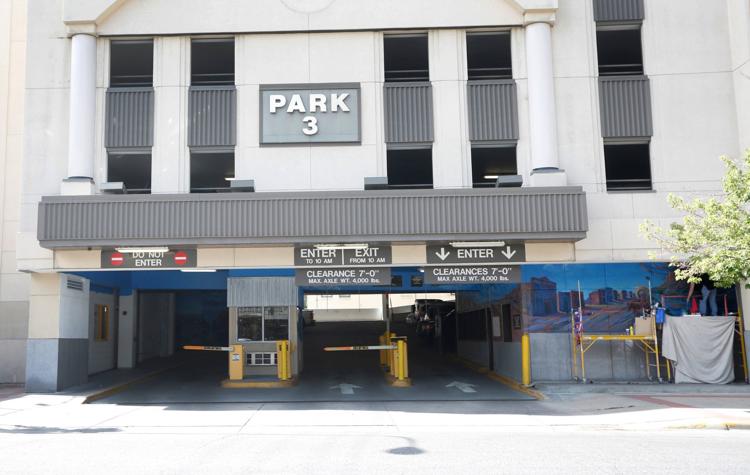 Porta estimates the project will take most of the summer. The mural begins on the east side of the garage, depicting pioneers traveling across what was then Coulson, the first town in the valley, and will end with a depiction of Billings 20 years into the future, as imagined by elementary students.
Porta has a playful approach to art, which she credits to her 8-year-old son. Her painting career started the day she opened up her son's craft bin and they began to create artwork together. He was a toddler at the time, and Porta was seeking something to entertain him.
"I started fingerpainting and trying things, and it was out of that playfulness with him that all this started coming around for me," Porta said. Her paintings moved from construction paper to walls, and she's worked on several large-scale commissions in private residences as well as a 1,200-square-foot mural in the Franz Montana Sweetheart Bakery, depicting the Yellowstone River meandering through the Rimrocks.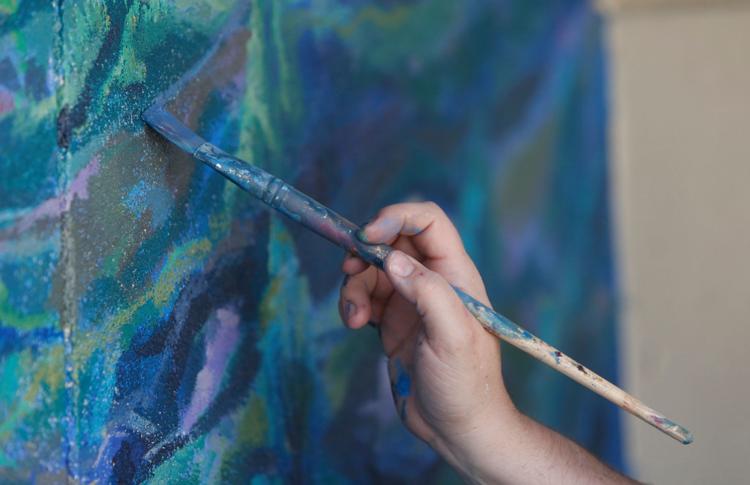 This mural will be her largest work, commissioned by the city's parking division as part of a strategic plan to enhance the entrances and exits of downtown parking garages. After pitching a series of proposals to the parking board, Porta's bid of $18,600 was accepted.
Though large-scale murals aren't a new concept, they're not common in Billings. 
Tracy Scott, parking manager for the city of Billings, said there is interest in expanding this project. "It depends on our finances," she said, but in the future other garages may be opened to artists for similar projects.
Scott experienced firsthand the power of murals to relate during a trip to Londonderry in Northern Ireland, where a variety of large-scale murals illustrates the divide between Catholics and Protestants.
"It brings a lot of interest to what actually happened in that city and encourages people's curiosity," she said.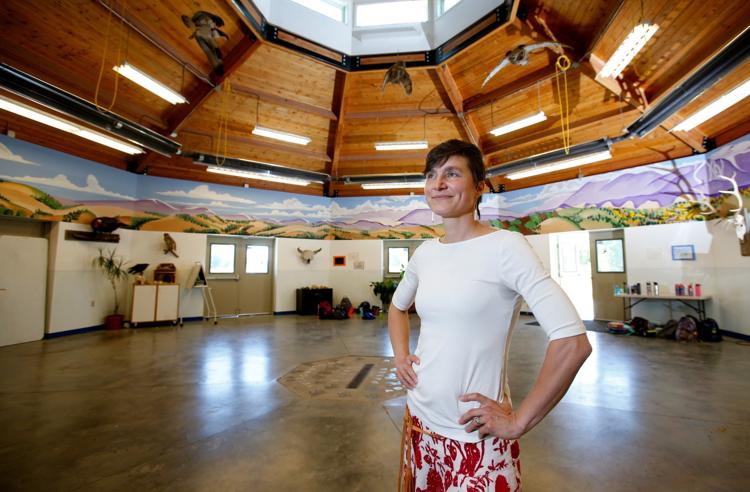 Mountains all around
Over at the Audubon Center along the Yellowstone River, another muralist has completed a large-scale work to help educate young viewers with a 360-degree panorama of the mountain ranges, grasslands and Rimrocks visible from Billings.
Elley Pryor Swan comes by her love of Montana's wild places naturally. Growing up in Belfry her family had a fabulous view of the Pryor Mountains, making her middle name no coincidence.
"They are so wild," she said, recalling the folklore and the mysteries of the mountain range that her father spoke of when she was young. As a child, she would visit the ice caves and leave trinkets for the "Little People."
This led Swan, a painter and ceramic artist, to pursue the largest art project she's undertaken.
"Billings has got a great view," said Swan, who recently finished the octagonal mural on the upper walls of the Montana Audubon Center. "There are really beautiful mountains around here."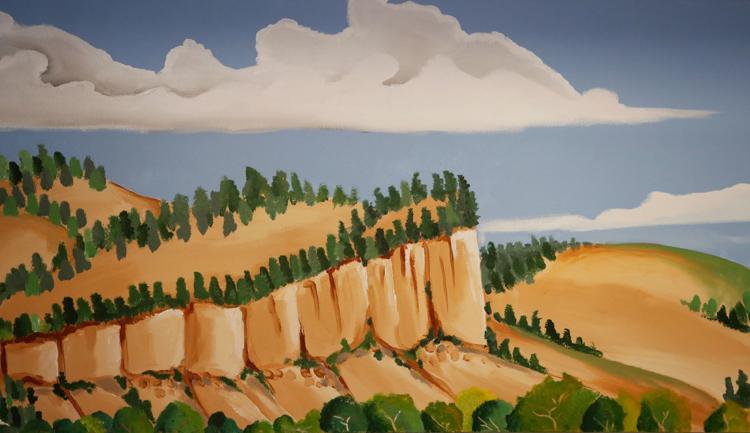 Swan set out on a cold day earlier this spring to photograph all five mountain ranges visible from the area: the Bull Mountains, Wyoming's Big Horns, the Pryor Mountains, the Beartooths and the Crazies.
She then painted the 360-degree mural from scaffolding, taking a month and a half. She used an overhead projector to display outlines of the mountains, sketching out the lines.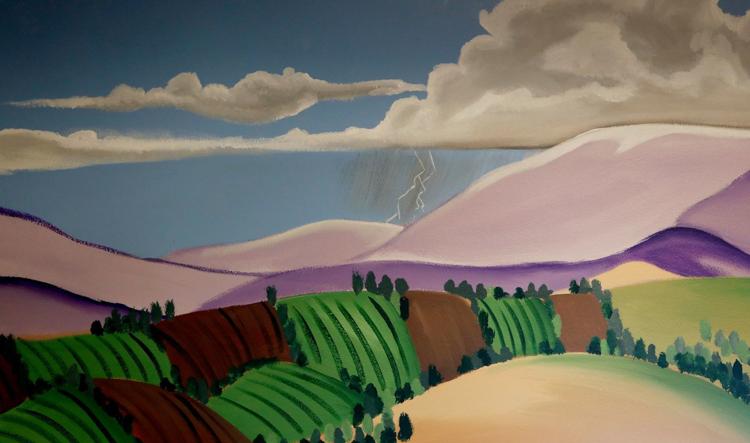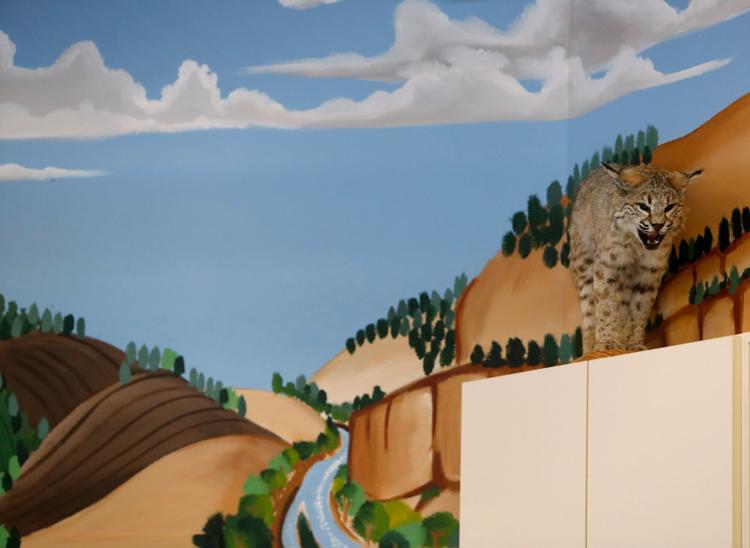 It was intimidating to take on a project of this size. "It seemed a lot smaller in my mind," she said. The process of planning and submitting a proposal unfolded over a year, and the funding came within 10 minutes at the Audubon's annual fundraiser, where panels of the mural were auctioned off. A total of $8,000 was raised for the project.
She added personal touches throughout the mural, including a lightning storm over the Big Horns and a river running through the foothills of the Beartooths. "I am going to call that Rock Creek," Swan said. "You have to take creative license."
At some point, Swan began to dream of the mural, and made creative edits in her sleep. That's where the Yellowstone River came from, which is now situated above the room's entrance.
You have free articles remaining.
Keep reading for FREE!
Enjoy more articles by signing up or logging in. No credit card required.
"Art takes on its own life," she said. "You think it's going one way and it morphs. I try to be an intuitive artist and follow the way it wants to go. It always seems to turn out."
Swan is primarily self-taught, with the exception of a few art classes in high school. She enjoys painting, and her goal was to have fun in the process. She said she feels good about the result. "It turned out exactly the way it was supposed to turn out," she said.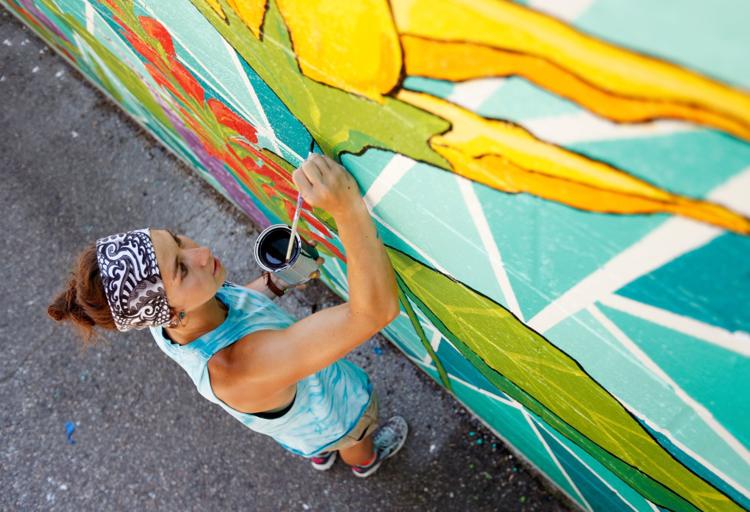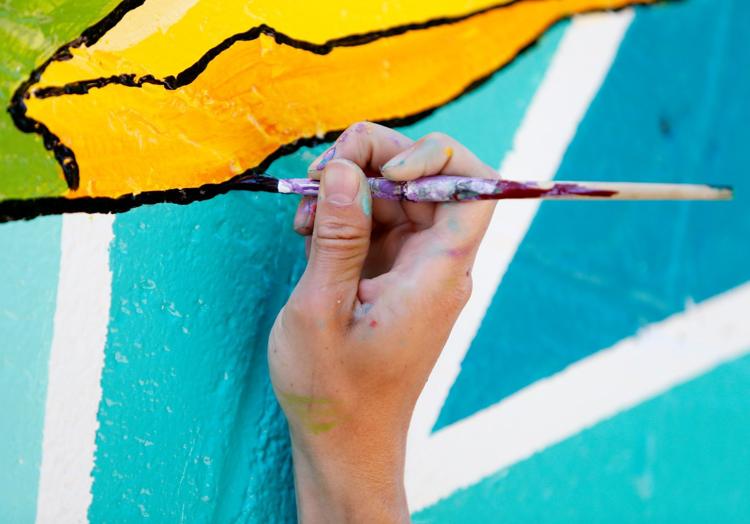 Public opinion 
Over on Poly Drive, Anna Prevost is also tackling her largest canvas to date. A recent grad of the University of Montana, Prevost has been teaching art at an Idaho junior high and returned to Billings for the summer to visit family and to tackle a mural on the east wall of the Great Harvest Bread Co. building, 907 Poly Drive.
The wall has been home to a mural for more than two decades, but the owners of the bread company felt it was time for a refresh. Prevost's connection with the owners led her to this project; when she lived in Billings, she worked at Great Harvest and did chalkboard art for the menu boards.
Prevost has always had an interest in public art, and appreciates the medium because of its capacity to brighten people's day. "It's something surprising for people to see that hopefully lifts their mood," she said.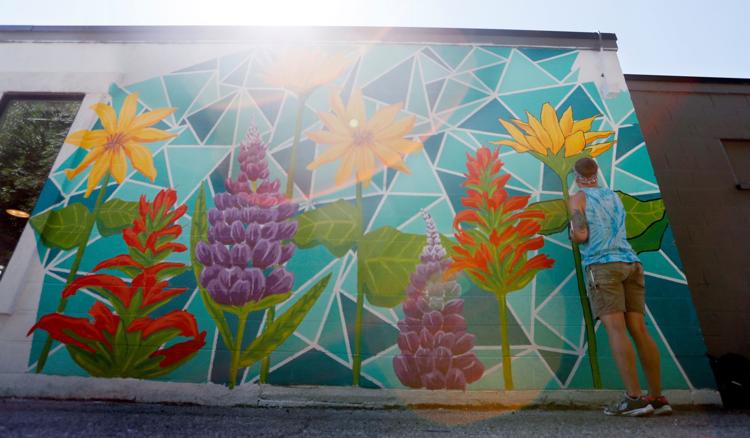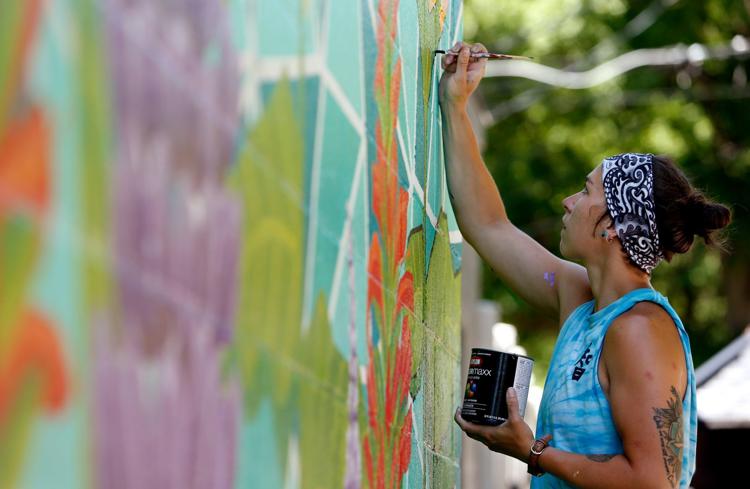 The mural, which features an abstract geometric background dotted with Montana wildflowers, should be completed by the end of July. Prevost enjoys the process of painting in public, as folks passing by can watch the mural unfold. She doesn't even mind people interject feedback, which she incorporates in real time.
"As an artist, you can take people's opinions and use them as you are painting," she said.
Looking forward
Porta has themed her mural "progress," focusing on people and events that made an impact on the city. Though she is taking some artistic liberties, she's relying heavily upon historical evidence. She has been visiting with historians at the Western Heritage Center weekly, and did a healthy dose of research before. Most of the mural's panels are created from photographic records and historical evidence available from the time.
Kevin Kooistra, executive director at the Western Heritage Center, considered what people would find most interesting. Two major historical events came to mind right away: the flood of 1937 and the fire at the Northern Hotel in 1940.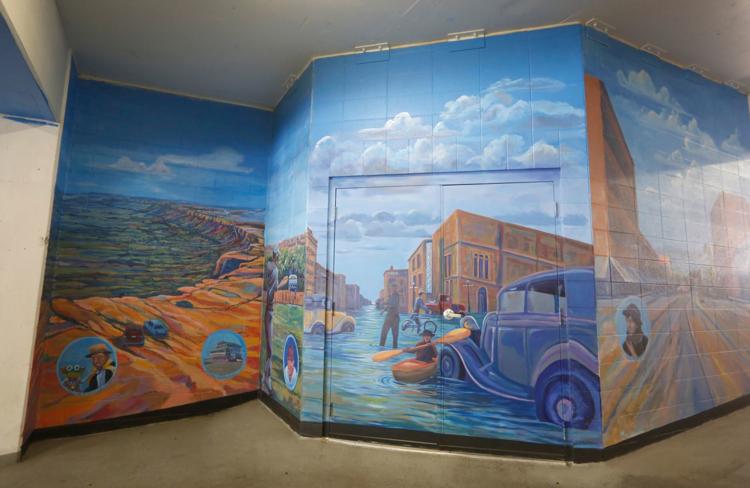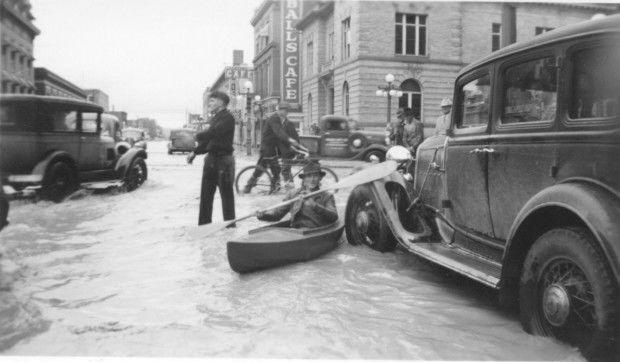 "Those are the two most photographed events we have in our collections," Kooistra said. "We are still getting photos of the flood, even today."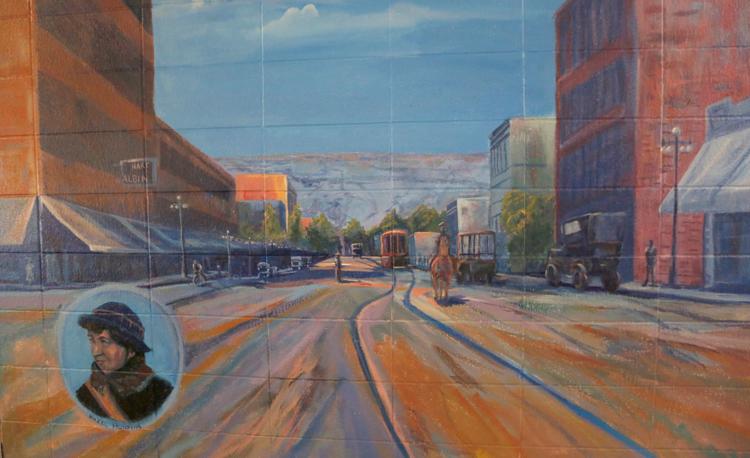 Porta also painted a vantage point from the Rims that presents her "creative twist on things," making it more design friendly. With a creative license, Porta painted a more vivid and pastoral scene of Billings in the 1950s, with the Rimrocks twisting around the city and several automobiles of the time period perched at the lookout as a plane takes off in the background. "It's definitely my own interpretation," she said of "the beach," which is what residents called the Rimrocks when they were allowed to park and party atop the Rims.
The parking garage kiosk will be painted with a 360-degree tribute to Native Americans. "They are central to how Billings came to be," Porta said.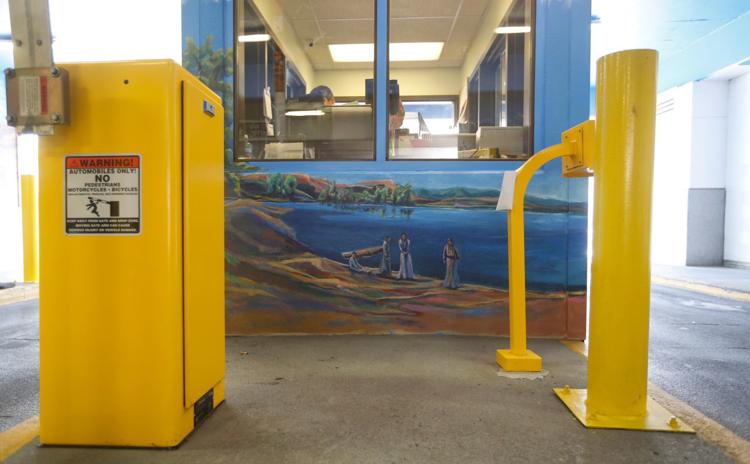 On the western wall, the panels shift into modern time, and the exterior wall facing Second Avenue North will include future projections, which Porta collected from students in third through fifth grades at Miles Elementary. Some of the suggestions included hover boots and flying cars, but Porta isn't ready to say what exactly will be in the final painting.
"I have some surprises to come," she said. "As we get to the future, that's where I'm allowed to play and have some fun."
There have been hundreds of distractions during the process, and Porta is a bit behind schedule, but she doesn't mind. The amount of public interest has indicated she's on the right track, and Porta is committed to the success of this public art project, even after she's no longer parking there every day.
"I am leaving this place when I am done," she said. "But the people who work here and who are here … my hope is to build trust."