Love him or loathe him, Will James was a character for the history books. The western artist and novelist who made Billings his home late in life left an artistic record of his time in Montana through books and paintings and a legacy just as interesting.
James was born in Quebec, Canada, on June 6, 1892. A son of shopkeepers, his given name was Joseph Ernest Nephtali Dufault, though he'd go on to rewrite his own history in a fictionalized autobiography titled "Lone Cowboy" in the 1930s.
In his version, James was born "close to the sod of the Judith Basin country in Montana," into a cattle ranching family. He was a year old when his mother died, and four when his father was killed handling cattle. He was adopted by a French Canadian fur trapper, hence the accent.
As a teenager, James was itching for the adventures he'd go on to dream up and in the early 1900s emigrated from Canada to Montana and became Will James. It wasn't uncommon for people to move west and reinvent themselves, fulfilling the longstanding ideals of Manifest Destiny in the Wild West. C.M. Russell followed a similar path, leaving Missouri at age 16 to work on a sheep ranch in Montana.
On the open Plains and among the rugged terrain, it was possible to become part of the narrative that James began to write about and depict in paintings. He started publishing books in the early 1920s, and has more than 20 titles to his name. Perhaps his most famous work is "Smoky the Cowhorse," published in 1926 and a winner of the Newbery Medal the next year. The novel details the life of a horse born wild, captured and trained, stolen and ridden as a bucking bronco, starved and abused, and eventually reunited with his original trainer.
Smoky captured the interest of Hollywood, and three films were made about the charismatic characters from the novel, including a version starring Fess Parker, best known for his portrayals of Davy Crockett and Daniel Boone.
James was a good storyteller, and an even better illustrator. "His drawings were really stunning," said Tom Vanek, owner of A Few Books More in downtown Billings. "They were so alive, and people really gravitated toward those books."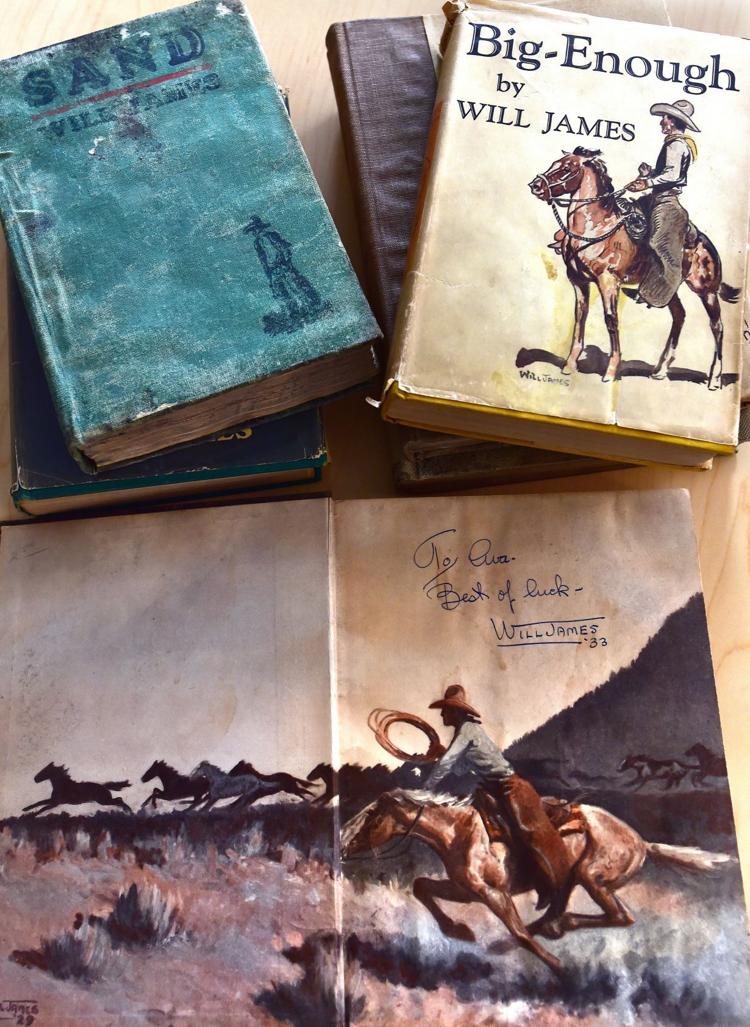 Books autographed by James in his flowing script are a treasured item, and he often accompanied the signature with a few words and a picture. The first edition of many of James' books were released by New York publisher Charles Scribner and Sons, and it's not uncommon to find signed copies. Books in good shape that still have the paper jacket wrapping the book can fetch several hundred dollars.
The illustrations through James' novels is one of the factors that made him so popular, said Bob Durden, curator at the Yellowstone Art Museum. "He knew the lingo, he knew the work, the animals, the land, and the people. His stories stretched from observation as did his drawings."
Durden describes this time as an era where the myth of the West was popularized by pulp fiction novels and Hollywood westerns. The public loved this portrayal of the rough and woolly, seemingly carefree world of ranching on the open range — a lifestyle that had by then largely disappeared.
"I believe James' work will live on in the pages of his books by readers who love an accurate depiction of the lifestyle," Durden said. "James knew it firsthand."
Western brush strokes
While James' legacy is remembered through his writing, his paintings also remain as a time capsule for the West as it expanded in the early 19th century. Through his work, James captured a spirit of the West, informed by his pursuit of a cowboy's life.
James attended art school in Los Angeles, purportedly on a lark, and studied briefly with western artist Maynard Dixon, but he was primarily self-taught. He learned to draw by recording sites around him and had a great ability to render a scene. Many of his drawings convey a clear narrative, with a sense of spontaneity. His paintings contain this western intrigue, each unfolding a storyline that James could whip up in writing as well as on the canvas.
"He was a complicated and interesting person, whose work should not be forgotten," said Durden.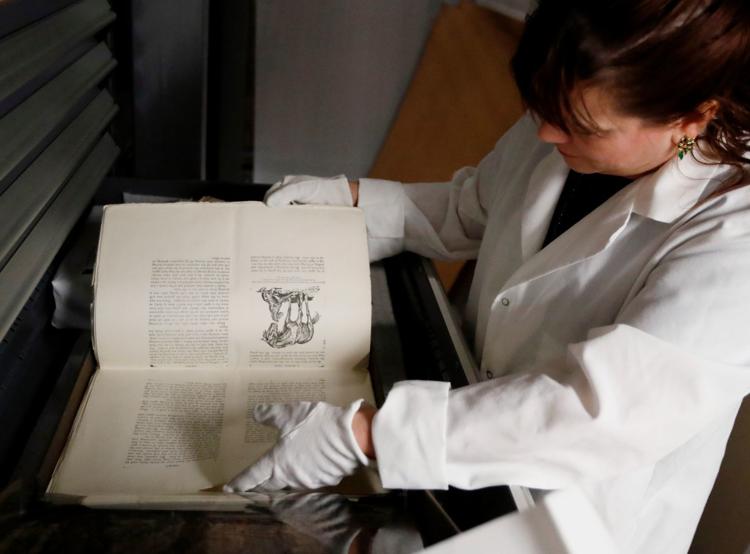 The Yellowstone Art Museum houses the largest collection of Will James artwork, bequeathed to the museum following the passing of Virginia Snook, daughter of Earl and Eleanora Snook, who opened Snook Art Co., on Second Avenue North in downtown Billings in 1913.
The Snooks were art collectors, with an eye for regional artists including Isabelle Johnson and Charles Russell. They also had an appreciation for the literary world, and some of their visitors included Ernest Hemingway.
James' work came to the Yellowstone Art Museum through multiple gifts from Virginia Snook. The Museum received many of his drawings and paintings while she was still alive, and the remainder of related objects and ephemera were given after her death to the YAM at her bequest.
From the archives
The Virginia Snook Collection spans James' career, and includes original oil paintings and carbon pencil drawings, many of which were illustrations in his books, along with manuscripts, correspondence, and sketchbooks. The YAM has archived many of James' personal items in the Visible Vault, including his parade saddle, riding chaps covered in wool, walrus skin saddle bags, Hollywood memorabilia and movie posters, among other items of his life.
Visitors to the museum can see James' work on display as part of the Boundless Visions exhibition, which rotates through dozens of his paintings and drawings, as well as related objects from the museum's permanent collection including books, and letters.
Ten thousand items are housed within the YAM's Visible Vault as part of the museum's permanent collection, and the bulk of these archives are attributed to Will James, according to Kelly Price, registrar at the museum.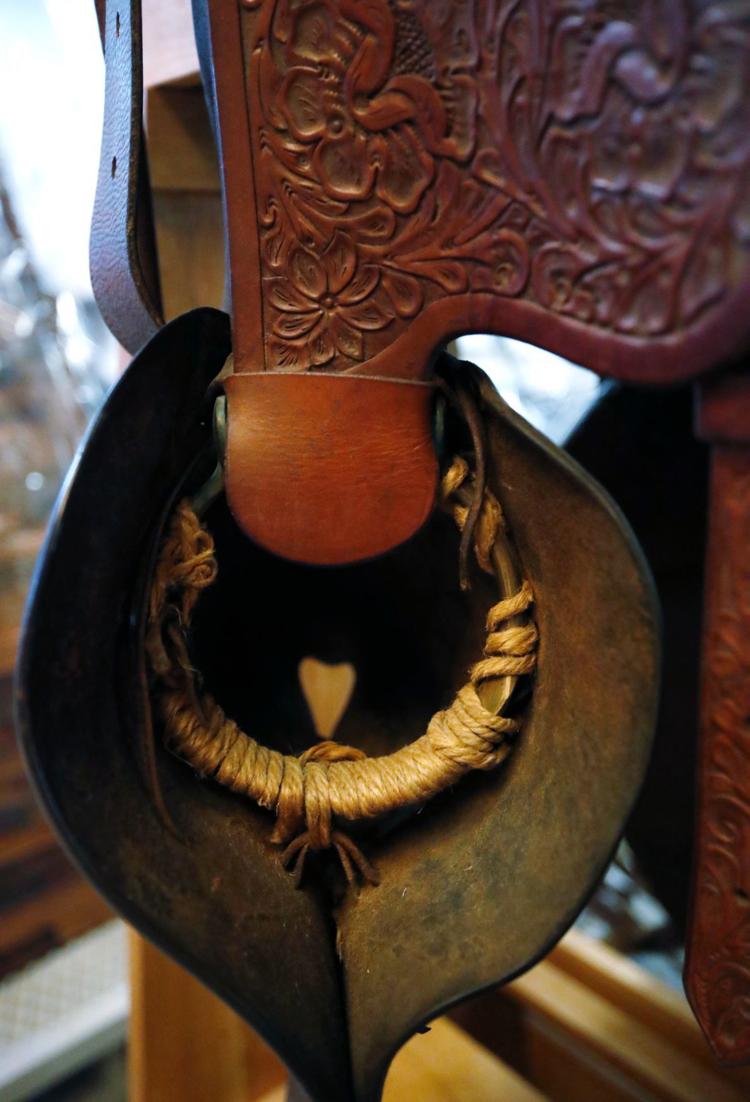 "From bank ledgers and bills to a notebook that came out of a hotel in Hollywood to something as complex as his saddle," she said.
Within the walls of the vault are James' letters with pencil sketches, oil paintings, framed letters between him and CM Russell, letters between James and his lawyers, notebooks, and more. The YAM is currently in the process of scanning all the letters associated with James to create a digital archive.
Those with academic and historical interest may make an appointment to view the items by special request. Recently, a Canadian filmmaker producing a documentary about Will James, titled "Will James Across the North," spent several weeks digging through the archives and letters.
Meet the Snooks
You have free articles remaining.
Keep reading for FREE!
Enjoy more articles by signing up or logging in. No credit card required.
The Snooks met Will James and his wife Alice in 1926. The couple was looking to establish a ranch in Montana and subsequently purchased 4,000 acres on East Pryor Creek. They spent many years on the "Rocking R Ranch," and Earl Snook's knowledge of ranching and livestock, as well as his art business, would spark a lifelong friendship with James.
Paradise found did not remain, and James would eventually lose the ranch and his wife, who divorced him in 1935.
James moved to Billings the following year. He purchased a residence dating back to the early 1900s, which at the time sat on five acres of land two miles from the city, surrounded by a fence and protected by a locked gate.
James resided in the sandstone home for five years prior to his death. Here, he spent time with his beloved horses and muses, Pecos and Cortes, who had the run of the pasture surrounding his home.
The handful of novels written in the home during the years James resided in Billings were heavily focused on his love of horses, including "The Dark Horse," "Horses I Have Known," and "My First Horse."
From the Nov. 8, 1942, Billings Gazette: "Will James not only knew his horses better than any artist in the world, but he literally loved them more than he did his small group of intimates. Will James was never without his horses."
On Smoky Lane
The house still stands on Smoky Lane, (now "Smokey" to Billings residents,) which became a city street in 1953 named after James' famous novel.
During those last years, much of James' correspondence with publishers took place in the home through his friend Earl Snook. The Snook home in Billings was his "second headquarters," according to Senia Hart in an article published in the Billings Gazette in 1964.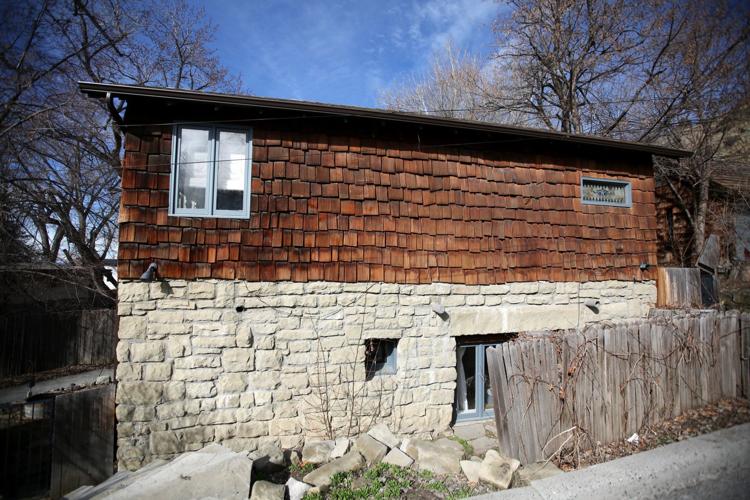 During this time, the Snooks opened their art company on Second Avenue North to James, who painted from a balcony in the building.
Shirley Steele, wife of the late artist Ben Steele, who worked at the Snook Art Co. in high school, recalls stories told by her husband about this time. The Snooks affectionately nicknamed Ben Steele "The Kid," and he took care of various projects for the family. This is where he would meet the famous western artist in his last years.
"They took to each other," Shirley said. "Ben was absolutely fascinated, with his ability to draw especially. He always admired Will."
Steele often would drive James in the Snook company truck to his home on Smoky Lane. "Ben would sometimes take him shopping and take him home, and they would visit and he would watch him draw. He also would help straighten the house," Shirley said. "I don't know how good of a housekeeper he was, but he would help."
Shirley recalls Ben's memories of James inviting the young Steele to, "Come out anytime kid. Just jump over the gate."
Ben Steele grew up on a ranch 10 miles south of Musselshell in the Bull Mountains. His father homesteaded out there, hoping to be able to grow crops. Because it was range land, they had difficulties farming and instead ran cattle on the open range, Shirley recalled. This lifestyle was on the way out with the advent and widespread use of barbed wire fencing. It was no longer necessary to herd cattle in these ways.
"They could take them anywhere to graze, then gather them all up," Shirley said. Cattle were then shipped to the stockyards and separated the brands there. The cowboy of the open range became one of the railroad. Often ranchers would ride with cattle cars to Chicago.
During the Great Depression, the Steele family lost their ranch and moved to Billings, where Ben attended high school. This was also about the same time that James would lose his ranch and his wife.
At the end
The rough and tumble days created a notorious character out of James, and his propensity to drink was rumored to be his downfall. He liked his liquor straight and strong. James died in 1942, during a trip to in Los Angeles. His star had dimmed, and at the age of 50, his life was over.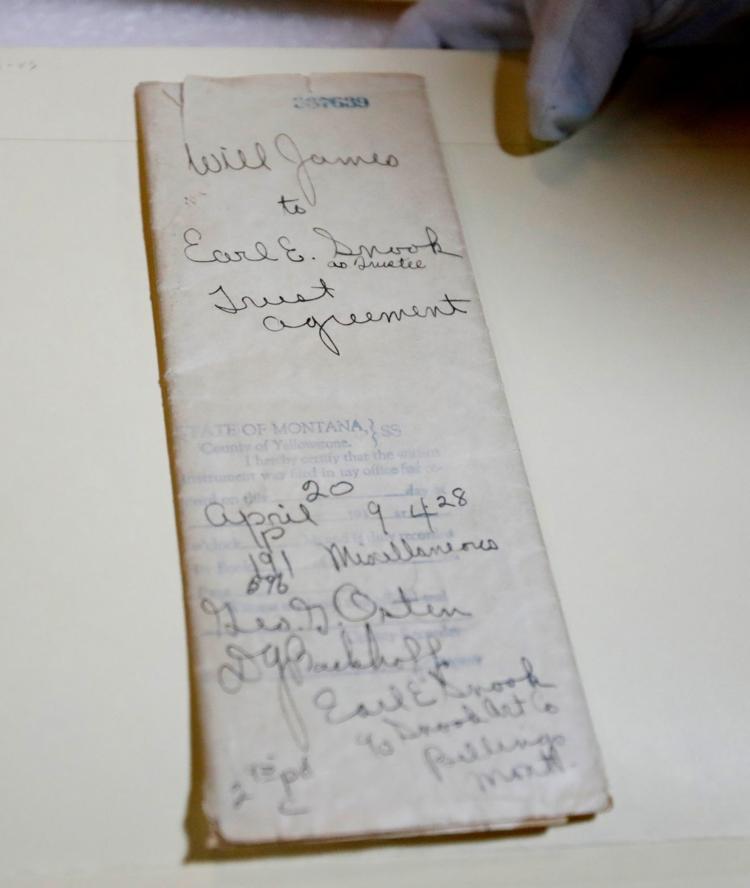 "Apparently, Earl Snook traveled to California and returned with James' remains," Durden, of the YAM, said. His ashes were strewn from an airplane that flew over James' home as members of the Billings Saddle Club, admirers and colleagues assembled for a memorial service.
After James' passing, many of his effects were transferred to the Snooks' ownership.
Unpublished at the time, a credo found after his death titled "The Trail to No Man's Land" helped reveal James' outlook on life, a path away from machinery into wild places alone, where one is able to light a fire, "roll up in your saddle blanket on the hard ground, look up at the stars, and sleep," writes James.
"Can you follow a trail, when morning comes through the forests, over the bad land ridges, where the pot holes and air holes are a-plenty, then down across the desert among the blistering sands? Can you make your way, when the trail fades out, by the sun and stars? Can you lose your way, far from the dwellings of your fellows and sit down serenely, feeling secure in yourself to find the water holes and trail down your game? Can you, like men of the range, buy your living by the strength of your arms at the greatest of stores, and when you can, sweep aside the middlemen who serve in your days of urban life? Can you feel securely within you the knowledge that the forest and the desert and the mountains are as populous and full of meaning as the crowded streets of cities? If you can do and feel and be all this, you need not envy any man, but all men might envy you, for you have in your bosom the key to all the riches of the earth."
---
Photos: Will James collection at the Yellowstone Art Museum