Candace and Cedric Raine weren't familiar with music therapy when their daughter was born premature, yet it became the reason they were able to bring her home two weeks sooner than expected.
In early March, Candace was flown to Billings from Sheridan where she lives with her husband, when it became obvious their baby girl was arriving early. Born at 32 weeks, Cybil Raine spent her first 40 days in St. Vincent Healthcare's newborn intensive care unit.
Music therapy was an optional part of their care through a program started in 2016 for premature newborns, children in pediatrics and their parents.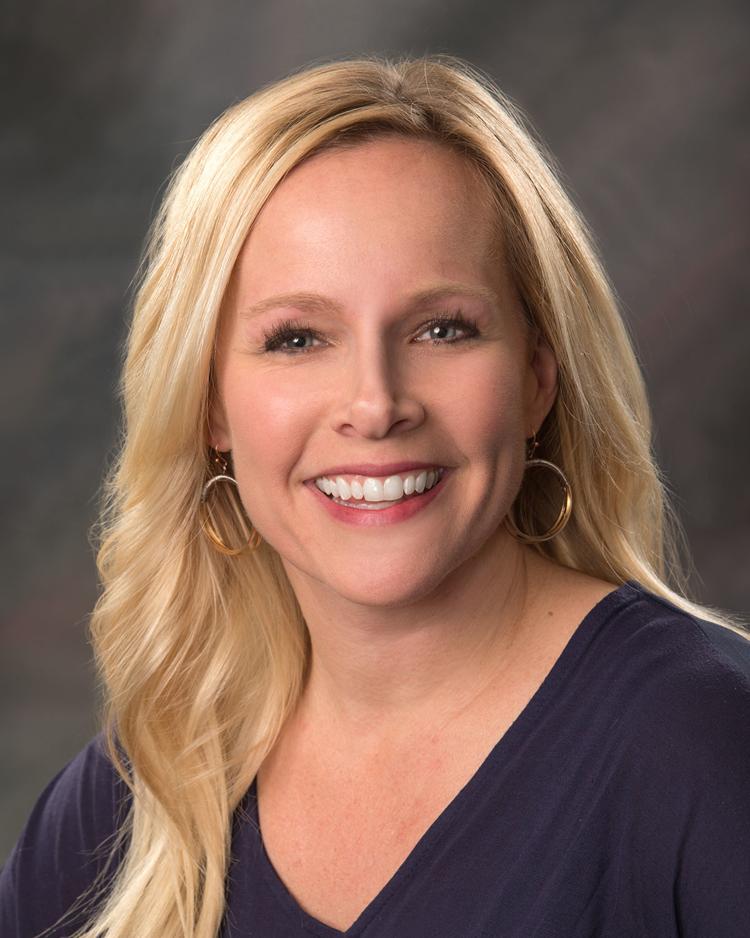 Candace was skeptical. The program is headed up by Brooke Wagner, MT-BC, who uses therapeutic music techniques to treat children in the hospital, including a Pacifier Activated Lullaby (PAL) to help premature infants develop suckling abilities. She wondered, "What is music therapy even going to do?"
"Especially in that high-stress environment, the last thing I was thinking about was having one more person involved in her care," Candace said.
Wagner, who obtained a degree in music therapy at Appalachian State University in Boone, N.C., splits her time between the pediatric unit and the newborn intensive care unit.
In the NICU, Wagner's work is focused on parents, teaching them how to connect with their infant and "bringing a sense of normalcy to Mom and Dad" while also soothing and helping babies born too early. 
For Cybil, her underdeveloped body wasn't ready to take in nutrients through traditional feeding methods, and she hadn't developed the ability to nurse. The PAL doesn't provide nutrients, but reinforces sucking with music. When the infant sucks a pacifier attached to a medical device, a gentle lullaby plays. The music turns off when the infant stops suckling.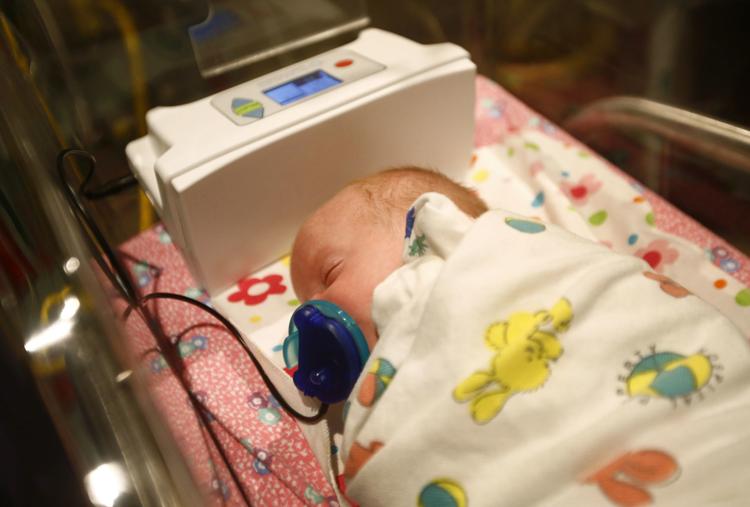 "It's soothing for them, and it's reinforcing the fact that they are sucking correctly," Wagner said, describing the PAL. 
The PAL device was developed by Jayne Standley at Tallahassee Memorial Hospital, and its use has been attributed to infants increasing sucking rates up to 2.5 times more than those not exposed to the treatment. 
"I was skeptical of almost training her," said Candace. "It felt like we were training a dog, but it really did help out, and I was glad that I said yes."
The music can even be prerecorded and feature a parent singing to the child, Wagner described. 
"My ultimate goal is to get the parents singing to their baby," said Wagner, who will sing to infants in the absence of parent involvement. "My voice is OK, but they are going to prefer Mom or Dad's voice, prefer that familiarity they've been hearing the whole time in the womb."
Uncommon practice
Music therapy isn't a common practice in Montana. Wagner may be the only practicing board-certified music therapist in Billings and one of just a few practitioners in the state.
After Wagner relocated to Billings with her husband for his work, she started a private practice focused on older adults with dementia and using music therapy in group facilities. She was asked to join the staff of St. Vincent in 2016. The hospital had an unused endowment for a music therapy program, and Wagner was eager to return to working with children.
Wagner, who is also a musician, works with parents to write their own lullabies set to the heartbeat of the mother or infant. "Our heartbeat is the foundation of who we are, and our breath is rhythmic," Wagner said. "No matter your age or background, you have some memory and connection with music. I just try to tap into what is that person's individual connection with music."
Creating a therapeutic relationship with music is one of the hallmarks of music therapy. Wagner's work links the body's rhythms to music to provide a healing, comforting atmosphere, especially in the NICU, where premature babies are often tucked away in glass cases, connected to monitors.
"It's a wonderful way for parents to connect with their baby. A lot of times they can't scoop them up and rock them and snuggle them," Wagner said.
When composing lullabies, Wagner sets music to the baby's heartbeat to provide to the parents separated from their baby in the NICU, or will record the heartbeat of the mother and set it to a "womb song" of instrumental sounds to help mask the noises of the hospital and play it for the infant.
Wagner, who said she wasn't good at sports when she was young, started singing and playing piano at an early age. She took up guitar in college and sings in choirs and leads worship at Faith Chapel.
"To me, it's more rewarding being in the hospital room with one child and bringing a smile to their face than being on a stage with thousands of people. This just fills my heart so much to be able to look into a child's eyes and share that music with them."
Connection through song
You have free articles remaining.
As part of the program, Wagner teaches lullabies to parents and helps them become comfortable singing to their infant, which many are hesitant to do while in the hospital.
"Singing is just a natural, nonthreatening way to interact when they don't have a lot of other ways," Wagner said.
Though Candace wasn't comfortable singing to Cybil in the hospital, she said since returning home she and her husband sing to their baby, especially after witnessing her heart rate decrease to a calming pace when Wagner would sing and play guitar in the NICU.
"I feel like maybe I'm doing that at home, and it helps put her to sleep," Candace said.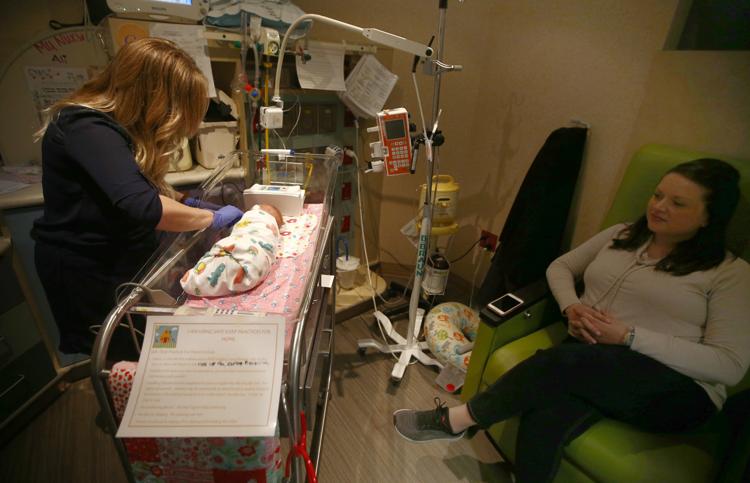 A 1991 analysis on music research by Collins and Kuck showed that music therapy in the NICU provided significant benefits for the infant and a prolonged effect for up to 10 minutes after music intervention, including improving oxygen saturation and heart rate.
The Journal of Music Therapy published a study suggesting a significant decrease in crying episodes for agitated or inconsolable premature infants when music was provided. The study reinforced Collins' and Kuck's research that playing music also decreased the infant's heart and respiratory rates, while increasing oxygen saturation.
"Once I took a step back and realized, what can it hurt for her to hear music, it really jump started the process," Candace said.
Cybil just turned two months old and met all the milestones her pediatrician was looking for, including lifting and rotating her head, following objects with her eyes, and cooing, among other signs that she's developing normally.
"She looks tiny for a two month old, but we're doing good considering," said Candace.
Music as therapy
In the NICU, music is based on the child's gestational age, which informs Wagner what the infant can handle. Though classical music for babies has been popularized through Baby Einstein and Baby Mozart, many classical compositions are too complicated for babies and can have a disorienting effect. The complexity in the music can be overstimulating and harmful to brain development.
Decibel levels are also a consideration, as sound levels in the womb are far different than the outside world.
Lullabies — with their repetition, singular melody line, and small interval range — are developmentally appropriate for babies born prematurely. "Their brain is trying to process so much," Wagner said. "We are trying to give them something that is accessible but not overwhelming."
Pediatrics has more freedom in music choices, and Wagner will use the spectrum of music, from rap to country to acoustic guitar, depending on the patient.
"The music that I play is always individualized to the person," Wagner said. "There is no magic song that I go in and sing. It just depends on what is meaningful to the person that I am working with at that time."
Working in pediatrics, Wagner said her main goal is refocusing a child's attention during a painful procedure and helping them feel comfortable in the hospital environment. "If I can get them to focus on me and the music, a lot of times, their pain perception is less. Even if they cry, music can easily bring them back in and normalize the environment."
When working with pre-teens or teenagers, music can help them articulate feelings that they might not feel comfortable talking about. Wagner will ask them to find a song with lyrics or a certain mood that describes how they are feeling, which often leads into discussions.
"I try to be a human jukebox," Wagner said. "I'm on YouTube a lot," and her 13-year-old daughter keeps her clued into "what is cool right now."
When working with teenagers, Wagner will ask them what artists they're listening to and is able to watch videos online with them. "Even that act of listening together builds a sense of rapport."
The music therapy program at St. Vincent is provided free through the foundation, made possible by the Larry Nitz Endowment for the Healing Arts and the Ballard Music Therapy Endowment from Bill and Merilyn Ballard.
Participants are already part of St. Vincent's in-patient care, often referred by other departments for a specific purpose, or music therapy services are requested by the patient.
The program is expanding this year through a partnership with the Billings Symphony. Professional musicians from the organization will perform monthly in the pediatrics unit with a goal of increasing the amount of exposure to music that children receive. The program will be in place in June, Wagner estimates.
Such partnerships increase children's exposure to music while helping put them at ease. 
"I get to bring the fact that they're still a kid to this scary, unusual place," Wagner said. "There's not a lot of things they understand, and I love bringing in music, which they do connect with right away."