Sergey Pospelov started playing violin at age 3. In a recent visit with Billings high school students, the Russian violinist, who was in town to perform with the Billings Symphony, said he didn't always love to practice. "It was difficult, but it's my life now."
Pospelov's visit to high schools in Billings and Red Lodge in mid-September was one of more than 85 outreach programs the Billings Symphony Orchestra and Chorale will conduct this year, bringing classical music, instrument demonstrations, and music lessons to upwards of 35,000 students and members of the community.
Malcolm Wildenberg, a student in the audience at Billings Senior High, asked, "What do you feel is the point for making music? Why play music?"
"Music is the universal language," Pospelov replied. "For example, I play for you and you understand me. But I don't know English, yes? Because I think music is a very good language."
In broken English, Pospelov struggled to communicate with the students, but speaking through his violin, he was able to show students the techniques that have made Russian violinists famous throughout the world for their expressive sounds.
"You should use all bow," Pospelov said, demonstrating a technique that produces a rich and unbroken sound, full of passion and virtuosity, indicative of Russian style.
Candy Holzer, director of education for the Billings Symphony Orchestra and Chorale, said they hit the ground running when a guest musician is in town. "Once they are here, we just really use them as much as we can."
Watching Pospelov interact with students, Holzer noted how important it is for students to see musicians they can identify with. "He is just a normal guy, but the passion he had when he played … they were spellbound. They barely moved."
When in town, Billings Senior High alumnus Mark Soueidi makes a point to visit students at his alma mater. Soueidi is the Symphony's principal trombonist and the featured performer at Saturday's concert.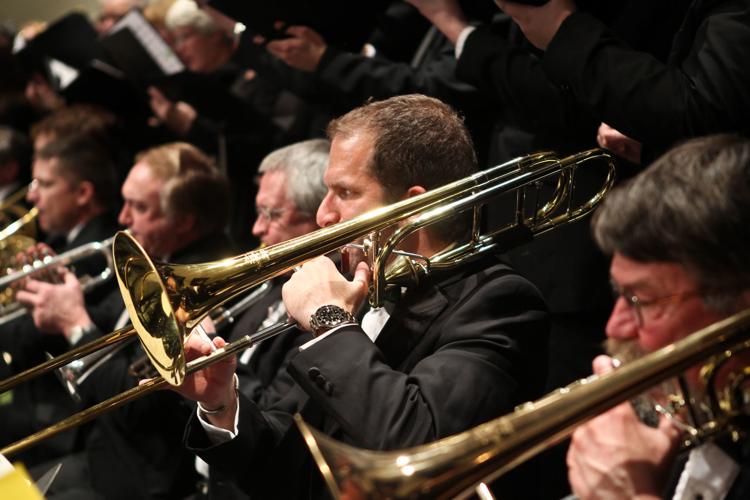 "It's a simple sharing of knowledge," Soueidi said. "To see students trying to be better and to grow and learn, and to share with them what you know is rewarding."
Soueidi, who taught music at the University of Wyoming, is now at Indiana University obtaining his doctorate. He continues to travel back to Billings for symphony performances.
Before he picked up the trombone, Soueidi was in choir. His first experience with the symphony was singing in the youth chorale during a performance of The Nutcracker. He wanted to play an instrument, and liked trombone. "It became something I was really into."
He took lessons from Billings Symphony players including Larry Lynam. It was Lynam who taught Soueidi to "sing" with his trombone. "Now I play alongside him," Soueidi said.
Soueidi also took trombone lessons from Jim Robertson, who played in the symphony for 28 years and was principal trombonist up until his passing in 2012. Soueidi auditioned for the chair the following year and was named principal trombonist.
On Saturday, he will be the featured soloist for a trombone concerto by Italian composer Nino Rota. It premiered in 1969 at the Conservatorio di Musica in Milan, Italy. It's a piece he's performed only once before for his doctoral recital, and it's a piece that is close to his heart, as Robertson also performed it while obtaining his doctorate.
For Soueidi, taking the seat of a mentor and his former teacher was a great honor. "It was very special, and I am very fortunate to be able to say that instead of wishing that I could have tried for it and have someone else take it."
This particular performance for Soueidi is packed with emotion. The concert is dedicated to his father, Tony Soueidi, who passed away in January.
A Lebanese American, Tony Soueidi emigrated to the United States in 1974 and began a jewelry business in downtown Billings to "make a living for his family," his son described. He saw the symphony as a culturally significant part of the community and donated many pieces of jewelry to the Symphony for auctions that benefited the organization. "He respected the symphony, and my parents attended. They found a way to connect to the community through them," said Soueidi.
Growing up, Soueidi loved and revered the symphony. "I don't know what Billings would do without that orchestra," he said. "They bring a lot of culture to a place that is out in the corner of the United States. It's nice that they are bringing music and artists into the community to share with everyone to enjoy."
In addition to performances, the Symphony hosts programs in each Billings high school and makes it a point to reach as many junior high and elementary school as possible in Yellowstone, Carbon, and Stillwater counties with an emphasis on low income schools. These programs are funded in part through grants and donations provided to the organization, as well as through ticket sales.
Because of an emphasis on serving Title I schools, the Symphony receives a grant each year from the Dennis and Phyllis Washington Foundation to provide music programs to the Boys and Girls Clubs as well as the Yellowstone Boys and Girls Ranch.
Developing a music skill at an early age is beneficial to a student's progress in school, Holzer said. "They have a set time that they need to practice, and they seem to compartmentalize their time better. Playing music and studying becomes a part of their lives."
In addition to schools, Symphony members perform at senior homes, for Alzheimer's patients, as well as in the Women's Prison, offering weekly guitar lessons as well as concerts and instrument demonstrations three times a year.
In advance of Saturday's concert, Billings Symphony musicians Sue Logan, principal oboist from Red Lodge; Paul Gates, bassoonist from Livingston; Tyler Menzeo, principal flute from Great Falls; and Billings musician Laurel Linde, the symphony's principal clarinet player will hit the road to host educational programs and perform concerts at schools in Belfry and Joliet. This is funded by a grant from Tippet Rise Art Center in Fishtail to serve Carbon and Stillwater counties.
Holzer noted that Belfry's school does not have a music teacher. "They are so excited for us to come. They have been looking for a music teacher for quite a while. We are going to work with the kids and help get them back up to speed."
On Sunday, members of the woodwind section will perform a concert in Absarokee, starting at 1 p.m. at the Absarokee Community Congregational Church. This performance is open to the community and presented free of charge.
For more information, or to purchase tickets to upcoming performances, including Saturday's performance at the Alberta Bair Theater, call 406-252-3610 or visit billingssymphony.org.