Long before Ted Waddell's contemporary paintings of western landscapes hung on the walls of the Yellowstone Art Museum, the Laurel-born artist spent a night in the building. At that time, it was the county jail, and the 17-year-old Waddell had been picked up for drinking. 
Since then, the YAM has played an important role in influencing Waddell's iconic works representing land, animals, and the vastness of the West. "That's where we looked for influences," Waddell said. 
Waddell's work is one of 55 art pieces to be auctioned Saturday during The YAM's 51st annual art auction, the biggest fundraiser of the year for the largest contemporary art museum in Montana.
"We anticipate raising more this year than in any previous year," said Ryan Cremer, development director at the YAM. As much as 25 percent of the YAM's yearly budget is raised during the auction. 
Though works by some of the art world's superstars — including Picasso, Calder and Salvador Dalí — are creating a buzz, it's Montana artists Waddell and Kevin Red Star who are expected to take the spotlight.
YAM auction organizers expect Red Star's 5-foot by 4-foot acrylic on canvas painting of Crow Sundancers will bring more than $35,000 at auction. And, Waddell's oil and encaustic painting of a snowy cow pasture is valued at upwards of $25,000. 
"These auctions, we never know," said Red Star. Often paintings fetch only a minimum or even less than what they're valued at.
Last year, a Picasso print valued at $89,000 brought in $62,500 at auction. But Red Star is still happy to contribute his work to the cause, donating a portion of the sale back to the YAM. "The museum is doing wonderful things for the art community, and the community as a whole," Red Star said. 
Waddell's painting won't sell unless bidding reaches retail value, a clause he puts into his auction agreements. 
"It is an extremely rare opportunity for the people of Billings and the surrounding areas not only to view these masters (Picasso and Dalí) in a local setting, but to be able to take one home with a successful bid as well," said Cremer. 
Kevin Red Star (Lodge Grass)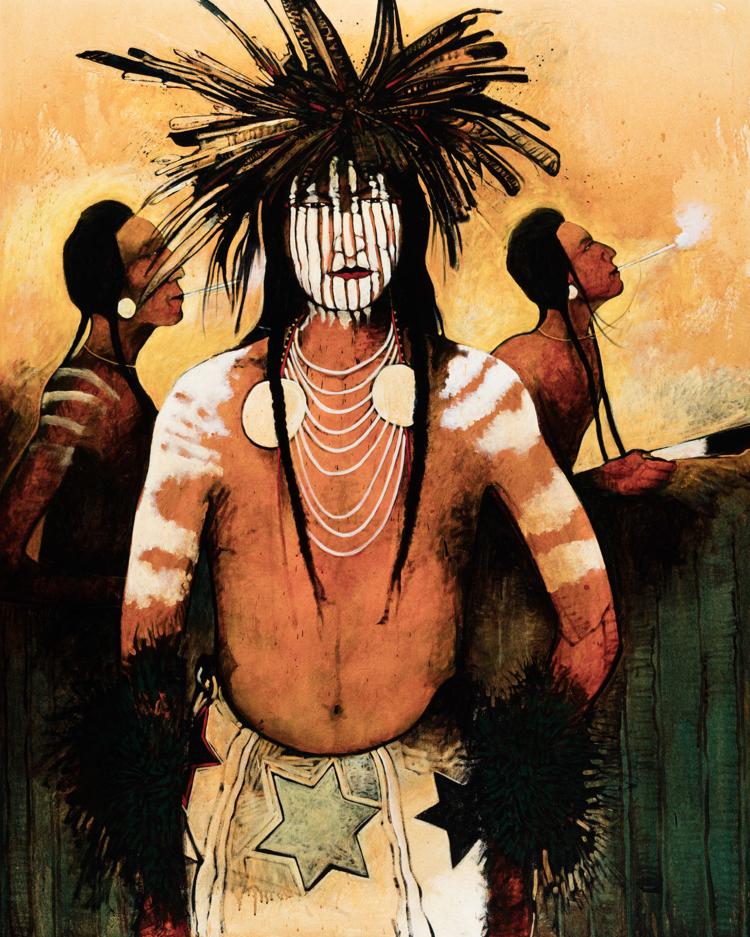 Sundancers-Eagle Breath Whistles
2017 acrylic on canvas, 60" x 48"
Estimated value: $35,000-$38,000
Red Star grew up on the Crow Reservation in a highly creative family. As a teenager in the late 1960s, Red Star was recruited to study at the Institute of American Indian Arts in Santa Fe, New Mexico. He was among the first students invited by the Institute's founders, who personally visited Native villages and reservations nationwide.
"That is where I got a lot of my basic knowledge of the Indian art world, but also European art, Asian art, painters in Japan, Israel, India ... art from all over the world. Being from Montana, you never saw that. There were no galleries or museums."
From this immersion in global art culture, Red Star developed his own signature, representing Apsaalooka culture through stunning insider images of the indigenous world. "I think we created the term, 'contemporary Native American Art,'" Red Star said. "We didn't know that we did, but we kind of started that."
Red Star left New Mexico in the 1990s, returning to Montana, and began working with communities around the state. He was one of a handful of Montanans awarded the 2018 Governor's Arts Award and received the lifetime achievement award for visual art.
"Sundancers-Eagle Breath Whistles" portrays a dance to "honor and give prayers to family members and distant relatives," Red Star explained. 
"What is so striking to me is not only the sheer size of the work, but the detail," said Cremer. "The colors are beautiful, the detail is amazing, and the stoic look of the figure in the forefront captures the viewer and doesn't let you go."
Ted Waddell (Hailey, Idaho)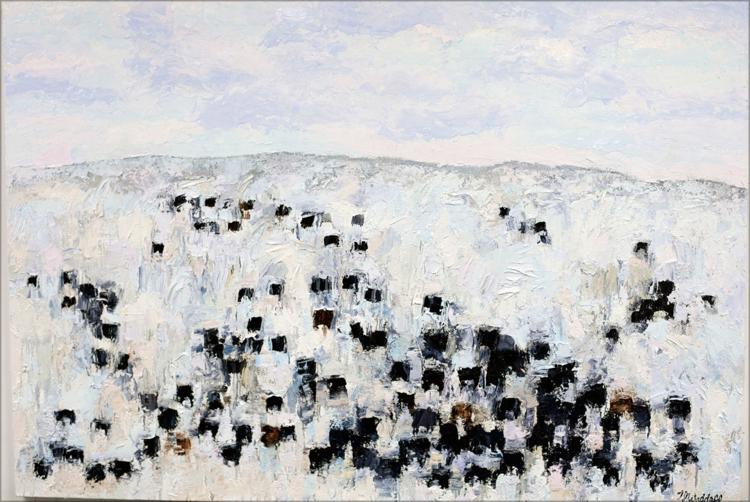 2018 oil and encaustic on canvas, 48" x 70"
Estimated value: $23,000-$25,500
Painter, sculptor, and rancher Theodore Waddell is one of the most celebrated contemporary artists in the West. His landscapes dotted with animals of the ranching West are coupled with an abstract expressionism that convey the vastness and utilitarian nature of the landscape, often with ghostly elements that represent struggle, change, and mortality. Such paintings capture movement with subjects that are enveloped within the plains and mountain valleys of the landscapes of his life in Montana. 
Cremer notes Waddell has often been referred to as the "grand master" of Montana painting. "I think that people from the West can associate with his work on a level that they understand deeply," he said. 
Waddell was born in 1941 in Laurel. He maintains a primary residence in Idaho, but he and his wife Lynn "have never given up Montana" and he has a house and artist studio in Sheridan, Montana.
Waddell describes himself as a western artist "in that I live in the West and I make art. To me, western art with a capital 'W' opted for nostalgia, but it really is fantasy." 
In the mid-1970s, Waddell took up ranching near Molt — without any experience. "They called us egg-headed professors, and we were," Waddell laughed. Within that world, he discovered how to mix the hands-on work of a rancher with the abstract impressionists he was exposed to studying art in New York, especially Robert Motherwell. 
"I was sitting at the kitchen on a winter day and looked out and saw all these black shapes," Waddell said. A light went on and I remembered Motherwell doing these very lyrical, abstract drawings, so that marriage happened right there."
Ira Reines (New York)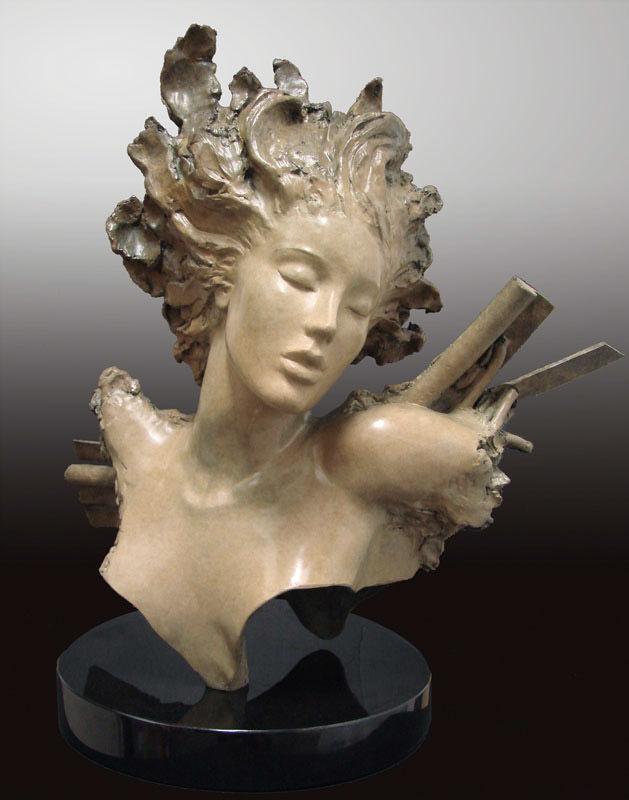 2009 bronze edition (2/10), 21" x 19"
Estimated value: $17,500-$20,500
In 1980, Romain de Tirtoff, the influential Russian-born French artist working in the art deco period — better known as Erté — aspired to have his drawings and paintings realized as sculpture. He selected Ira Reines, an award-winning young sculptural prodigy whose talent and passion impressed Erté, according to the YAM.
Reines collaborated closely with Erté for 11 years, translating the master's celebrated two-dimensional Art Deco couture designs into a series of seventy bronze sculptures. Those sculptures were distributed worldwide and reside in the collections of well-known museums including Great Britain's Victoria and Albert Museum, New York's Metropolitan Museum of Art, Coral Springs Museum in Florida, and the Shanghai Duolun Museum of Modern Art in Shanghai, China.
Michel Desroches (Montreal)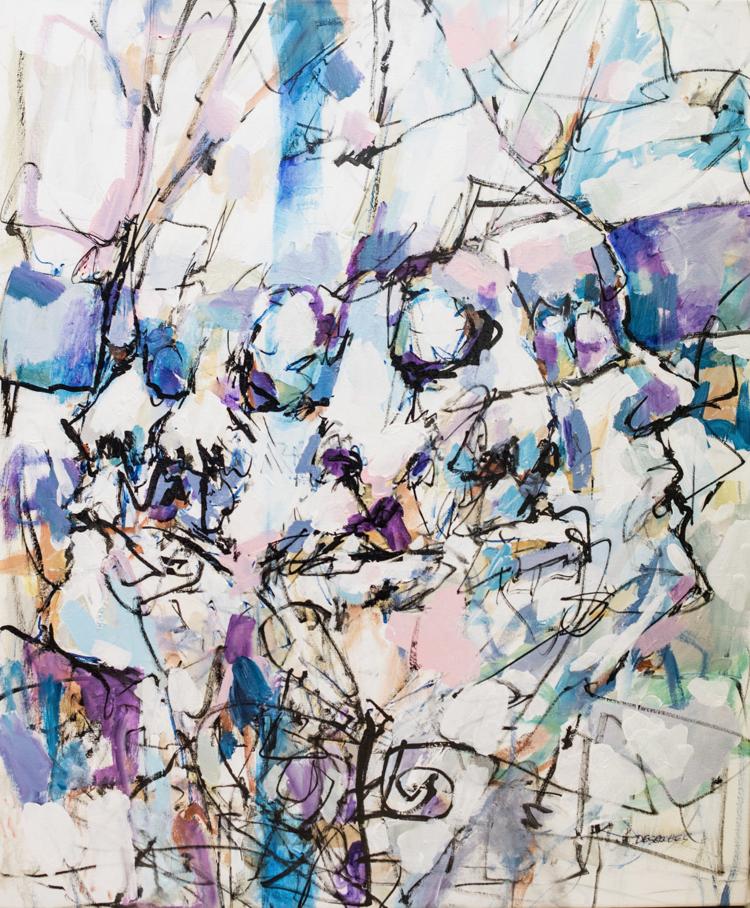 Emoteon Faceale Series III
2018 mixed media canvas, 44" x 38"
Estimated value: $12,000-$14,500
Michel Desroches' intensely expressive art is a result of his desire to communicate that which has no physical form. "Michel is one of the true up-and-coming contemporary artists," said Cremer of the YAM.
Born in 1970, Desroches is from Montreal, Canada, and began his career as a self-taught artist, later pursuing a degree at the University of Quebec at Montreal. 
Deroches' next exhibit opens March 15 at the YAM, "Between the Lines: Paintings by Michel T. Desroches," showcasing his paintings that are visible faces, yet are not portraits but rather visages of hopes, dreams, and emotions done with rapid brush strokes and with the intent of capturing the emotion, rather than forming the features of a face. 
Salvador Dalí (1904-1989; Figueres, Spain)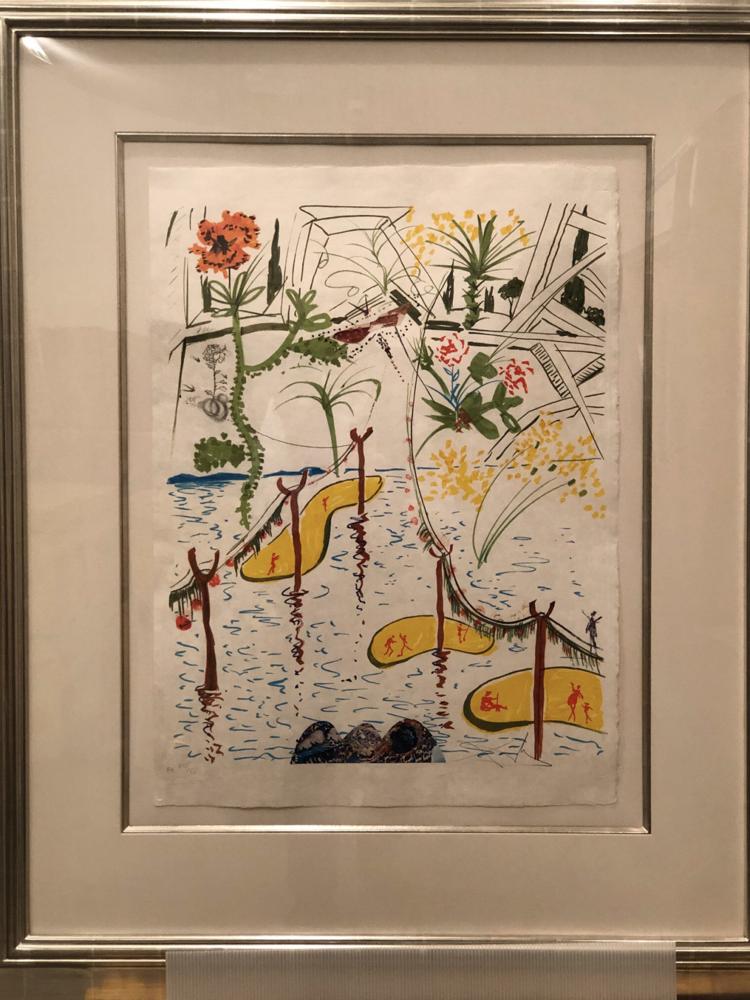 Imaginations and Objects of the Future: Biological Gardens
1975 color lithograph, collage and etching on Japan paper, 30.75" x 27"
Estimated value: $10,000-$13,800
Dalí is among the most versatile and prolific artists of the 20th century, most famously for his surrealist works. Remembered primarily for his paintings, Dalí had a long career that included sculpting, printmaking, fashion, writing, and filmmaking. He was called a mischievous provocateur, with a fascination for Classical and Renaissance art. 
Alexander Calder (1895-1976; Loire Valley, France)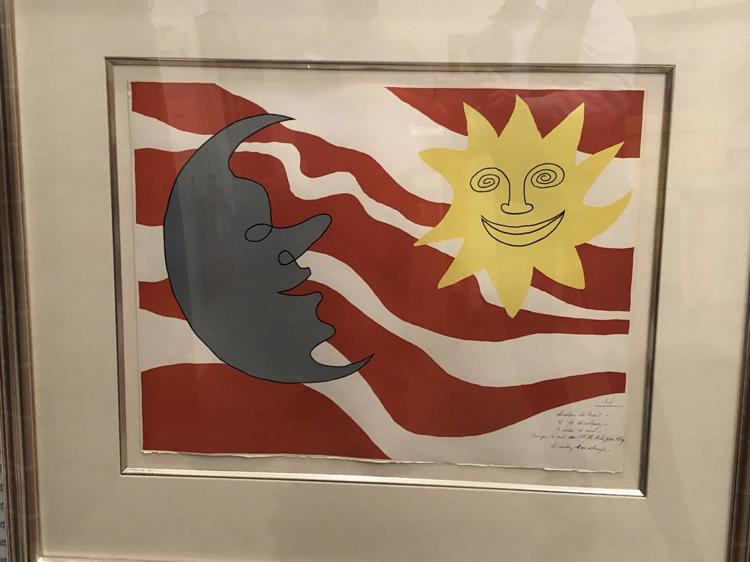 1965 color lithograph on wove paper, 25" x 19"
Estimated value: $9,800-$13,200
Calder is a multi-disciplinary artist, though his most famous works are sculptures. This particular image "creates dialogue with the sun and moon to explore jealousies and rivalries between the two, suggesting the interests in symmetries and asymmetries and parity and disparity that would shape his kinetic vision," as interpreted by the YAM.
Pablo Picasso (1881-1973; Paris)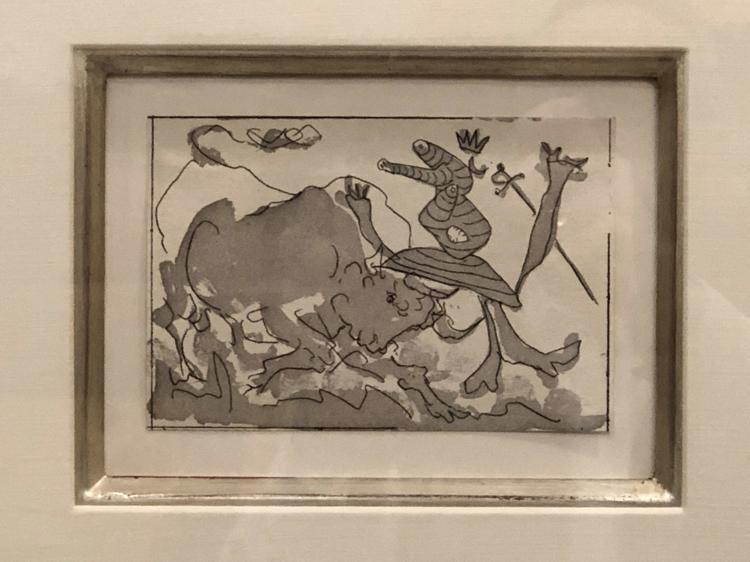 Sueño y Mentira de Franco (V)
1937 etching and aquatint on motoval laid paper, 3.5" x 5.5"
Estimated value: $7,000-$10,000
After the Spanish Civil War broke out in 1935, Picasso responded with an outburst of political imagery. He produced a series of etchings in 1936, "Sueño y Mentira de Franco," directed at General Francisco Franco. Eighteen etched images were printed on two large sheets of paper, which were intended to be cut into individual images and sold to benefit the fight against Franco, according to the YAM. This print shows a grotesque image of Franco being speared by a bull, which is believed to represent Spain triumphing.