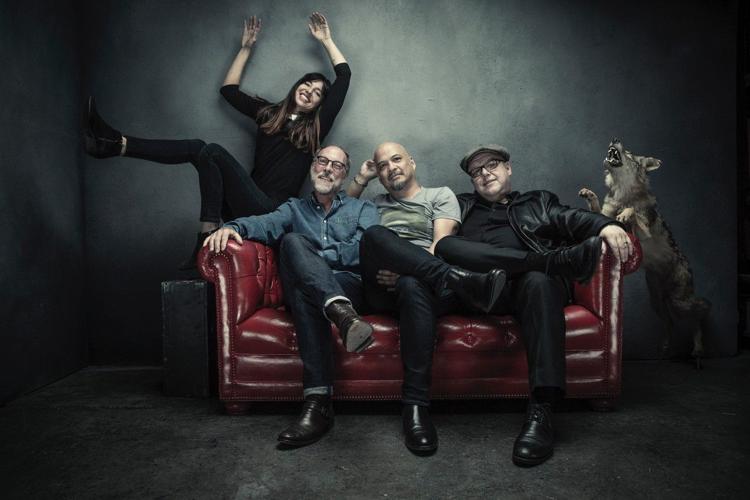 Wednesday, April 3, 8 p.m. reserved seating tickets are $49.50 and $59.50. Additional fees may apply. Tickets go on sale Friday, Nov. 16 at 10 a.m. A special online-only presale is Thursday, Nov. 15, 10 a.m. to 10 p.m. with the an exclusive password from JadePresents.com.
"Head Carrier" is the seventh Pixies album, in a lifespan stretching back 30 years to their formation in Boston, Massachusetts. But there is a new element to the Pixies' DNA this time.
Bass player Paz Lenchantin joined the Pixies at the start of 2014, before the release of "Head Carrier's" predecessor, "Indie Cindy," but after its completion. If there was any lingering uncertainty regarding her official status, even during the two years of touring that followed, that's changed now. Her position was sealed, emotionally, when she sang one of the new album's stellar moments, "All I Think About Now," which is a tribute to Kim Deal, the original Pixie whose role Paz now occupies. The genesis of "Head Carrier" began even as "Indie Cindy" was being made — a direct consequence of Kim Deal's decision to quit the band in June 2013 during a recording session at Rockfield Studios in Wales.
You have free articles remaining.
Recorded in just three weeks, "Head Carrier" has the sonic hallmarks of a classic Pixies album — tungsten guitar riffage, sun-soaked harmonies, rhythmic pummel and lyrical intrigue — while never pandering to nostalgia. Aligned to its palpably fresh momentum, many of its songs have a poignant undertow, acknowledging its creators' real time/real life journey.
Elsewhere, the songs offer a typically varied buffet of Pixies esoterica: rural roadside prostitution in France and Belgium, the Mesopotamian deity Baal, and the legendary American actor Jack Palance, who makes a cameo appearance in the rambunctious "Talent," one of two songs whose primary musical influence Black Francis attributes to The Stranglers.
That the Pixies could have a viable present in the 21st century, let alone a bright future, seemed impossible during the 10 years following their break-up in 1993, and again following Deal's departure. But there's always been a whiff of alchemy to this band that confounds the natural order of things. It's a large reason why they remain so special, and so beloved.