Audrey Hall cleared her calendar. For 12 days, she wouldn't do anything but focus on a new body of work. The fine art photographer was asked to create this work with a theme: "Trophy."
Granted, she'd known about the project for several months, but she's a commercial photographer as well, and summertime is her heyday. So while she worked, she considered the prompt, solidifying the theme in her mind.
The results of Hall's efforts, along with nearly 100 works of art debuted Nov. 8 at Stapleton Gallery's newest show, "The Trophy Room: The Hunt for Art." The show will reopen Friday during the Holiday ArtWalk.
"It's things we value," Hall said of a trophy. Then it expanded into collecting "things we find fascinating and things we find important or of historical significance. That was my starting point."
For Hall, that value is rooted in the natural world. Her home is dotted with items she's found — feathers from the yard, an abandoned bird's nest, intriguing rocks. From the bright foliage outside her Livingston home to the detritus of the natural world, she began gathering.
Her Golden Retriever helped, too. One day, he entered the house and presented Hall a severed deer leg.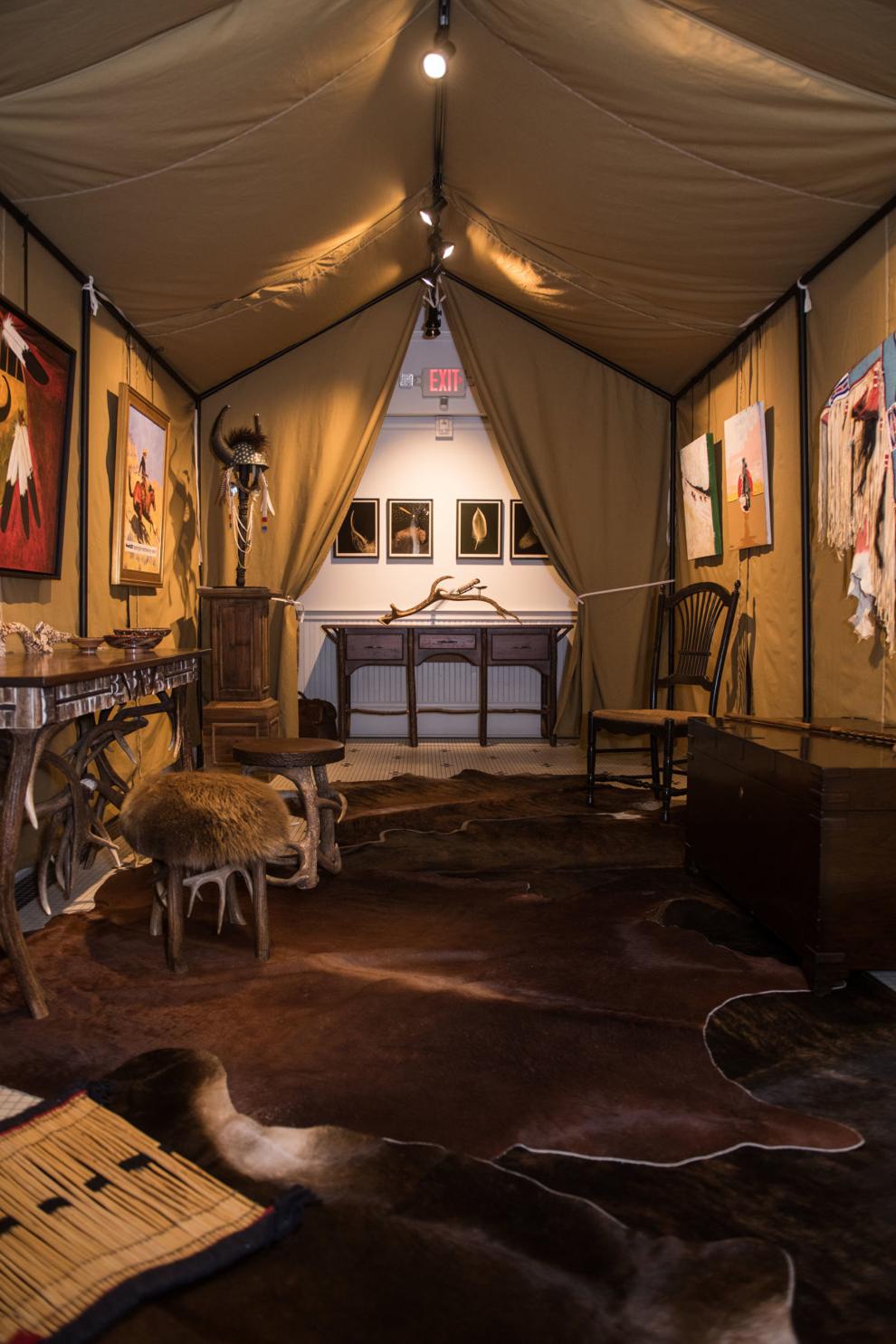 "It was perfectly intact. I thought it was the craziest thing, of course you have to use it." In Hall's work emerged a sum greater than its parts. Using milkweed seeds to create the Milky Way, or a decaying kingfisher to illustrate a king, Hall pushed her work into a new realm.
From arrangement to framing, Hall is hands-on throughout the creation process. She encased her photos in resin for the final step, which gave them dimension and a high sheen. They pop among the other works of art curated or made specifically for Stapleton Gallery's trophy room show.
For Gallery Creative Director Jeremiah Young, a trophy is a thing you prize. "These are your treasures, these are the things that are important to you, that you hold close."
Stapleton Gallery, located downtown in the Stapleton building on the corner of First Avenue North and North Broadway, is becoming known for its elaborate installations. Unveiled during one-time or limited showings, these exhibits provide viewers an evening of art that is often surprising.
Prior to opening "The Trophy Room," Young was purposefully vague about the exhibit. "We never give it away," he said of special displays the gallery has hosted. "You are going to come here and it's going to be an experience you've never had before."
For this show, Young covered the walls and ceiling of the gallery with a warm fabric that creates the experience of entering a tent. It feels a bit like a chic hunter's dwelling, and within are trophies interpreted by regional artists represented by Stapleton Gallery and a few guests. 
Entering the tented area, the physical space shifts. Gone are the white walls and cold white and black tiling. Even the temperature changes, creating a warm intimacy under the canvas. 
Carved antlers, tiny bird skulls, delicate feathers, leering and vivid paintings, warrior's clothing, painted skull mounts and artifacts of worlds before our time...the halls are bountiful, yet intimidating with the weight of such beautiful, prized possessions. 
Exiting the tent, the gallery space seems to gasp, catching up with the breath of the space. Shadows from strategically placed art cast long lines, imitating the feeling of sunset, or sunrise...it is uncertain.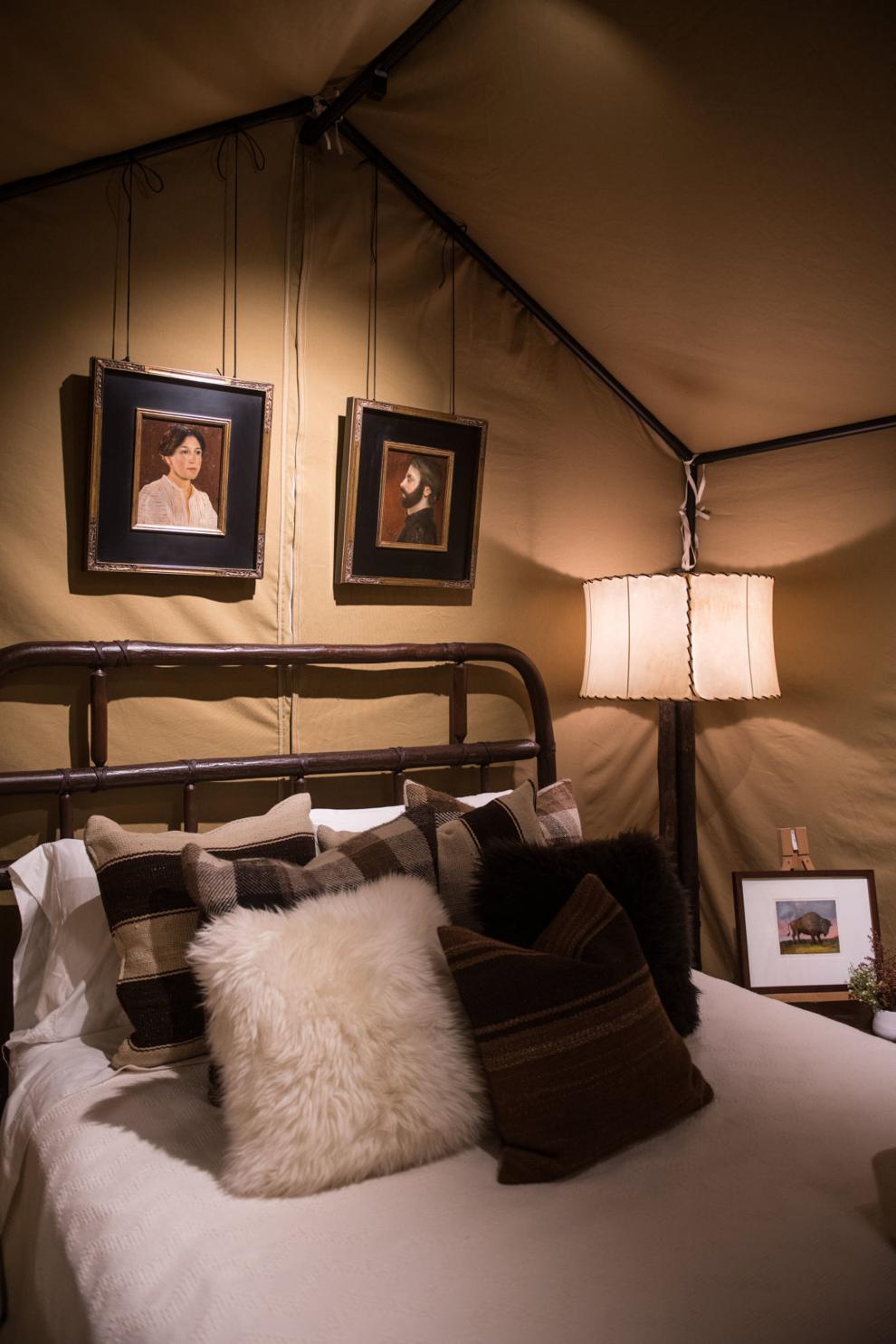 At the gallery's end, there is another tent, enclosing a staged bedroom. Familial portraits hang above the bed, and the furnishings are adorned with artistic shrines, offerings of intimacy. 
Turn the corner of the gallery — a maze in itself with small rooms and long hallways twisting around the 1904 building — and suddenly there's Benny, a full-sized bison, chilling in the middle of the room.
How did Benny get there? Young will never tell. "It's a devil of a thing," he said. "It can be done."
In the past, Young also managed to get a 4,500-pound boulder in the gallery, part of a previous installation by Ben Pease, whose presence is large throughout the "Trophy Room."
Cultural trophies
Pease's fingerprints are everywhere, from the immense painting of two young boys participating in an Indian relay race to antique photographs the size of playing cards adorned with small drawings.
On a tabletop in the bedroom is a handmade clutch purse that Pease made in a style often described by collectors as an "artifake," an object so true to its original makers that it takes on the role of an artifact. 
For Pease, whose great-grandfather was a maker of items like war sticks, bags, and pipes, these objects are artifacts, facets of culture made with knowledge that was handed down. Of Crow and Northern Cheyenne descent, he continues a tradition of familial art-making that both carries forward artistic lineages and financially supports the artist. 
"My grandfather was remaking these things from his own memory and selling them to collectors to support himself and his family," Pease said. "Now they are in museums around the world."
To tackle the "trophy" prompt, Pease considered how artwork of native origins has been coveted. Pease found himself considering desirable things, as well as literal trophies won in battle or competition.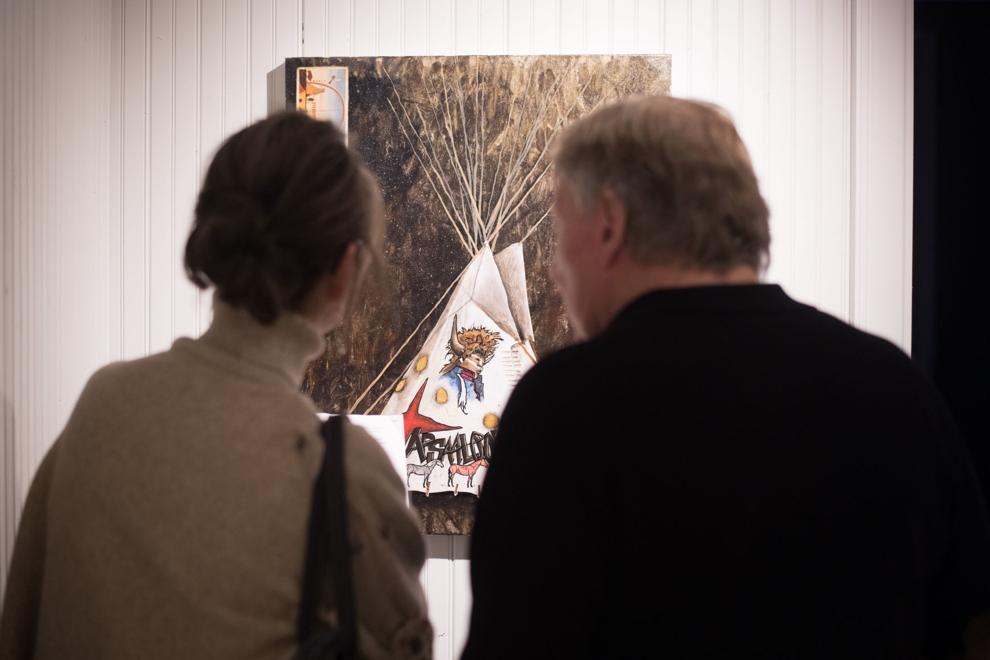 "Our culture and our imageries have been considered pieces of trophy in American culture for a while now," said Pease, whose artwork mingles about the gallery among Indian regalia for sale, including a war shirt and beaded "Rez Hat," among other handmade items brought from the Custer Battlefield Trading Post in Crow Agency.
"I thought it was interesting that they placed all those things in a show called 'The Trophy Room: The Hunt for Art,'" Pease said. "I don't even know if I disagree with it or not; it was just interesting because my culture has always been a trophy."
For Young, the gallery functions both as a place to display artwork, but can veer into historical representation. "We are approaching our shows more like a museum," Young said. "We are trying to give honor to objects of beauty and importance."
The gallery is expansive, and the far northeast room remains unfinished. Pease used the raw room to explore various ideas on the theme. Its plywood walls were painted black and spray-painted with graffiti and slogans like "Sage against the machine," "Free Indian name with purchase," and "1492."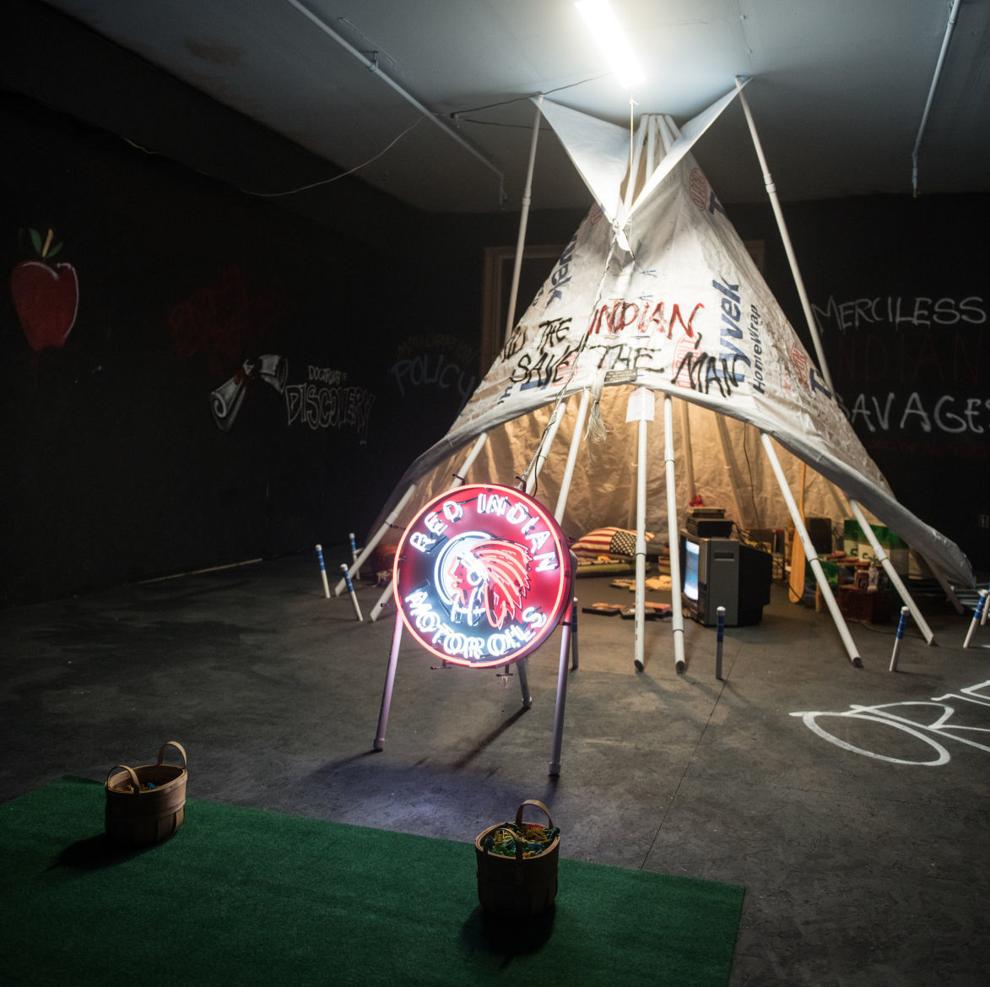 A neon Red Indian Motor Oils sign glows in the room, set in front of a tipi made from PVC pipe and Tyvek wrapping. Following the form of a traditional Crow tipi, Pease anchored the structure with four base poles and placed additional poles in a circle, tying it together with rope he wove from vinyl tubing to imitate woven buffalo hair rope.
"It was interesting putting that tipi up in the building," said Pease. "For one, we just don't do that. (Erecting a tipi indoors) isn't something a native person would do. And working with PVC was crazy. Cutting it created all these little pieces of plastic that stuck to everything."
Underneath the Tyvek tipi are items of creature comforts, like books and videos, and items for use such as a basketball and a pair of Nike high-tops, a boat paddle, and sleeping mat. "I wanted it to be subtle," Pease said. "I wanted people to think somebody could stay in here if they wanted. It looks like a normal type of existence, but there's these underlying seams in society that are derogative."
"This installation is incredibly thoughtful," Young said. "On the surface of this, you think, 'that's a contemporary tipi,' but if start looking at it closer, it's quietly brilliant."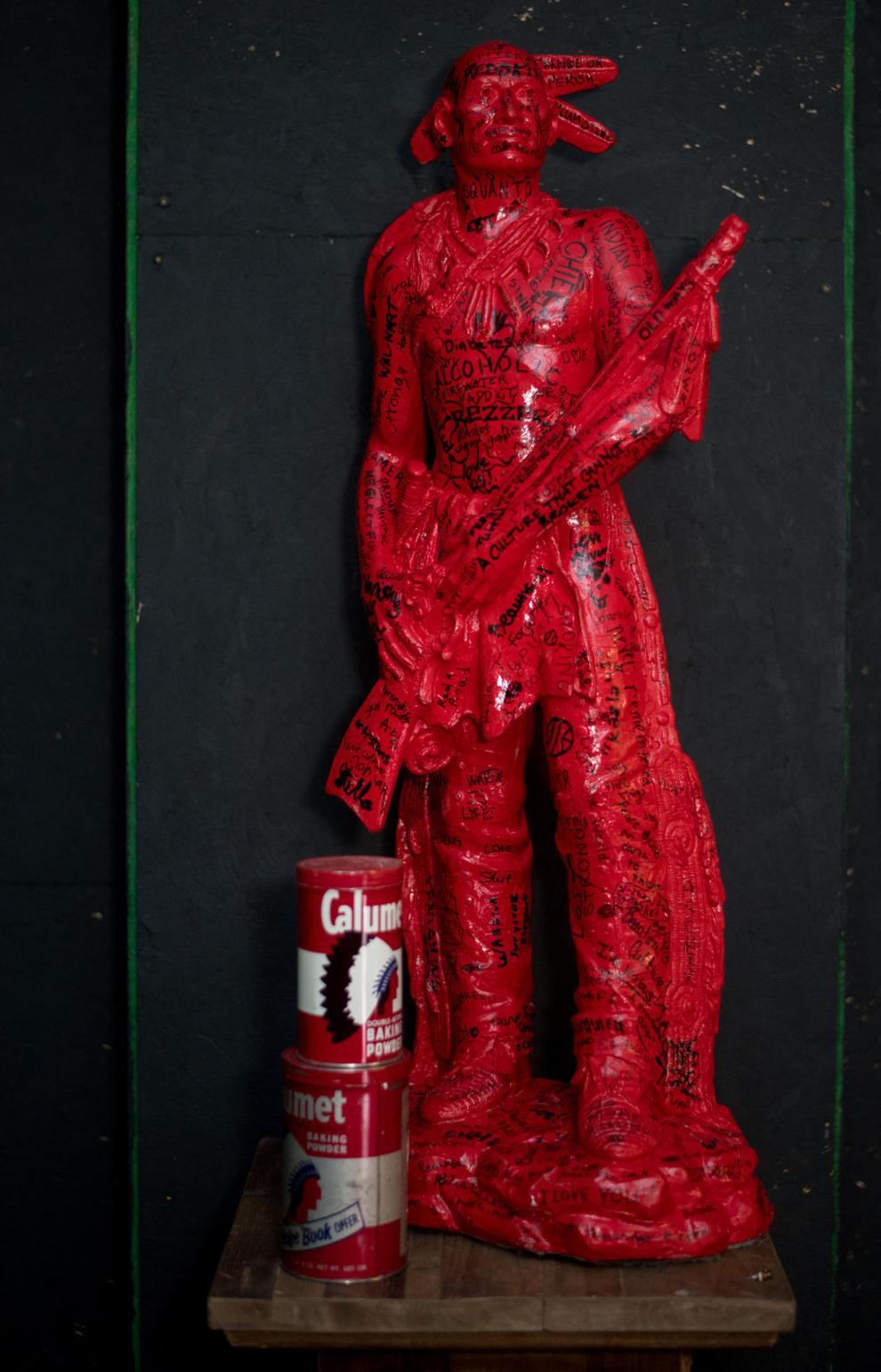 For the install, Pease collected objects from antique stores and eBay that contain Native American imagery. Items like the collectible Cigar Store Indian statues can get pricey online, so Pease scours second-hand stores for items, like the Native American statue from a Bozeman thrift store he painted red and covered with writing.
A basket of plastic toy Indians and cowboys and a coloring book with Indian girls in various scenes, or the vintage cans of Calumet Baking Soda and the Land o' Lakes butter logo are reminders of the pervasive use of Native imagery, even in child's play and cooking.
In the south corner, a 48-star flag has been painted white and used as a screen. A clear chair placed atop a buffalo skin rug faces the flag, and behind the chair, images are projected upon the flag. 
"What is an American?" Pease asked. "I have no idea, but I'm pretty sure I'm an American." The piece is intended for a viewer to sit in front of the projections — composed of stereotypical cartoons, representations of Native Americans in media, and broadcasts of news shows and interviews discussing immigration, gun rights and voting rights, among other current events — and watch it unfold on the whitewashed flag.
Pease maintains the piece isn't about race, but that it's about societal structure and form.
"Your shadow obstructs this video and you see yourself in it. You are instantly recognized as part of this textile of what America is."
---
Photos: The Trophy Room
The Trophy Room at Stapleton Gallery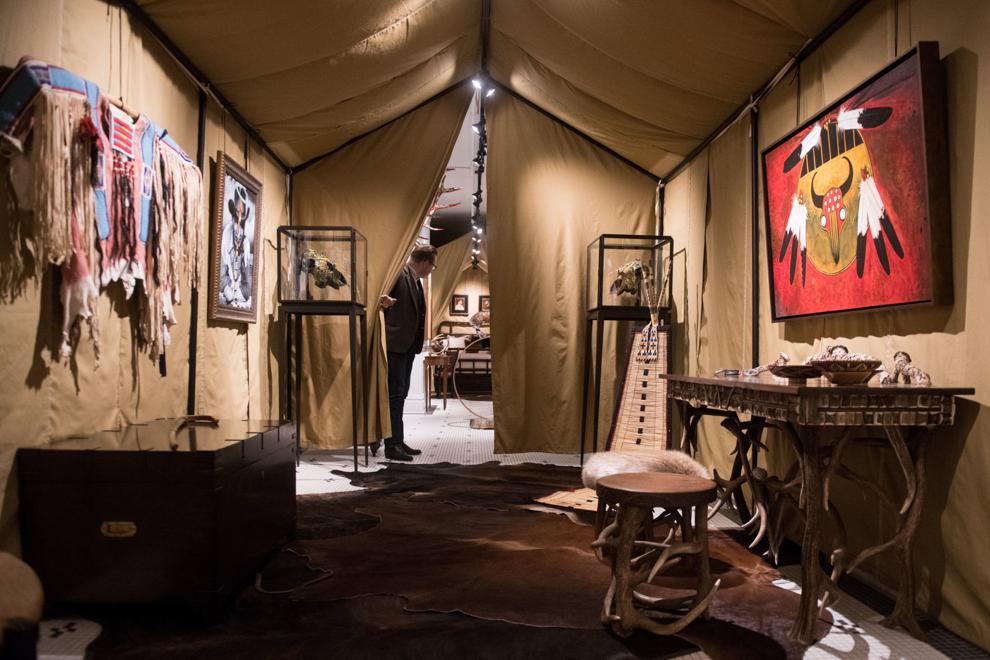 The Trophy Room at Stapleton Gallery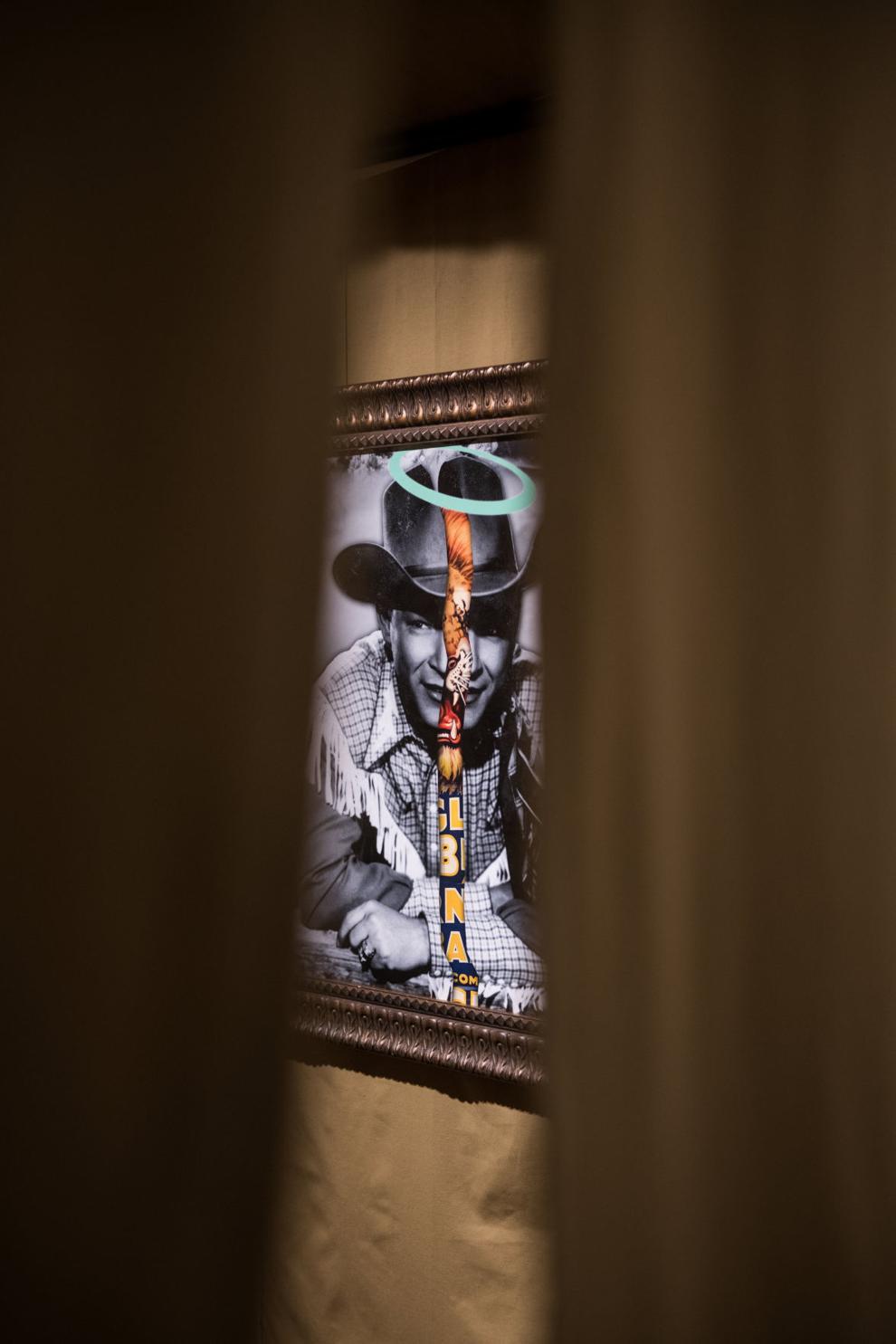 The Trophy Room at Stapleton Gallery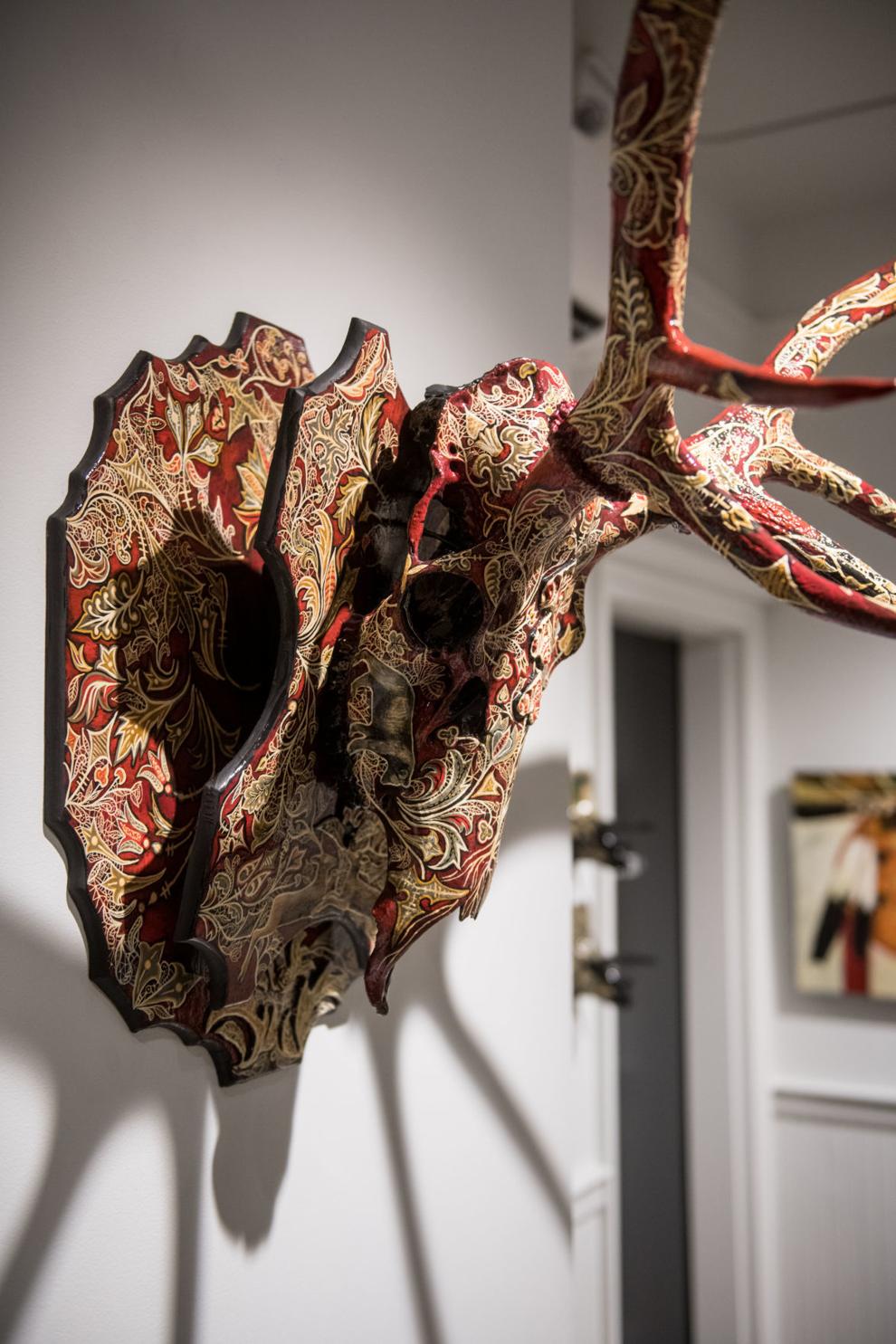 The Trophy Room at Stapleton Gallery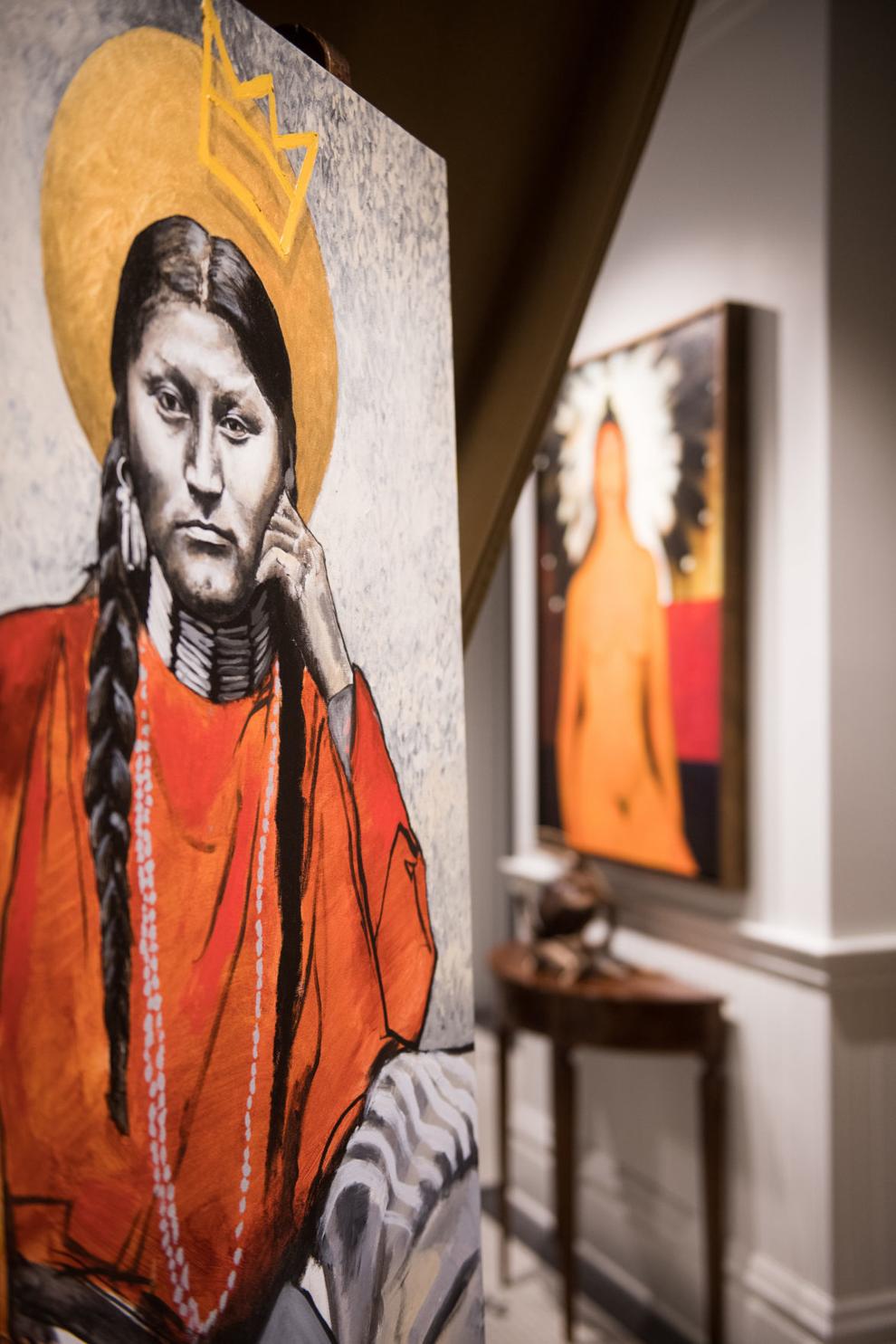 The Trophy Room at Stapleton Gallery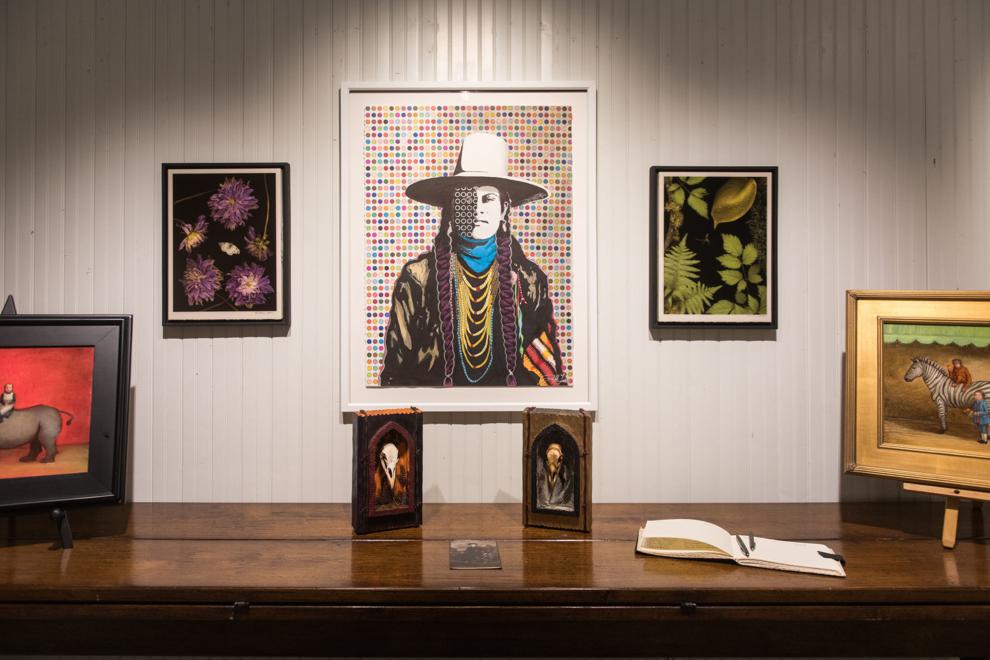 The Trophy Room at Stapleton Gallery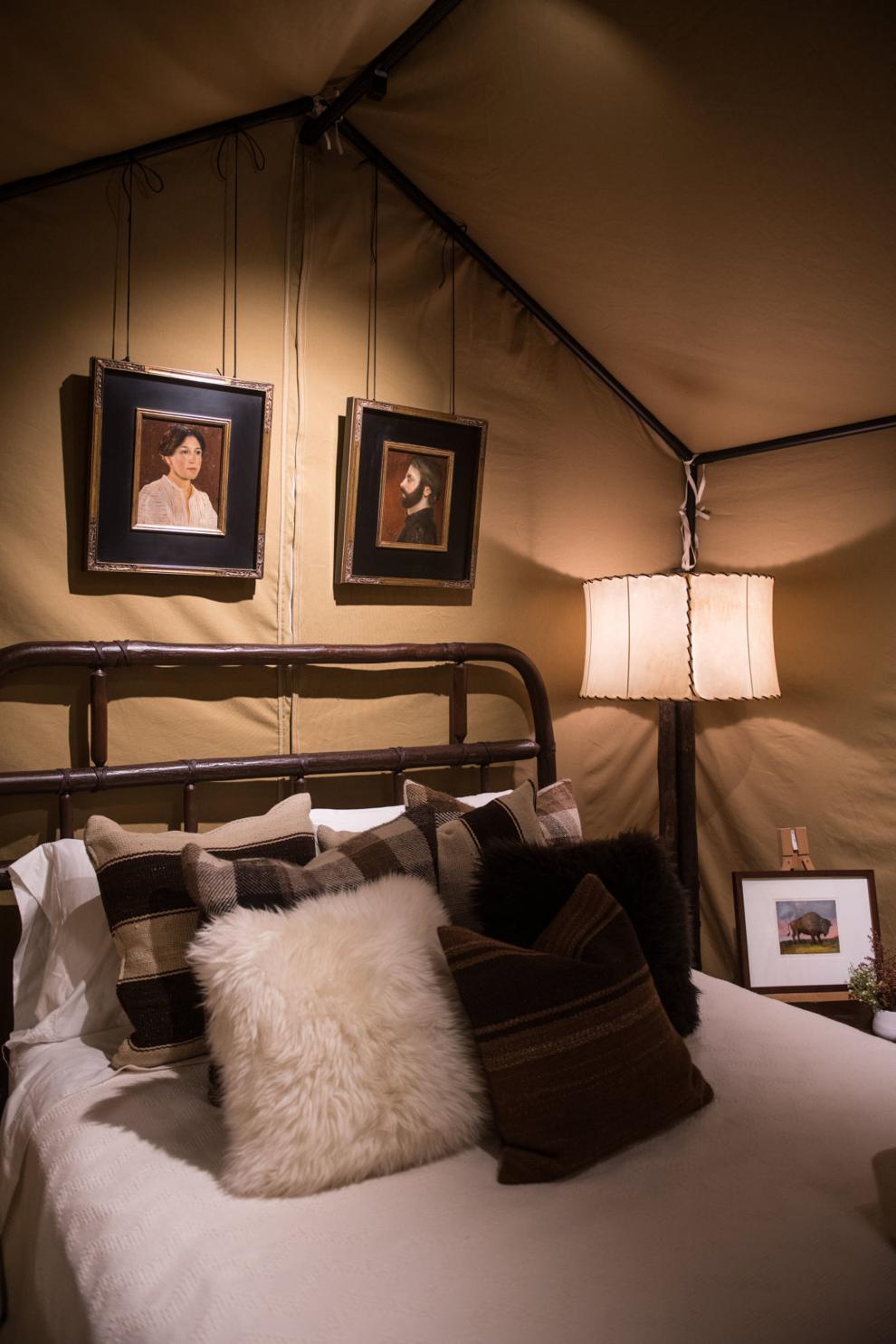 The Trophy Room at Stapleton Gallery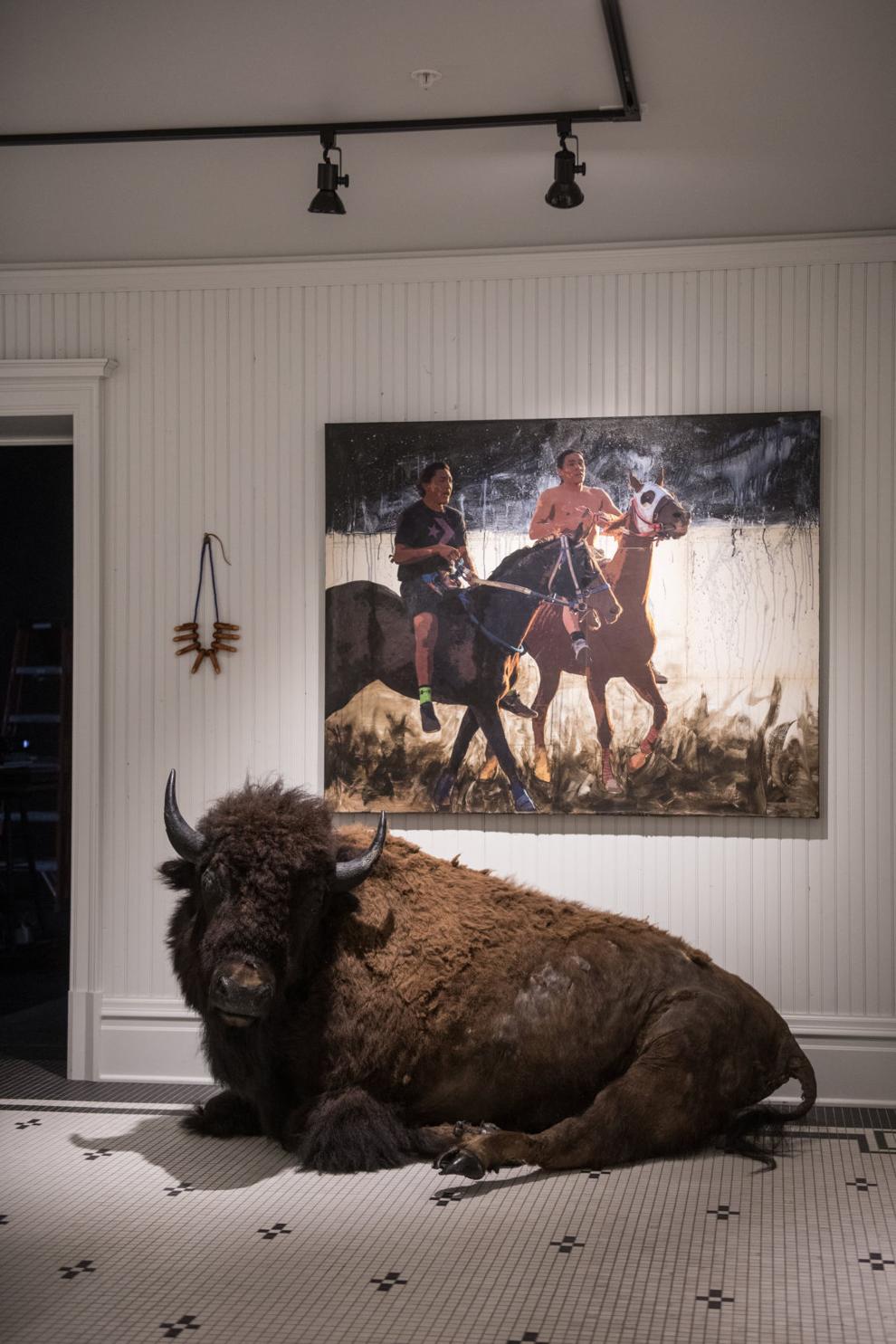 The Trophy Room at Stapleton Gallery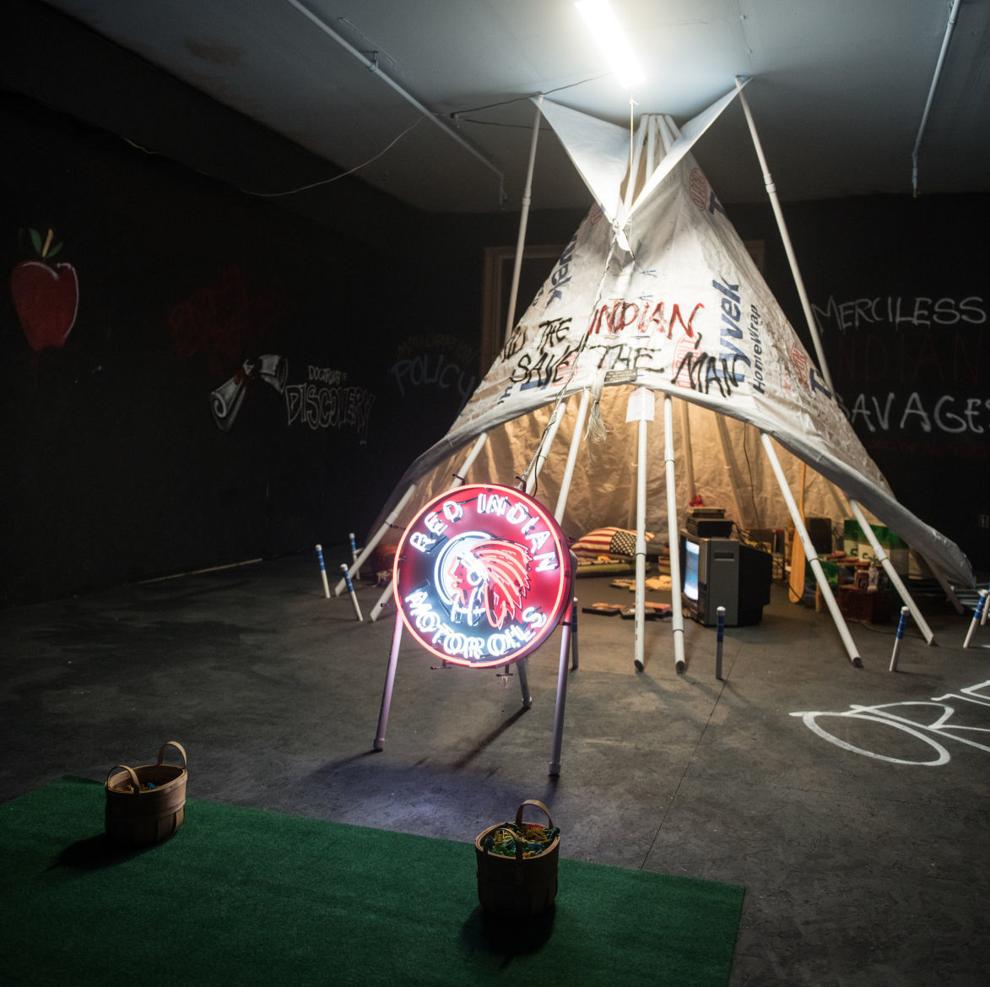 The Trophy Room at Stapleton Gallery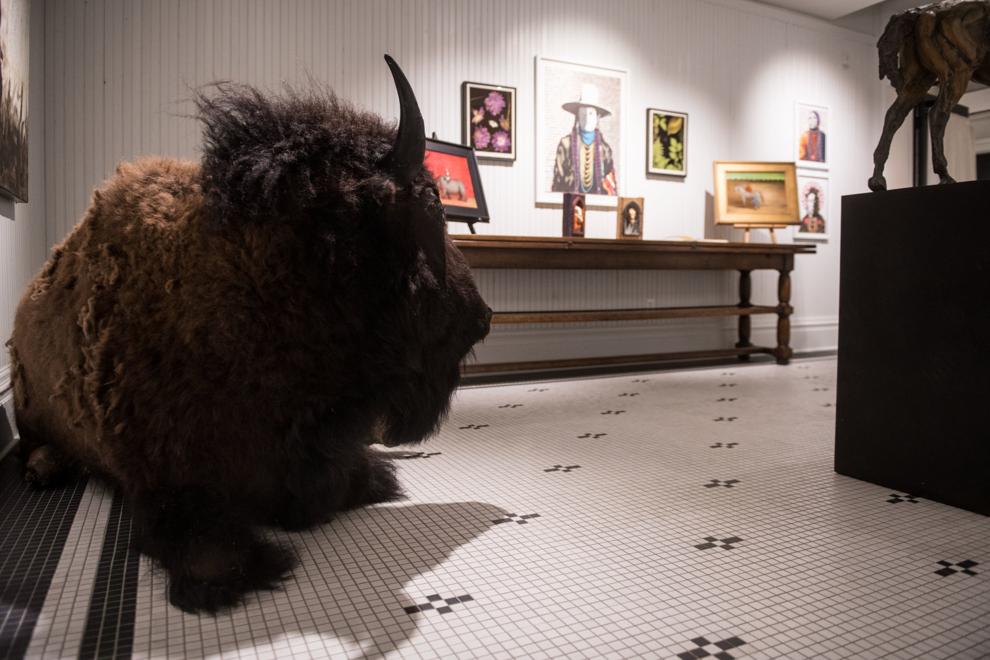 The Trophy Room at Stapleton Gallery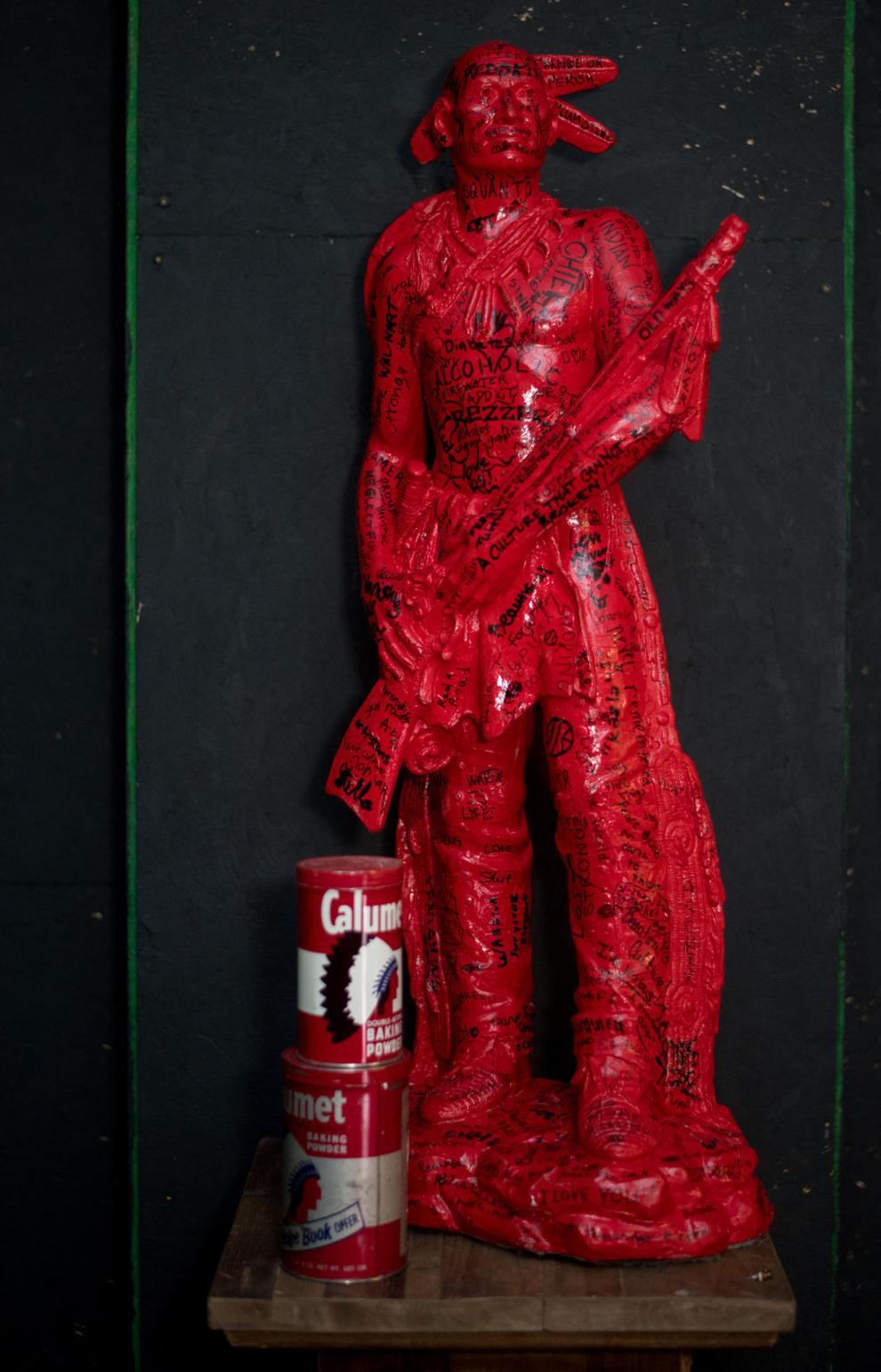 The Trophy Room at Stapleton Gallery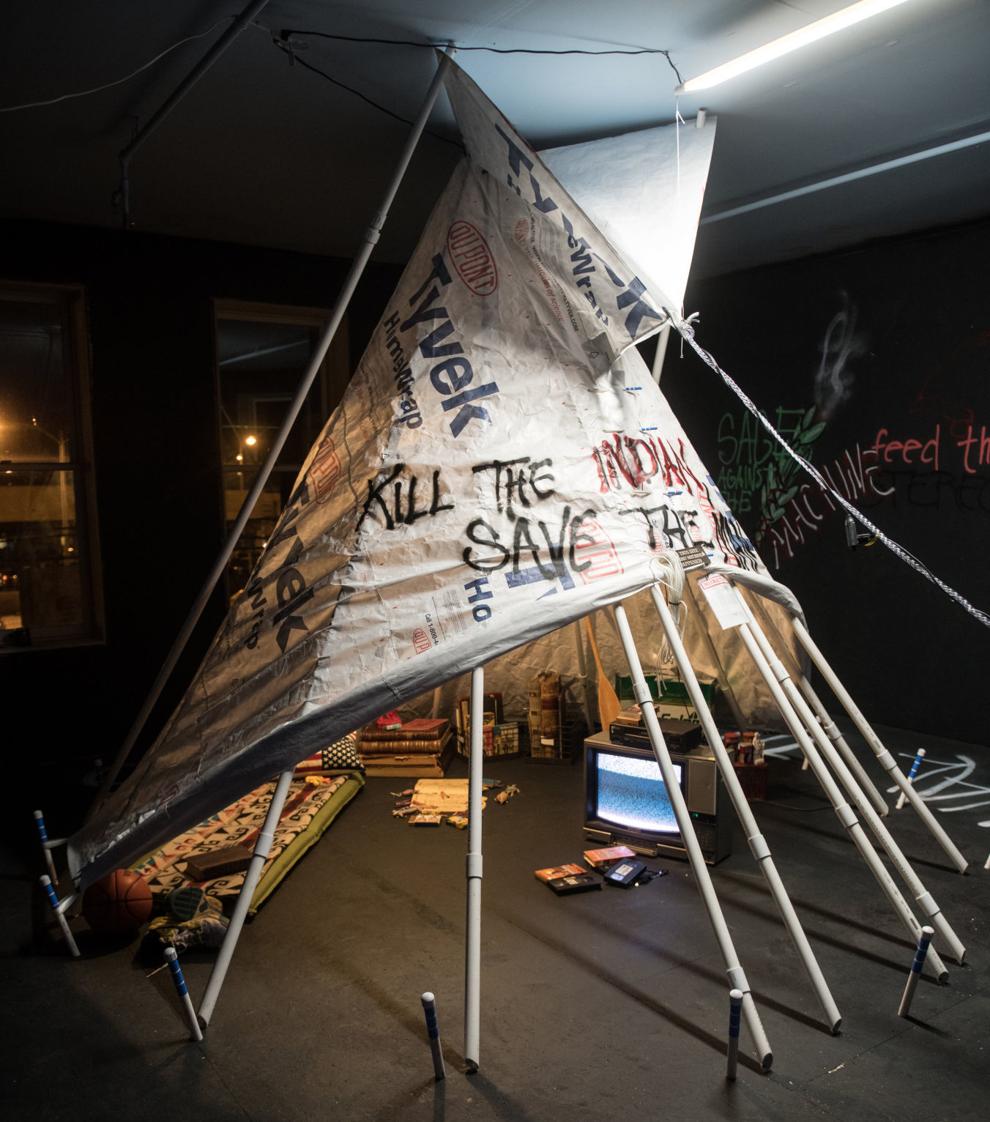 The Trophy Room at Stapleton Gallery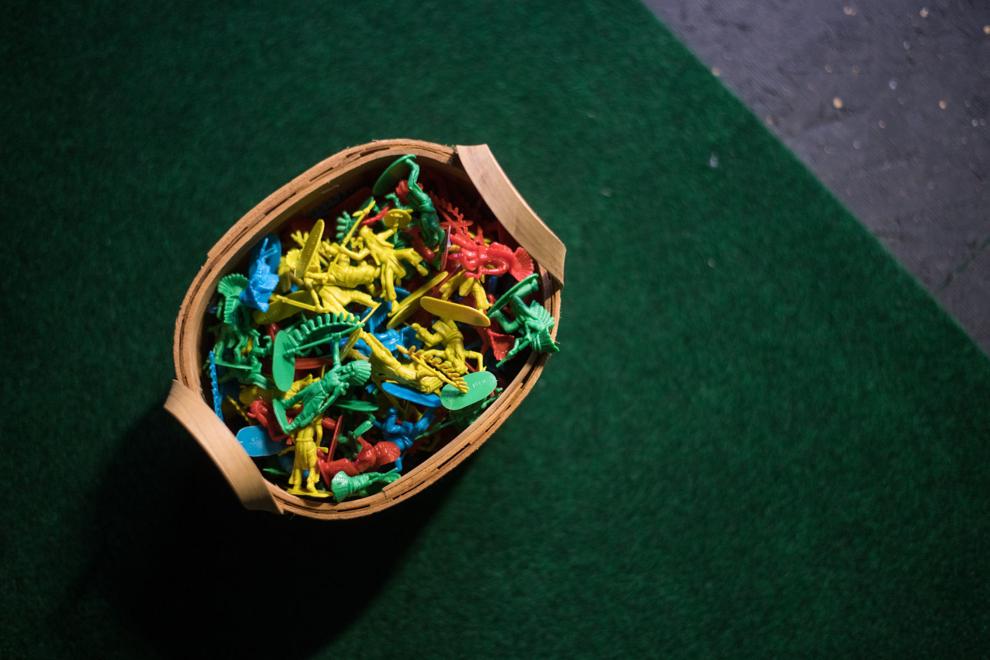 The Trophy Room at Stapleton Gallery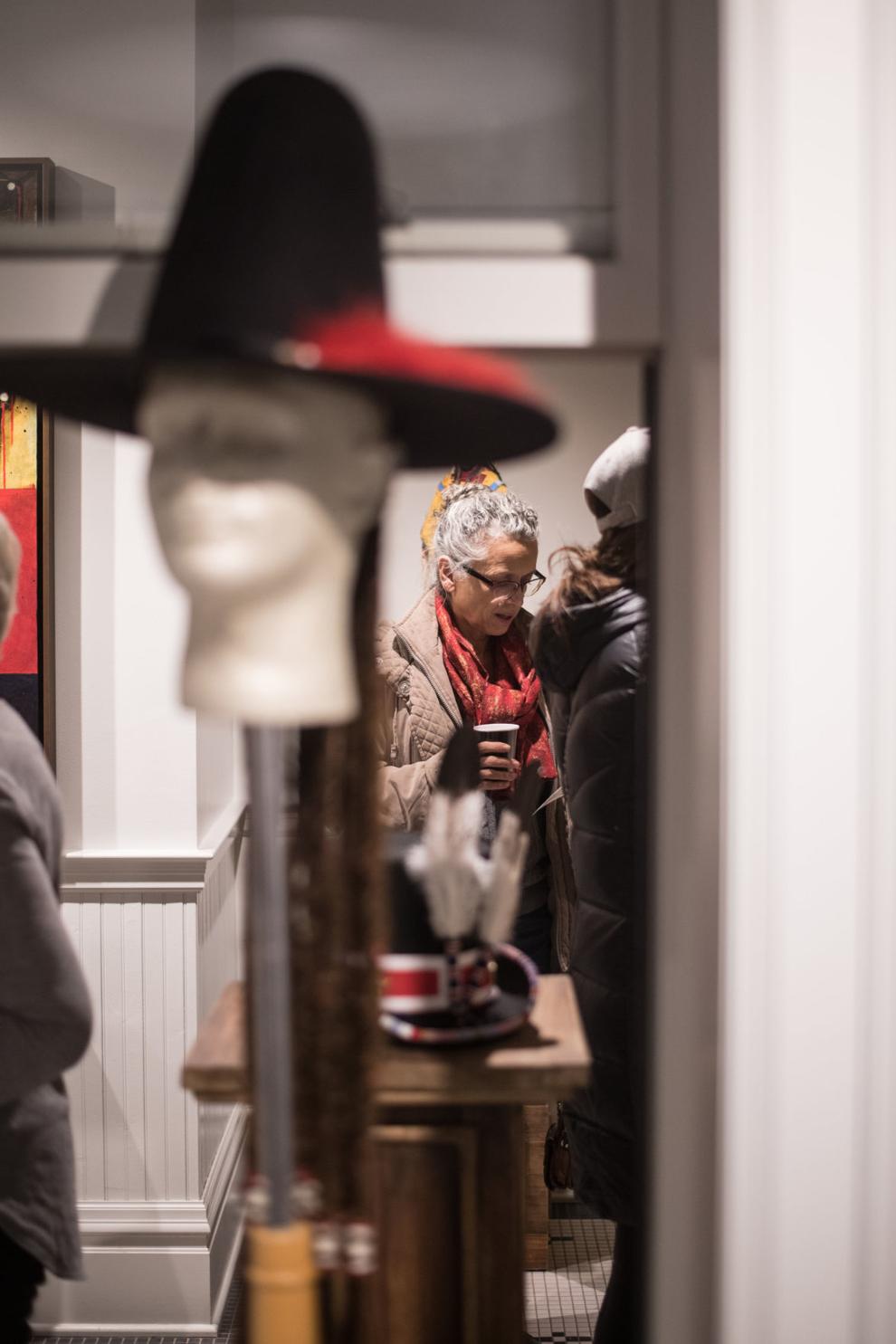 The Trophy Room at Stapleton Gallery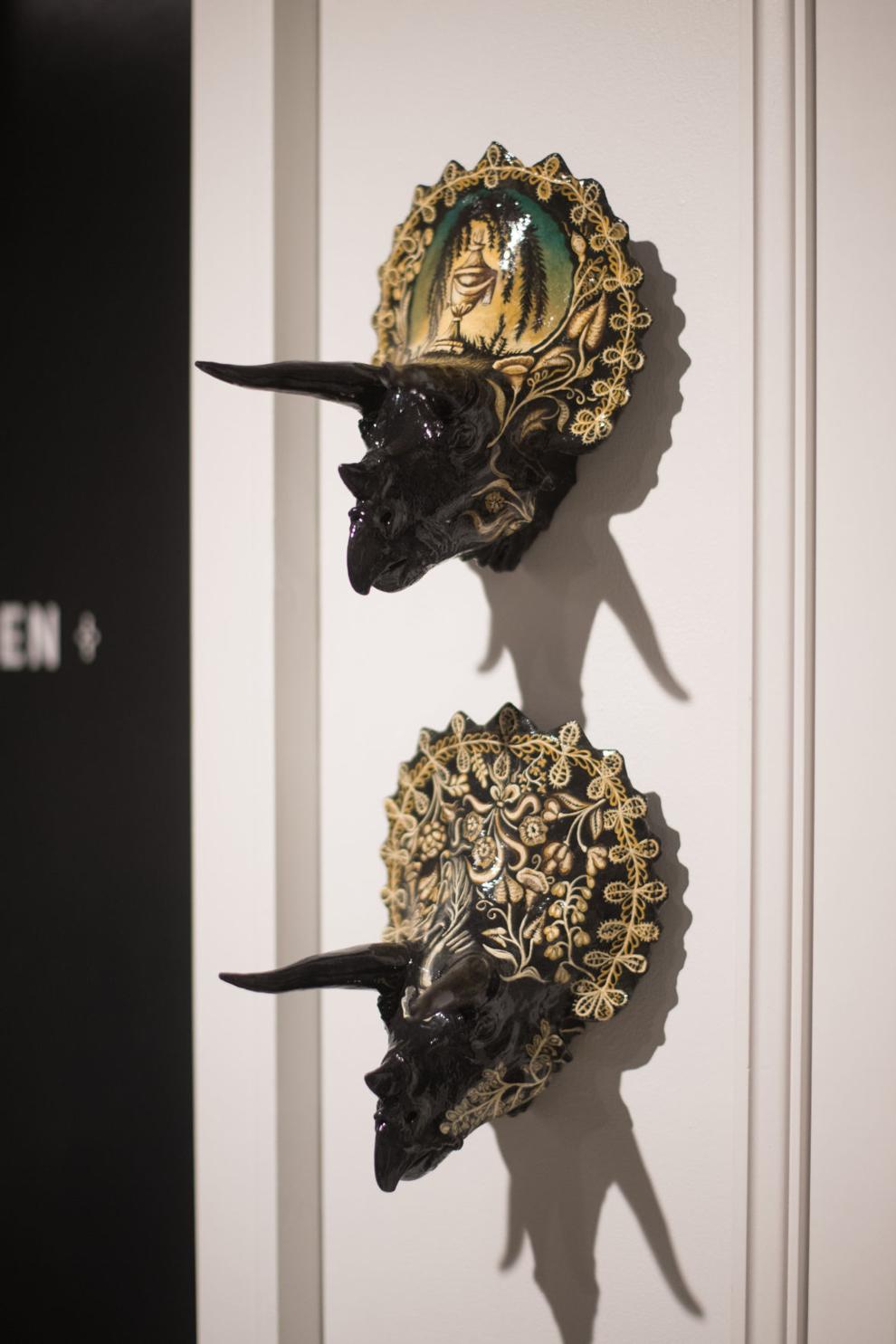 The Trophy Room at Stapleton Gallery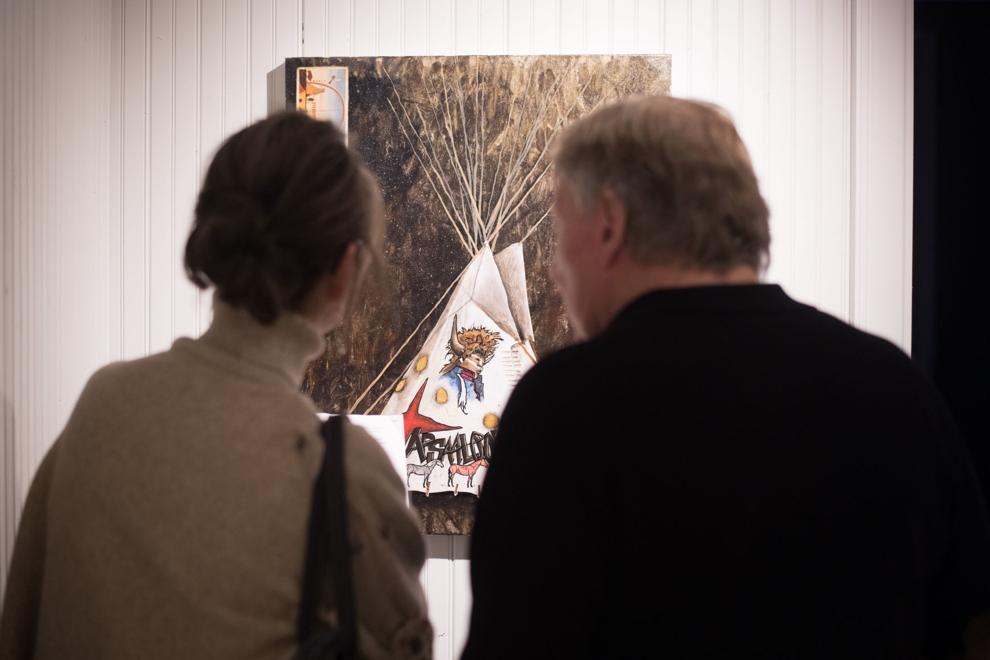 The Trophy Room at Stapleton Gallery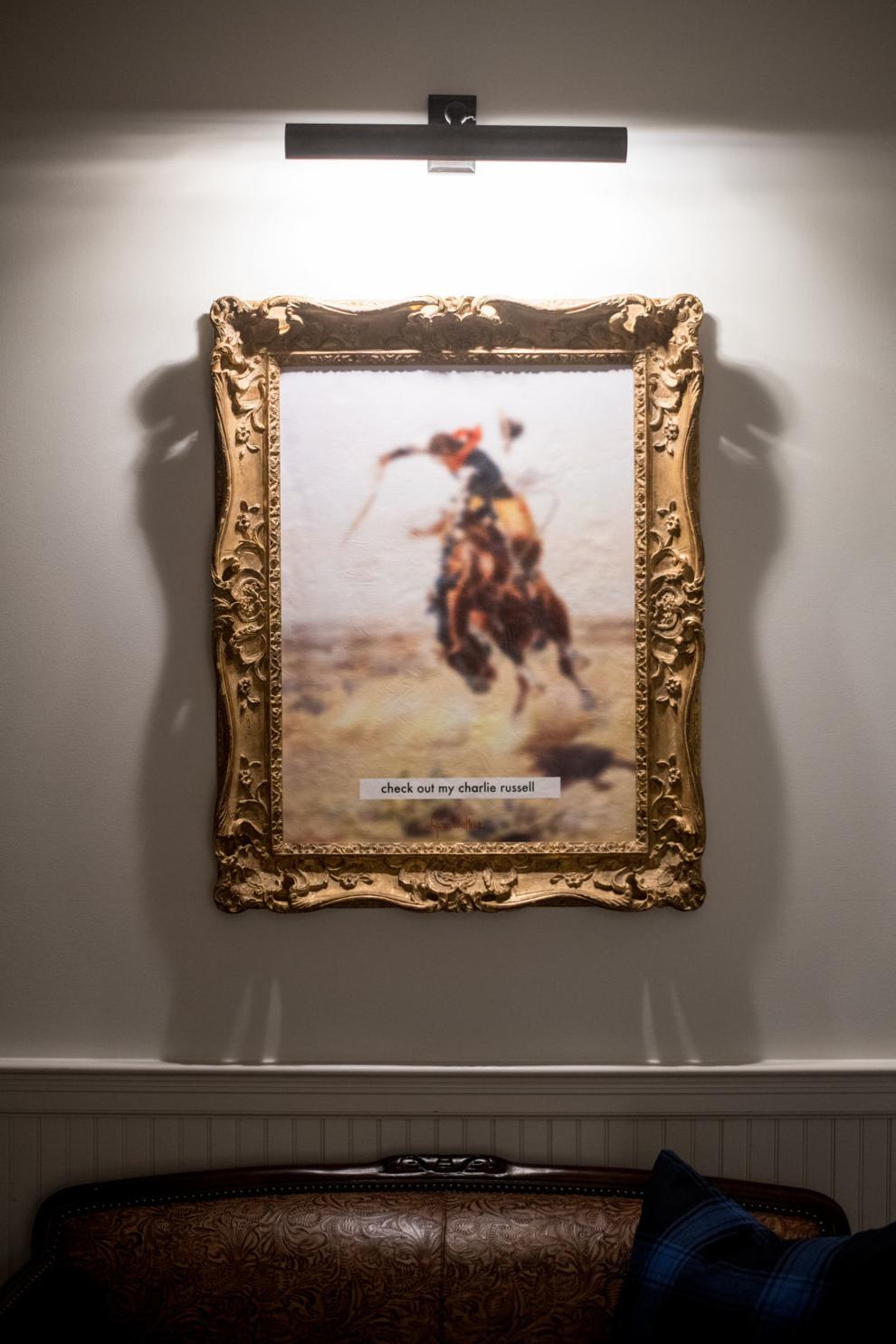 The Trophy Room at Stapleton Gallery