Bring your appetite to the Strawberry Festival, the largest street festival of the year for downtown Billings, featuring a 60-foot long strawberry shortcake for the community to enjoy.
On Saturday, the festival kicks off with a pancake breakfast at 7:30 a.m. at the corner of Second Ave. North and North 29th Street, a fundraiser by the Billings Heights Lions Club.
In its 28th year, the festival is centered under Skypoint at Second Avenue North and North Broadway includes arts and crafts vendors, food trucks, free events for kids, a bungee jump, balloon twisters, and live entertainment.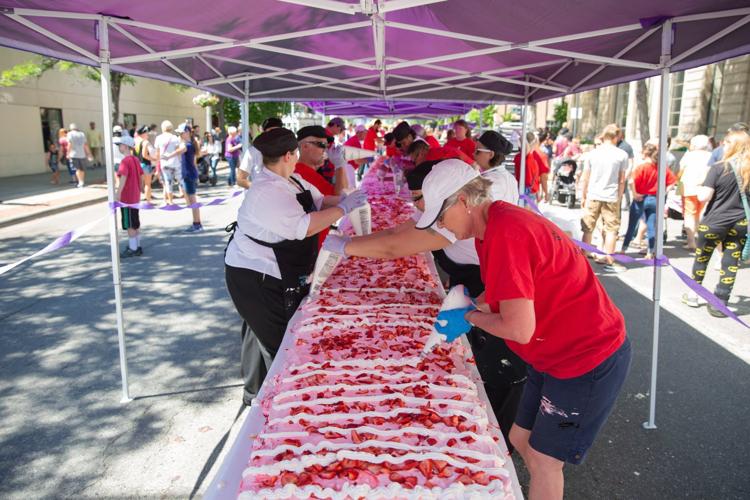 Members of Chefs and Cooks of Montana assemble the lengthy cake on-site, with help and donations from Albertsons, Passages, Sysco Montana, and Morningstar Senior Living.
The cake is billed to be the largest in Yellowstone County and has been part of the Strawberry Festival for 15 years. Each year, Carl Kurokawa, owner of Juliano's, oversees the creation of the shortcake.
"We create this shortcake for the community," Kurokawa said in a press release. "We started making it because we wanted to create something that would bring joy and celebration to the children and families in Billings."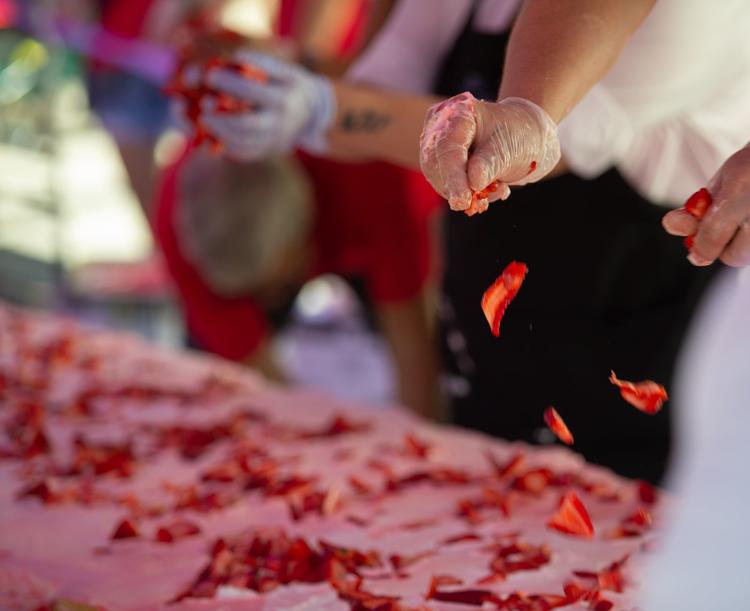 A slice of cake is $2 and will be served beginning at noon. Proceeds are split between the Chefs and Cooks of Montana's scholarship program and the Business Improvement District's street beautification projects.
A children's area, sponsored by Wise Wonders Children's Museum, will be set up at North 29th Street, north of First Avenue North that will include a pinwheel craft station, coloring, corn-hole bean bag toss, and a four-person bungee trampoline costing $5 for five minutes. Wise Wonders Children's Museum will be open with free admission during the festival.
Live entertainment, taking place under Skypoint, includes:
Montana Fiddle Club at 10 a.m. — A summertime musical enrichment program sponsored by the Billings Youth Orchestra and Choirs.
The Always Be Creative band at 11 a.m. — A Billings based band that performs original music and cover songs of the rockin'-est, family friendly tunes.
Tesseract Dance Collective at noon — A local collaborative belly dance troupe, performing traditional art of belly dance fused with contemporary movements and music.
Goes Well drum group at 1 p.m. — From the Arrow Creek District in Pryor, brothers Josiah, Joshua, and Oly Hugs use their voices and drums to sing traditional Native American round dance, push dance, powwow, honor, and prayer songs.
Broadway Dance Studio at 2 p.m. — A nonprofit organization that offers tap, jazz, and tumbling classes for children of all ages and skill levels. The dancers will be performing group and solo/duo dance routines.
Billings Symphony Orchestra at 3 p.m. — Members of the Billings Symphony Orchestra perform as a string quartet for the community to enjoy.