The Billings Symphony Orchestra & Chorale returns to Pioneer Park on Sunday for its 47th Symphony in the Park, a free event that is the organization's largest community outreach activity of the year.
Traditionally reaching upwards of 7,000 people with live classical music in a casual setting, the event last year was moved from its longtime home at Pioneer Park to a west-end setting due to excessive rains that made the grounds at Pioneer Park at risk of being damaged by the massive event.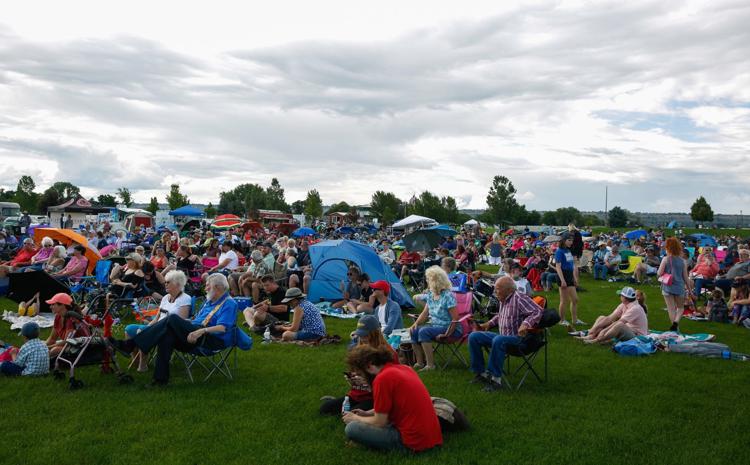 Sandy Cantesano, development and events manager for Billings Symphony Orchestra & Chorale, estimates attendance was down nearly 50% last year due to the move.
"There were some positives to it," Cantesano said. "It was a completely different audience that came. Because of where we were at, we tended to draw a lot of folks that surrounded Amend Park in those neighborhoods."
This year, all seems a go for the return to Pioneer Park, which has been the event's host since its inception. Event crews began setup on Thursday morning and will nestle the giant stage into the natural concave of Pioneer Park. The stage faces north toward the rims, and seating is wherever you can plop a blanket and chair. 
Limited creek-side seating under a tent, guaranteeing a bit of shade, is available for a fee, and premium parking with golf cart shuttles can also be purchased in advance or at the event. 
Musical outreach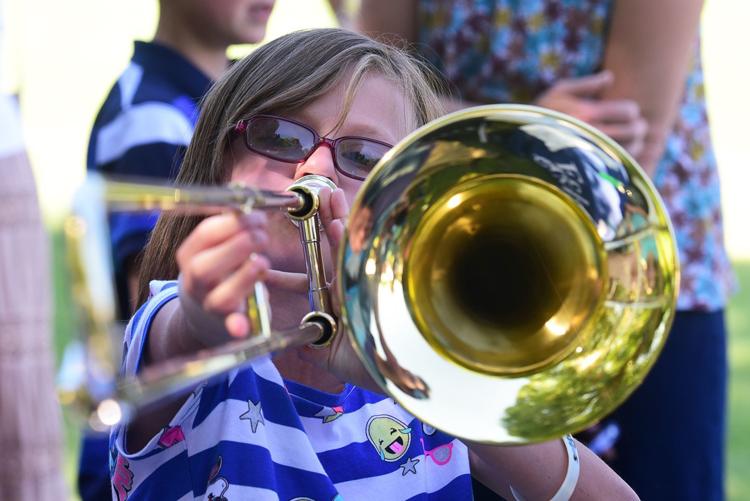 For many people, Symphony in the Park is an entry to symphonic music, described Billings Symphony Music Director and Maestra Anne Harrigan. The event is a major component of the organization's mission to share symphonic music in the region through its Explore Music! education and community engagement program.
This brings the count to more than 90 outreach programs for the year, including performing for and working with elementary, Junior High, and High School students throughout Billings and the surrounding communities. 
"When people think of the Symphony, they think of our concerts at Alberta Bair Theater, or this year at Lincoln Center, but they don't see or realize all that we do behind the scenes," said Cantesano, who describes concerts as the "brain" of the organization and outreach as the "heart." 
A symphonic Sunday
Attendees to the Symphony in the Park will be able to sample some of the outreach the organization provides. Drum instructors will guide participants through a drum circle, Eckroth Music will provide instrument demonstrations at an "Instrument Petting Zoo," and young conductors are invited to try out their skills at the annual Kids' Conducting Concert, a heartwarming sight of waving batons that allows children to engage with the event and showcase their talents.
You have free articles remaining.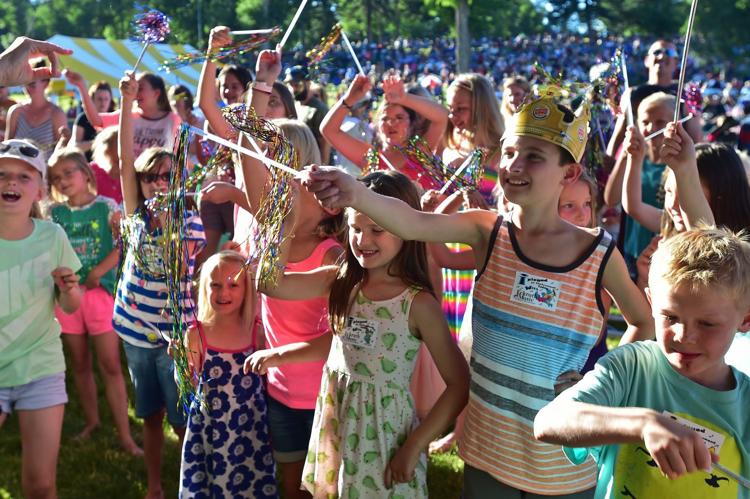 Nine food vendors will be offering everything from barbecue and egg rolls to snow cones and wine. The Symphony will be selling Wilcoxson's Ice Cream to benefit the organization, and local artist Terri Porta will be providing face painting. 
The event brings together a wealth of regional talent, starting with the Billings Community Band at 5 p.m. The Billings Symphony takes the stage at 7 p.m. with a program that includes guest vocalists from Billings' Soul Funk Collective: Brooke Moncada, Emerald Hart, and Maggie Schwarz.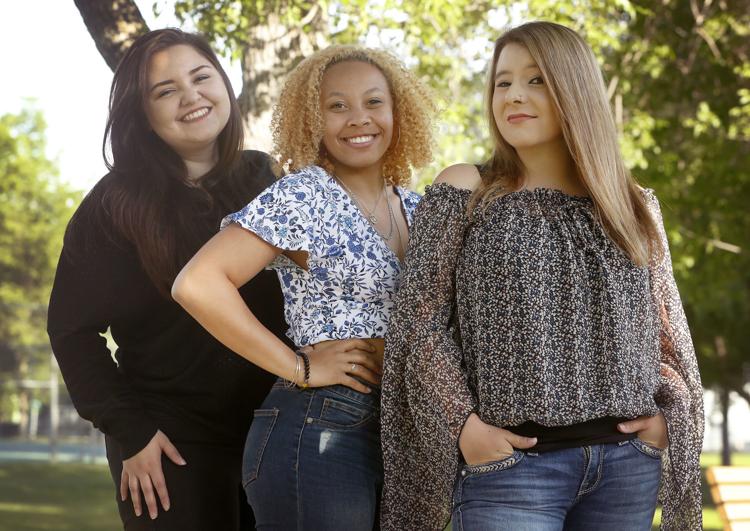 "We're excited. It's going to be a good time," said Schwarz.
The group was contacted by Harrigan about being included in this year's event. "Since we're a big 10-piece, we decided to just have the vocalists." said Moncada.
They'll be singing the Star-Spangled Banner with the VFW and Marine Corps. Honor Guard in attendance. They've arranged their own three-part harmony and will also be featured on "Summertime Blues."
Co-written in the 1950s by rockabilly musician Eddie Cochran, "Summertime Blues" has been described as "rock 'n' roll's purest expression of the contradictions faced by the working class" by Pop Matters. It's a great hip-shaker that flows into a rockabilly medley dedicated to Candy Holzer, director of education for the symphony.
Moncada, Hart, and Schwarz were able to pick one song, and they decided to do "Jackson," by Johnny Cash that featured June Carter Cash.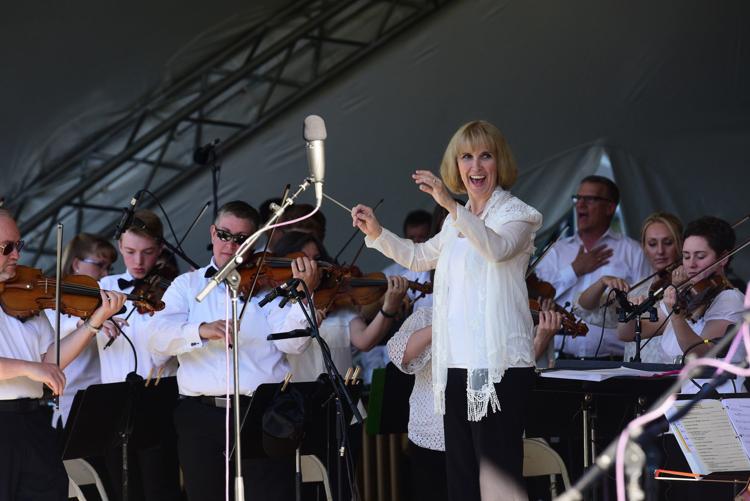 It will be the largest crowd they've performed for. "Going to a huge amount of people there watching, it's intimidating but also humbling that we got invited to do such a powerful thing for the community," Schwarz said, who acknowledged there's a bit of nervousness with any performance. "You have to channel it into energy for your audience," she added.
Their rendition of "Jackson" will be followed by El Capitan March, lead by the winner of the Kid's Conducting Contest. 
The full program includes:
The Star-Spangled Banner
Academic Festival Overture
Captain America Theme
On the Trail from Grand Canyon Suite
Summertime Blues
Rockabilly Medley
El Capitan March
Armed Forces Salute
At intermission, the Bucket Brigade will be seeking donations, and St. Vincent Healthcare will match donations up to $2,500.
Slavonic Dance, op. 46, no.1
Disney's The Lion King Orchestral Song Suite 2
West Side Story (Selections)
Music from The Patriot
The Stars and Stripes Forever
The symphony is comprised of more than 135 musicians, many who will be in attendance for this annual tradition. For full details, visit www.billingssymphony.org or call the Billings Symphony at 406-252-3610.