Dulais Rhys is persistent.
The Welsh scholar and musician went alphabetically through United States opera companies seeking someone to produce Joseph Parry's "Blodwen," the first Welsh opera ever written.
"It's rarely performed," Rhys said. "Welsh communities around the world know certain bits of music from the opera, but that's it."
From Alabama to Wyoming, Rhys kept asking, until finally getting a "yes" from Rimrock Opera Company.
"Blodwen," with a chamber score that Rhys composed from the original 1878 accompaniment and a Welsh libretto, will open May 10 at NOVA Center for the Performing Arts, a longtime dream for Rhys.
"It means a lot to me personally," said Rhys, who will conduct the performance. He obtained his Ph.D. from the University of Wales based on research on Parry, the composer, and was asked to participate in centennial celebrations in Wales of the opera in 1978.
Rhys first discovered "Blodwen" in his parents' piano bench. He was about the same age as Parry, who was born in Wales and raised in Pennsylvania, when Parry was exposed to Beethoven's first and only opera, "Fidelio" during a trip to Philadelphia in the 1860s.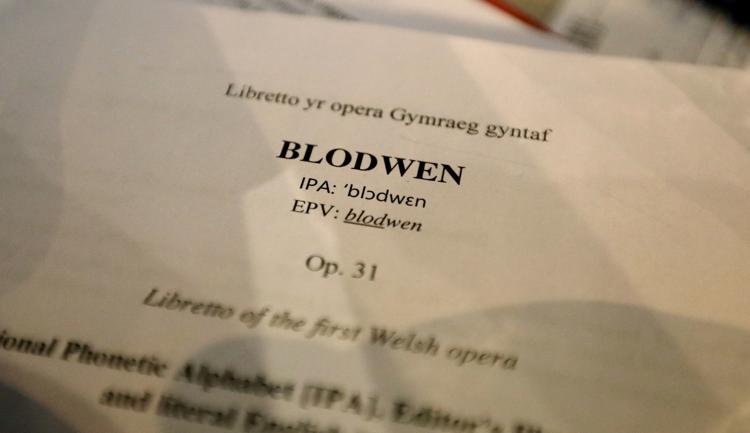 "I think that gave him the idea," Rhys said. Parry returned to Wales for a professor of music position in Aberystwyth at the first university college in Wales, and there he began working on the opera.
Set in 14th century Wales, "Blodwen" was written in the style of romantic Italian opera. The plot includes lovers and a wedding, dying heroes and a dramatic final twist. The music contains heroic and romantic solos, powerful choruses and the "Hywel a Blodwen" love duet, one of the few songs to rise in popularity from the relatively unknown production.
"Traditional music of Wales is mostly folk music," Rhys explained. "We had no traditional opera whatsoever, unlike the Italians, who have operas for breakfast. We had zero, until Blodwen of 1878."
Parry chose Welsh folk poet Richard Davies to write the libretto. "Considering that it was his first and only effort at writing a proper libretto, it's not bad," Rhys said. "It stood the test of time pretty well, but I'm highly biased."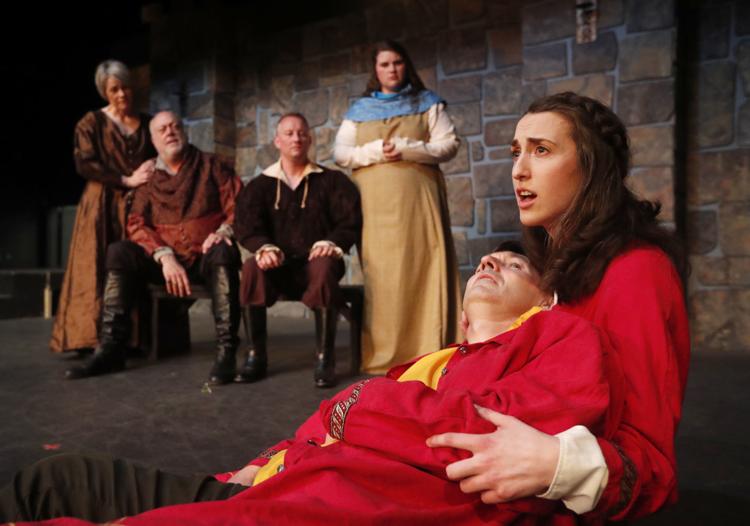 A century after the first staging of "Blodwin," a 20-something Rhys showed up in America for the first time on a scholarship to the Peabody Institute in Baltimore with a photocopy of the manuscript, obtained from the National Library of Wales, under his arm.
The original score was sparse, written for orchestras of the time. Rhys decided to make a new orchestration based on Parry's score. "What they call textures — they were too thick in places, not enough instrumentation and too few instruments in places."
He's been wanting to stage "Blodwin" ever since.
A longtime dream
Rhys immigrated to the United States from Caerfyrddin, Wales, in 2011 with his wife, Leigh, an author he met in a Welsh language course who was raised in San Francisco. The couple left Wales in part because Rhys wondered if he could gain notoriety as a professional musician in the U.S.
"I wanted to see if I could be a musical minnow in an ocean and make it," he said.
With a professional background in composing, teaching, and performing, Rhys has the street credentials, and once establishing himself in California, he began to give lectures at libraries and universities throughout the U.S. Topics ranged from the Beatles in America, to the 60th anniversary of Buddy Holly's plane crash, to the 1930s singing star Allan Jones (whose parents are Welsh).
"If you're a professional musician, you wear lots of different hats," Rhys said. Plus, he loves research, something his son affectionately teases him about.
"Dad's weird," said Osian Rhys, the youngest of three boys. Osian, age 30, is directing "Blodwen" and has been in Billings for several weeks living with his parents, something he hasn't done for more than a decade.
"I think dad was surprised when I started unloading the dishwasher," he said. "That's not something I'd do as a teenager."
Though Osian has worked with his father in the past as a youth actor, this is the first production the two have worked on in their adult lives. The production has plenty of familial ties, as his mother is the assistant director.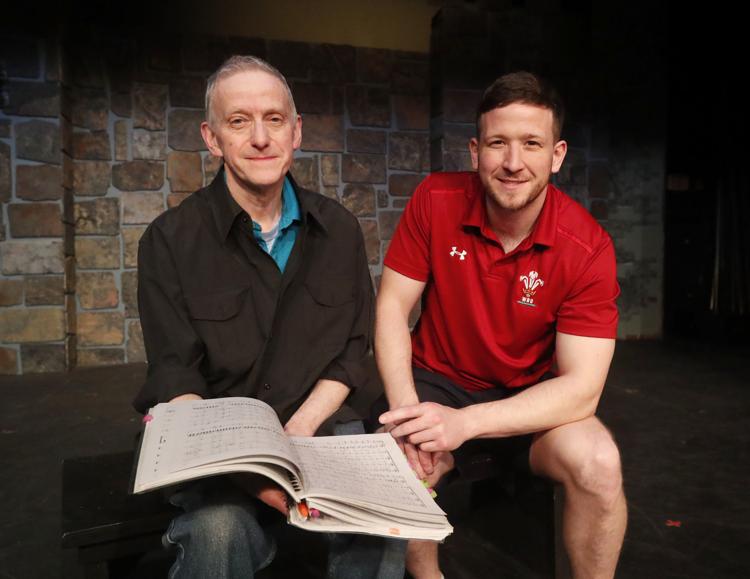 For Christmas, he gifted his parents coffee mugs that say, "Assistant to the Director: Do Not Annoy," and "Assistant to the Assistant: Do Not Feed." They reciprocated the gift with a director's chair, shipped to his doorstep in Wales.
There's a playfulness in the production that comes from this familial tie, even though the stakes are high, and everyone seems in good spirits as they bring Rhys' longtime dream to life.
To make the production more affordable, several years ago Rhys pared down his full orchestration to fit a chamber orchestra. This made the production the perfect fit for NOVA, which was looking for operas that could work on a smaller stage and without a true orchestra pit during Alberta Bair Theater's closure for renovations, which will last through September 2020.
The difficulties staging the production, Rhys imagines, are because it's not a well-known opera. And, it's sung in a language that also isn't familiar to a lot of opera singers.
"I think it's a beautiful language," said Osian. "It's just not well understood. It's got similarity to German in terms of the sounds."
As well, the librettist was a folk poet, which comes across in the lyrics. "It's got alliteration and rhyming, it's really, really clever," Osian added.
Commitment
Rhys has been working on the production with Rimrock Opera Company for the past two and a half years. In 2018, he and his wife decided to leave California, and though Montana was not on their list of proposed places to move, they settled on Billings.
"In the end, I decided, we need to move to Billings, I need to be here physically, for meetings, auditions, pre-production…I cannot do this remotely."
Rhys has found the community an open and welcoming place, and he's now NOVA's "musician in residence."
"That's a title I've never had before," he said. Looking back, Rhys is happy he relocated to the United States. "If I hadn't made the move, I would probably be doing what I was doing 10 years ago."
Getting paid for theater work has been a shock to Rhys, who describes his work in Wales as primarily unpaid. He made a living as a private teacher, giving piano and composition lessons and teaching theory, but his work with theater groups, including conducting, writing music, and performing was all unpaid.
"It is so different here," he said. "You are expected to get paid for your service. That was a big culture shock for me, and a professional shock."
Of having this production almost ready to open, Rhys said it's "scary."
"It's a dream come true, and it is a big responsibility." His primary struggle with the cast has been proper pronunciation, and he counts his blessings that the Welsh language is strongly phonetic. "Basically, what you see is what you say. Otherwise I think it wouldn't work. I had that plus on my side."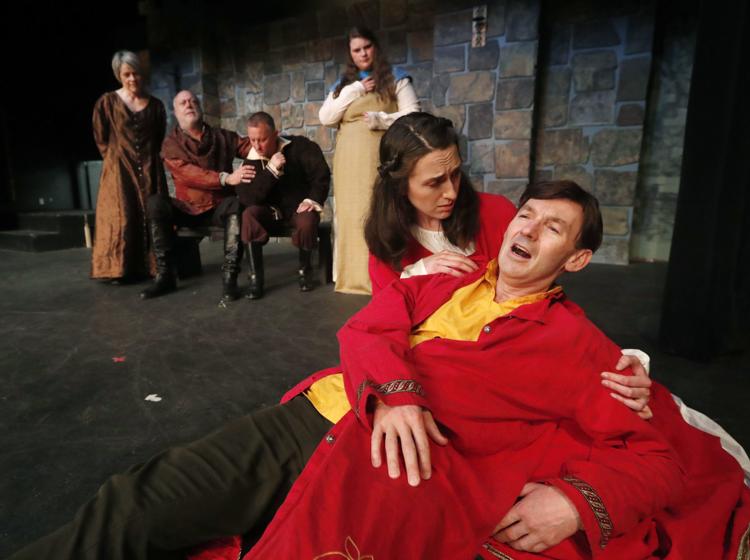 He's also found an attitude in the U.S. that didn't exist in Wales: "We can do this."
"We don't have this in Wales. This attitude of 'We can do it,' it's an American thing."
In the rehearsal space, Rhys has hung a photo of Rosie the Riveter, with "Rydyn ni'n gallu gwneud hyn!" (the Welsh translation of "We Can Do It") pasted atop her icnoic phrase.
The opera is sung in Welsh with English super-titles. Janie Sutton performs the leading role as Blodwen; Nerys Jones (born in Wales and now residing in Seattle) as Lady Maelor; Kate Meyer as Elen; Scott Wichael, lead tenor, as Hywel; Jeremy Huw Williams (a Welsh speaker and baritone singer) as Arthur; and Douglas Nagel as Iolo.
"Anyone who has got a musical sense is going to come in and enjoy it," said Osian. The production is colorful, and visually striking with costuming by Glenda Braunesis.
Setting language barriers aside, Osian believes that the production has striking music that has the ability to move audiences.
"That's what matters," Osian said. "We need the audience to feel, and if they feel, they've enjoyed it, and if they enjoyed it, we've done our job."