Will James traded his birth story for a western tall tale. A few close Billings friends of the cowboy artist may have been the only people outside his own family who knew his true identity, which wasn't made public until 20 years after his death.
"Everybody wants to live their dream. Well, he did — in a big way," said Tom Decker, a collector of James' works and founding member of the Will James Society.
Born in Quebec, Canada, in 1892, James was the son of merchants. His given name was Joseph Ernest Dufault, although the fabrications in his autobiography, "Lone Cowboy" — that he was orphaned by Montana parents ranching near Judith Gap and adopted by a French-Canadian trapper — were accepted as truth.
James died in 1942 at age 50, after years of heavy drinking. The bulk of his possessions, including drawings, manuscripts, letters, paintings, his saddle, and even a pair of walrus skin saddle bags, were left with his longtime friends Earl and Eleanora Snook and later gifted to the Yellowstone Art Museum by their daughter, Virginia Snook.
But that generous gift came with a huge catch — the collection must remain in Billings, intact. No piece can be sold, separated, or leave the museum, ever. Such a clause keeps documentation of Will James' legacy confined to one place, something members of the Will James Society and fans of his work argue imperils his legacy.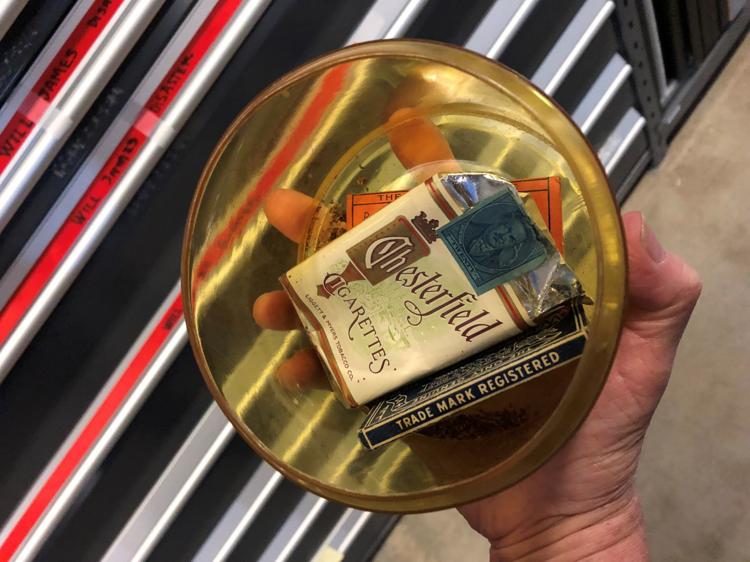 Society members are getting older. "We are a dying breed," president Sharon DeCarlo said, and the fear is that James will die with them.
This contract also prevents the YAM from drawing revenue from the collection by loaning materials to other institutions, or selling off a piece to pay for preserving the rest. The YAM has a significant financial responsibility to care for the vast number of James items, from oil paintings worth a fortune to an empty pack of his Chesterfield cigarettes. Those items represent 10% of the YAM's permanent collection (primarily modern and contemporary work) and a whopping 85% of its object archives.
Many of James' works are framed under acidic mounts, and the digital archive — potentially a researcher's dream — is difficult to properly catalog.
Meet the Snooks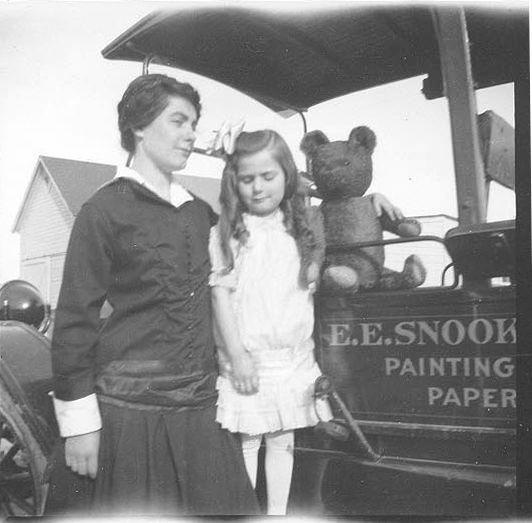 Will James' secret identity and how the world's largest collection of his materials wound up in Billings has everything to do with the Snook family and their friendship with James.
"Even his wife did not know that he came from Montreal," said Decker, a collector of James' works. "It's a heck of a story."
In fact, James left Canada as a teenager and headed west to Montana, then Nevada, where he lived and documented the cowboy's life, writing home to Quebec pleading with his family not to reveal his true identity.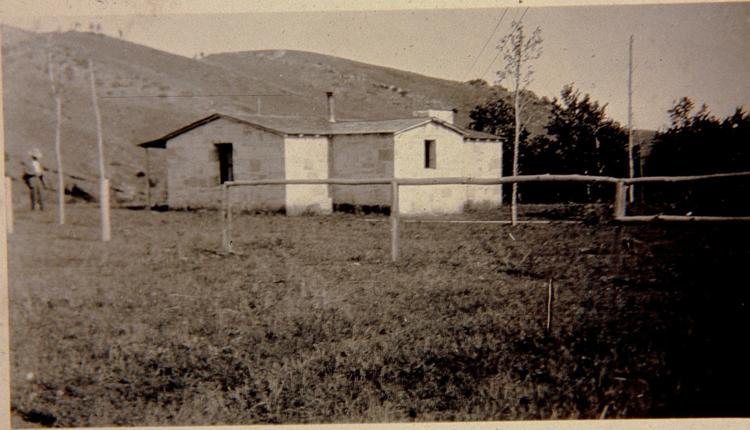 Earl and Eleanora Snook, who operated Snook Art Co. on Second Avenue North in downtown Billings, met James and his wife Alice in 1926, the same year his "Smoky the Cowhorse" was published. The book won the Newbery Medal and proceeds from the novel, along with an advance from his publisher, Scribner, brought the Jameses to Montana where they bought a 4,000-acre ranch on East Pryor Creek.
The couple settled on the "Rocking R Ranch," and Earl Snook's knowledge of ranching and livestock, as well as his art business, would spark a lifelong friendship between the two men.
Earl came to Billings in 1903 on the promise of free land to homestead. He worked as a cowhand on a ranch on the Musselshell, then returned to Billings to open a painting and decorating business. He married Eleanora Schroeder in 1910 and they opened Snook Art Co. three years later, where James, Ernest Hemingway, J.K. Ralston, Isabelle Johnson and C.M. Russell were among their guests.
The couple had one daughter, Virginia, who never married or had children of her own and would go on to inherit everything the family had amassed.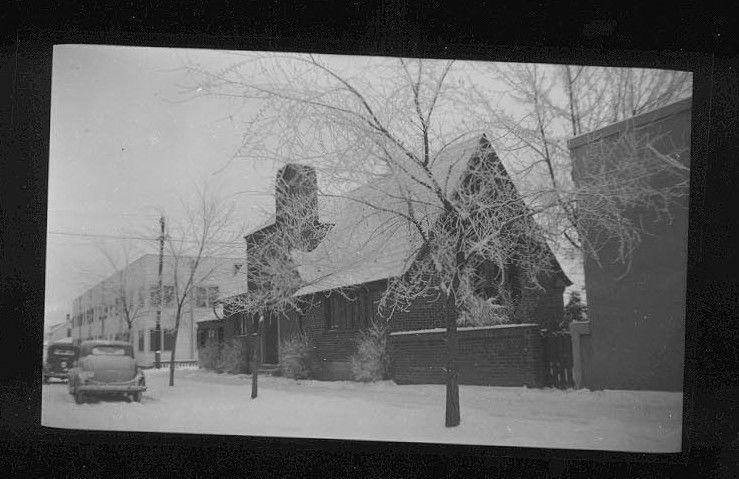 Earl and Eleanora took in Will James toward the end of his life as he struggled with alcoholism. They held onto most of his possessions when he left Billings for Hollywood, where he died from chronic, heavy drinking in 1942 at age 50.
After Earl died in 1951 at age 68, Eleanora and Virginia ran the Snook Art Co. When Eleanora died at age 89 in 1978, Virginia continued to operate the store.
Financially, the Snooks had helped James throughout his life, and they paid his funeral expenses and remained stewards of his work and possessions.
"He had a lawyer and an executor, but Earl was his friend and protector," said Danielle Schmidt, a longtime friend of the family. "He helped him with his finances. Tried to dry him out. They spent many, many a day in the basement, talking it over. Will James painted over there, he wrote over there."
Schmidt references a letter from Earl, written July 15, 1940, as a metaphor to appeal to James and his affinity for horses.
"When a horse limps, there's usually a reason. Let's correct it now before the horse goes lame," Earl wrote. "What do you really think should be done considering the cards you hold in your hand? … I have just been trying to keep people off your back. The rest of it is up to you."
For James, the success of "Smoky" lead to speaking engagements, film offers and subsequent lucrative publications, as well as a life increasingly outside of Montana that contained the pitfalls of fame. Because of his drinking, his marriage suffered. In the 1930s he was hospitalized for alcoholism in Los Angeles.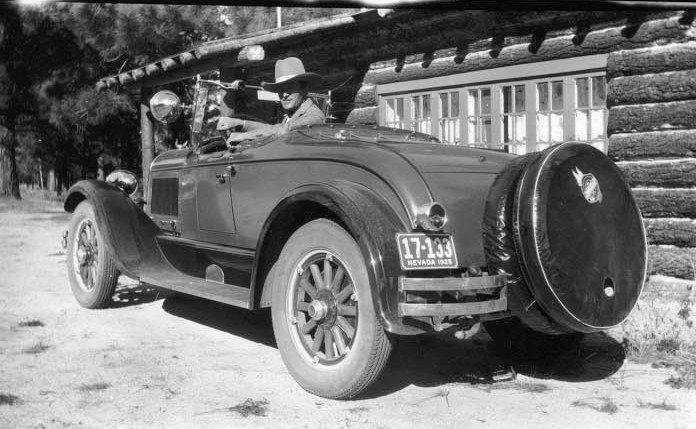 Sobered up, James returned to Montana, but his marriage was lost. The couple had no children, and Alice filed for legal separation in 1933. Alice returned to Nevada and James continued working and drinking, staying frequently with the Snooks while his behavior became more and more bizarre, even selling the ranch to a "friend" for $1,000, writes Rosmarin Heidenreich in "Literary Impostors: Canadian Autofiction of the Early Twentieth Century."
The sale was nullified, but the ranch was lost to creditors. James also had a mandatory stay at the Hospital for Inebriates in Warm Springs, Montana after a drunken driving accident in Billings in 1937, where a judge rendered James "unsafe to be at large in the community due to his excessive drinking which has affected his mind and health."
James stayed with the Snooks in Montana for a time afterward. He painted and wrote at the family's home on Second Avenue, where a young Ben Steele — a Billings artist, educator, and later a prisoner of war who used art as a survival tool during World War II — would befriend James and watch him paint. He also maintained a house, which at the time sat on five acres of land two miles from Billings. The house dates back to the early 1900s and still stands on Smokey Lane, named after — although misspelled — his famous novel. After his death, his ashes, according to his wishes, were scattered from a plane above that home.
Wooing Virginia
With their connections in the art and literature world, the Snooks amassed one of the region's most important collections, including works by James, Hemingway, C.M. Russell, Isabelle Johnson, Bill Stockton, Hans Kleiber, and Joseph Henry Sharp, all of it left to Virginia.
"For a long time, people were wooing Virginia, about 'What are you going to do with this? What are you going to do with that?'" recalled Schmidt, her longtime friend. She described Virginia as a complicated, generous person, "a lot of times to a fault, in that she gave and gave and gave."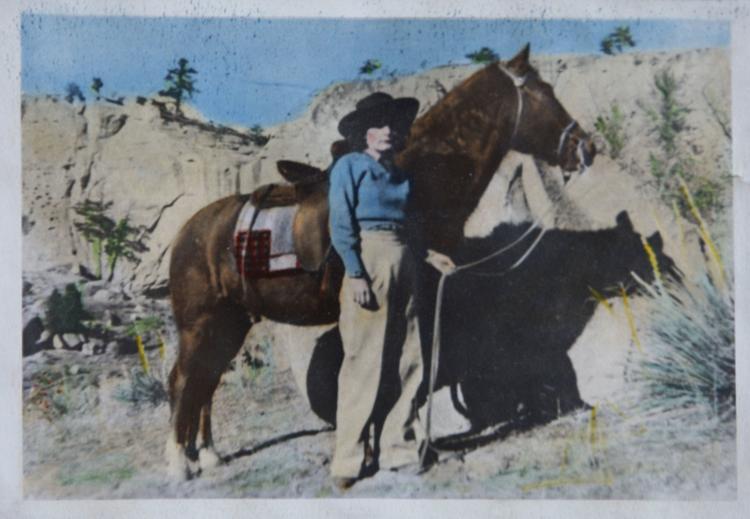 A close friend of the Snook family, Isabelle Johnson, was the one who approached Schmidt's mother, Carol Darby, and Virginia about donating her James collection to the YAM. "I know that (Isabelle) was a big influence, because Virginia trusted her," Schmidt said. 
You have free articles remaining.
Keep reading for FREE!
Enjoy more articles by signing up or logging in. No credit card required.
Gordon McConnell, who was senior curator of the Yellowstone Art Center (now the YAM) at that time, recalls conversations with Virginia. "Her friend Isabelle Johnson, who was very late in her life, convinced her that it would be a great gift to the city and a great legacy for her family — and a celebration of Will James — if it came to the Yellowstone Art Center," McConnell said.
In 1993, the YAM received pencil drawings, oil paintings, and watercolors by James, as well as works by other western artists, a gift from Virginia valued then at $1.5 million, The Gazette reported at the time.
The remainder of related objects and ephemera from James were given to the YAM after Virginia's death in 2000 at her bequest.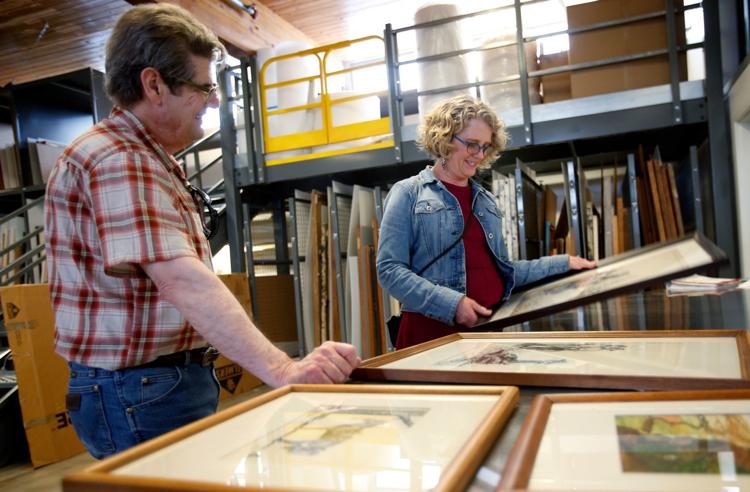 Though the collection contained works from other artists, James' contributions were by far the largest acquisition. According to YAM's database, more than 1,500 items and 371 works of art are attributed to James. It's the most complete and comprehensive collection of his life and work, and it's landlocked in Billings through a contract the YAM signed with Virginia before her death.
Virginia was protective of the Will James collection, McConnell recalled, and wanted to ensure his legacy would be celebrated for generations. Schmidt, who grew up with the Snooks, said Virginia was adamant about keeping the collection in Billings and not splitting it up. "She felt that by doing that, she could preserve this collection, show honor to her family, and to Will James."
Taking on the collection marked a departure from the museum's mission of collecting and exhibiting modern and contemporary art.
"We had defined ourselves very self-consciously as an alternative or a complement to the western heritage-oriented museums in the region," McConnell said. "At the same time, as the most professional local museum, it was our obligation to preserve this collection, which really meant a lot to the community and to people all over the world, actually. He's truly the most celebrated person connected to Billings still."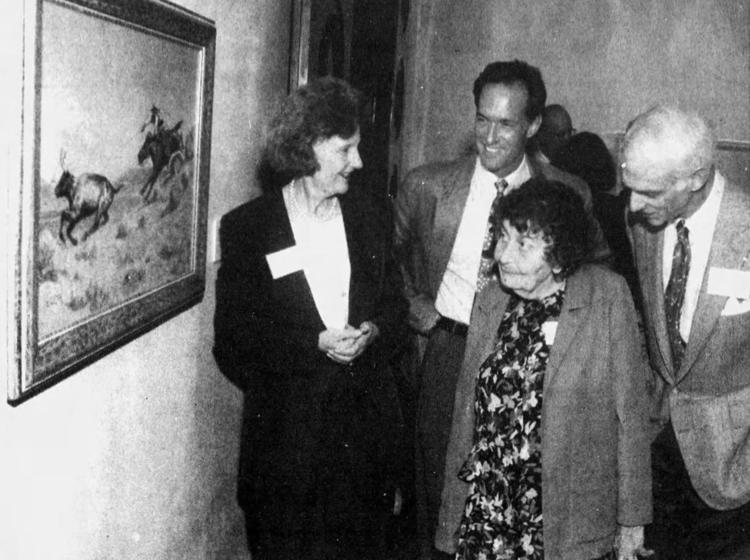 Donna Forbes, executive director of the YAM at that time, was instrumental in securing the collection, working closely with Isabelle Johnson to ensure Virginia was comfortable handing over the family's legacy to the YAM.
Such a tender situation required the YAM to agree to her strict terms, which remain intact today.
"She might have died without settling anything, if we hadn't worked with her," McConnell said.
At the time, Forbes told The Gazette the collection "will not be available for loan, and in fact they will be displayed — in part — in the expanded space, to be called the Earl E. Snook Family Gallery."
Such restrictions prevent the museum from profiting from the collection and lending it to other museums.
"Therein lies the elephant in the room, and probably the biggest factor for insulating James from the country," said Thomas Minckler, who was on the YAM board of directors and a member of the Will James Society several years ago. Minckler has made a career of dealing in rarities, from manuscripts, to art, to books. He's sold many James originals, and even donated a rare find of James' galley proofs to the YAM.
"They need to legally visit the contract and get rid of that 'no loan' clause in there," Minckler said. "They could sponsor shows and make money from traveling shows of Will James. It could go to any number of museums."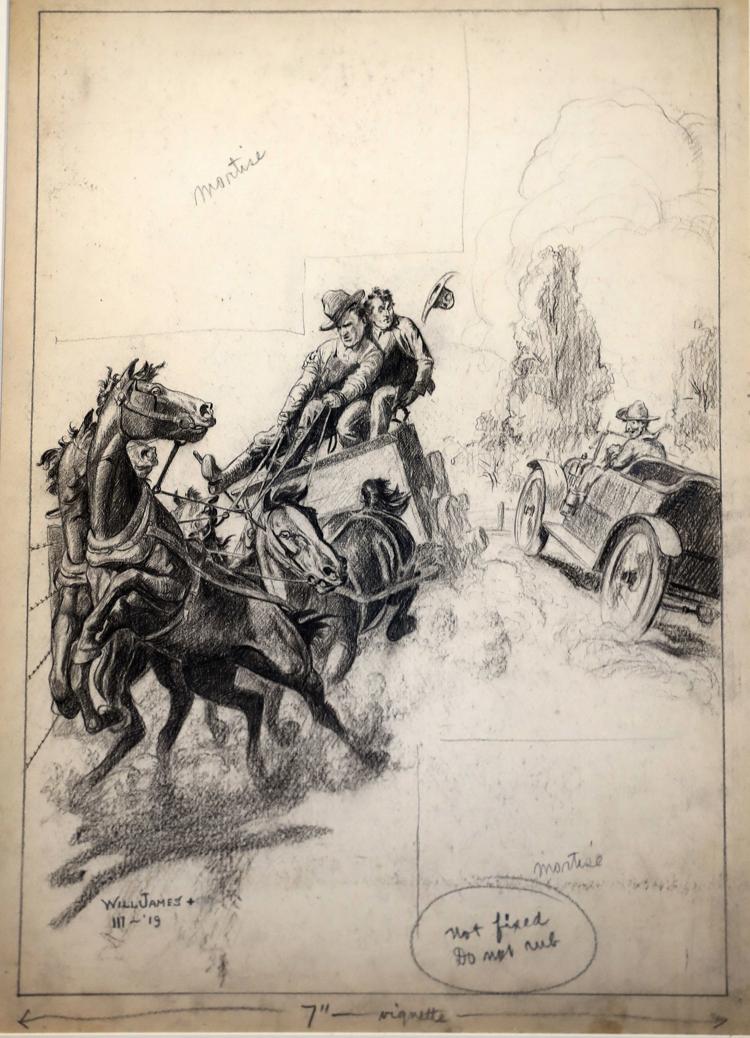 Susan Barnett, curator at YAM, said at this time there are no plans to petition to amend the gift. "At some point it is something that the board should consider, since being able to loan would help preserve the Will James legacy."
Decker, member of the Will James Society, agrees. "That collection on down the road needs to be shared with a lot of people."
Will James memorabilia and art are on display at the Western Heritage Museum in Scottsdale, Arizona, and the Northeastern Nevada Museum in Elko, as well as the Sid Richardson Museum in Forth Worth, Texas, to name a few. But, the largest collection of his works and ephemera resides in Billings and can only be viewed in the museum's current display or by requesting access to materials in the Visible Vault.
"We are limited to what we can do with the collection," said Lisa Ranallo, registrar at the YAM. "Going forward, at some point they would like to tour his work and more people can see it. People really love this collection."
But, Schmidt, who grew up with the Snook family, feels that when Virginia was making this contract, she considered the risks of the collection being split apart.
"Knowing how she felt about him, that this was her underlying way of making sure that he would never be scattered out over the country again," Schmidt said. "This was his home and this was where he belonged."
Minckler maintains the Will James collection is the most valuable possession the YAM has, both financially and to posterity. "And does it belong there? Verdict is out. They have to protect their contemporary world there, and James doesn't fit into their contemporary world."
A Canadian claim?
In 1967, two decades years after James' death, Anthony Amaral published a biography of the cowboy writer that disclosed James' true identity as Ernest Dufault, made public by James himself, although, it is argued, inadvertently.
In his will, James included instructions that his estate be given to Ernest Dufault, of Ottawa, Ontario. It is argued that James meant to write his brother's name, Auguste Dufault, but wrote his own instead.
"It made Will James more interesting to me," said Sharon DeCarlo, president of the Will James Society, "that he reinvented himself and came across the border and became who he always dreamed of being: an American cowboy."
Auguste was eventually successful in claiming his brother's estate, although James had already left a treasure trove of items behind in various locations, including at the Snook Art Co. in Billings.
Decker said Virginia was worried the Dufault family would try to claim the collection in her possession, which influenced her heavy-handed agreement with the YAM.
"She was afraid of the legal aspect of it," Decker said. "She was quite paranoid about it."
Though the Snooks took care of James in his time of need, and his possessions were in their home when he died, a formal agreement between the two parties may never have been made, according to Minckler. "And I think that was part of Virginia's paranoia. They just acquired the collection by default."
---
Photos: Will James collection at the Yellowstone Art Museum