There's nothing dull about immortality in the operatic staging of 'Nosferatu'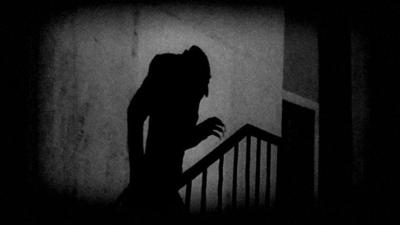 He lives. The vampire Nosferatu lives.
And, that's thanks partly to the Rimrock Opera Company, which hosted the blood-sucking love story's world premier in 2004 and will revive it Oct. 27 at the Alberta Bair Theater.
Based on the 1922 German silent vampire film by F.W. Murnau, the opera is sung in English. It was written and scored for Rimrock Opera Company by Dana Gioia, a U.S. poet laureate, and composer Alva Henderson.
The opera unfolds in three acts in the fictional Baltic seaport of Wisborg. Set in the mid-19th century, the story centers on the haunting life of Count Orlock, a Hungarian nobleman later discovered to be (spoiler alert!) the vampire Nosferatu, an unholy creature "who liveth and feedeth on human blood."
Six lead singers make up the cast including the young woman and love interest of Count Orlock, Ellen Hutter (played by soprano Andrea Garritano), and her husband and estate agent Eric Hutter (tenor Scott Wichael), whose actions bring the Count (played by bass baritone Anton Belov) to inhabit a vacant house in their sleepy village.
The drama is full of blood-lust and vampire lore, as Count Orlock arrives in Wisborg from his Transylvanian castle with coffins filled with dirt from the cursed earth where he was buried. On the trip, he takes the ship's crew, one by one. As the Count casts his demonic shadow across the land, the town becomes paralyzed by fear. He is rumored to be tamed only by the blood of an innocent maiden.
Businessman Heinrich Skuller (sung by Dennis Rupp, bass), Ellen's sister Marthe Link (Kate Meyer, mezzo-soprano), and Dr. Franz Harding (Jan Michael Kliewer baritone) are also characters in the performance. 
Rimrock Opera Company has been working on the production for several years, said Cindy Butler, president of Rimrock Opera Foundation, who, along with her husband Dr. Steven Butler, are executive producers of "Nosferatu."
"It was just time to bring it back to the stage and see how another director would present it to the community," Butler said.
Since "Nosferatu" first appeared 14 years ago, Butler has wanted to re-stage the show, in part because of the original scores from Henderson and Gioia.
"It's just hauntingly beautiful music," said Butler, comparing it to music by romantic composers of the 1800s. Plus, it's a timely piece for Halloween, though Butler argues it's not a freak show.
"It's really a love story."
Anton Belov, who plays the Count, said it's "one of the biggest, baddest roles" he's ever done. "How many times in your life do you get to suck blood on stage? It's delightful."
Belov, who moved to the U.S. from Russia when he was 16, has been a professional opera singer for 20 years. He's a graduate of Juilliard's Opera Center and is a professor of music based in Oregon.
For Belov, society's fascination with vampires isn't about blood, but rather about cultural taboos.
"It's about prohibition," he said. "It's about something suppressed and dark that dwells deep inside the human psyche."
With a vocal score ranging two full octaves, the role of Nosferatu is a challenging one.
"You have to sing very low, you have to sing very high, and you have to sing very loud," Belov said, comparing the role to singing something between Wagner and Puccini.
Now in his 40s, Belov said it feels "just right" to sing this dramatic role, which he couldn't sustain in his younger years. As his body matures, so has his vocal capacities.
"Us opera singers first discover our voices, and then we begin training," he said.
Barbara Day Turner, who conducted the 2004 staging, is back for another wave of the baton. "It's always thrilling to revisit a contemporary piece," she said. "There is a lot of stuff you learn about an opera after the first performance."
Turner's husband, Daniel Helfgot, is directing the performance. The couple met through opera and have been married 36 years.
"For us it's a dream come true," said Helfgot of collaborating with his wife. "We just got very lucky that not only can we (work together) but that we have a way of working together that helps elevate each other's ideas."
They've been through the ranks of operatic challenges, including auditioning a goat for George Gershwin's opera, Porgy and Bess.
"A goat is not a goat is not a goat," Helfgot said. "You have to get a goat who can behave on stage."
Unfortunately, they cast poorly, and had an opera of magnificent singers and a misbehaving goat, tamed eventually and only by a 5-year-old in the performance.
"You have to be crazy enough to dedicate your life to this, and eventually you are lucky enough that you can dedicate your life to it," Helfgot said.
"It swings between crazy and lucky," Turner added.
Helfgot describes opera as his safety net. From Buenos Aires, he grew up among some of the world's best opera houses. A former Argentinian journalist, Helfgot worked in a country in constant political turmoil. He left, in part because of concern for his safety, to pursue the international world of opera, ending up in California, where he met Turner.
Turner, who has lived in the California area since the 1970s, is touted as one of the pioneers of American modern opera and has premiered many works.
For Helfgot, he comes to the production "completely blindfolded" and did not see the original staging. He comes to the production with a sense of humor that is persistent and enduring, and he's playful with the cast. "Now you look like yourself," he commented upon seeing Belov for the first time in vampire makeup.
Helfgot said it's more difficult to copy than to create.
"The time you spend trying to produce what someone else has done is tedious, but if you let the music talk to you, the text talk to you, you are in direct contact with the creators, as opposed to intermediaries."
Both Turner and Helfgot have worked on operas in Billings in the past, including "Magic Flute" and Don Giovanni, and Turner has also been a guest conductor for the Billings Symphony. They've developed a rapport with the producers of Rimrock Opera. "They trust us and we trust them," Helfgot said.
Both describe casting and staging an opera like a game of chess. "You have to have all the right pieces in the right positions to make a successful game," including singers, musicians, costuming, set design, and lighting, Helfgot said. 
"It's such a complex world of forces that have to come together. You have so many creative minds that have to function in sync. That's why it's so much fun," Turner said.
"Nosferatu" takes place at Saturday, Oct. 27 at the Alberta Bair Theater. Tickets ranging in price from $10 for students to $46 for premier seating are available at the Alberta Bair Theater box office, 2801 3rd Ave. N., by phone at 406-256-6052, or online at www.albertabairtheater.org.