Downtown Billings will be bustling this Friday, with Magic City Blues on Montana Avenue and ArtWalk all over the downtown corridor.
McCormick Cafe is the only ArtWalk location that will not be accessible without a Blues Fest ticket.
Two public art pieces will be unveiled during ArtWalk, including a piece by Brooke Moore on the Rockman building at 27th Avenue North and Second Avenue North. Funded by the Big Sky Economic Development Authority's "Space to Place" grant, this sculptural installation on the west wall of the building will be unveiled at 6 p.m. "Grassland" by metal sculptor Jennifer Tolton, is now installed under Skypoint, on the northeast corner of North Broadway and Second Avenue North. Tolton will give a talk and answer questions at 5 p.m. 
Also unique to the August ArtWalk, Kucera's Annual Classic Car and Art Show will take place at 2111 Montana Avenue, and Free Spirit Rock School Band plays classic rock and jazz selections on North Broadway near Skypoint and Second Avenue North.
A half dozen new downtown businesses have joined the ArtWalk this summer, including Liberty and Vine Country Store, 504 Square Feet (operated from a Shasta pop-up trailer), This House of Books, The Sassy Biscuit Co., Bishops Cut and Color and the Fieldhouse Annex Bakery & Cafe.
Participating galleries and businesses, provided by ArtWalk Billings, include:
2905, 2905 Montana Ave. Members of Altitude 3123, an artists' collective, present performances, events and exhibitions where artists, musicians and yogis hope to draw the participants into the creative process.
504 Square Feet, near 2nd Avenue North and North Broadway, just west of Skypoint. Cassie Crafton Kramer sets up her vintage Shasta trailer filled with functional Montana-themed pottery.

Aspinwall, 103 N. Broadway. Iron Bark Designs, with their popular metal and wood designs, and photographer Trevan Hiersche, who has traveled the world in search of intriguing landscapes, join emerging artist, Sean McCotters.
Barjon's, 223 N. 29th St. Dani the Bohemian presents an all new show created during RV travels with her husband and faithful blue heeler, Camber. Her work incorporates eclectic techniques and subject matter.
Billings First Church UCC, 310 N. 27th St. "Paris, Je T'aime" by Virginia Bryan and Deb Goffena is a collaborative exhibit inspired by their travels to France in October 2017 that includes mosaics, collage, watercolors and acrylics. Music by Edith Piaf. French bites and beverages.
Bishops Cut and Color, 108 N. Broadway. Works by local artist Angel Shandy works primarily in portraiture and character illustration, emphasizing the personal connection with her subjects and discovering their stories, will be on display. 
Black Datter Tattoo, 2914 First Ave. N. Resident tattoo artists Seth White, Sean Sapone, and Ranen Royer are joined by Billings artist and sculptor, Louis Habeck, who shows his charcoal drawings of Ceratopsian dinosaurs and gives us a sneak peak at work for an upcoming Bozeman show.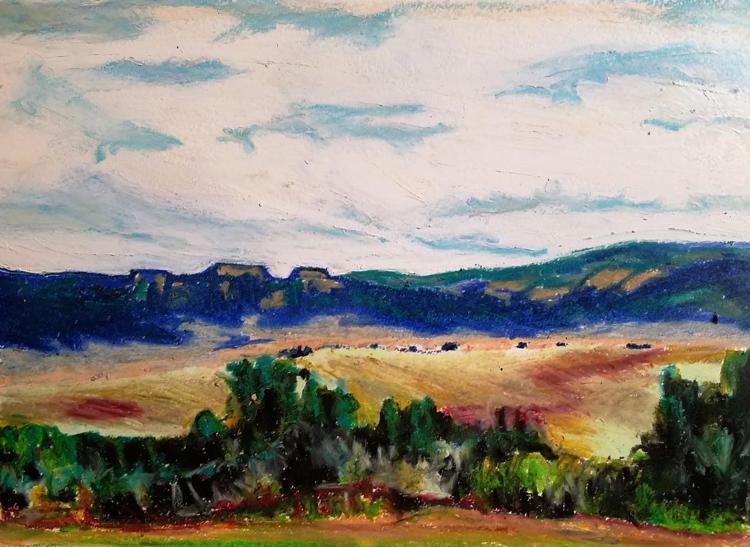 The Castle, 622 N. 29th St. Corby Skinner shows recent oil pastels from his "Montana Landscape" series.
Clark Marten Photography, 2606 Montana Ave. Local artist Elley Swan recently finished a large scale mural at the Montana Audubon Center that provides a 360-degree view of the mountains and rimrocks from Billings. On a smaller scale, her paintings, often inspired by indigenous cultures, are vibrant, eye-catching pieces.
Classic Car and Art Show, 2111 Montana Ave. Hosted by Mark Kucera, the annual event includes classic cars, live painting, a silent art auction benefiting the Broadwater School Music Department, book signings by Vicki Tapia, and showings by nearly a dozen artists from Billings, Joliet and Edgar.
Dickey's BBQ, 2519 Montana Ave. Kelley Partridge shows new work, including "Spirit Gift." A recent ArtWalk visitor described her paintings as "eye candy." Come meet Kelley at Dickey's, where the art smells amazing.
Downtown Billings Alliance, 2815 Second Ave. N. Emerging artist, Rylie Kaiser, aka Bunny K, returns to the DBA gallery with a new series of large scale, colorful, abstract paintings. Her art has been a healing antidote to chronic health issues.
The Fieldhouse Annex Bakery and Cafe, 2601 Minnesota Ave. Photographer and designer Allison Kazmierski shares her solo photography exhibit, "Field Notes." She studies the impermanence of performance art set against the wild of everyday surroundings as a witness to that which lies between choreographed space & time.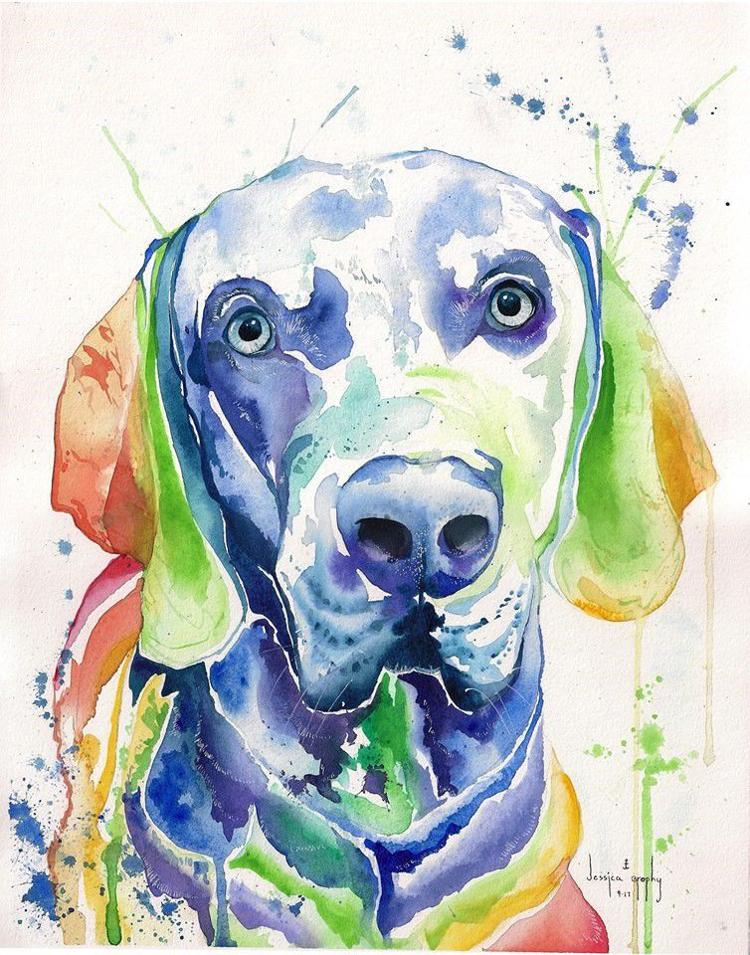 Gallery Interiors, 2814 Second Ave. N. Jessica Brophy presents animal watercolors and other delightful works. She will be doing live paintings during the ArtWalk. Meet Jessica, say hi to your friends and check out all the amazing work by other gallery artists.
Gallery Nine & Connie Dillon Fine Art, 2501 Montana Avenue #9. Connie Dillon continues to be innovative with unique landscape and still life paintings on view in her gallery on the second floor of the Carlin Hotel.
Global Village, 2720 Third Ave. N. Guest artist Candace Forrette will show "Chasing Emily," an artistic series created during child-rearing years.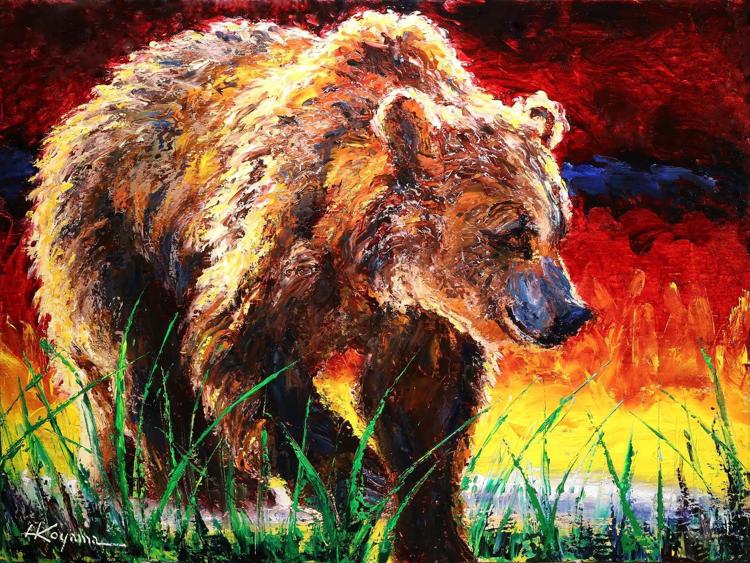 Harry Koyama Fine Art, 2509 Montana Ave. Harry Koyama presents a mixture of traditional and energetic abstract work.
Joy of Living, 102 N. Broadway. Works by photographer and popular blogger Alexis Bonogofsky (eastofbillings.com) will be featured.
Kennedy's Stained Glass, 2923 Second Ave. N. Susan Kennedy Sommerfeld and other studio artists share reflections of summer through beveled glass and stained glass art pieces.
Liberty and Vine Country Store, 2019 Montana Ave. Featured artist Ross Magnuson enjoys "wrangling the light" when photographing the buildings, relics, people and landscapes of Montana and Wyoming.
Mann Mortgage, 2511 Montana Ave. Rotating artist exhibits are presented with a portion of sale proceeds often benefiting local non-profit agencies.
Montana Gallery, 2710 Second Ave. N. Sojourners Exhibition: Paintings from Daniel Keys and Richie Carter will be featured, depicting their time in Paris, Rome, Florence, and Venice. Also on display, recent work by gallery owner Tyler Murphy and others including many plein air paintings and a sneak peek of the annual summer Young Guns exhibition "Yellowstone."
North Acre Real Estate, 2700 Second Ave. N. Guest artist Nikki Schaubel shows her popular photographs bearing self-help and inspirational quotes.
Prodigal Gallery, 2517 Montana Ave. Penelope Strong transforms her law office reception area into an art gallery and features a variety of artists.
Real Deals, 2525 Minnesota Ave. Billings resident and world traveler Walter Williams uses the creative process to take an intimate view of himself and the world. 
Sandstone Gallery, 2913 Second Ave. N. Guest artist Marie Shirley Jones of Red Lodge, who creates in fabric and mixed media, joins gallery artists William Crain (oil pastel), Dick Cottrill (acrylics) and Nick Nicoll (woodworking).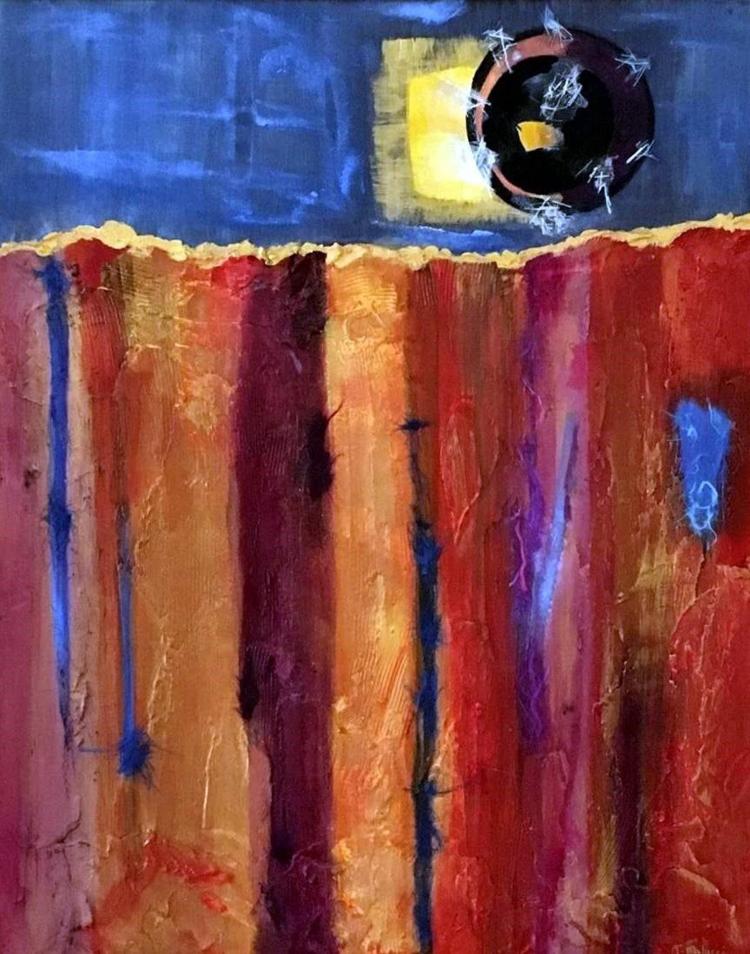 SCRaP Creative Annex, 1701 First Ave. N. Brio, a group of artists who've met weekly since 2014, will feature their artworks across a variety of media. 
Skypoint, Second Avenue North and North Broadway. Free Spirit Rock School Band, featuring musicians ages sixteen to sixty play popular blues, jazz and classic rock, sponsored by Seva Kitchen.
Stapleton Gallery, 104 N. Broadway. To raise funds for the Montana International Film Festival (MINT), artists Judd Thompson, Ben Pease, Audrey Hall, and Tyler Murphy have donated the use of their artwork for a series of promotional posters, which will be signed, framed, and raffled off during ArtWalk to support the festival in its first year, taking place in downtown Billings in September.
Straight 'N' Arrow, 2714 First Ave. N. Guest artists are featured alongside fine American Indian jewelry, crafts and art.
Terakedis Fine Art and Jewelry Gallery, 112 N. Broadway. "Indian Paint Summer" celebrates new works by Leland W. Stewart, a member of the Crow (Apsaa'looke) Nation, the Whistling Water Clan and the High Hawk Society. Stewart's paintings tell stories that capture a blending of cultures.
This House of Books, 224 N. Broadway. A contemporary display of art by Allen Knows His Gun and Rabbit Knows Gun will be featured. Rabbit Knows Gun's work is inspired by his military service, his membership in the Crow (Apsaa'looke) Tribe and other artists. A strong theme in his work is the kinship of creation. Allen Knows His Gun uses oil/acrylic paints to express his vision of Native culture.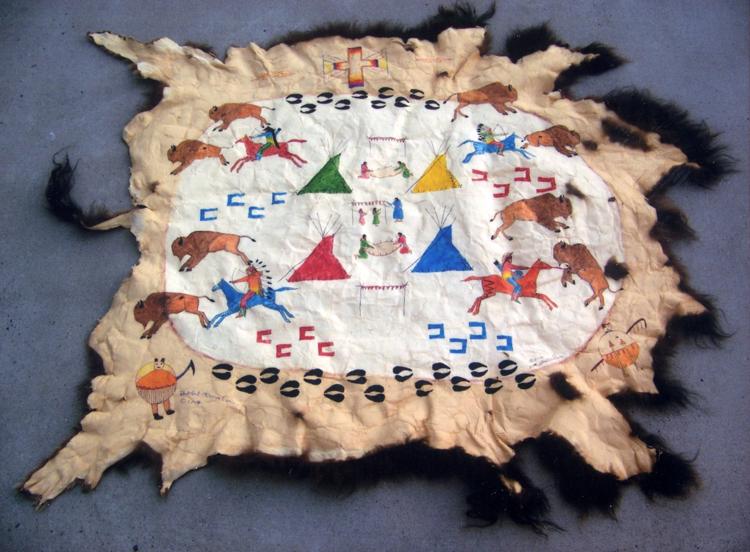 The Sassy Biscuit Co., 115 N. 29th St. Works by artists from Terakedis Fine Art and Jewelry will be on view at downtown's newest brunch location.
Toucan Gallery, 2505 Montana Ave. The "Blues," an invitational art exhibit, celebrates the musical themes of the nearby, co-occurring Magic City Blues Fest. The invitational show features more than 40 works of art by area artists interpreting the theme, "blues."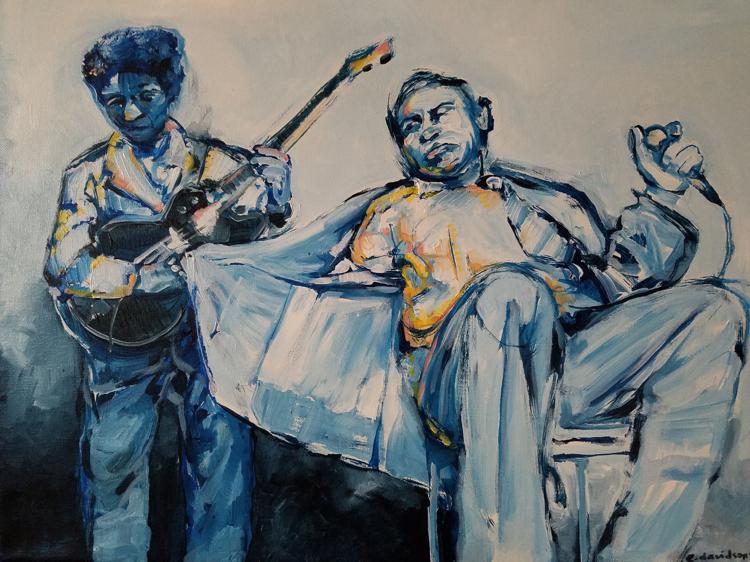 Underground Culture Krew, 12 N. 29th St. The fourth annual "Montana Rail Ink" freight train graffiti show includes artists from USA, Canada, and Mexico, plus hand-painted model trains and other art works inspired by the freight train graffiti culture. UCK honors the memory of local, much-loved graffiti artist "Grime More" with a tribute show featuring his work.
Yellowstone Art Museum, 401 N. 27th St. Early start at 4 p.m. with free admission, music, light food and a cash bar. First drink free for new YAM members. Now on display, the juried Montana Triennial, featuring artists from across the Treasure State. Last ArtWalk to see "Rough and Tumble, Smoke and Rope," a multimedia homage to Yellowstone Valley ranching.