Joy Harjo is a major voice in Native American poetry, and has inspired others to express themselves through writing.
Born in Tulsa, Oklahoma and part of the Muscogee Creek Nation, Harjo is the first Native American to be named United States Poet Laureate.
Harjo presented a reading on Saturday at the Petro Theatre on the Montana State University Campus as she begins her 2019-2020 term as the 23rd Poet Laureate in the country.
The Writer's Voice, a program dedicated to supporting contemporary literature and writers in the region, received a $15,000 grant from the National Endowment of the Arts for the annual Big Read. Part of the funding was used to bring Harjo to Billings. November is also Native American Heritage Month.
Originally a painter, Harjo, 68, started writing when she was 23 years old and learned to play the saxophone later in life. She began putting pen to paper when she became involved in the Native rights movement in the 1970s. 
"It was never a hobby, in that sense. I approached it I think as any artist approaches art," Harjo said in an interview. "You're dealing with language, you're dealing with images and I approach a poem not knowing where it's going to go because I want to learn something I didn't know before."
It's hard for Harjo to describe what she focuses on, but said that her poetry flows from her experiences and her research into Native history.
During Saturday's performance, Harjo molded her poetry with her smooth saxophone melodies while she read about origin stories, kindness, her daughter and the history of her tribe.
She talked about being a teen mom, her time away from her reservation, and her appreciation for nature and the earth.
She read from her most recent book, "An American Sunrise," and has published eight other books of poetry, including "Conflict Resolution for Holy Beings," "How We Became Human: New and Selected Poems," and "She Had Some Horses."
"They come out of places I've been, out of tribal communities, my own home, the stories, (and) history," Harjo said.
You have free articles remaining.
She said that having an audience is a great honor. She has taught at multiple universities and colleges, including the Institute of American Indian Arts, the University of Tennessee and Harvard University. She uses her poems and those of others to teach art, Native American history and heritage.
"Once I visited a class at Harvard Law School with some of the poems because I could take almost any poem and point to different issues or laws dealing with Indian Country," Harjo said.
A few members of Harjo's large audience are Montana poets laureate Mandy Smoker, 44, and Melissa Kwasny, 65.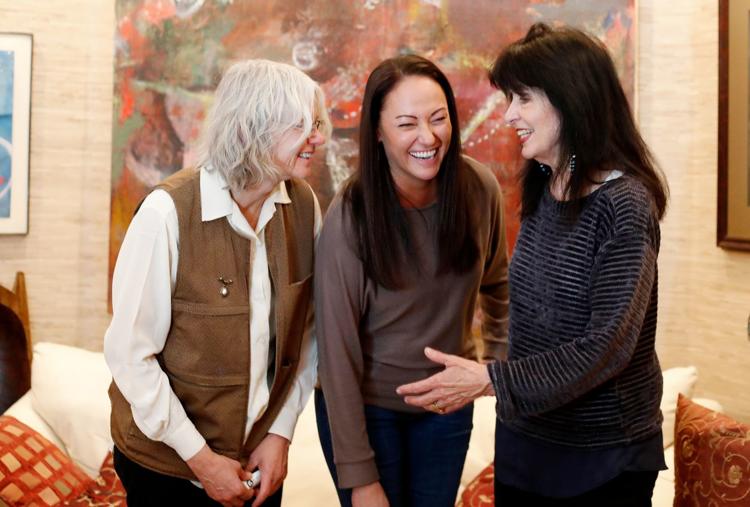 Kwasny is the author of six books of poetry, including "Where Outside the Body is the Soul Today," "Pictograph," and has taught poetry writing in graduate and undergraduate programs and in public schools for over thirty years.
Smoker, a member of the Fort Peck Assiniboine and Sioux tribes, is the author of one collection of poems, "Another Attempt at Rescue," and currently works for the nonprofit Education Northwest.
Native American history and stories are often told from an outside perspective, and Smoker teaches Native writers and others that their voice matters. She writes a lot about landscape, family, tradition and memories.
Smoker discovered she wanted to write poetry when she began attending Pepperdine University and found Native poetry and Harjo's poetry collections. Her mother passed away at that time, and she began writing as a way to cope.
Kwasney can also name many Native writers that she has pulled inspiration from when she writes about humans' role in the natural world. Harjo is one of them.
"Respected doesn't even describe her work and her influence on so many of us," Smoker said of Harjo. "She has been so incredibly generous to younger poets, so we're indebted to her for continuing to give us space and recognizing new work."