The Western Heritage Center will reopen Thursday after a hearty remodel that included knocking down four walls and dismantling a 10-year-old exhibit with a porch, kitchen, post office and restaurant showcasing the history of Eastern Montana.
The resulting space is vastly more open, conducive to movement for visitors who are increasingly wanting more social interaction and less structure from their museum visit, said Lauren Hunley, community historian for the WHC.
"The plans and the models for how people are moving through museum spaces is changing," Hunley said. "We are recognizing that people are going to do it the way they want to, not the way we think they should."
Hunley joined the WHC staff in September. She brought with her a vision for remodeling the facility and changing the way information is displayed. In January the museum closed temporarily to make the changes.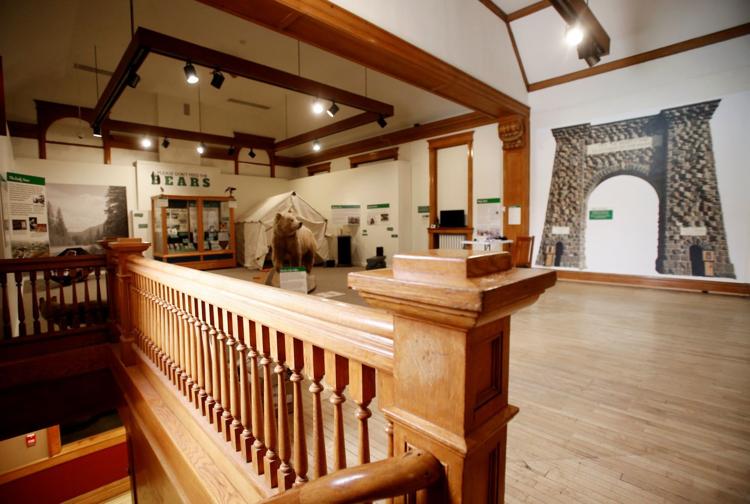 Museum visitors are also increasingly interested in self-guided tours, Hunley said, which may not follow the museum's planned layout. "We had to take that into consideration with the way we write our information, with the open floor plan — all of it."
Hunley has a BA from the University of New Mexico in anthropology and archaeology, and a MA in learning and visitors studies from England's Leicester University. Her background in museum work includes three years in Washington, D.C., and the past seven years working at the Carbon County Museum in Rawlins, Wyo. She interned at the Little Big Horn Battlefield in 2006, which started her "Montana love affair," Hunley said.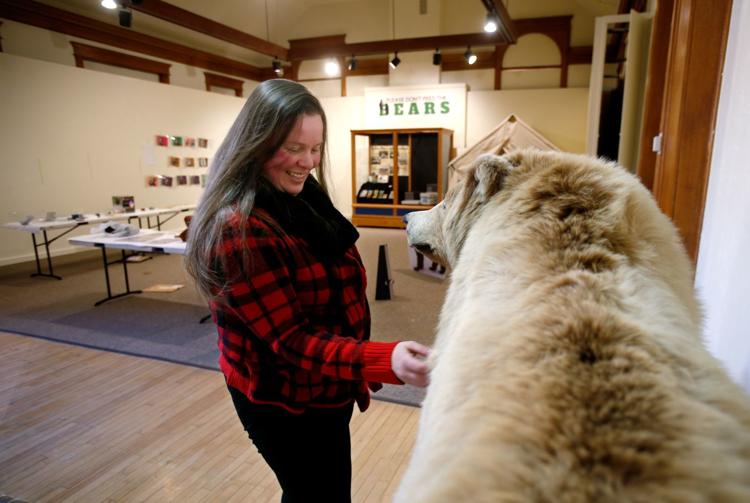 "I love her enthusiasm to take on so much and to give us a different look," said Kevin Kooistra, WHC executive director. "She's a great synthesizer — someone who can read a bunch of material and distill it. That's critical to a museum. You're going to take 80 pages of single-spaced notes and try to convert it to six text panels."
The resulting displays are visually rich and light on the heavy reading, with an emphasis on art of the Apsaalooke tribe. Displays range from ledger art dating to the late 1800s, including some by Chief Medicine Crow. There's also a display of Crow beadwork techniques and the evolution of elaborate geometric designs and materials all the way up to contemporary Native voices including artist Kevin Red Star and musician Jared Stewart.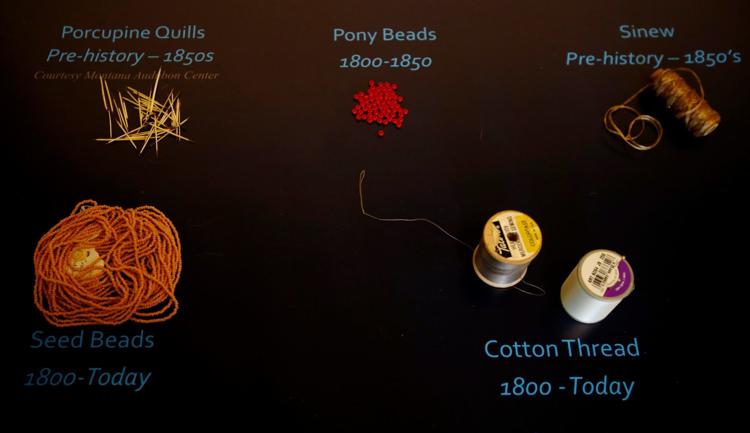 For WHC intern Amberly Whiteman, the visual elements succeed in showing how indigenous art-makers have adapted and changed to new forms of art making. 
A member of the Crow tribe, Whiteman said art has long played an important role for the Apsaalooke people. "It gives us a voice and lets us express who we are as people," she said.
WHC is not staffed by tribal representatives, so they relied heavily on interviews collected by Mardell Plainfeather through the American Indian Tribal Histories project.
"Native peoples have had their stories told for them for so long," Hunley said. "When it's their story, it's their history, and they have the right to be able to share that themselves, so all we're doing is providing a space for that to happen."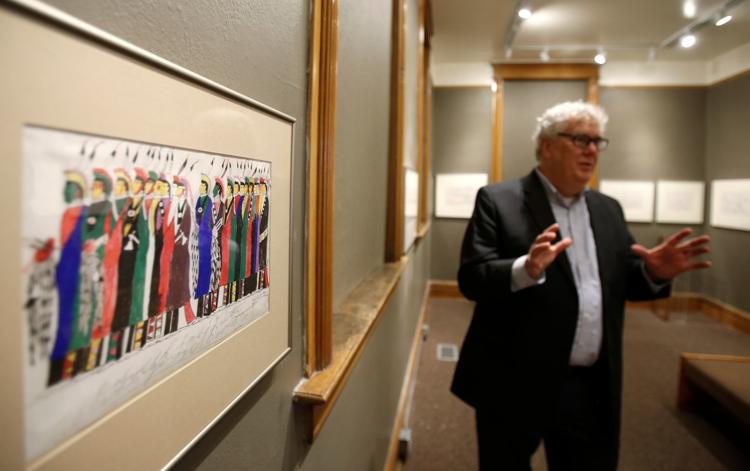 In the community gallery downstairs, a series of paintings by Judd Thompson are on display. Though Thompson is not Native by blood, his father, Putt Thompson, was adopted by Pius and Cordelia Real Bird and built the Custer Battlefield Trading Post on the Crow Indian Reservation in the mid-1980s. Judd grew up surrounded by Native American art and artists.
"I got to see artists that were trying to make it," he said. "My dad believed in the little guy that was painting out of the back of the truck. I saw the support, and that lead to a life's path."
At age 16, Thompson was given a Crow name, Ishtianneeitche, that means "Walks the Good Path." His art is vividly colored, and his Native portraits are inspired by the world and culture he was surrounded by.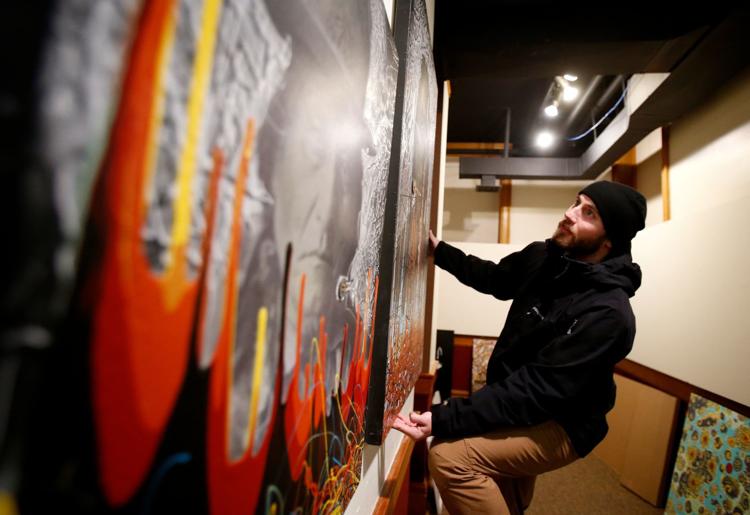 "I was really lucky to have the access to the items from an early age, not knowing they were influencing me at that point," Thompson said. "Looking back at what it's done for me — it's empowered me with color and to bring in different aspects of nature into my work."
Thompson has also incorporated historic Crow imagery from photographs and known Crow pieces. "He's giving them a modern interpretation, seen though his eyes growing up on the reservation," Hunley said.
New exhibits
Exhibits opening Thursday include: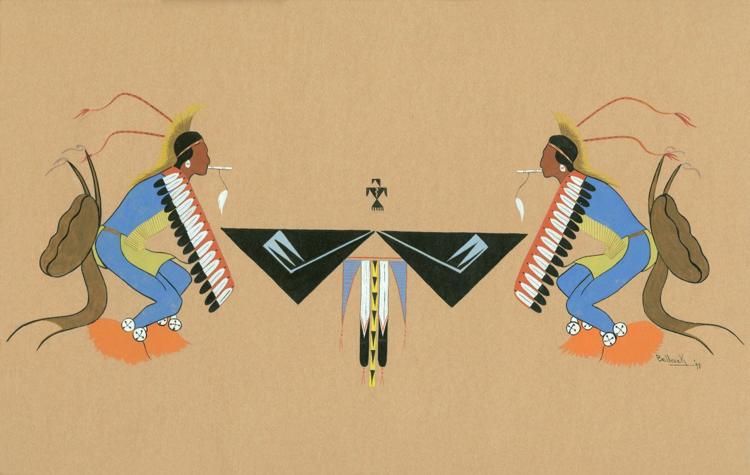 "Art & Adaptation: Transforming Art Among the Apsaalooke," will be on display through May 25. According to a press release, this exhibit explores the artistic changes and inspirations through the eyes of contemporary Apsaalooke artists. 
The exhibit includes objects from Chief Plenty Coups State Park, MSU Billings Special Collections, Montana Audubon Center, Buffalo Chips, and Western Heritage Center, with support and guidance from Chief Plenty Coups State Park, Humanities Montana, Public Value Partnerships and Montana Arts Council, MSU Billings Special Collections, Mardell Plainfeather, Amberly Whiteman, and Adrian Heidenreich.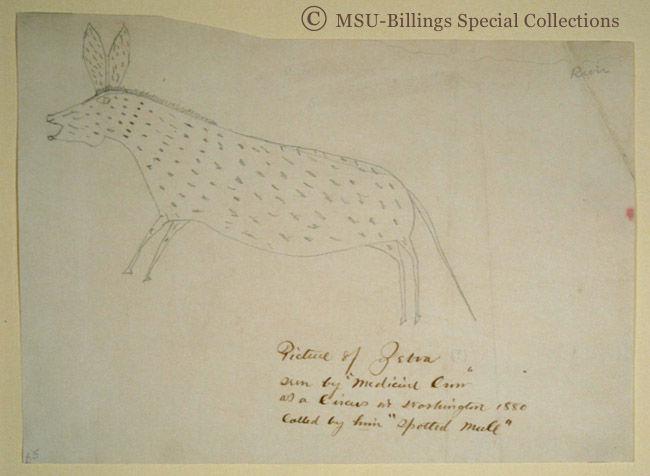 A collection of 22 original Crow and Gros Ventre Indian ledger art pieces will be on display through Sept. 21 at the WHC. Collected by Charles H. Barstow, a clerk for the Bureau of Indian Affairs at Crow Agency during the 1880s, these ledger drawings were created by Crow and Gros Ventre Indians at Crow Agency between 1879 and 1897, according to the Western Heritage Center.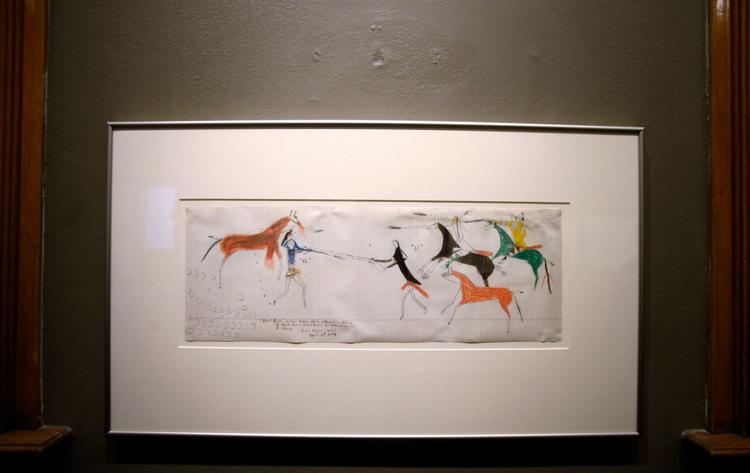 "Several drawings depict the sights and sounds experienced by the Crow Indian leadership during the 1880 Crow Indian Delegation trip to Washington, D.C.," according to the WHC. Drawings by Medicine Crow and Deaf Bear and a copy of an 1879 map of "Custer's battlefield" from the Crow scout Curley are highlights of the collection, on loan from the Montana State University Billings Library Special Collections.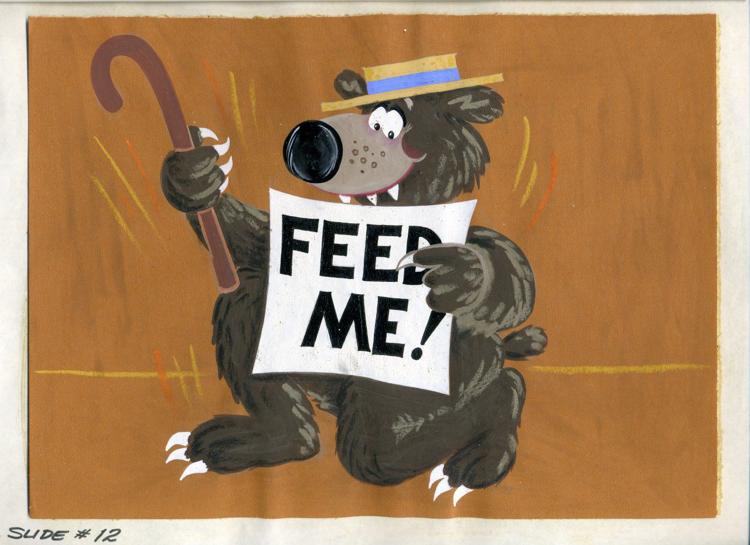 On display in the East Gallery through Dec. 28, "Please Don't Feed the Bears: Close Encounters with Yellowstone Wildlife" explores the complicated relationship between Yellowstone Park visitors and resident wildlife. At one time, visitors could pet and feed park animals including marmots, elk, and of course, bears.
The interactive and family-friendly exhibit tracks the parks' transition from a visitor playground to today's wildlife preserve where visitor behavior is closely monitored.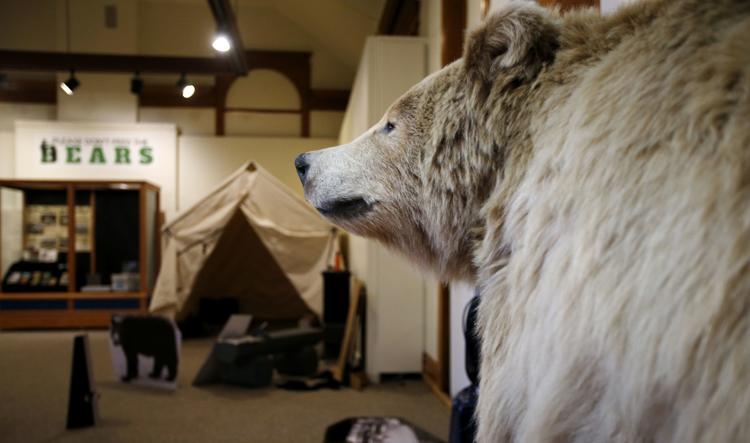 "Walking the Good Path: The Art of Judd Thompson" will be on display through May 4 in the Community Gallery.
Born in 1983, Thompson grew up on the Crow Indian Reservation, according to his artist bio. After graduating from the University of Wyoming in 2010 with a degree in art history, Thompson relocated to Billings, where he currently resides.
His parents' business, The Custer Battlefield Trading Post, was a place for artistic inspiration for Thompson, whose artwork is based on the art that was all around him. He's inspired by western artists, especially Joseph Henry Sharp, Thompson said, and uses his passion for color theory to capture the essence of Crow Country in a variety of media.