Red Lodge residents will kick off 10 days of festivities during the Red Lodge Winterfest, a blend of the Winter Carnival and the National Skijoring Finals.
Events kick off March 1 with the annual Winter Carnival, a giant party to celebrate everything Red Lodge that includes live music, costumes, cardboard sledding races, Torchlight Parade, fireworks, and independent films playing at the Roman Theater.
This year's carnival theme is an invitation into the world of wizardry. From Middle Earth to Hogwarts, all genre of wizard or witch costume is encouraged. Bring your wand and be prepared for a magical time.
Festivities kick off at 5:30 p.m. on Friday, March 1, with a parade in Downtown Red Lodge. Participants in the Cardboard Classic at Red Lodge Mountain are encouraged to join the parade with costumes, cardboard crafts. 
Cardboard Classic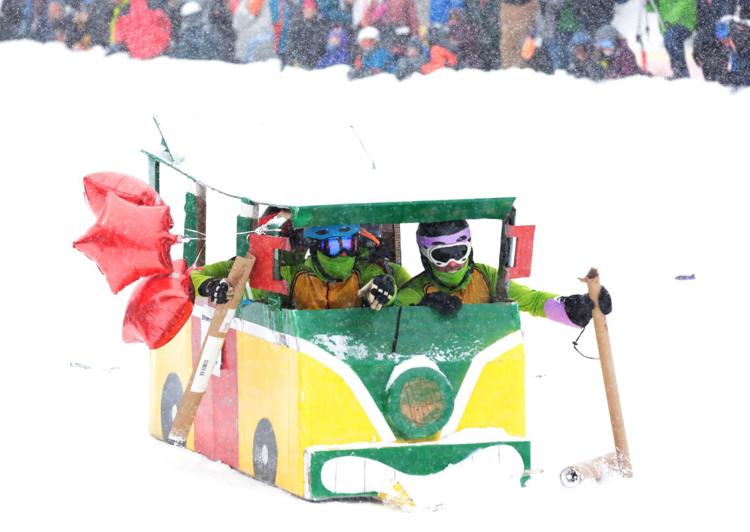 The following day, the slopes heat up with the Cardboard Classic Saturday, March 2 at Red Lodge Mountain. Contestants race down part of the mountain in a handcrafted sled. The only rule: the vehicle can only be made with cardboard, glue, and tape. Age divisions vary.
On Sunday, March 3, The Yellowstone Wildlife Sanctuary has invited children 10 and under to reuse their cardboard sleds in a The Critter Classic, a kids sledding race, that will take place at 2 p.m. on Sunday, March 3, the sanctuary. Young contestants will be served hot chocolate and snacks; partake in animal-related activities; and enjoy a safe time on some mini-slopes.
"It's not an intense competition," said Gary Robson, executive director for the Yellowstone Wildlife Sanctuary, "but there will prizes for most creative and fastest sleds."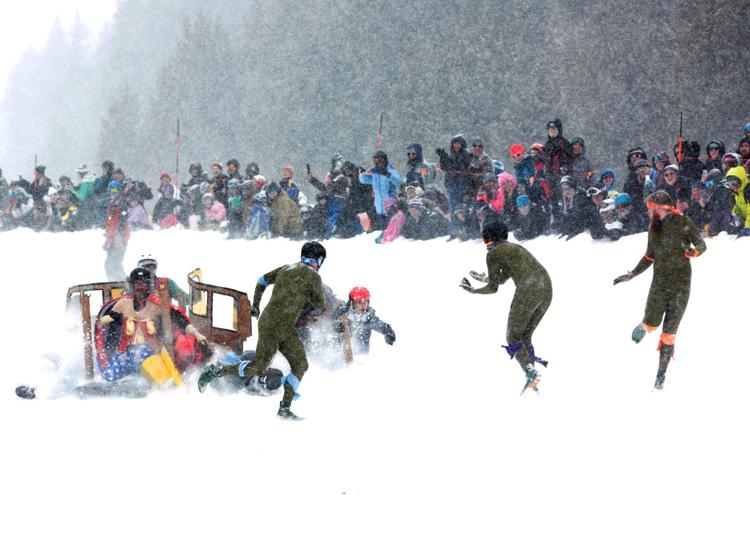 Contests are judged on creativity of craft and costume, as well as speed. Divisions are separated by age. For more information or to register go to redlodgemountain.com/winter-carnival.
Torchlight parade
After the sun sets on March 2, crowds gathers around the bottom of the mountain where approximately 80 skiers with flares on the ends of long bamboo sticks pour down from the summit of Red Lodge Mountain. Fireworks follow from the base area. Attendees are encouraged to bring hot drinks and warm blankets to this family-friendly event.
You must be age 13+ and an advanced skier or snowboarder to participate in the Torchlight Parade. A limited number of spaces are available. Spots will open to the general public at 3:30 pm on the day of the event, Saturday March 2, 2019. Sign-ups at this time will be on a first-come, first-serve basis at the Ticket Office. 
Attendees may purchase hot drinks at the Bierstube or Main Lodge. Per Montana liquor laws, not outside alcohol is permitted on the premises.
Skijoring national finals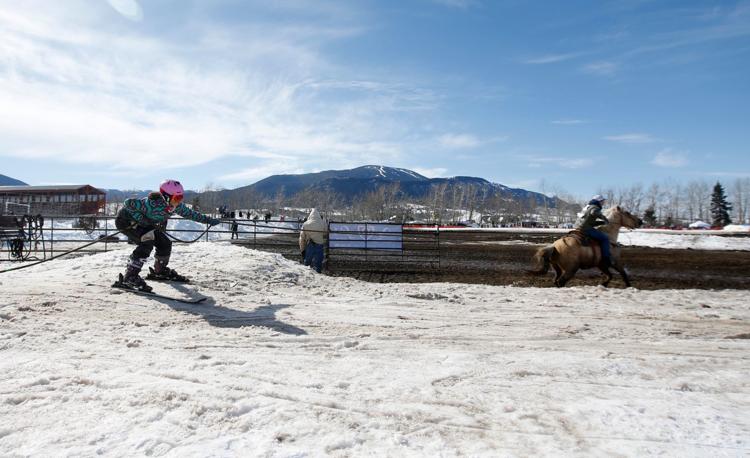 Skijoring, a skier pulled by a horse, dog or recreational vehicle, took root in Red Lodge circa 1964 as part of a Cutter Races event hosted by the Beartooth Roping and Riding Club. While animals have been pulling sleds, skiers and carriages throughout history, the sport is believed to originate in Scandinavia. The Montana spin on skijoring brings extreme skier and cowboy together for an incredible competition.
That tradition continues March 8 with the National Finals Ski-Joring Races registration party at the Silver Strike Sports bar. Races are from noon to 3 p.m., Saturday, March 9, at the Home of Champion Rodeo grounds on a U-shaped track that takes the rider and skier through 20 slalom gates and four jumps. 
"They are hitting speeds up to 25 miles per hour," said event coordinator Kristen Beck. "That doesn't sound very fast, but on a horse – or being pulled by a horse – that is very fast."
Beck, along with many volunteers and supporters have worked to maintain the races while adding new elements to make it a family-friendly event.
The event includes a pee-wee race division for children 12 and under; a junior division for 13-17; and a century division for experienced skiers. There will also be races for novice, sport, and open (for top competitors), as well as a snowboarding competition.
There is also a separate long jump competition in which the rider and horse pull their skier over one jump for the longest distance each day. Distances have exceeded 60 feet.
Onsite vendors include beer and food trucks as well as wagon rides from parking lot to racing grounds.
Keep the party going Saturday night at the Red Lodge Venue at Bone Daddy's for a Calcutta of the Open, Sport, Century, Snowboard, and Long Jump divisions, where proceeds benefit two local charities. Winter Festival Concert to follow featuring Matt Strachan & the Hoot Owls and Lee Calvin and the Coal Cars. Tickets can be purchased in advance. Combination skijoring and music festival tickets available too.
Races continue on Sunday, March 10, from noon to 3 p.m., with a chili cook off and climbing wall. An awards ceremony takes place Sunday evening at Foster and Logans Pub & Grill with cash prizes and buckles for the top four racers.
Red Lodge Tour and Taxi will be donating their time for shuttle services Saturday and Sunday from 11 a.m. to 12:30 p.m., and 3-4:30 p.m., with pick-up in front of the Blue Ribbon Bar.
"Red Lodge is an amazing town. We couldn't do this with the community involvement, said Beck.