As an embroidery collagist who makes social and political statements on recycled quilts, Maggy Rozycki Hiltner has plenty of art camps she can claim. Yet, she's an anomaly at most tables where "fine art" is still an exclusive category with little room for crafts and quilts.
"I like poking it a little bit," Hiltner said. "Don't tell me it's not art. Let's think and question and activate people to expand their comfort zone."
Hiltner's work is a response to materials she collects from thrift and antique stores, including embroidered tablecloths, tea towels, and dresser scarves. Such decorative household items act as a domestic time capsule, reflecting the beliefs and practices of the time. Embroidered images would sometimes be traced from newspapers and advertising, and also mass produced as embroidery transfers.
"They're not precious anymore, but they are all hand done," Hiltner said. "And they're just ending up in the trash." Through creative repurposing, these works are given new life — what Hiltner terms "embroidery collage" where she cuts out and uses hand-sewn images in scenes pieced together atop fabrics and quilts.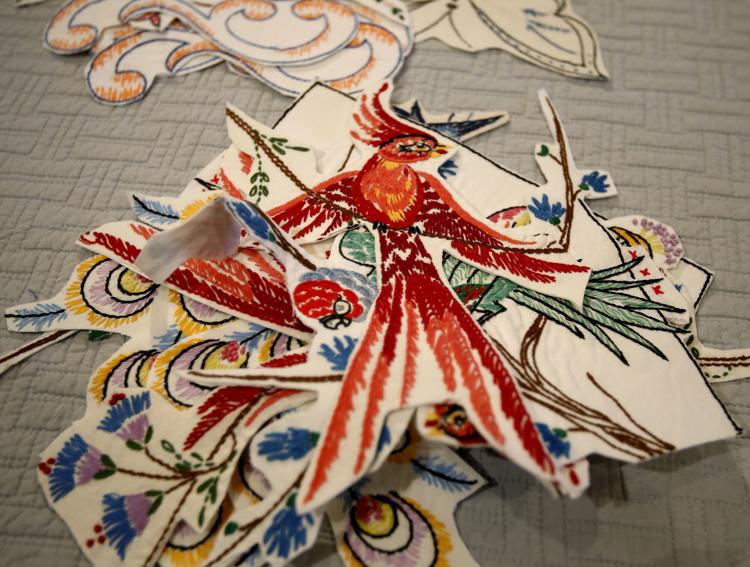 Quilts have become Hiltner's canvas of choice, and each one tells a story not only of the hands that made it, but of the time and place from which it came. Each quilt pattern has a name and was crafted by hand.
"I love stitching so much because it keeps time," Hiltner said. "It's such humanity. It just blows my mind thinking about all the time that you capture."
Atop a quilt pattern titled "Grandmother's Flower Garden," Hiltner stacked found embroidery of flowers and butterflies, paired with four skeletons whose bones are cut from linen leftover after extricating the embroidered patterns.
Another, "Dresden Plate," is a stark contrast between the dyed-black quilt and the stacks of linen-white skeletons, referencing post-war Germany's mass graves for causalities in the bombing of Dresden.
"That's the allure of textiles and embroidery, because it seems very safe, and then you can talk about the serious ideas behind it," said Hiltner, who uses a process of over-dying on each quilt. This changes the pastel palates to a twilight black, where only hints of the quilt's former colors are visible.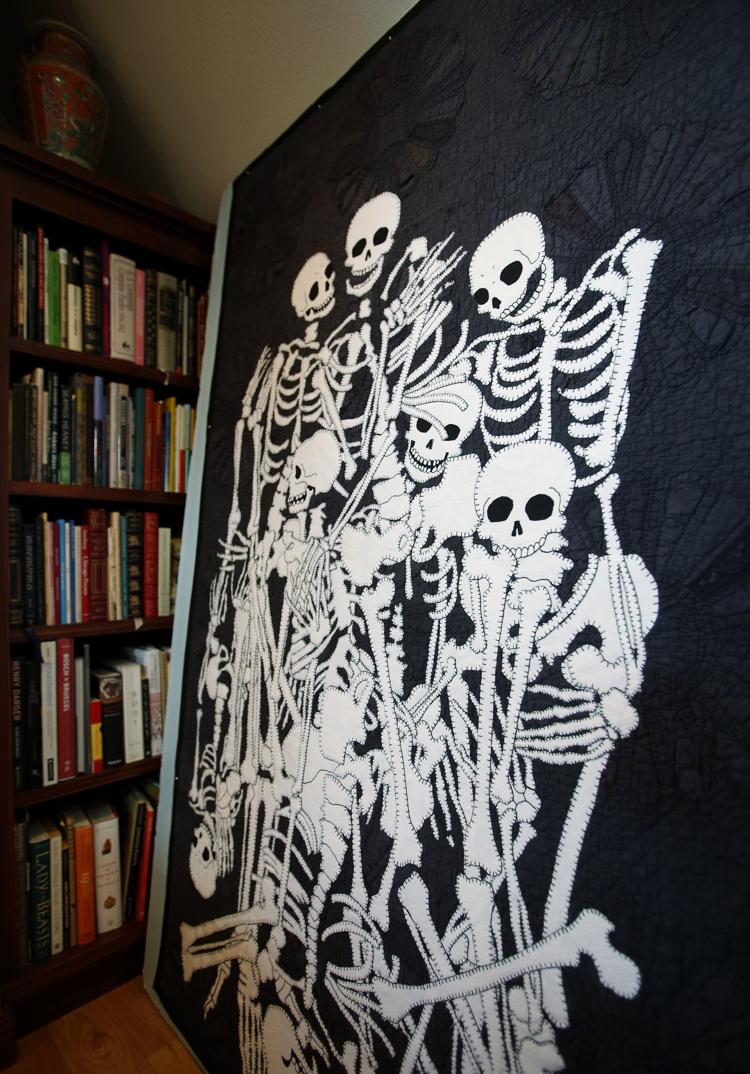 At first, Hiltner was hesitant to cut apart these creations. "It just hit a tipping point where I could feel comfortable cutting it up."
Her visual art originated with stitched figures of Dick and Jane, those idealized American characters who told young readers stories mostly through their body language and actions. From there, Hiltner began to expand her cast of characters. "For what I want to talk about, Dick and Jane can't do everything."
Art history
Hiltner grew up in a rural industry town outside Philadelphia. She described the "black desert" where they would play atop abandoned mines now filled with garbage and named because of the color caused by coal silt.
At a young age, Hiltner learned how to sew. She began embroidering about 20 years ago. After living in Kansas for several years, she and her husband, David, an educator and ceramist, moved to Red Lodge and founded the Red Lodge Clay Center in 2006.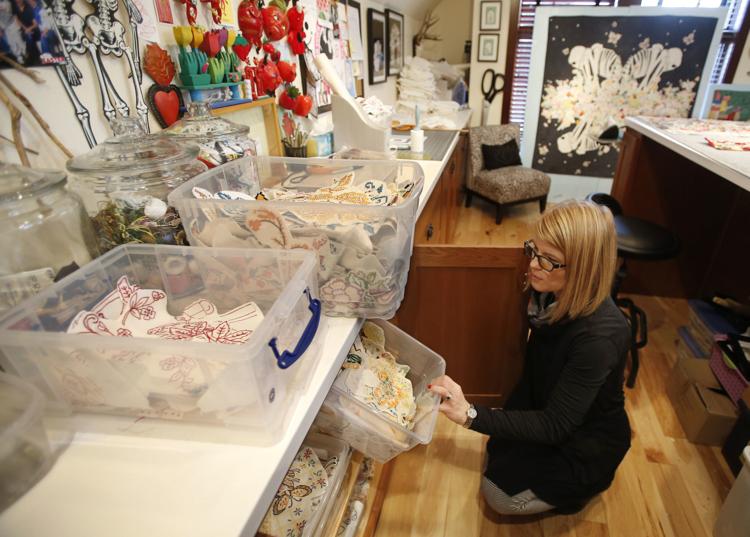 After moving to Montana, Hiltner became attracted to discarded quilts, "just by coincidence of collecting," she described. "I found a quilt top that I just couldn't deny anymore."
Hiltner's use of quilts has drawn attention from the Studio Art Quilt Associates, and recently she was asked to become the regional rep for Montana and Idaho. The world of studio art quilting is expansive, but predominately female and focused on aesthetics, not content, Hiltner said.
"They are not really using their forum to say anything, and I think that is a responsibility. If someone is going to give you a platform, you should say something, occasionally."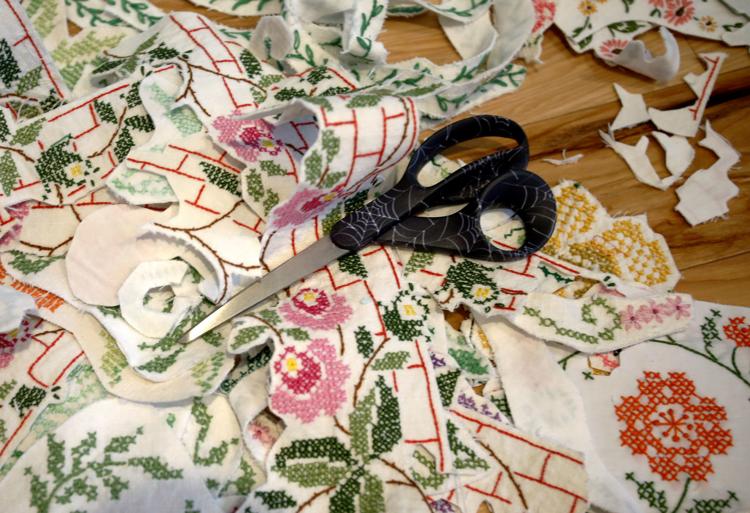 Quilts might not start a revolution, but they're incredibly large canvases on which to express ideas. Hiltner's largest work is a 111-foot long quilt titled "Vantage Point" that has been on display at Yellowstone Art Museum, the Holter Museum in Helena, and is currently on loan to the University of Nebraska-Lincoln.
Each 4'x4' panel is bordered on the bottom by a ticker tape of words pulled from the news headlines and contrasted with idyllic landscapes that contain embroidered imagery of environmental and social disasters around the world, paired with her signature image: the skeleton.
"Unfortunately, the same news seems to happen again and again," Hiltner said. "On one hand, there's universals that you can tap into with the skeleton, but I would love the work to become dated because we don't do these things anymore."
Piecing it together
Hiltner's art is pleasing to the eye, but in the layers a conversation emerges of human nature and hand-made work.
"I want to have darkness and beauty together," Hiltner said. "Mortality is ubiquitous, but it's also shocking. It's news, but it's also every day. I don't want to cheapen it, but I think we should think about humanity."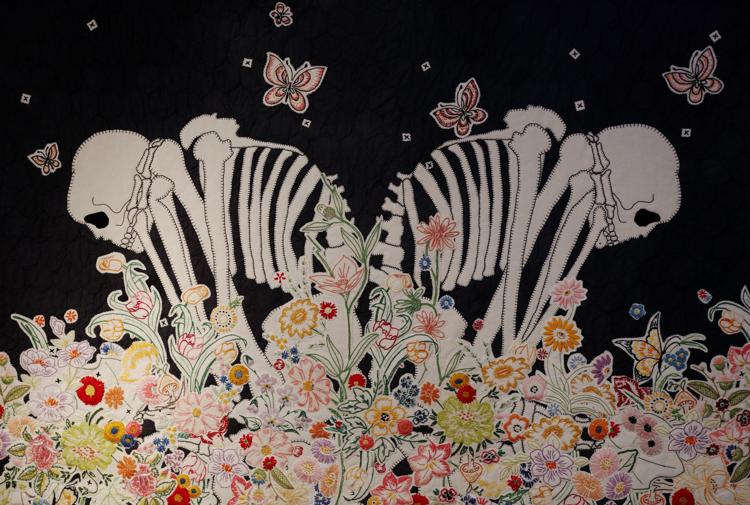 Hiltner's work is a kind of vanitas, symbolizing death's looming presence in contrast with pleasures of the living. So, eat the fruit while it's ripe. Use your time wisely. The riches of this world don't mean a thing because we're all going to die, Hiltner likes to say.
"I can't stop with these skeletons," said Hiltner, whose works are focused on death imagery with plenty of references to art history and classical art.
The skeleton has a lot of jobs. In historical art, they can indicate a celebration of someone departed, or represent deities, the grim reaper, even death itself.
For Hiltner, skeletons are the grand equalizer, and the more animated, the better. Think of Disney's 1929 skeleton dance meets anatomy lesson. It's joyful and fantastic, a touch dark, and somewhere in all that dancing of the dead, there's a deeper meaning.
"If I was going to put myself in the world of skeleton makers, I'm more in the, 'Enjoy, because here comes skeleton time.' Remember, you will die, so drink the good wine now."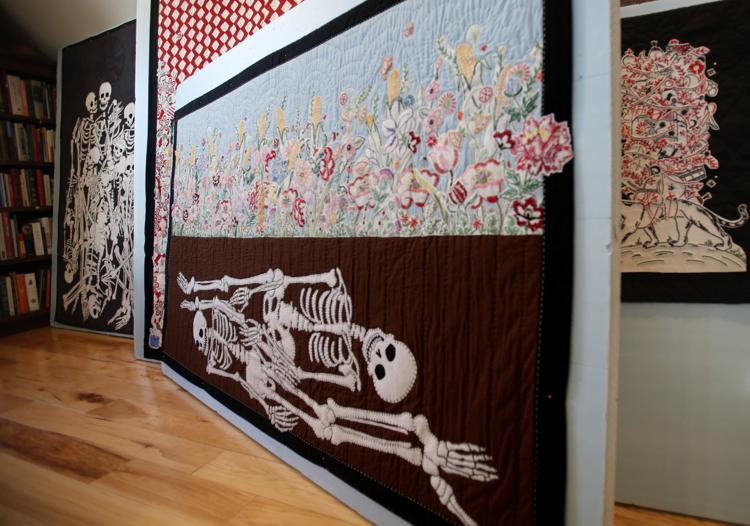 Hanging out in the corner of Hiltner's home studio in Red Lodge is Mr. Benny Bones, a lifelike replication of a skeleton that was a Christmas gift from her husband. "It really scared my mother-in-law," she laughed. Benny has assisted Hiltner with many of her projects. "We all know what a skeleton looks like, but if you really want to get it right, there's a lot of nooks and crannies."
A morbid fascination 
Skeletons remain an intense symbol, something Hiltner feels can represent humanity and mortality. "Skeleton is the great equalizer. You can gender it, if you wanted to. But mostly, it's just a human."
Hiltner insists that art centered on death and skeletal remains doesn't have to be dark. "Skeletons are totally normal. I love talking to kids about it. We all have one. Why are we scared of these things? It's like a hand or a foot. Just on the inside."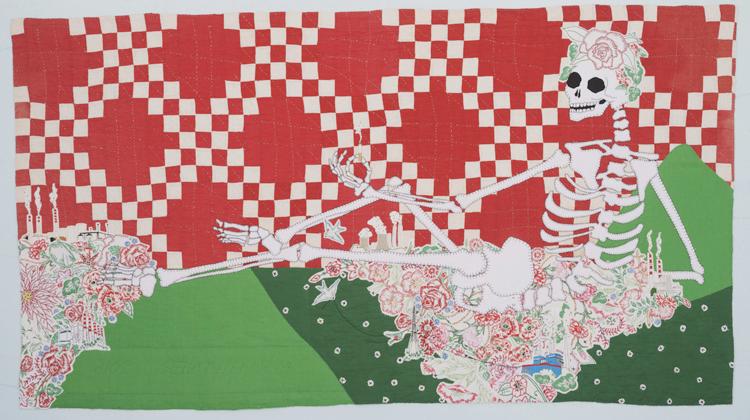 Of the prevalence of skulls and skeletons in popular culture, "I wonder if we are flirting with death," said Hiltner. Her work rests on this fascination, but isn't morbid in its application. With the medium she's chosen, Hiltner has provided an accessible path to discussing mortality. 
"There are other things to talk about, but it is nice to make that connection with people," Hiltner said. "It's a pretty excellent bridge we all have to each other."
Collector at heart
Hiltner isn't sure how many embroidered pieces she's collected, but it's in the thousands. "My work comes from a place of collecting. I should stop. Right?" she questions. "But at the same time, I'm at the thrift store, and I'm like, I can't just leave this here. It's just rotting and no one cares about it."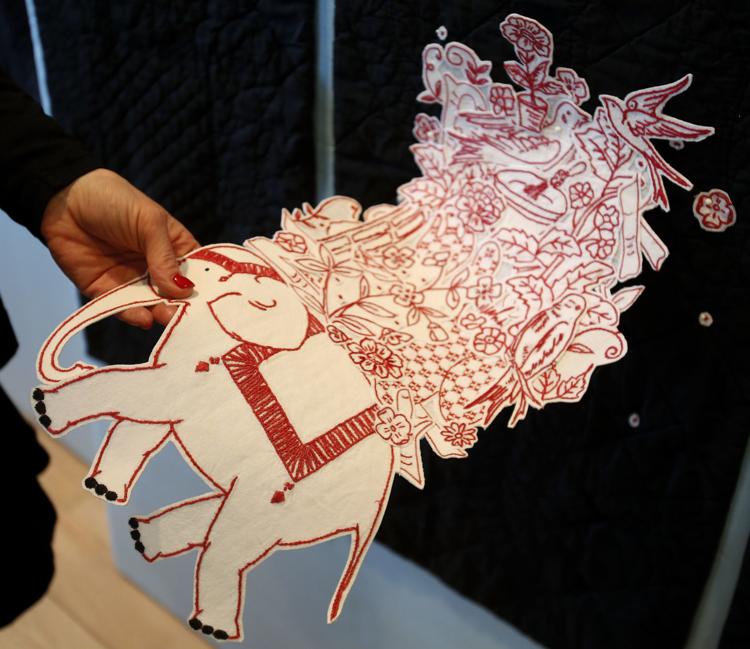 Though Hiltner has enough pink flowers for the rest of her life, she'll still pick up more "if it's really good," she laughed. And if she can't find what she needs, she embroiders it herself.
"I like using a lot of these bright colors and beautiful things, but it's kind of like getting to know someone," Hiltner said. "If you get a little closer, there's more going on there than meets the eye."
Hiltner's next project involves an American schoolhouse quilt she found, an item that she felt doomed to use as a commentary on school shootings. "I'm still processing what I'm going to have happen for this, because I'm thinking of my own mental health." Hiltner has two daughters, ages 11 and 16. "They're on my mind, too. But sometimes I'm making work and I realize I need a break. Not everything can be so heavy."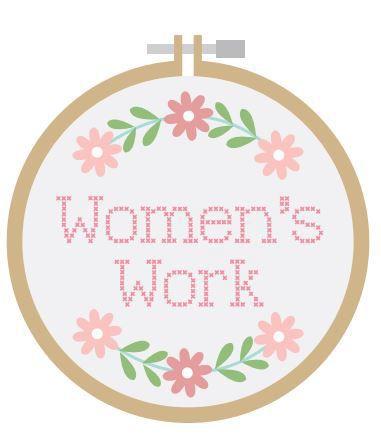 ---
Photos from artist Maggy Rozycki Hiltner's studio
Artist Maggy Rozycki Hiltner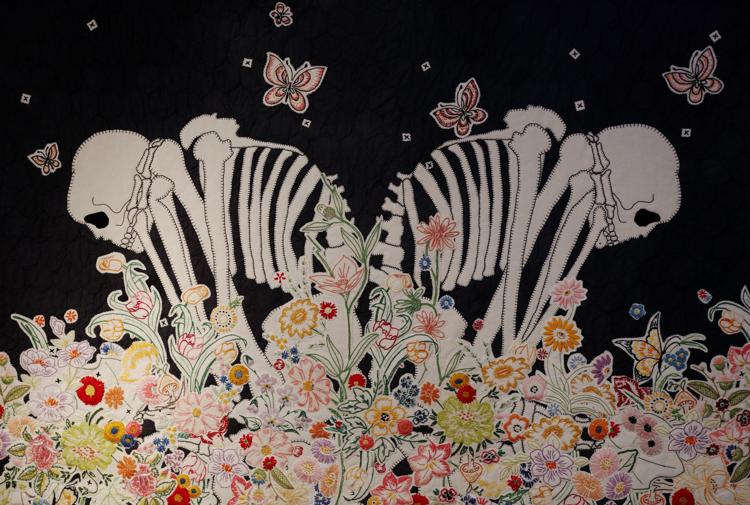 Artist Maggy Rozycki Hiltner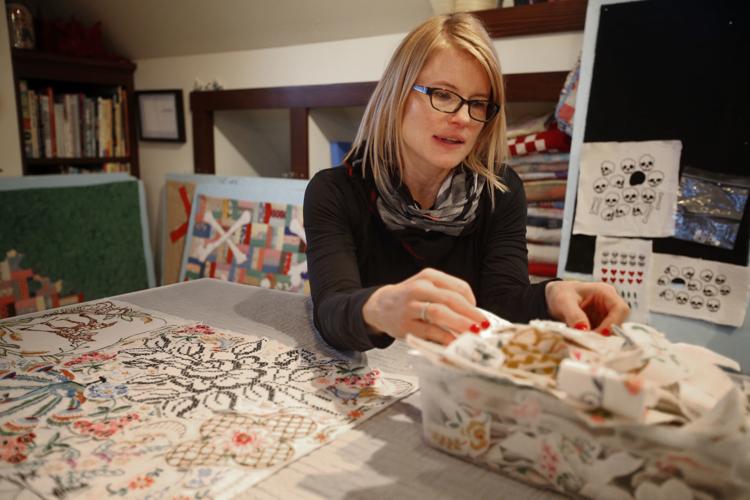 Artist Maggy Rozycki Hiltner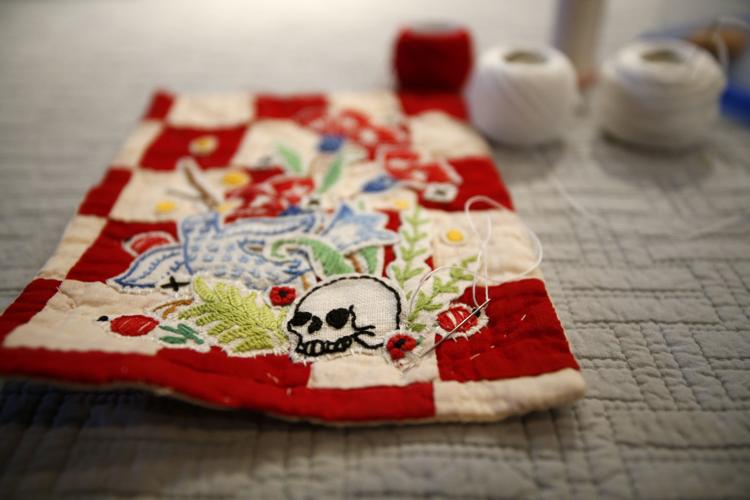 Artist Maggy Rozycki Hiltner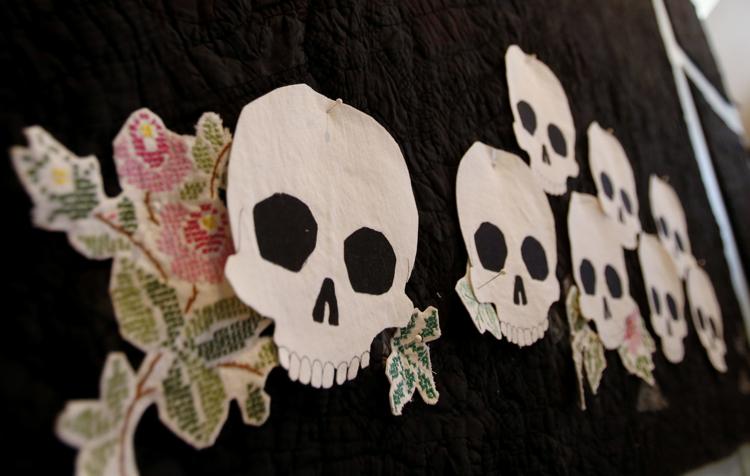 Artist Maggy Rozycki Hiltner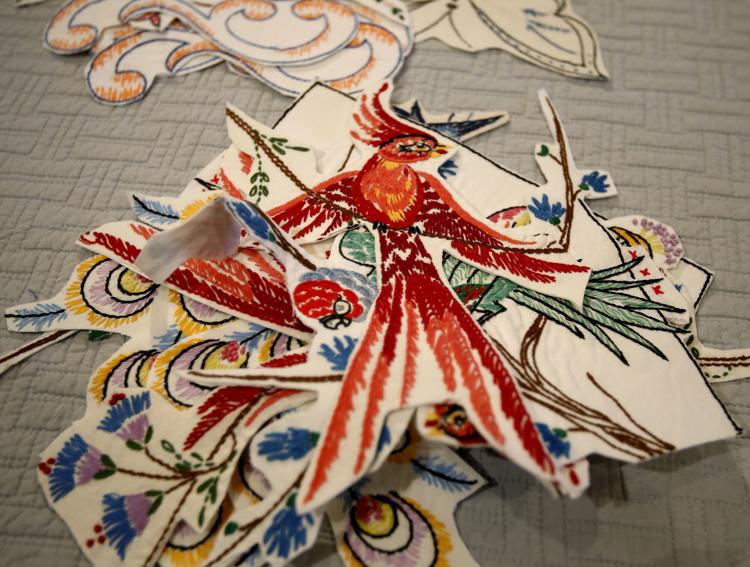 Artist Maggy Rozycki Hiltner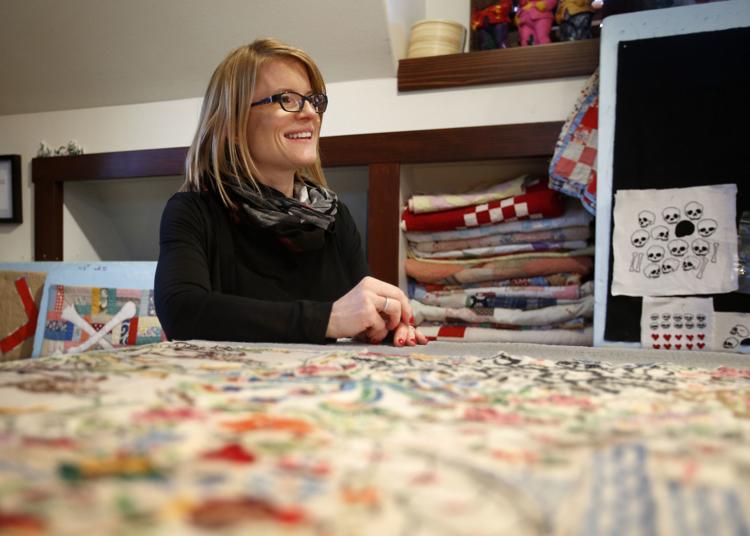 Artist Maggy Rozycki Hiltner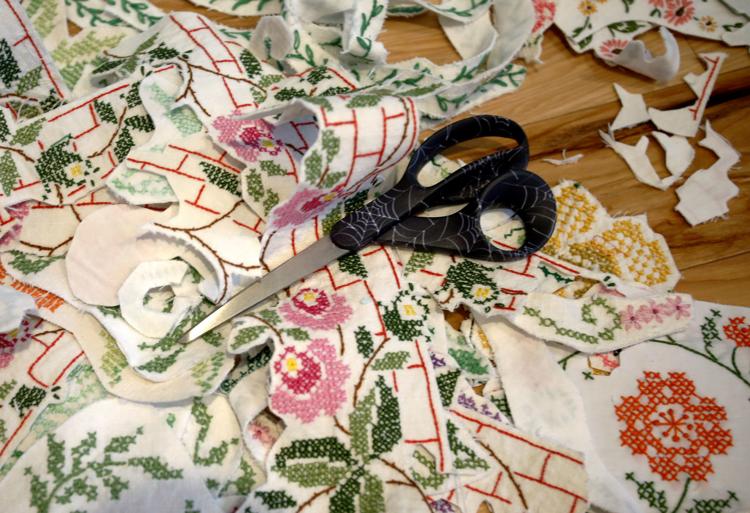 Artist Maggy Rozycki Hiltner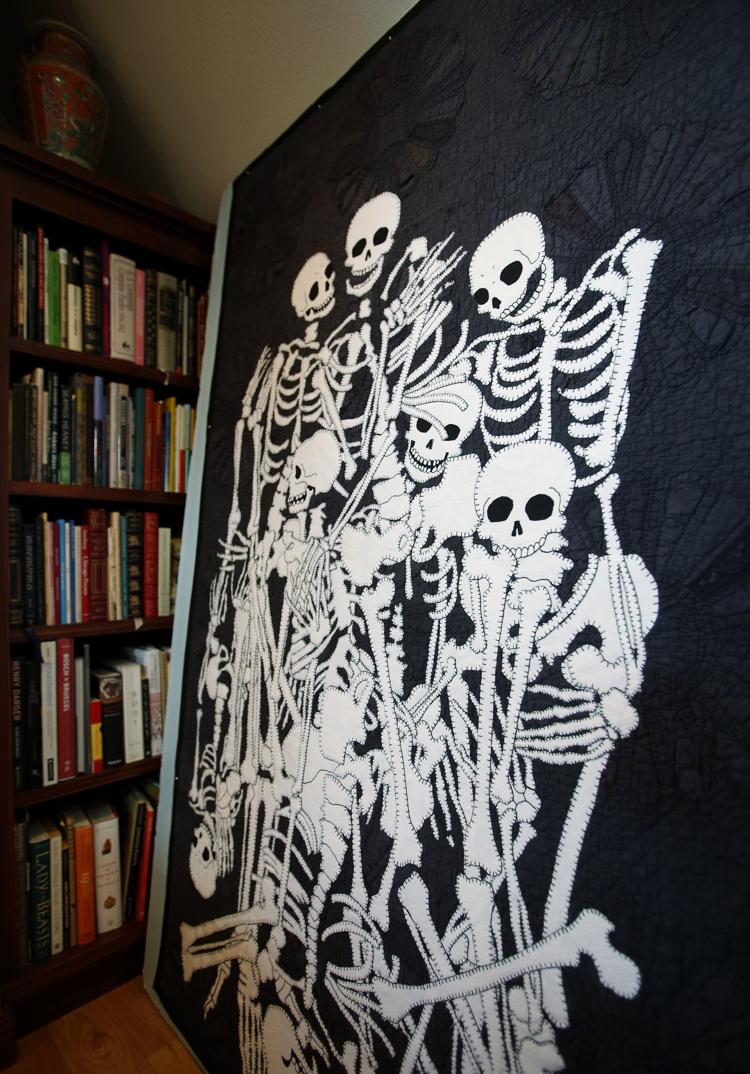 Maggy Rozycki Hiltner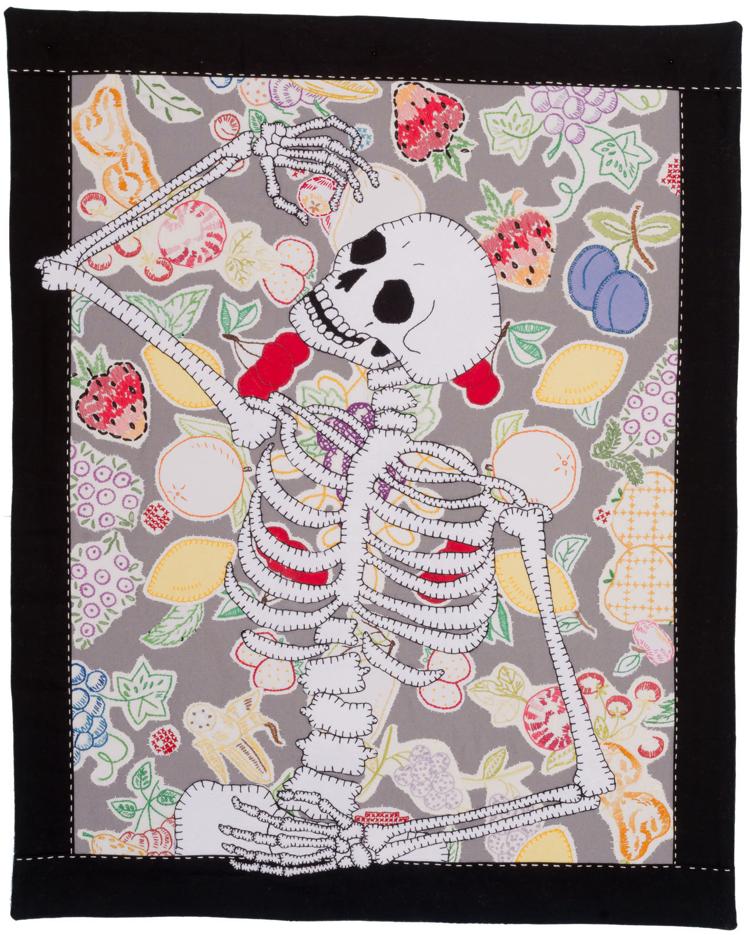 Artist Maggy Rozycki Hiltner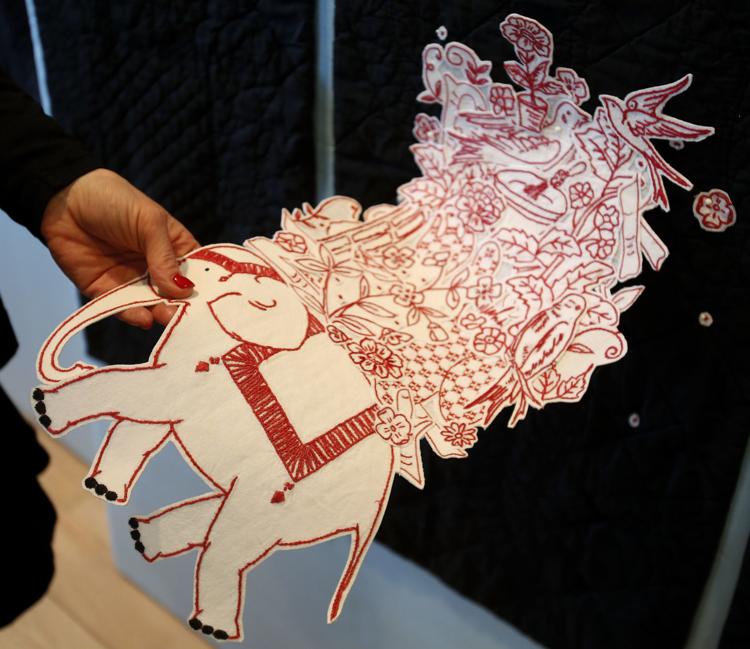 Artist Maggy Rozycki Hiltner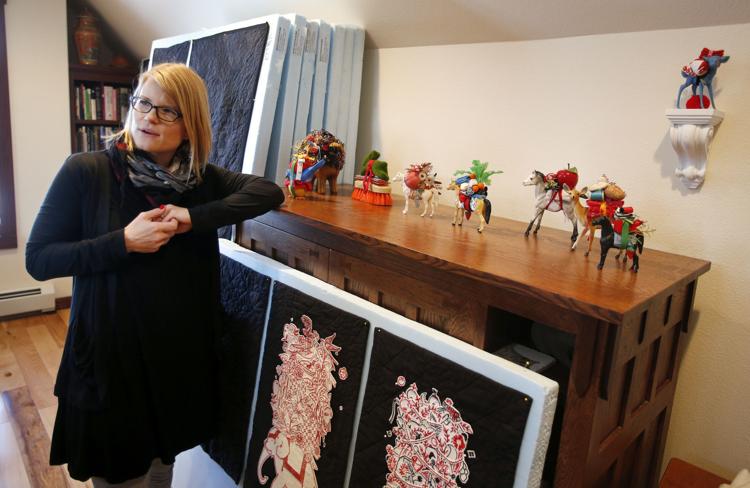 Anthracite Odalisque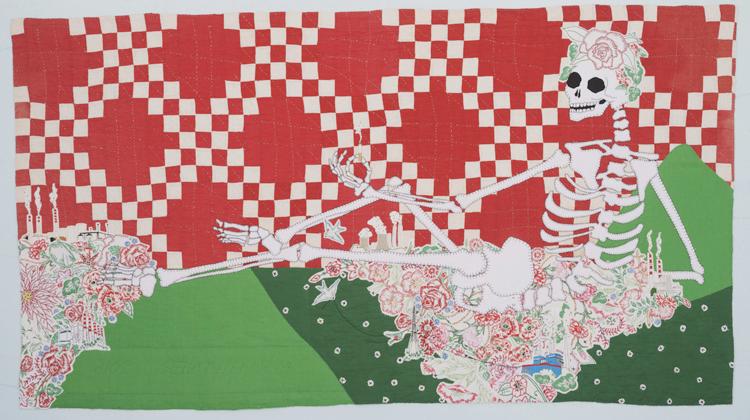 'Vantage Point' detail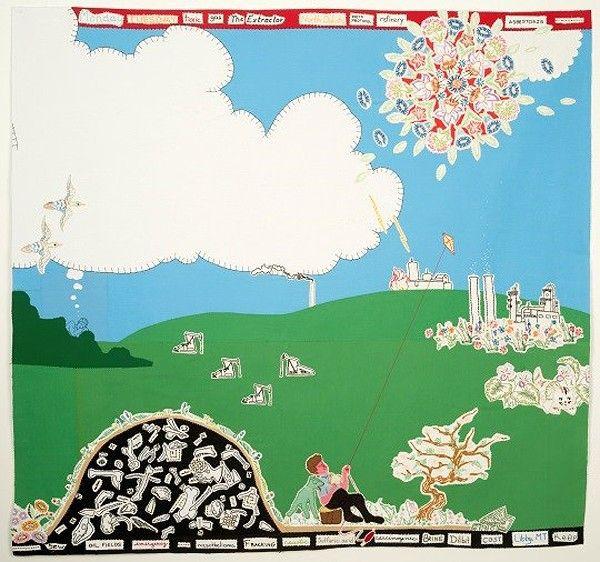 Artist Maggy Rozycki Hiltner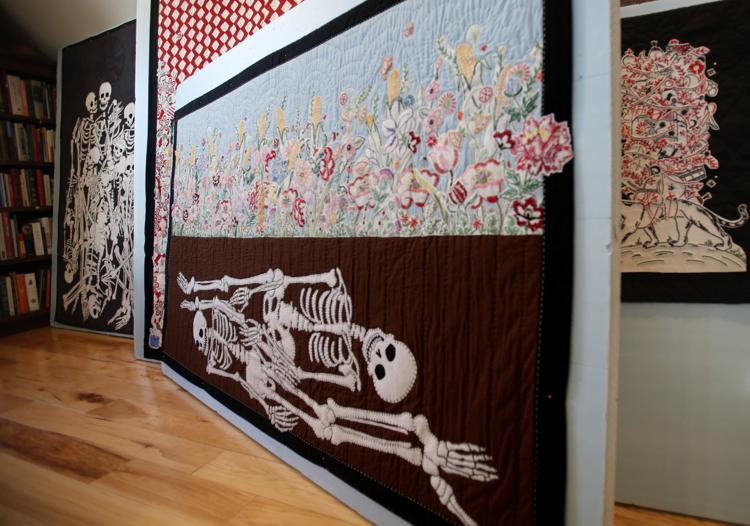 Artist Maggy Rozycki Hiltner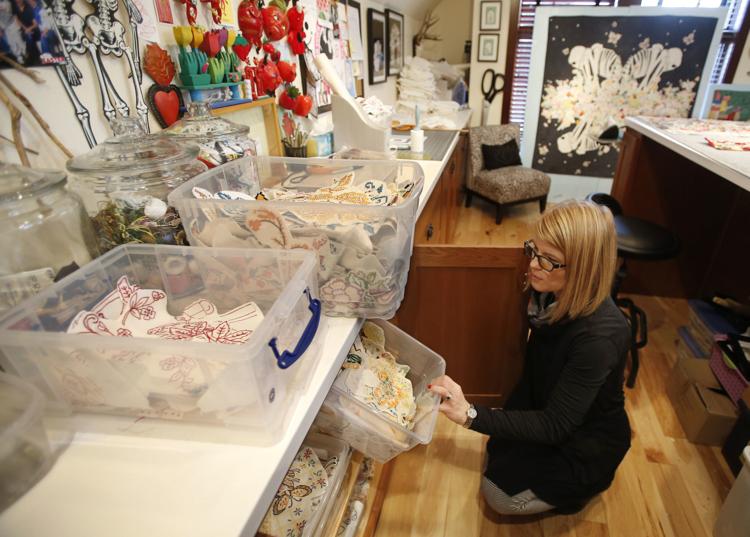 Maggy Rozycki Hiltner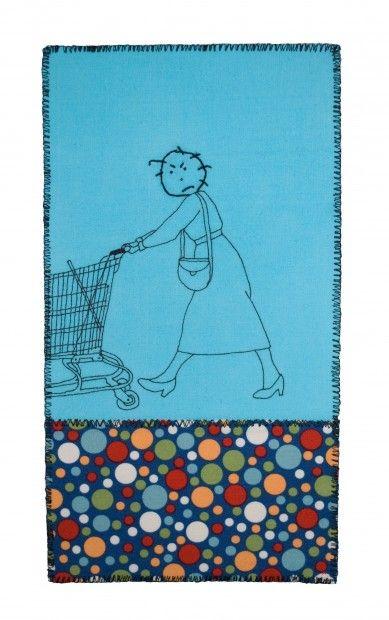 Artist Maggy Rozycki Hiltner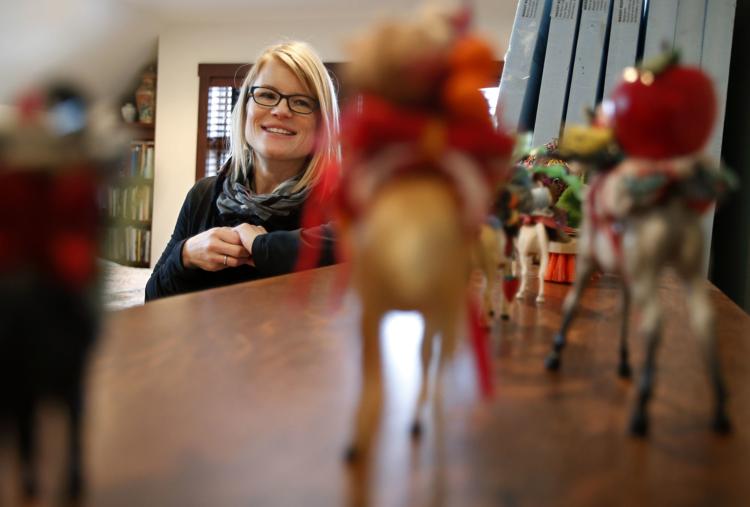 Maggy Rozycki Hiltner's "Requiem"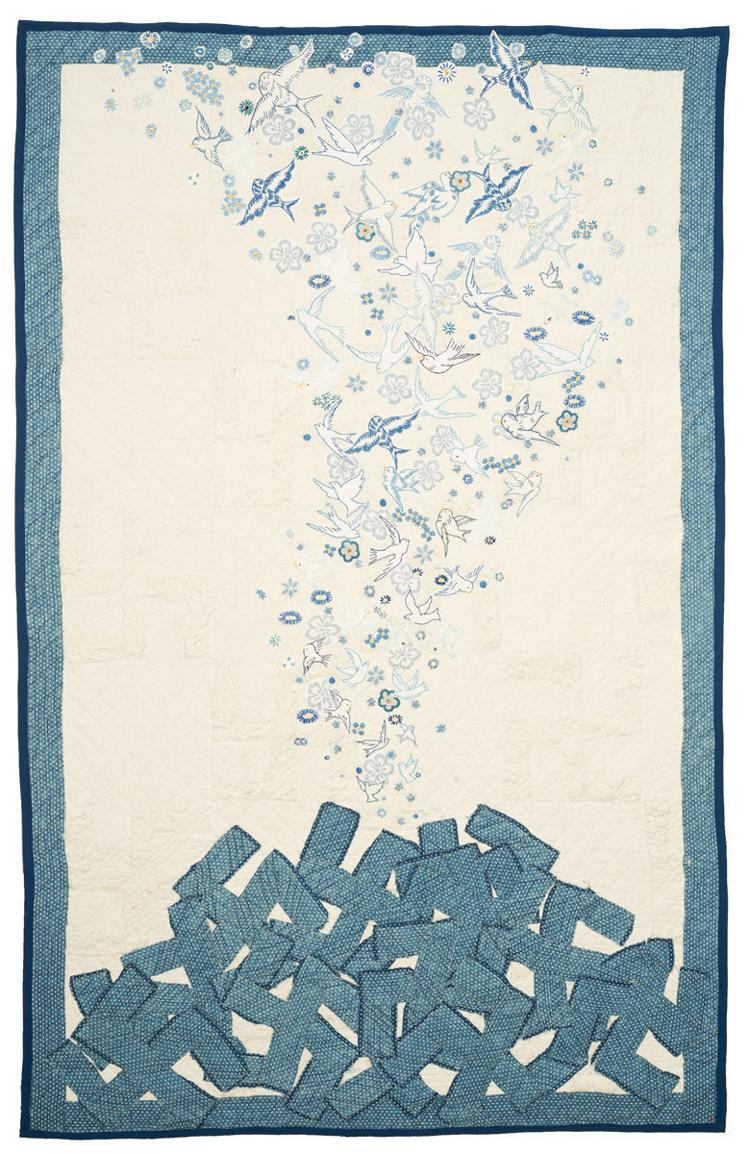 Stay up-to-date on what's happening
Receive the latest in local entertainment news in your inbox weekly!