Let's consider the magic of air in baking and its role in making popovers, those amazing mountainous puffs of crustiness and egginess. To make them you beat eggs, milk, and melted butter into flour and salt, pour the cream-like batter into deep pottery or metal cups, and bake them until they more than triple in volume and become beautifully browned with huge cavities in their middles. Heaven!
I made my first popovers from Maida Heatter's mom's recipe, Sadie Heatter's Popovers, in Maida Heatter's Book of Great Desserts (Knopf, 1974). Maida said she likes to bake popovers in pottery custard cups that are deep and narrow, in either the 4-ounce or 6-ounce size. In the mid-1970s these were easy to find, so I bought some of both sizes. Maida says, "Naturally, the popovers will be more dramatic if baked in 6-ounce cups."
I opted for the larger cups. Drama wins every time in my book. Luckily, you can buy these porcelain or ceramic cups online from many sources. And metal popover pans work great, too.
Over the years, I got into the habit of making popovers every Easter, Christmas and New Year's Day. This became a ritual when our kids lived at home or came home during college break. I'd whip up the batter the night before, refrigerate it, and bake the next morning. On Christmas, we'd open stocking gifts while the popovers baked and delicious aromas wafted their way to us in the living room. About 5 minutes before they were done, I'd open the oven door and quickly stab each popover in 2 or 3 places to release the trapped steam, then I'd bake them a few minutes more to ensure they'd be crisp and not collapse.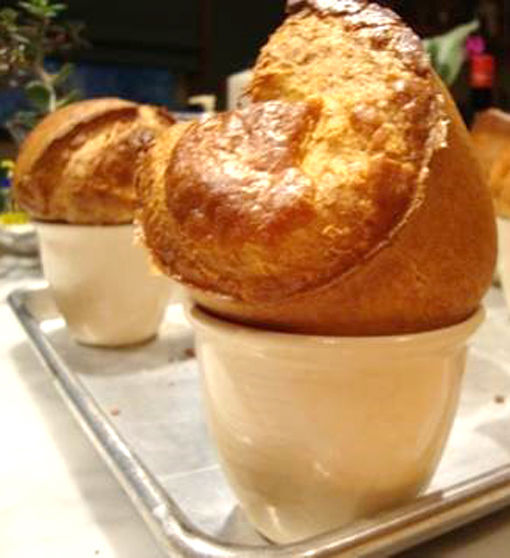 When done, ease these beauties out of their cups, arrange them in a napkin-lined basket, and bring them to the table.
And don't be dainty when it comes to eating popovers. Rip them open to reveal their custardy innards and be generous with butter, honey butter, or whatever.
No matter how many times I make popovers I can't get over the fact that it's just the air beaten into the batter that causes them to puff so miraculously. It doesn't matter if I whisk the liquid gradually into the flour or use a food processor to do the job in seconds. Cold batter or room temperature batter bake into equally spectacular popovers. And I never preheat my pottery cups or metal popover pans.
Rocky Mountain High Popovers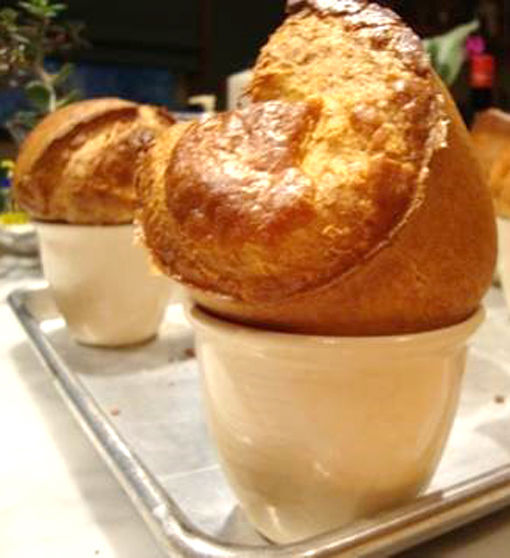 This recipe makes 10 large (4-ounce cups) or eight very large (6-ounce cups) popovers. You can use this batter as soon as it's ready or within an hour or two of mixing or refrigerate it overnight and bake the next day. Just be sure to whisk cold batter well before dividing into the popover cups in case it has separated. I always make the batter in my food processor.
1¾ cups all-purpose flour, spooned into the cups and leveled (8 ounces)
6 tablespoons salted butter, melted and cooled
Add the flour and salt to the work bowl of a food processor fitted with the metal blade and process 5 seconds. If you have a 1- or 2-quart glass bowl with a pouring spout, break the eggs into it and whisk to combine the yolks and whites well. Whisk in the milk and butter. Lacking such a bowl, combine the eggs, milk, and butter the same way in a medium bowl and transfer to a pitcher.
Start the processor, and take about 10 seconds to add the liquid through the feed tube. Process 5 seconds more and stop the machine. Scrape sides of work bowl well, making sure to dislodge any flour, and process 10 seconds more. Total processing time is 30 seconds or less.
To make the batter with a wire whisk, combine the flour and salt in a large bowl. Add about 1 cup of the liquid and whisk well. Batter will be thick. Gradually whisk in remaining liquid, about ½ cup at a time. Do not overbeat. The batter should not be bubbly.
Regardless of how you've made the batter, strain it into a bowl with a pouring spout or into a pitcher. If baking right away, let the batter stand while you prepare the baking cups and preheat the oven. If baking the next day, cover the batter container tightly with plastic wrap and refrigerate.
Butter or coat generously with cooking spray the pottery cups or a 6-cup popover pan. You'll have extra batter if using the popover pan; cover and refrigerate to bake later.
Adjust an oven rack to the lower third position and preheat the oven to 400 degrees. If using pottery cups space them well apart on a large (17 x 12-inch) rimmed baking sheet.
Divide the batter evenly among the cups, filling them to with ½-inch of the rim, and place in the oven.
Bake 20 minutes at 400 degrees, then reduce the temperature to 375 degrees and continue baking about 35 minutes longer for 4-ounce cups or 45 minutes longer for 6-ounce cups or for popovers baked in a metal pan. Do not open the oven door once the popovers are in the oven. Oven temperatures can vary wildly, so check the popovers about 10 minutes or so before the baking time is up to see how brown they are. They should be very well-browned — peek through the glass on the oven door. Be sure not to underbake or the popovers will be soft and collapse after you take them out of the oven.
When the popovers are done, open the oven door and reach in with a sharp paring knife to stab the top of each one quickly in two or three place to release the steam. Close the door and bake 5 more minutes.
Take the popovers out of the oven and remove them from their cups. Set them in a napkin-lined basket and serve as soon as possible with plenty of butter, honey butter (1 part honey mixed with 2 parts butter) and any jam or preserve you like.
Makes 10 large or 8 very large popovers.