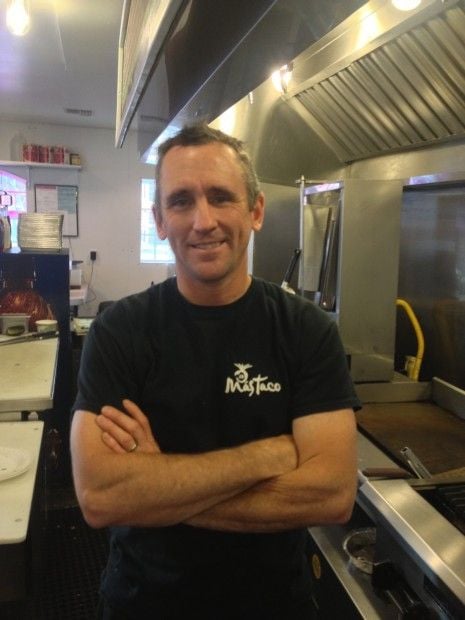 Address: 304 N. Broadway, Red Lodge
Hours: Tuesday through Saturday, 11 a.m. to 7 p.m.
Background in cooking: I started shucking oysters at 17 in Santa Barbara. I was a lead line cook by the time I was 19. I worked on the East Coast as a pastry chef in New Hampshire and went to Italy to work. I bought a one-way plane ticket and moved to Florence. It took me two months to find a job. When I came back, I moved back to California and worked at Spago in Beverly Hills from 1998 to 2001, working under Wolfgang Puck. It was intense, like being in the military. I opened the Safire Restaurant in Camarillo, Calif., in 2006 and owned it until 2010 when I sold out and moved to Montana. My wife Jenny Boggio Muirhead and I have a 3-year-old daughter and we thought living in Red Lodge would be a better life for her.
Background on your restaurant: We opened Mas Tacos on Dec. 1, 2011, so we're coming up on our first anniversary. Really, I have never cooked Mexican food professionally, but I have cooked it in back rooms with guys in California who were from Central America. It was the one style of food that was missing in town. We moved into this little old Conoco gas station. We wanted to keep the integrity of the historic aspect of the building, yet keep it functional. We added 500 square feet, making it 750 square feet. It seats 13 people inside, but in the summer we had quite the outdoor scene.
What is the restaurant's specialty? Al pastor, which is along the lines of a uros. In Mexico, it became popular because of influences from the Middle East and they adapted it with pork and Mexican spices. From everything I've seen, we are the only ones around here that offer it. It is pork roasted with pineapple with paper thin slices of onions in between. You can have it five different ways.
What are some of your most popular dishes? We have a good vegetarian following so we keep our beans and other dishes meat-free. We make everything from scratch so we know what ingredients are in every dish. We are really good with people who have food issues so if the question comes up if a product is free of gluten or soy, we can tell them exactly what's in the dishes.
What makes your restaurant unique? We have a beautiful concrete counter where you can sit and watch us cook. It's kind of neat. Customers sit at the counter and converse.
What cooking advice do you have? Are you having fun? That's the most important thing. Cooking takes a lot of work, but it's important that everybody knows how to cook a few dishes.
What is your favorite ingredient? Tomatillos, which we roast with chili peppers and put into our salsa. They are real tart and are from the gooseberry family. They can be grown locally and we got a lot of them from Bridger.
What is your favorite dish to make for yourself? My favorite dish is spaghetti with anchovies and garlic. I make it with olive oil, garlic, red chilis, anchovies, Parmesan cheese and serve it on spaghetti.