Customers of Harper & Madison are so excited about the downtown cafe reopening, a few stopped by Thursday when they saw the door ajar, hoping to grab a sandwich.
Owner Joanie Swords said the popular cafe is re-opening the second week of August. Inside, a crew working for Tony Neumann Construction was patching the ceiling around some weather-related damage and installing a commercial stove, griddle, oven and hood to get Harper & Madison, 3115 10th Ave. N., ready.
It was a bold move for Swords to close on Christmas Eve 2015 to improve the kitchen and open up the seating area. Swords said Harper & Madison has always been about bringing people together over good food, and that won't change.
"It's taken me six months to realize how much this place means to people," Swords said. "There should be places like this where people can congregate all over the city. I just can't wait to have people come back together again."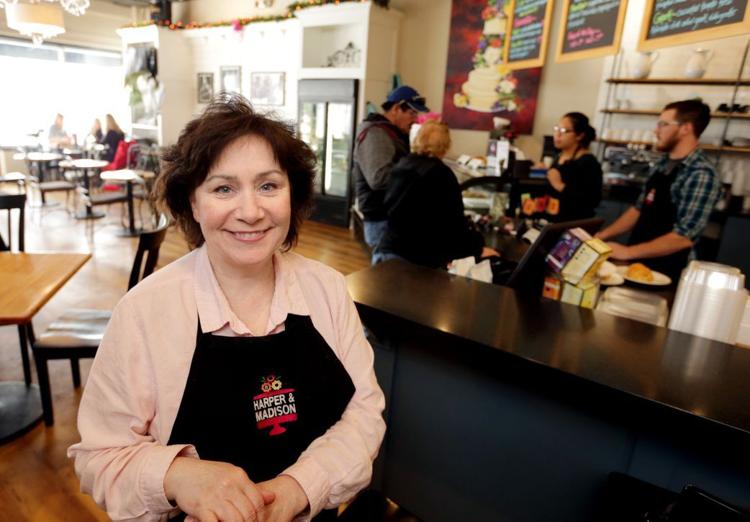 Business was good from the beginning when the cafe opened in March 2011, but Swords said the staff was exhausted trying to keep up with the demand. Most of her staff took temporary jobs so they could return to work when Harper & Madison reopens.
"It was like camping every day. Sometimes we'd make 200 omelets on a Saturday morning with a propane burner," Swords said.
Swords herself took a part-time job, working on the wait staff at Lilac Restaurant. Several of her employees work there as well, and many of her customers eat at both restaurants.
Swords calls Harper & Madison and Lilac sister restaurants. She and Jeremy Engebretson, chef/owner of Lilac, are collaborating on her new menu, and on special events like the farm-to-table street party planned for Sunday in front of Harper & Madison. All 150 tickets have been sold to the event, and another one is set for Aug. 21.
Swords also plans to host evening concerts with a meal featuring a nightclub-like flavor. After recent trips to New York and Los Angeles to bring fresh ideas to Billings, Swords said she feels comfortable that the cafe is on the right track.
The remodeled restaurant will offer two community tables where customers can meet new people and feature an additional counter for customers to watch bakers decorate cakes. Swords' 19-year-old son Madison will teach a baking class in September. The restaurant was named for Swords' children, Madison and daughter Harper.
Hours will be Tuesday through Saturday from 7 a.m. to 2 p.m. The menu will expand to include more breakfast items during the week. The menu will bring back customer favorites, including the market club sandwich and the Jethro breakfast.
"I feel like we're getting all grown up now, like when your Mom would say, 'Now you can use the stove.'"