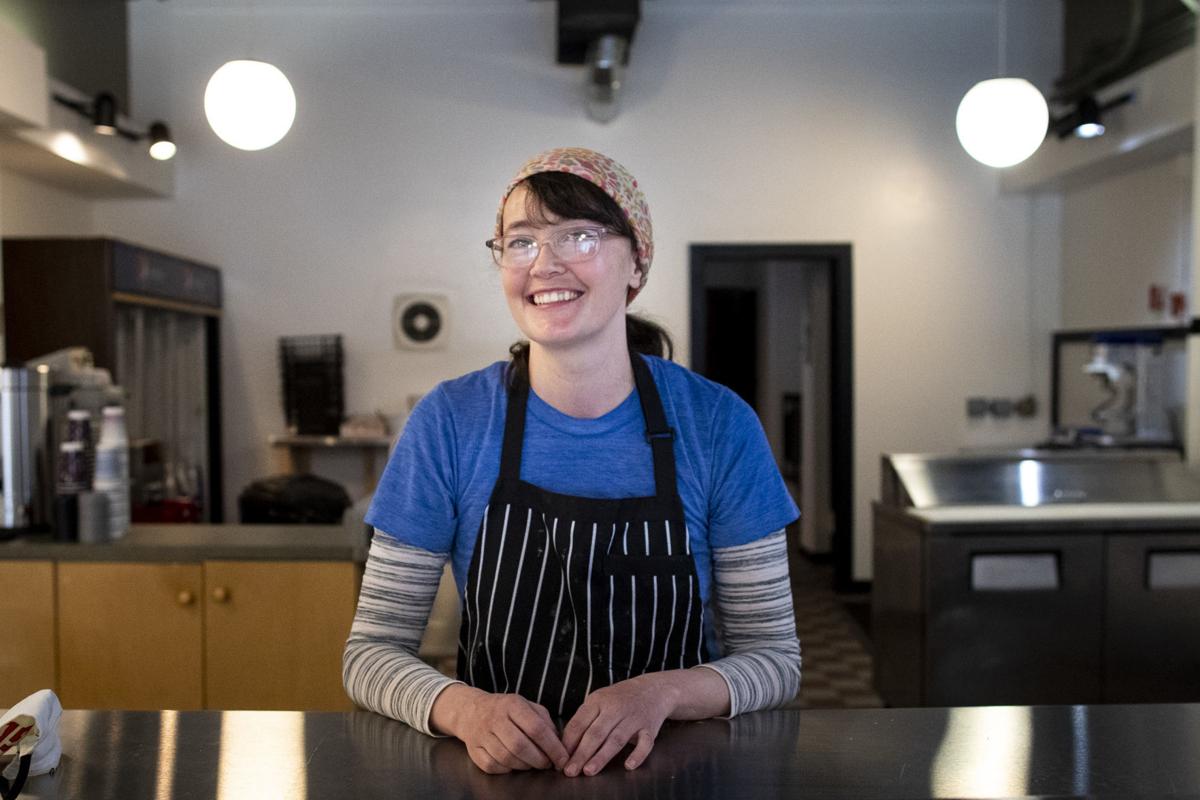 By the time Garrett and Katie Sims walked into The Sourdough Bagel at 10 a.m. on Friday, there were just three jalapeño cheddar bagels remaining.
"I'll take them all," Garrett said.
Bonny Perkins, purveyor of the wildly popular bread product, had prepped 300 bagels for a soft opening that began at 7:30 a.m. at 219 N. 29th St. The bagels take two days to make, due to the fermentation process, then are kettle boiled in a process that creates a flaky crusted, yet soft bagel.
When Perkins started the business two years ago, she wasn't planning on having a storefront. She took orders in advance from customers and would deliver bagels anywhere in Yellowstone County. As well, she operated a cart and bicycle that could be found at farmers' markets and pop-up events.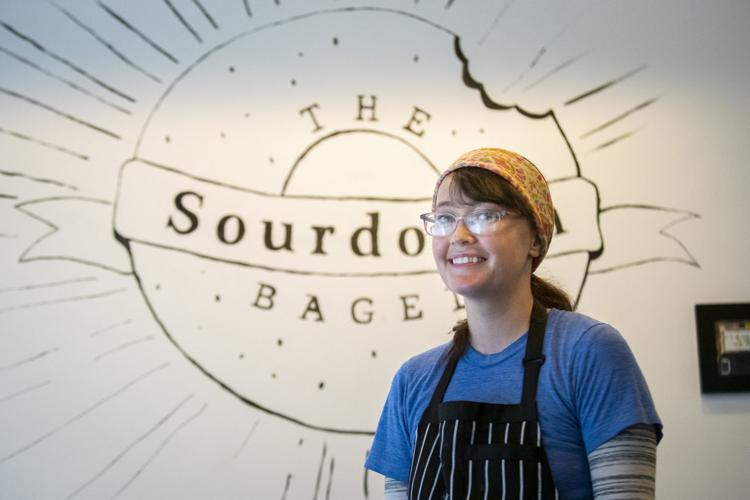 "We really couldn't keep up with our orders," Perkins said, who would routinely sell out of 250 to 300 bagels at special events within a few hours. "It was time to have a place where people can come."
In less than three hours, the bagels were gone. The Simses, however, were not the last to get a bagel that day. The couple gave their third bagel to a couple who came in behind them.
"They only have three left, and there's only two of us," said Garrett, who had not yet tried the bagels.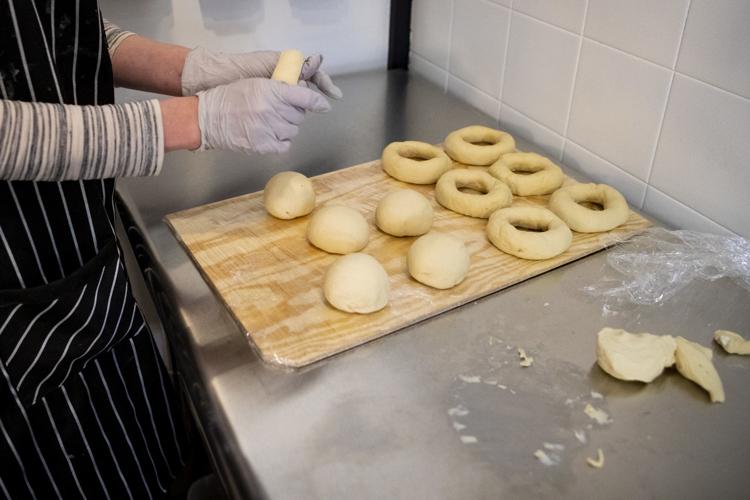 "I have seen customers do that, if they ordered the last of something, they will give it to the next person in line," Perkins said. "It's pretty cool."
Garrett explains what drew him to the storefront. "I was trying to find a good bagel place, and I heard about this place from a good friends of ours. I've been tracking them on Facebook for a year, but the timing never worked out."
This time, timing was perfect, and the bagel was worth the wait. "This is how a bagel should taste," he said. "I like dense bread. Sometimes when you get a bagel, it's too fluffy and airy. I really like the sourdough."
Susan Balter-Reitz, a self-described bagel fan, grew up in New York City. "And I missed good bagels." What constitutes a good bagel? According to her, it's a bagel that is not large and doughy that has a good crunch, but isn't hard. "When you bit into it there's a good crunch, and it's got a really good chew to it."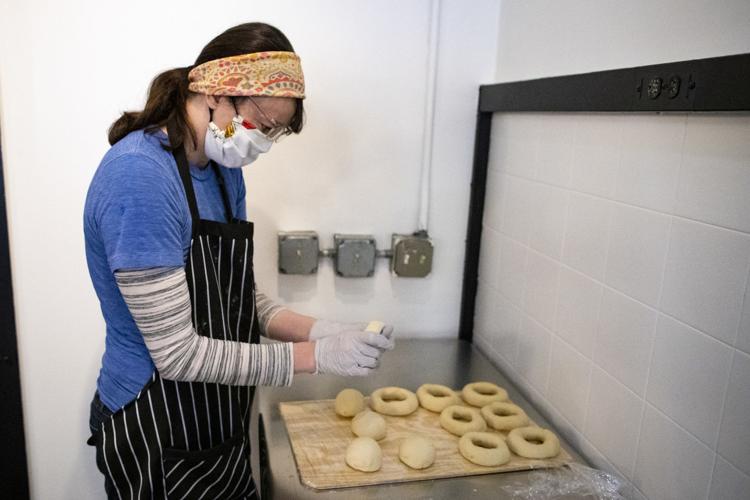 She arrived too late to get bagels, this time, a sold-out story that she's used to. "That they're sold out in 20, 30 minutes at the (farmers') market is stunning."
Balter-Reitz is a professor of communications at Montana State University Billings, and she was Perkins' adviser and instructor. She didn't realize Perkins was the proprietor behind The Sourdough Bagel, and said she found the company on Facebook and began to follow them.
"Her business is a really good example of a small business that utilized social media to build a fan base, without a lot of budget or ability to buy ads and give away products," Balter-Reitz said. "She just got people interested and excited."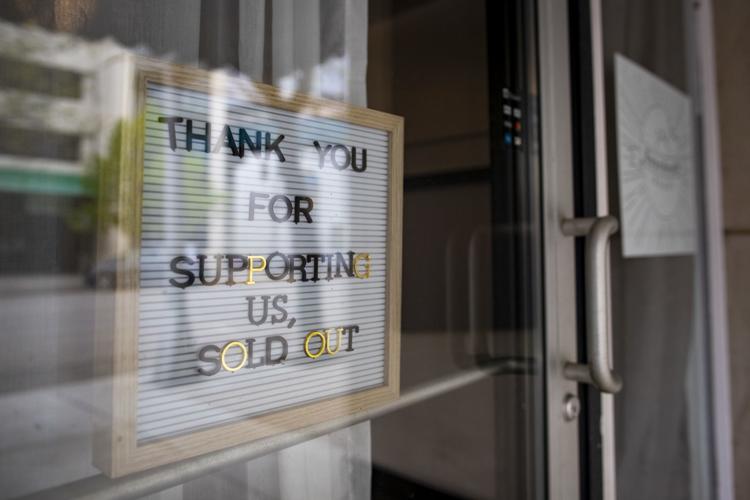 Perkins lived in New York for 10 years and found plenty of good bagels — and some not-so-good ones. For her, the quality is in the process. "We make everything by hand. When we're out, we can't just whip some up or defrost some from the freezer."
Perkins has two employees, three if you count her 13-year-old son. "This is homeschooling," Perkins said with a laugh. She said she started the business after Grand Bagel closed.
"I was devastated," said Perkins, who appreciated the business' style of bagel. Her husband encouraged her into baking her own bagels and starting a business, so she researched and tested out products on her friends and family for eight months before launching The Sourdough Bagel.
Prior to opening her business, Perkins claimed she hadn't baked much at all. "Maybe the slice-and-bake cookies," she said laughing. In 2019, the company produced approximately 8,000 bagels. 
The new storefront location was delayed a bit by COVID-19, especially given the shortage of flour and yeast. That has been remedied, and Perkins hopes it will be a stable supply through Sysco.
Bagels are $1.75 each (a half dozen for $10 or a baker's dozen for $18) and you can add cream cheese in a variety of flavors for $1.25. Daily bagel flavors include sea salt, everything, Asiago, cinnamon raisin, dark chocolate sea salt, pretzel, poppy seed, jalapeño cheddar, and sesame seed, as well as a seasonal bagel, which currently is cranberry orange. Coffee and juice are also available.
The Sourdough Bagel will reopen on Monday at 7:30 a.m., and stay open until they run out of product. For now, they're going to open Monday through Friday, and plan to have sandwiches eventually. For more information, visit www.thesourdoughbagel.com.
---
If you've ever been hungry in downtown Billings after 10 p.m., you know what a struggle it can be to find food that isn't served from a drive-…
Photos: The Sourdough Bagel opens storefront in downtown Billings
Stay up-to-date on what's happening
Receive the latest in local entertainment news in your inbox weekly!